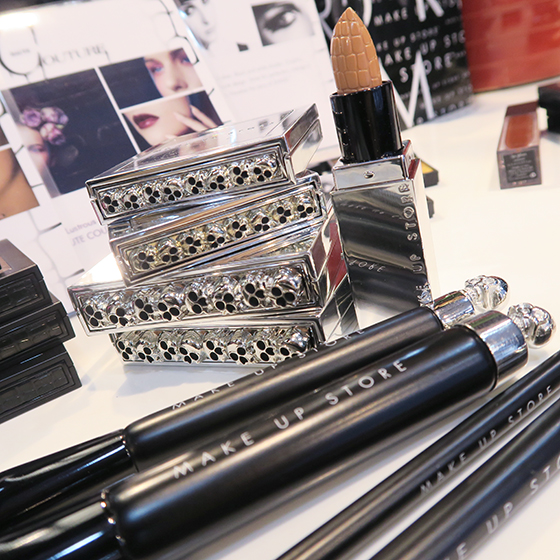 Hi hi  
This entry will feature some of Make Up Store's new collections for this fall.  I got the chance to preview them, and took some pictures and swatches.  As you know, the brand is also revamping its entire range of makeup products, both in  terms of the packaging and the formulations.  The new eyeshadows, lipsticks and foundations are all improved and reformulated - you will still find your existing shades in the improved formula. 
I will bring you through some of the collections along with some information on their upcoming launch of the holiday collection called Shade - shown here with all the silver chrome skull motifs. 
First up we have ICON - which is currently available, and here are some of the products from the collection: 
As you can see the new packaging are all more angular, square and has this croc print accent on the packaging and the products themselves. 
The collection features deep rich shades, and the lipstick in ICON is really pretty.  I also love Catwalk eyeshadow.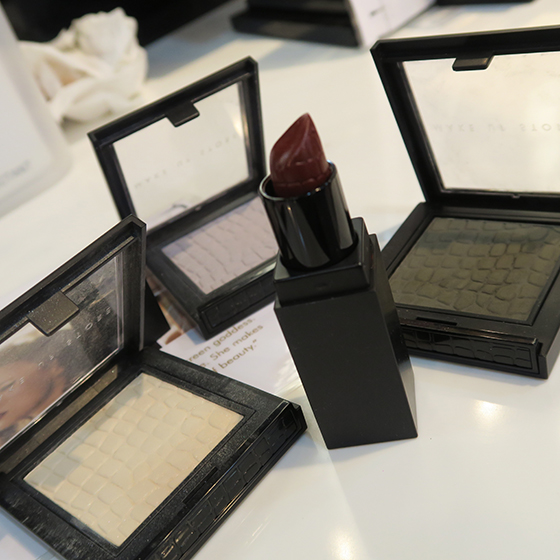 Swatches - 
ICON lipstick is a sheer berry stain, and it is very wearable and autumnal. 
The eyeshadows are very finely milled and I find them very easy to blend and layer.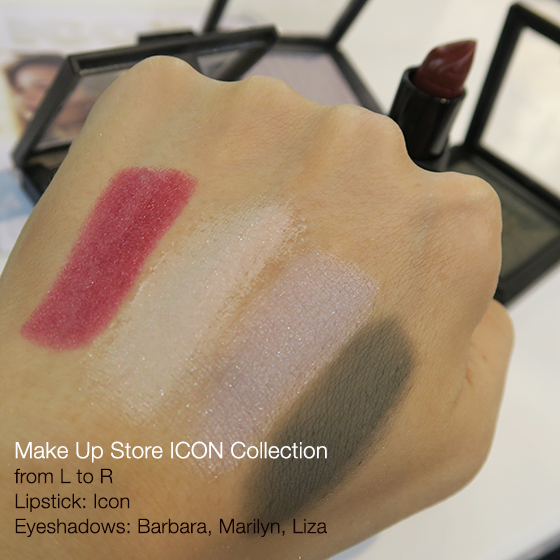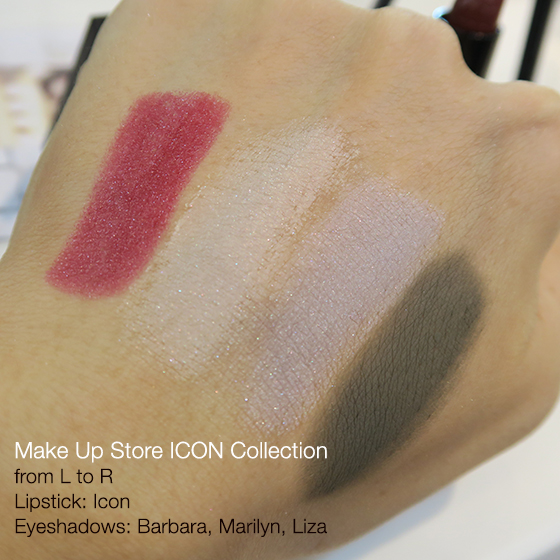 Next, we have the Haute Couture collection which will be out late Oct.  You need to pick up Barbara eyeshadow!  It is the best matte orangey burnt brown I have come across, even better than my Inglot one... I have  been reach for this every often, and you might have seen a picture that I posted on Instagram in which I just wore this eyeshadow alone, without any other liner and falsies.  Fashion is a deep brown that is perfect for deepening any shade, and defining your eye look. 
Style is pretty pigmented, and can double up as a blush.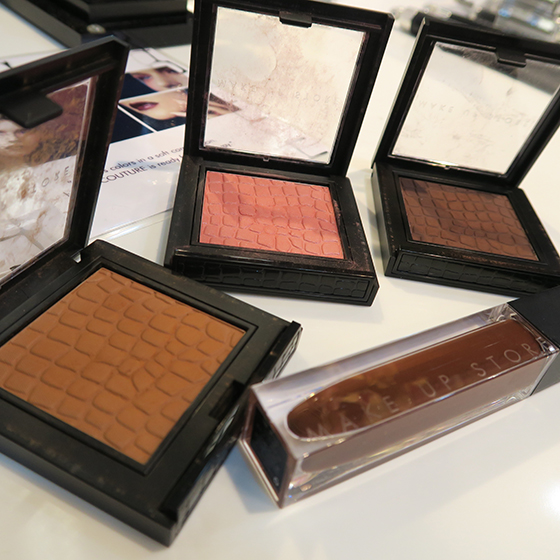 Swatches here: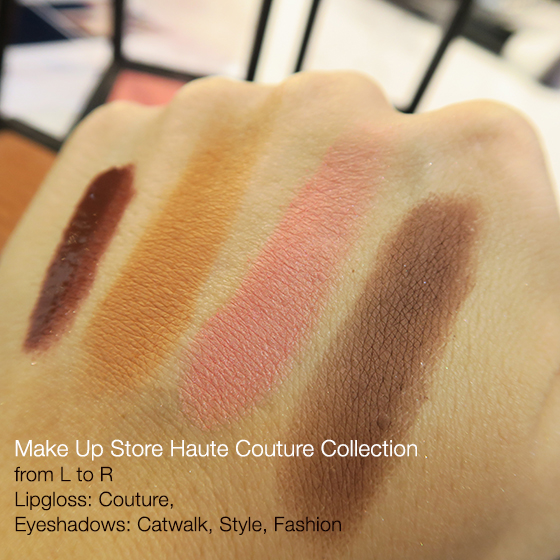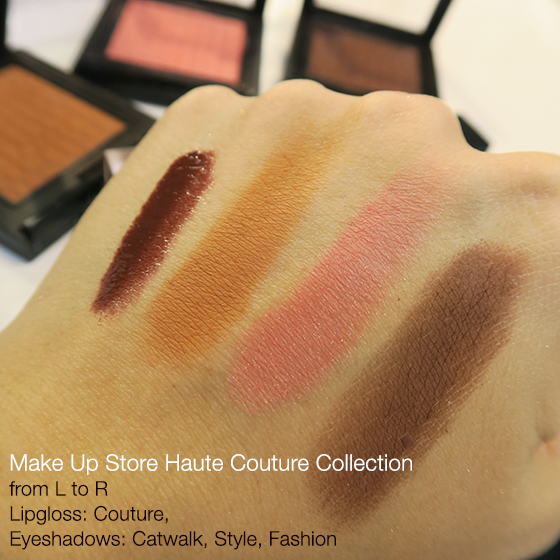 And here is a quick preview of the SHADE collection:
This collection features makeup brushes, two face highlighters, cream concealer palette, lipsticks and eyeshadows.  The packaging is pretty cool and edgy, and the colours are very user-friendly. 
More pictures: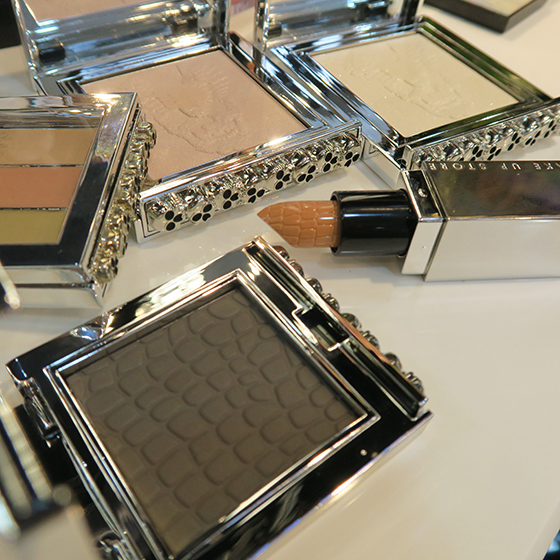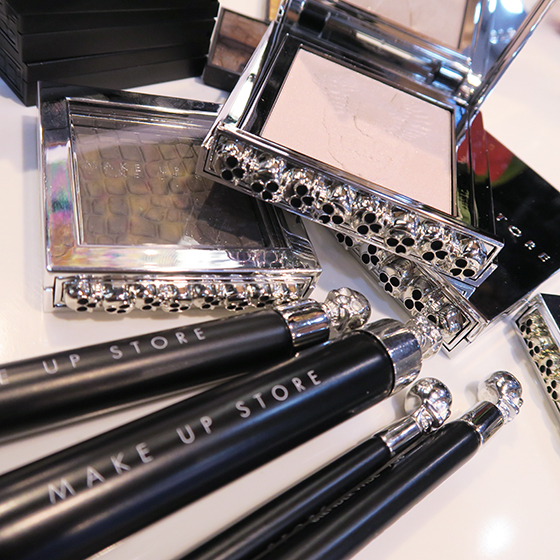 The SHADE collection information here: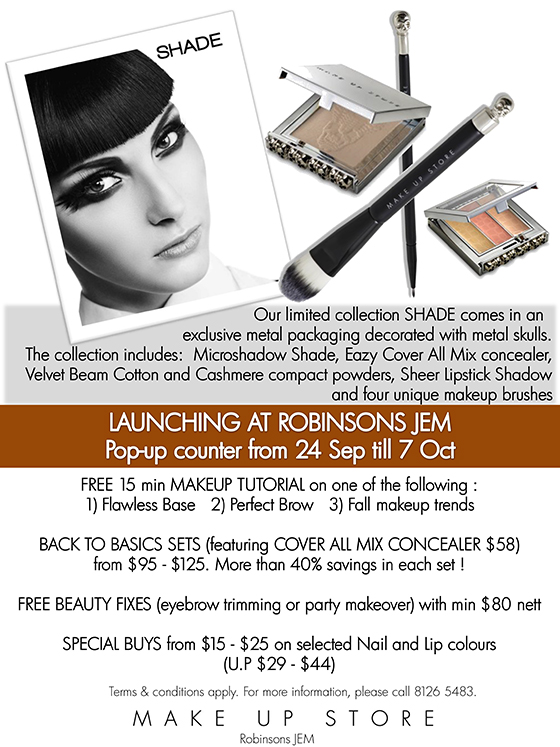 Ending this entry with a LOTD that I did with the products I picked from the new collection: 

Swatches of the three eyeshadows I got: 

A few application pictures: 
The eyeshadows have no fallout-- but the powder do fly about in the pan, which makes them look a tad messy, but once you tap off your brush, and you apply and blend the eyeshadows, there's no fall down onto your eye area.  I would say a little product goes a long way, and it is easier to build up the colour then to start with too much product on your brush. 
These eyeshadows are really soft and smooth, and I enjoyed using them.
The cream foundation feels a little thin, I had expected it to be a little creamier, and building up the colour payoff I wanted was a little tricky.  I definitely need to try this out a few more times before I can give my final thoughts though.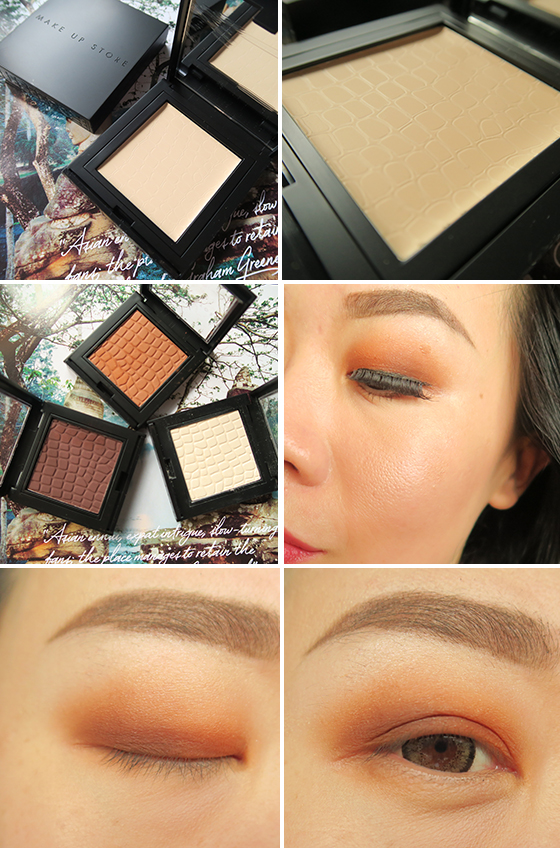 The complete look: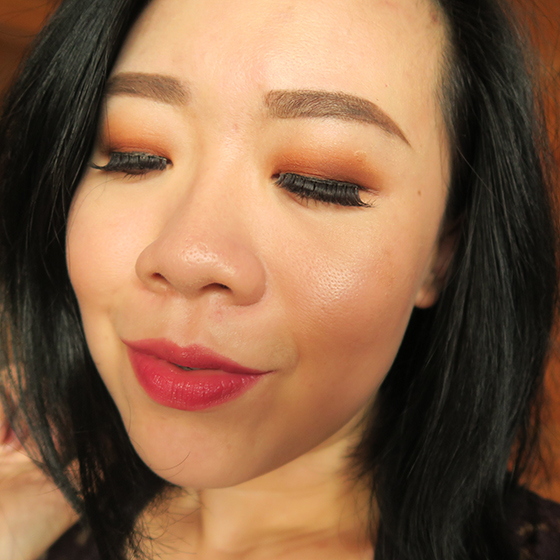 All products used: 
base - Makeup Store cream to powder foundation in Almond, set with Ettusais Premium loose powder
concealers - Shiseido natural finish cream concealer in shade 2B, Kevyn Aucoin sensual skin enhancer in shade SX07
cheeks & contour - Makeup Forever Sculpting Kit in 02, Makeup Store Gleam Dream in Rose, MAC Blush in Breezy 
brows - ABH brow promade in Dark Brown, set with MAC browgel in Beguile
eyeshadows - Makeup Store eyeshadows in Barbara, Catwalk and Fashion
eyeliner - Tom Ford dual ended liquid liner
lashes - my own stack of demi wispies 
lips - Makeup Store sheer lipstick in Icon 
Brushes used -
Real techniques expert face brush for foundation
Real techniques stippling brush for Gleam Dream 
Real techniques blush brush for contour and blush
MAC 217 for eyeshadow
Inglot 4SS for blending 
MAC 212 for brows
Hope you enjoyed this entry, and thanks for reading!