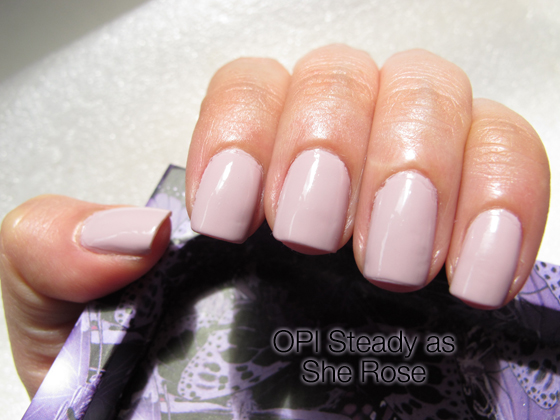 Got my 'regular' manicure & pedicure with the girls yesterday across the Causeway...and I somehow forgot to bring along my supplies of topcoat, basecoat and my choice(s) of colours.  Dang!  So I ended up choosing a color they have, and currently, I am in love with what I picked!  And fortunately, Amy has a brand new bottle of OPI Steady as She Rose... so I can paint this color on me anything I wish.  I have always thought that this is a 'typical' pastel lilac shade, but it seems to lean different shades depending on your lighting, and I thought it looks pinky nude, purpley nude... and even a little greyish nude.  Or maybe a mixture of all three.  But I love it, the formula seems great when the manicurist painted it on me... and I couldn't stop admiring my nails the whole of yesterday.
We also had buffet dinner at the hotel (located at the same mall) and it was quite awesome, lots of seafood, and we totally enjoyed the creamy seafood soup, and ate a lot of cold fresh prawns.  
Some pictures of my nails while I was waiting for them to dry at the salon: 
the obligatory armcandy shot
all bangles from Forever 21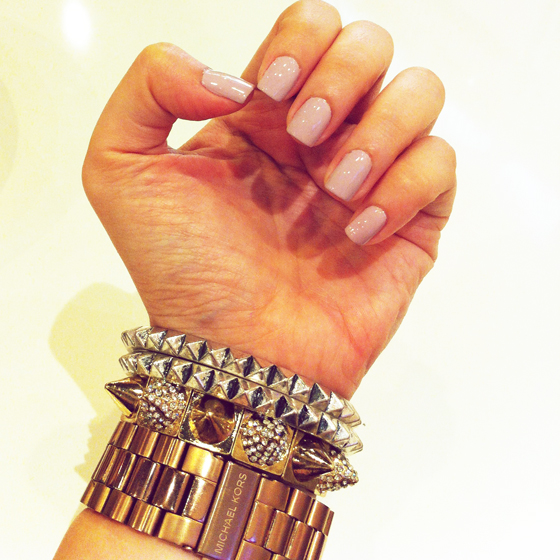 We also went to Inglot and I picked up these 2 bottles of their 'XL' polishes...the XL series are these fine glistening bits of shimmer/glitter suspended in clear base.  It's quite densely packed, and I love to layer these over pale shades.  I think there are a total of 6 or 8 polishes in the range.  I might want to collect them all at some point.  They look REALLY pretty.  (Retail RM$44 each)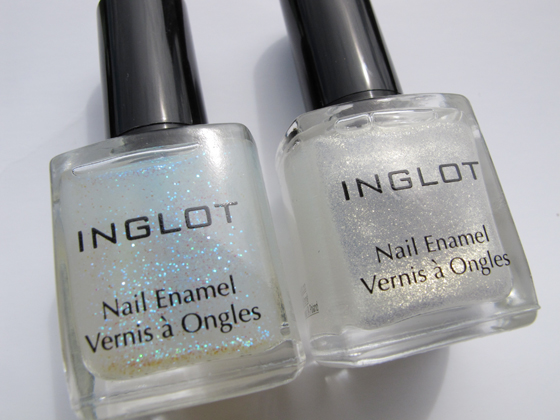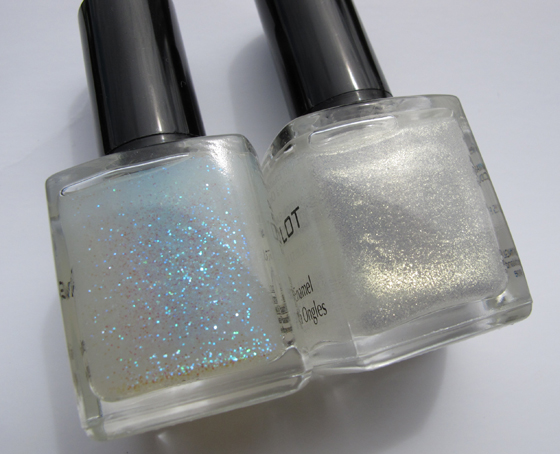 I already have XL3 in my stash, so here is a comparison of how they look like. 
Will swatch/ feature these in later entries.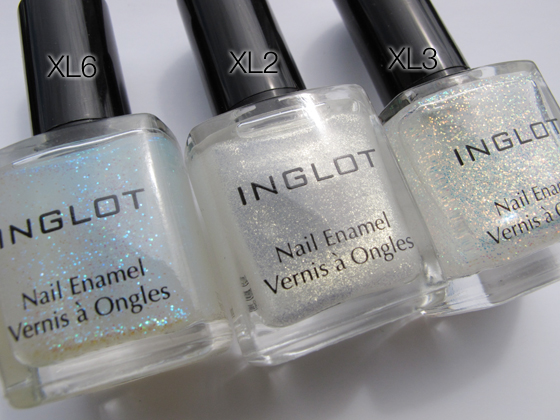 Next, we went a little nuts at Elianto.  These polishes are made in Korea, and you can find Elianto as almost every mall in JB/Malaysia.  The retail price is RM5.50, but there was a 20% discount I think, so they ended up around RM4.40, which works out to SGD1.80 (thanks to the strong exchange rate we enjoyed the past week).  So, the mentality was to GRAB....and GRABBED I did... ending up with 7 shades from nude to red, and all sorts of creamy lovely peachy nudes/ pinks/ corals in between.  They look awesome like this, and I need to have them all together. It's a little like all, or nothing.  The formula of these polishes are very creamy, smooth and the colors are very nicely pigmented.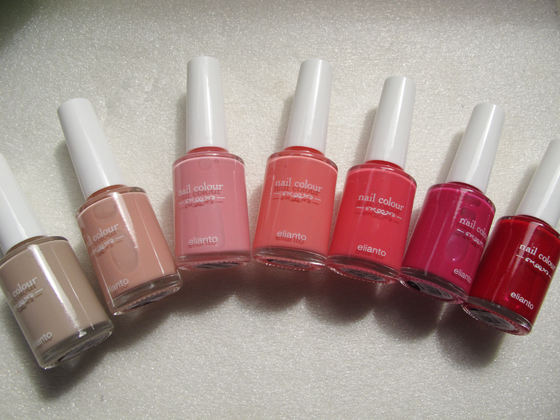 quickly swatched them on a nail wheel, 2 coats each
I most probably won't be making comparisons...especially for the reds, nudes, and corals....
but they totally remind me of these colors in my stash
Laura Mercier Cabana, Butter London Trout Pout, Essie Van D'go, Cute as a Button, Haute as Hello, Revlon Colorstay Bare Bones, Red Carpet....
etc etc etc you get the drift... but, yes, I think I need to try these out too!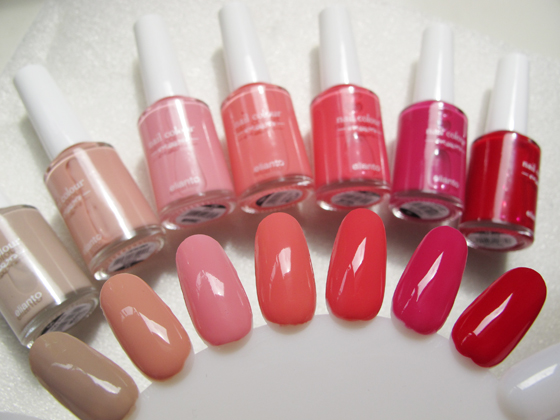 here are the names for reference, in case you want to grab some yourself...my only question is, why is S04 nameless?  So sad!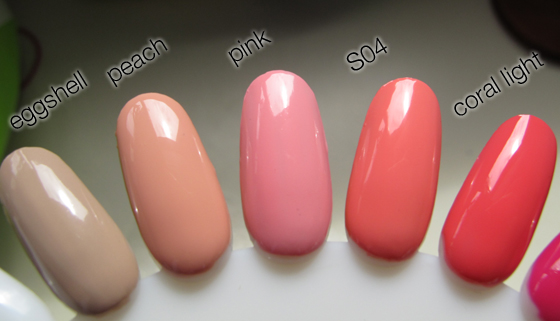 * coral light & S04 are labelled wrongly - refer to pic above for correct info *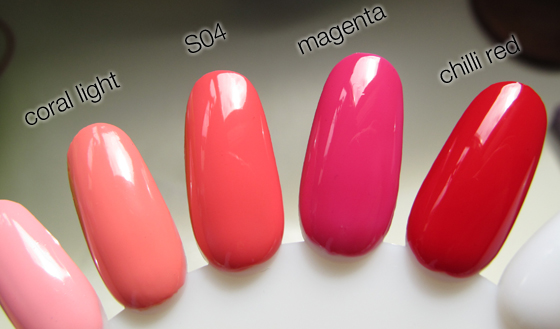 Overall, a great time was had by all, as always... getting massages, manicure, pedicure, random shops browsing and ending off with awesome dinner.  Now I wish the work week can wait (a long time) before it starts again.  
That's all, and thanks for looking!