Hi hi!
I am hosting a giveaway for NAIL VIBE which is celebrating their 2nd anniversary... in case you aren't aware, NAIL VIBE is a Singapore based nailpolish and supplies retailer, they have an actual store at China Square Central, and at their online store, they are up to date with the latest OPI, China Glaze, Orly, Zoya and Essie collections - and lots more of other brands -  (they often hold pre-orders so you can get them asap when the collections are launched).   Best of all, NAIL VIBE actually ships internationally, so if you are residing in areas where it is impossible to get hold of certain brands of nail polish, you should check them out.    And hence also this giveaway is open worldwide! 
Terms and Conditions
03 x 15% Nail Vibe discount Vouchers to be won within the contest period of 7 days.
Closing date 8 April 2013 
This giveaway is open intertionally. 


Requirements for participation:
1. Follow @NailVibeSG on Instagram
2. Register as a user on Nailvibe.com ** you will be given a customer ID ** 
(if you are already a registered user at Nail Vibe, that's even easier, now you just need to follow them on instagram!) 
Use the following format in your contest entry - leave a comment below: 
Name/email:
Instagram username:
Customer ID:
Voucher T&C:
1. Voucher Validity for 6 months
2. Minimum spend of S$20.00
3. Voucher can be used both online and walk-in to our retail store at China Square Central #02-27
Preview of their international shipping options: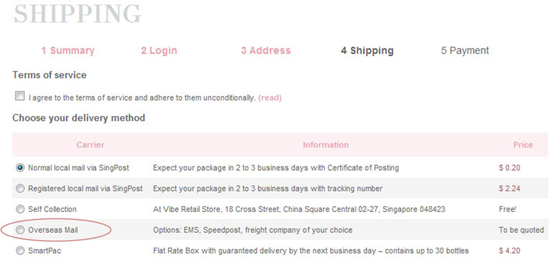 Voucher terms & conditions:

GOOD LUCK!