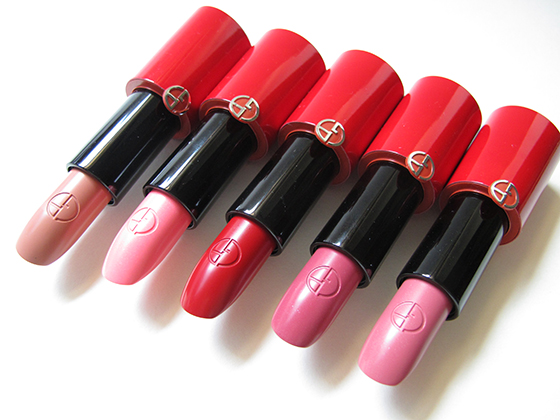 Hallo!!  In this entry, I will be sharing with you five shades of the new Giorgio Armani Rouge Ecstasy lipsticks - they are beautiful in every way.  The striking red package, the smooth formulation and the rich color payoff. They are creamy and glides on your lips like butter.  
I have previously posted the information and introduction to these Rouge Ecstasy a couple of weeks ago here -
link link!
These lipsticks are the first "CC" lipstick, an incomparable skincare lipstick that combines high-impact colour with the ultimate comfort of a moisturising balm.
"Care" & "Colour": a new innovative hybrid product that marks the birth of a new era in lipstick. Rouge Ecstasy offers a unique blend of moisturisers with the skincare properties of a balm – the Melting Cream Complex – combined with vibrant colours.
Here's a close up of the red tubes - they have a magnetic closure, and the overall tube has a sturdy weight to them.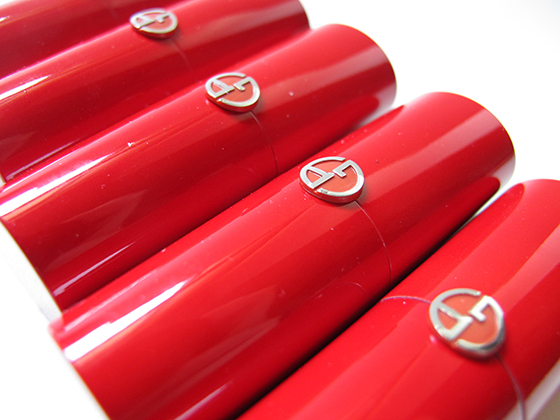 And these are the colors: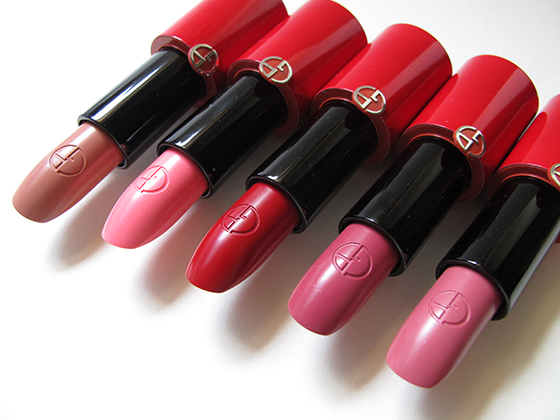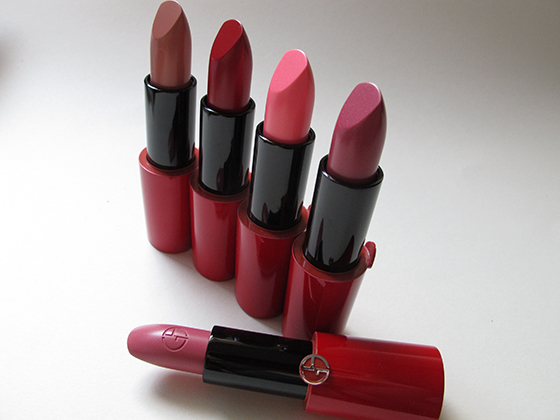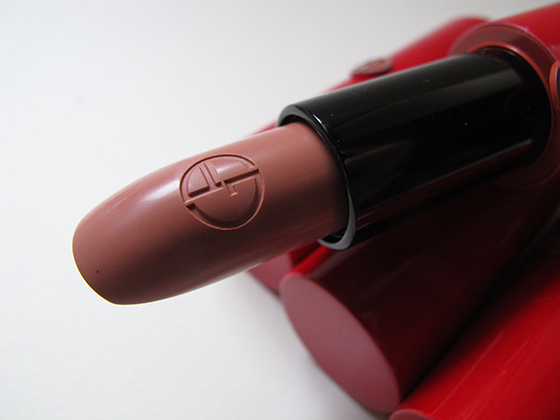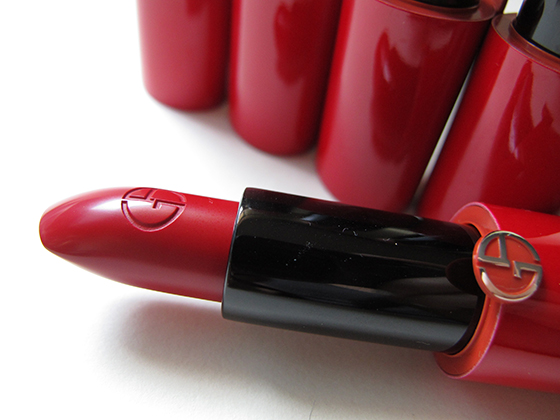 Swatches:
No prizes for guessing, but my faves in this set would be 400 and 509.  508 blends right into my own lip color, while 100 is a beigy nude which I would only use if I want to tone down a lipstick color, and 504 is gorgeous, but a little too pastelly pink for my preferences.
The lipsticks pack on decent color payoff, and they feel very luxurious.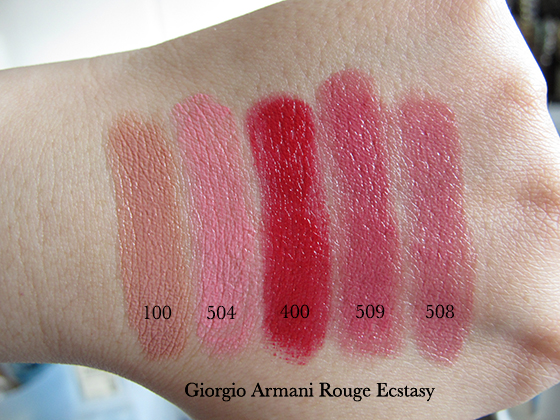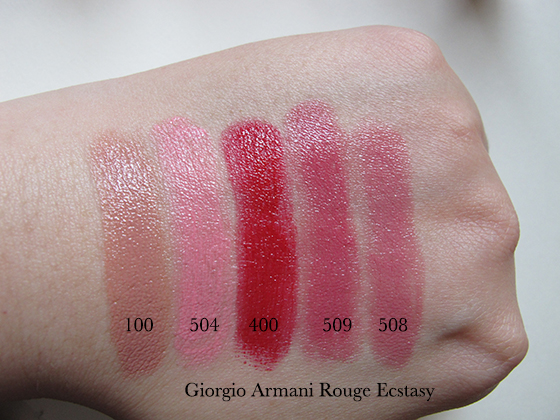 swatches in the same order: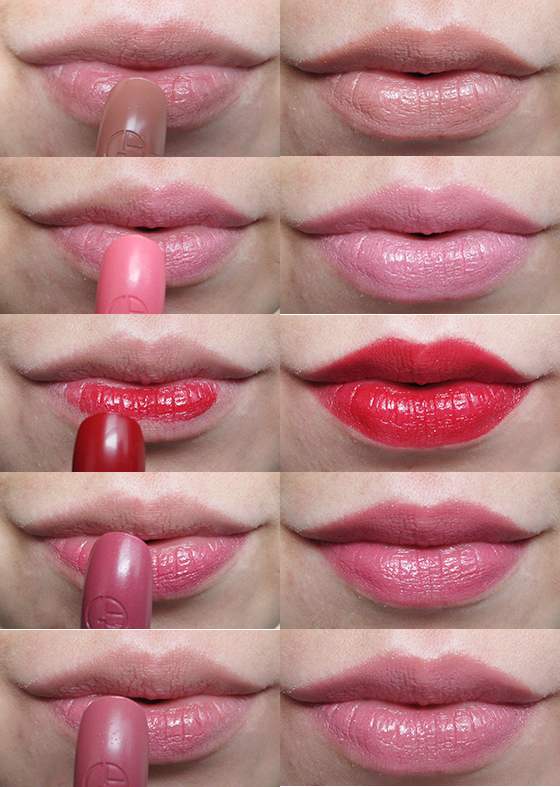 I find that applying these lipsticks is so easy thanks to the melting technology formula.  509 contains some slight shimmer, but nothing gritty or very obvious once on the lips.  They feel very comfortable and weightless despite the rich formula.  I find that they last a good 4 hours without fading..but they are certainly not the most long-lasting lipsticks, which to me isn't a problen...after all, re-applying lipstick is part and parcel of the whole makeup routine.  They aren'r drying at all on my lips.  I really enjoyed trying these out over the past week. 
A couple of full face shots to show shade 100  in action: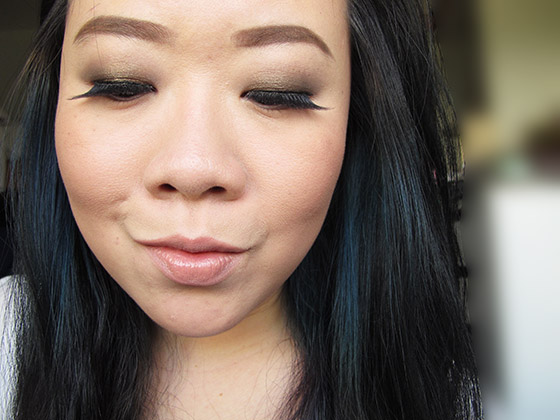 All products used:
face - Giorgio Armani Maestro Compact, set with Giorgio Armanic Luminous Silk compact 
concealer - Giorgio Armani Maestro corrector under the eyes, Laura Mercier Secret Camouflage SC03 
cheeks - Clarins Mosaic bronzer, Giorgio Armani sheer blush in 05
lips - Giorgio Armani Rouge Ecstasy in 100 
eyes - Giorgio Armani Eyes to Kill Intense 06 Kahki Pulse
liners - The Face Shop gel pencil liner in black
brows - Shiseido brow compact BR602 set with NARS brow gel in Piraeus 
Giorgio Armani Rouge Ecstasy CC Lipsticks  will be available next month at DFS Galleria and retail for S$43 each. 
Hope you find this entry helpful and thanks for reading!!!