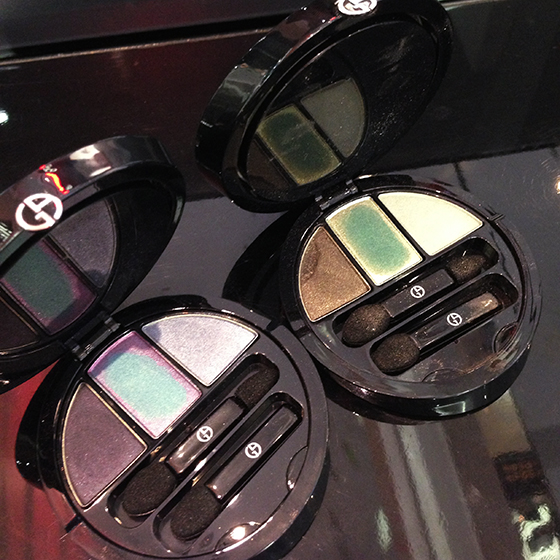 Went to the Giorgio Armani counter at DFS Galleria the other day, and had some fun playing and swatching the new Fall 2013 collection.  I tried on both the eyeshadow palettes while I was there, and I must say that the shadows are so creamy and smooth, applying them on my eyelids (even though hastily) was a dream. 
The trio of colors in each palette work beautifully together, and the shimmers on these are very refined and multi-dimensional.  
Each of these palette comes with a trio of eyeshadows and a cheek colour.  They retail for S$108 each. 
Some close ups: 
(apologies for the slightly off color appearance, I took these pics with my iphone)
There seems to be an overspray on both the blushes and eyeshadows.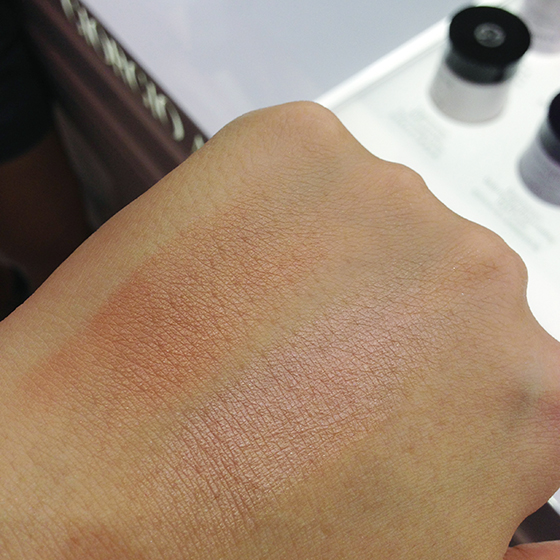 and the eyeshadows: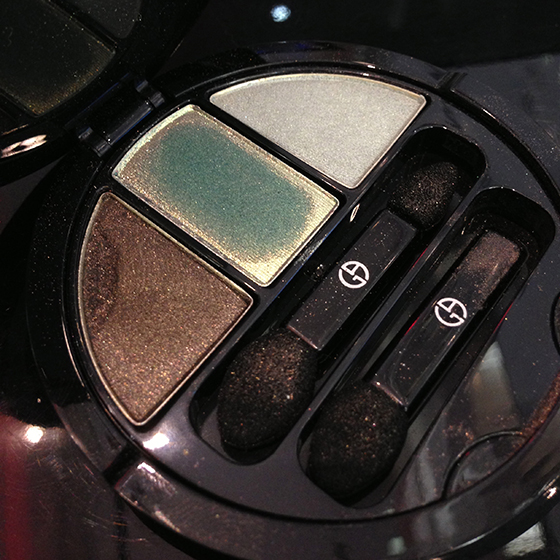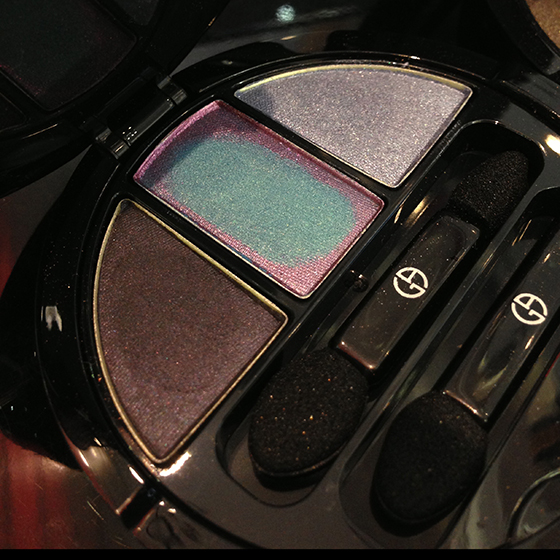 (note that my swatches are quite heavy - I had swiped them all quite hard with the sponge-tip applicators, and I had a 'base' of a makeup cleanser balm on my hand, and somehow that makes the eyeshadows go on very intensely - but but but... that's not to say that these eyeshadows are not pigmented at all.  They are just very smooth, and very pigmented.)
Realistically you would be applying the eyeshadows in a more diffused way, and the shimmers catch the light and sparkle in the most subtle way.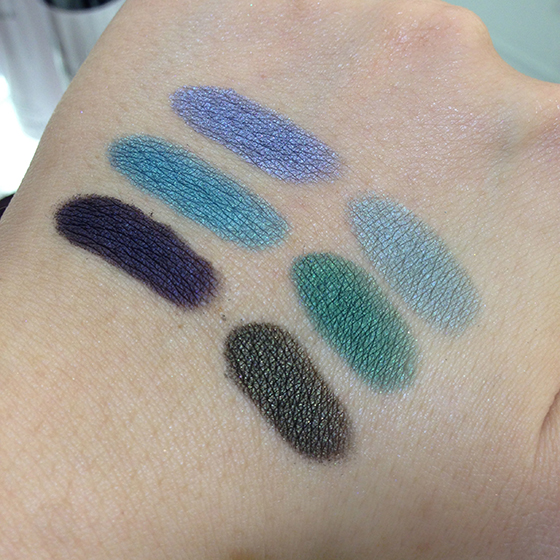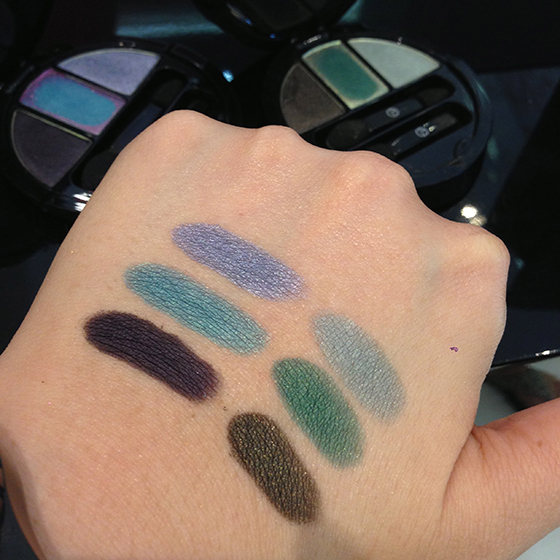 Next are the 6 new shades of the Eyes to Kill Intense ($41 each) - and my quick rundown on the new shades:
The GOOD - the shimmers are really beautiful, and they so sparkle so pretty.  Some of the shades have this complex duochrome quality, and they are great to add dimension and intensity to an existing eye look. The consistency is also quite finely milled and smooth.
The BAD - I find that the shadows are not very unique, especially the non-duochrome shades.  Also the base color of these pots are not very intense, which make them more suited as over eyeshadows.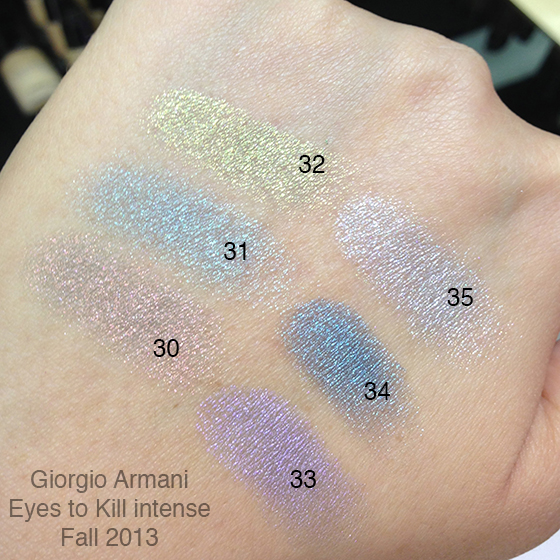 Came across another GA foundation that's now on my radar - the Designer cream foundation (not to  be mistakened with Designer Lift which comes in a pump bottle) I think this retails for S$116 or $106.  I quickly slapped a little over my already made-up face - just a thin layer, to get a feel of the formula.  It is very rich, creamy yet so light and sort of 'wraps' your skin surface.  It was indeed love at first swatch, I had requested for a sample, but alas..there was none to be had.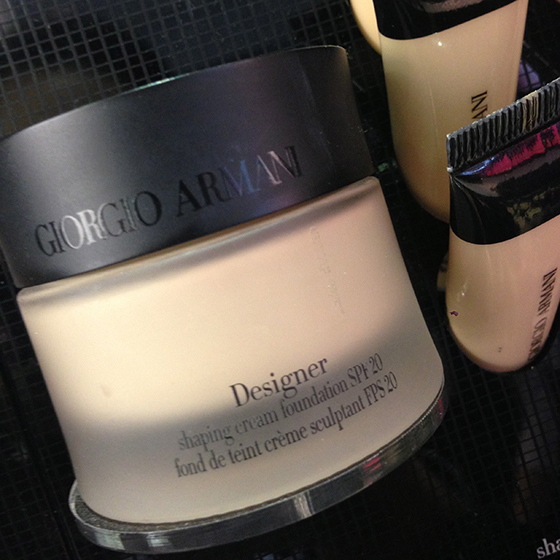 quick snap of how it looks 

I did leave the counter getting something though - the Maestro Eraser ($46)- this is a concealer for under the eyes.  I knew I would somehow end up with one of the GA concealer type products if I go to their counter, it seems to be the only missing link to my GA base....and yup, I fell in love with the Maestro Eraser - it isn't for everyone though, but everyone can make it work somehow.  Let me explain. 
Again, I had the chance to slap it on under my eyes (I had removed the makeup around my eye area after trying out the two eyeshadow palettes) and I prepped my eye area with their 'Nera' reviving eye cream (omg, another object of lust) at S$232 and thought it's a good time to try out the Maestro Eraser.  I used shade 02. 
Here are the results: 
Needless to day, I think I fell in love with it immediately...not too sure if the before/ after pic is obvious, but in real life, I do notice visible brightening and smoothing of the undereye area.  If you have serious pigmentation under your eyes, you would definitely need something with more coverage to conceal first and then use this as a brightener.  For me, this gives just the right amount of coverage and brightening.  I can feel that it is that sort of product which will not settel into your lines throughout the day, and it's something which you can use even over eye makeup throughout the day (not that you need to, it is pretty long lasting) The only thing is that the product is very liquidy and emolient, and it sort of oozes out of the squeeze tube... so be sure to store it upright, and never to throw it around in your bag. 
My current fave undereye brightener/concealer product is the YSL touche eclats (no 1 and 2) but if you want a quick comparison, I would say both YSL and GA has the same brightening effect for me, but the GA Maestro Eraser has a tad more coverage and has a more emolient formula making it more suited for people with dryer skin.  Personally, I can rotate either one with good results... I just like...options, you know? Heheh. 
Some swatches: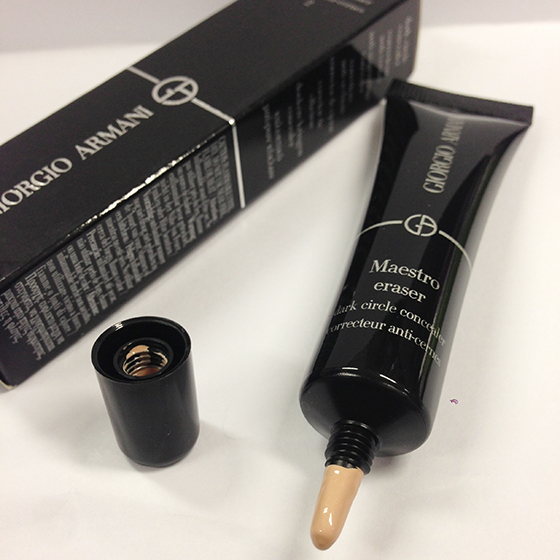 Shade 02 is the perfect mixture of pale peachy beige for under my eyes.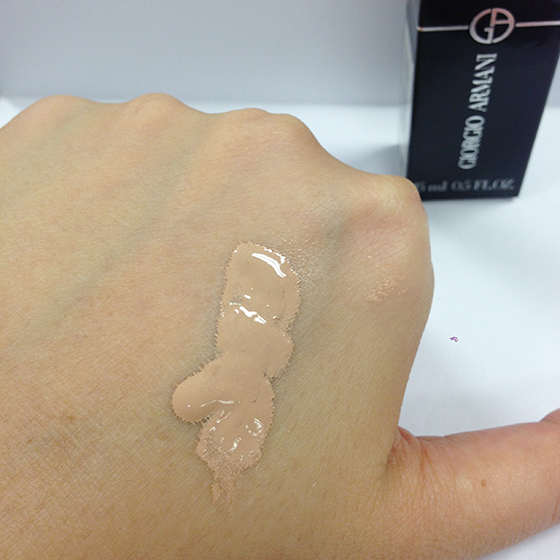 That's all for this entry, and I hope you found it useful!
*** and special thanks to the very very patient girl who every gladly obliged and showed my friend and I all the new products, who watched me with slight amusement and half amazement as I swatched the products, applied two different eyeshadow combinations on each of my eyes, raved about base products without trying to push me in any direction, offering her personal experience of using the GA products (even though I think she works at the Jurlique counter judging by her outfit) but she was very patient and 'non-intrusive' and I am very thankful for that.  *** 
Thanks for reading!