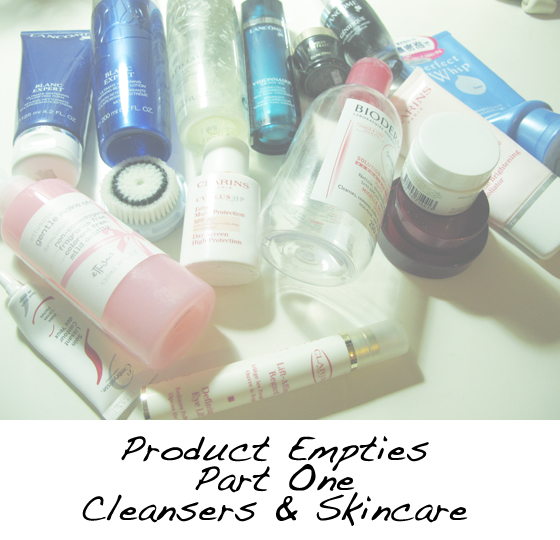 Hi hi!
Time for another empties entry... I swear I have been putting this entry off for the longest time, it is at least 1 month overdue.  And along the way, my bag of empties got heavier and heavier.  Most of this products were used up in the months of Jan to Mar 2013..with a few products I used up as recently as last week and yesterday.  I will be doing a part two which consists of mainly shower/hair products in an upcoming entry (maybe next week). 
So lots of cleansers, I wash my face twice a day, and it is no wonder that makeup removers and cleansers are always frequently used up.  Also sometimes my sister share these products with me, so we use them up more quickly than others. 
Here we have three makeup removers:
1. LANCOME Remove all deep cleansing oil for face and eyes 
A rich cleansing oil, I bought this for only S$20 when I was at the JPO.  It removes all makeup effectively, especially foundations and eye makeup.  I like that it comes in a pump, and really melts away makeup.  I would repurchase this, but not in a long long time, I certainly didn't see it anymore at the JPO, and I have several other cleansing oils I can use in the meantime.  
2. Ettusais Gentle Makeup Off 
This reminds me of the Biore Jelly makeup remover, it is sort of gel texture, and not entirely oily.  It is very effective and gentle for light makeup days, but if I have full eye makeup, this is not enough.  If you have sensitve skin, this would be fantastic - very gentle and soothing to use. 
3.  Bioderma 
This needs no introduction.  I have lost count of how many bottles I have gone through.  I constantly have backups, and I always have a bottle of this on my table.  When I need to remove my makeup in a hurry in my own room, I would use Bioderma...and when I am on a major makeup swatch fest, I also use Bioderma to wipe my lips, hands, etc etc in between swatching and photo-taking.  This is definitely an essential.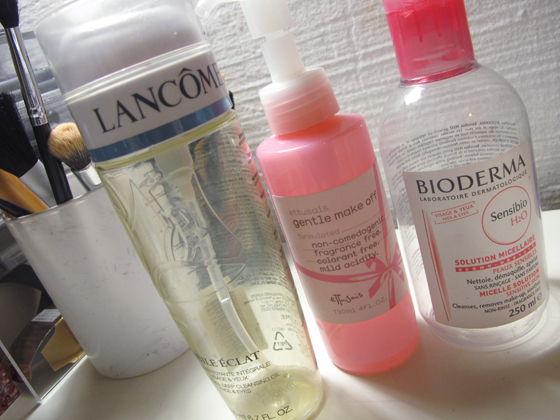 Next are three cleansers:
1. Lancome Blanc Expert Ultimate Whitening Purifying Foam 
I really enjoy this cleanser, from the rich creamy foam, to the scent.  It leaves my skin feeling super clean without being stripped.  
2. Perfect Whip Foamy Cleanser 
I have gone through several tubes of this.  Really afforable, and really dense cleansing foam and always leaves my skin really clean afterwards.  Definitely a staple in my cleanser stash.  Many thanks to Amy for recommending this a year ago!  
3. Clarins White Plus Gentle Brightening Exfoliator 
I think this is my 3rd or 4th tube.  I love the scent, and the natural exfoliator beads.  Leaves my face visibly brighter and more radiant, and I always follow up with a brightening mask after this exfoliator.  Will definitely repurchase.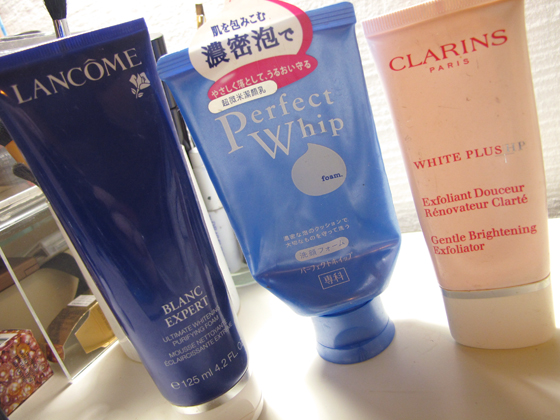 Skincare products: 
No surprises here that I am using up a lot of Lancome products, since I have been using them since Feb. 
1. Lancome Blanc Expert Ultimate Whitening Refining Beauty Lotion
This is the very first time I finished a toner/ lotion type of product.  (well, okay come to think of it, I have used up several Clarins ones in the past).  I have never been a toner girl... but I started decanting this product into a spray bottle, and it makes this toning step of my skincare routine so much more effective and enjoyable.  No more fussing with the watery toner in the palms of my hand, no more fussing with cotton pads.  I just spray the toner onto my face, pat dry and go on to the next step.  I love the feeling of this toner.  It is not 'drying' nor alcohol-y, it feels moisturising and relaxing. 
2. Lancome Genefique 
3. Lancome Visionaire 
I don't need to say more, this is my power super serum combination... I am currently using the brand new Genefique Advanced (which I am loving, cos it is richer and even more POTENT).   I have used both serums at least 3 - 4 times... and always very very satisfied. 
Click here to read all about my Lancome skincare routine - it is pretty comprehensive, and my skin has never been better. 
4. Lancome Absolue Extrait cream 
This is a deluxe sample tub, and it is just an amazing luxe face cream.  Very very pricey, and I enjoy it.  I use it very sparingly, and it leaves my face totally regenerated and radiant the next day.  Definitely a skincare treat for your face.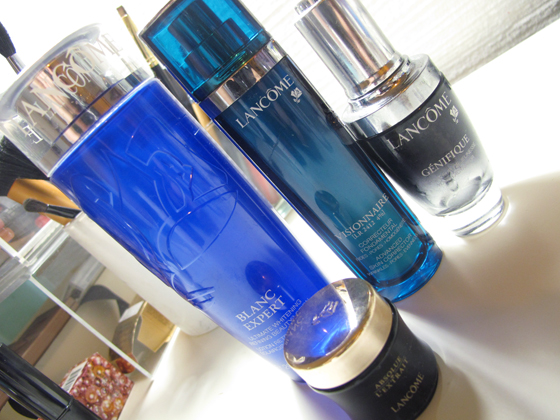 Next are a bunch of randoms, LOTS OF EYE PRODUCTS.  I am a eyecream, eye serum junkie.  
1. Clarins UV Plus Multi-Protection SPF40 
This lasts me forever and ever.  It evens out the skintone, not oily, and provides great sun protection.  It is a decent and effective sun protection product, and I highly recommend this. 
2. Clarins Defining Eye Lift (old formula)
This is a eye serum, I don't feel any visible eye lifting effect, but it feels lightweight, and I don't mind this extra step before I use my cream.  Better be safe than sorry.  I am paranoid that way when it comes to skincare for my eyes.  I don't really have serious eye issues, but I just want to be really careful anyway.
3. Kiehls Cream Eye Treatment 
A super creamy rich eyecream, I LOVE IT because it is so thicky and cream, and it doesn't transfer into my eyes and irritate them.  I would defnitely re-purchase this.  Can't remember how much, I think it's around $50 (got it in HK) and it is super moisturising.  
4. SK-II signature eyecream 
This tub lasted me around 4 months.  And I LOVE IT.  It is very creamy, moisturising and definitely brightening.  I would definitely want this as well.  
5. Embryolisse Eye Cream 
This is a very basic eye cream, and if you don't have much eye issues, I do recommend this.  
6.  Kiehls Midnight Discovery eyecream (not pictured) 
Finished my second tube!  I used it, but most of the time it's my sister who is faithfully use this every day and night.  She really noticed brightening around her eyes, and all my friends whom I recommend it to, all love it.  It is very lightweight, and very effective.  
If you are wondering why I use up so many eye creams, it is because I am using 2 - 3 eye creams at any one point.  I sometimes layer a serum and cream, and sometimes just a cream.  I rotate my eye creams randomly too.  So after 3 - 4 months, suddenly I run out of a few of them at one go.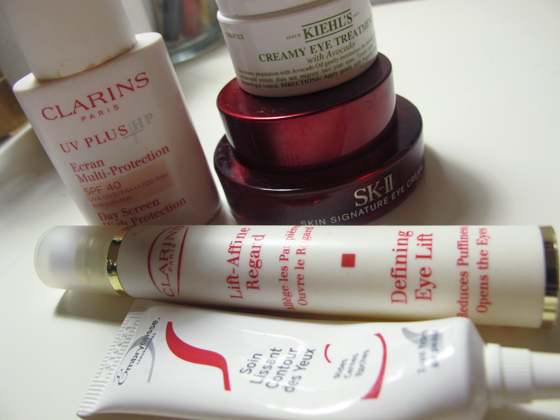 And lastly, this Clarisonic brush head.  It is the delicate skin brush head, as with the one I am currently using.  I have been given the deep pore cleansing one lately, and I can't wait to try that out.  I found the delicate skin brush head nice and gentle, maybe a bit too gentle.  I think I will want to buy the normal ones next time.   I don't really switch it out after a certain amount of time, I just sort of go by my gut feeling, like if I need to replace, I just do it.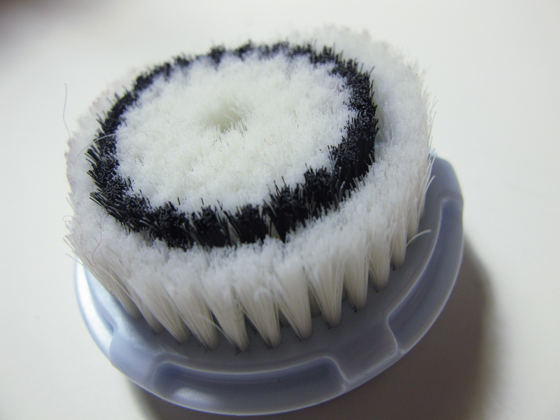 Phew!  
I hope you find this entry helpful, many of these products are not new, and I have mentioned many of them before.  Feel free to leave comments below about anything I have mentioned! 
What have you used up recently?
Thanks for reading!