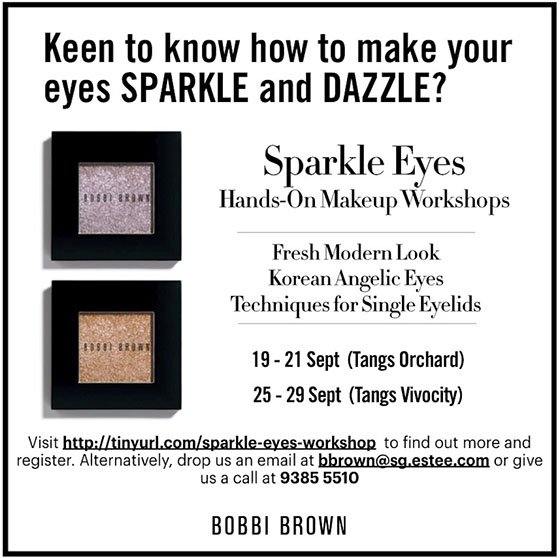 This is a little late, but you can still take part in the Bobbi Brown Sparkle Eyes hands on workshop taking place at Tangs Vivocity fom 25-29 Sept.  I have previously posted this information on my instagram, so most of you would have seen it there. 
Here's how you can sign up - LINK
Bobbi Brown Singapore Facebook - LINK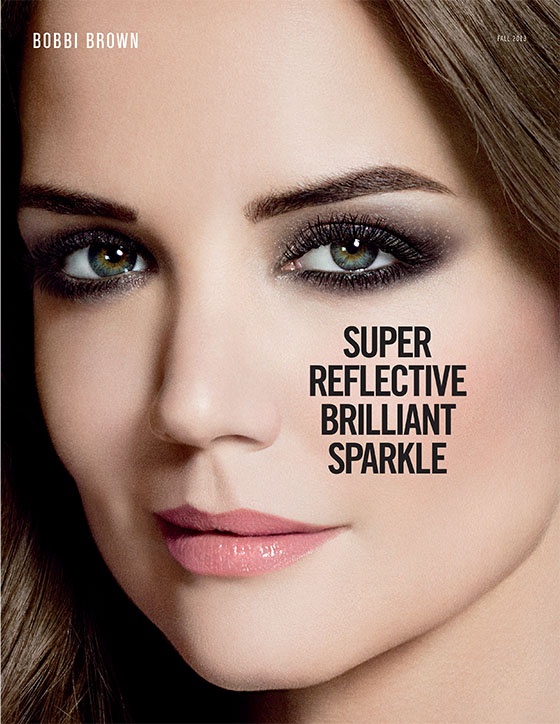 Bobbi Brown's New Eyeshadow Collection
Inspired by requests from fans and makeup artists alike, Bobbi perfects her eye shadow collection to create the most diverse shade range for all skin tones. The collection includes 24 new shades available in matte, metallic, sparkle and shimmer formulas, providing women with more shade options and textures to choose from.
Bonus: Housed in a sleek, flip-top compact, each shadow can be used individually or popped into a handy customizable palette (sold separately). Perfect for a woman on-the-go. 
New
SPARKLE EYE SHADOW
Bobbi's unique featherweight formula
wears for up to 8 hours without creasing or fading. Featuring a combination of multi-dimensional shimmering pearls and glitter, it instantly brightens eyes
with pure, sparkling color. This superbly soft powder shadow glides on smoothly and effortlessly.
Shades: Silver Moon, Ballet Pink, Mica, Sunlight, Cement, Taupe, Pebble, Silver Lilac, Smokey Quartz, Allspice, Baby Peach 
SHIMMER WASH EYE SHADOW
For just a touch of luminosity on the eye, nothing compares to Bobbi's lightly pearlized Shimmer Wash Eye Shadow. Specially coated pigments
offer long-lasting, crease-free wear, while Talc and Mica provide blendable, smooth, and even application. 
EYE SHADOW
A sophisticated collection of subtle nudes to rich dramatic shades, this exclusive silky, matte formula glides on easily and is incredibly wearable.
Shades: Banana, Mulberry, Cool Ivory, Antique Rose, Khaki, Saddle, Camel, Rich Espresso, Rich Navy, Rich Caviar 
METALLIC EYE SHADOW
Bobbi's boldest formula combines rich, high- pigment color with intense pearl-like shimmer. Each shade applies smoothly and evenly, and stays crease-free for 8 hours of flawless wear.
Shades: Balsam, Lapis