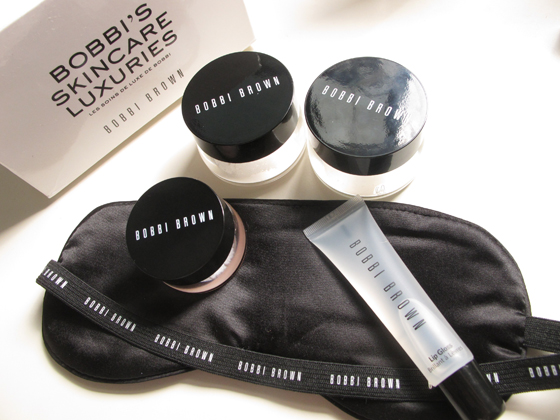 This entry features 3 new Bobbi Brown EXTRA moisturising balms which I have been enjoying. 
Just a quick update on my current skincare routine, I am actually at an in between stage right now.  I am using up the last couple of items of my Lancome skincare, and I am about to start on a brand new range in the next fornight.  So I decided to look through my stash, to look for something neutral and moisturising to fill in the gaps of my routine (specifically a new eye cream, a new face cream) and I am glad to have discovered this little gem of a set. 
The Bobbi Brown skincare luxuries is a set which is available at all travel retail outlets, and it is no wonder why, because they are all little tubs of goodness which you can easily use while you are jet-setting.  
Here are the 3 main products I am using, and the product information: 

EXTRA Soothing Balm (deluxe travel size, 7ml) 
A dense, concentrated balm with exotic plant extracts, such as Avocado, Geranium and Rosemary Oils, can be used anywhere extra hydration is needed--on lips, cuticles, even heels. EXTRA Soothing Balm can also be applied lightly over makeup to give cheeks that desired, healthy glow. A little goes a long way. 

EXTRA Repair Moisturizing Balm SPF 25 (deluxe travel size, 15ml)
Since sun damage is a key factor in skin aging, this is as an everyday essential for broad-spectrum sun protection. Formulated with the same powerful ingredients as Extra Repair Moisturizing Balm, this multi-tasker also offers anti-aging benefits. Argireline ® Peptide helps to increase skin firmness, while Clary Sage Ferment boosts skin's ability to hold in moisture over time.
EXTRA Eye Repair Cream (full sized, 15ml)
Packed with peptides, natural plant oils and humectants that target fine lines, wrinkles, dark circles, puffiness and dryness, this rich, concentrated cream visibly revives eyes. Use morning and night - warm between fingers, then pat gently around eye area. Once cream is absorbed, follow with Corrector and Creamy Concealer. Dermatologist tested. Ophthalmologist tested.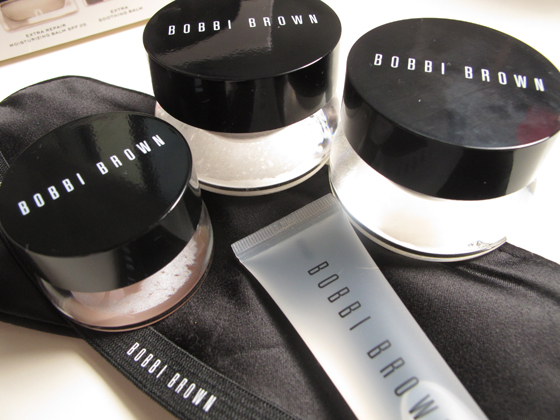 As you can see, the products are very rich, and balmy.  In particular, I love the rich eye cream, and face cream.  The face cream has a very refreshing spa-like fragrance.  I like using both under my makeup, because they keep my skin moisturised and holds up the rest of my makeup very smoothly, and hydrated throughout the day.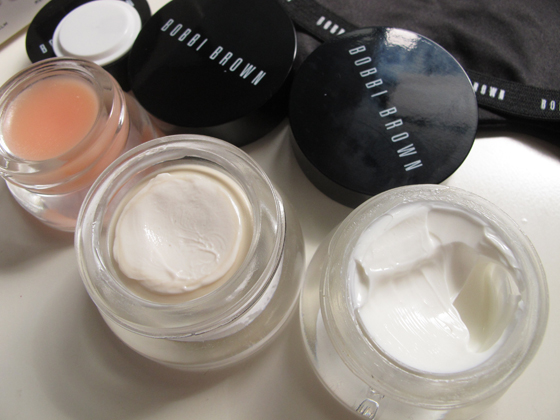 I must say I am a little curious to try out more Bobbi Brown skincare.  After I am done with reviewing the upcoming 2 or 3 skincare ranges in my collection...
If you have very oily complexions and/or prefer gel like, airy texture and formula, I don't think you will like this set of skincare products...but if you have dehydrated skin, and you like thick creams, I think you will love these.  
'Swatches' - the eye cream on the LEFT, and face cream on the RIGHT.  Yummy!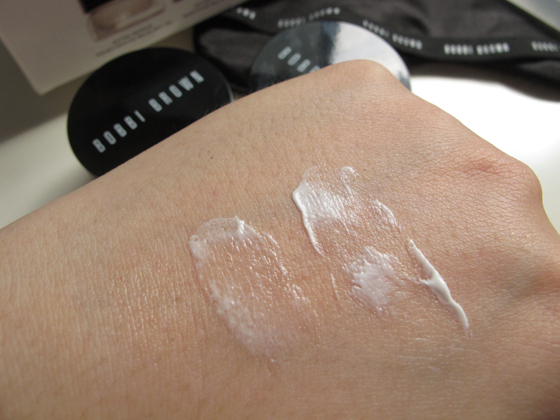 Hope you find this quick overview helpful. 
I will definitely bring along this set of extra treats with me on my next vacation! 
Thank you for reading!