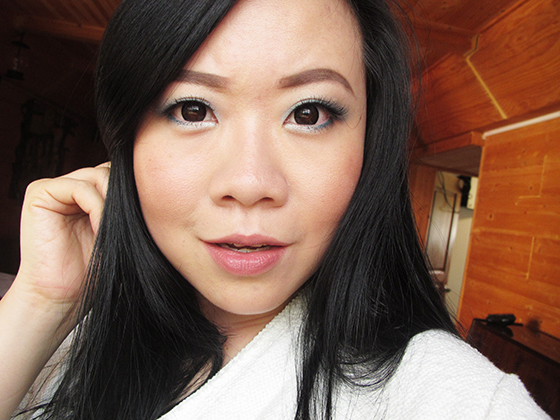 Hallo!
This is a look featuring the new
Shiseido Luminizing Satin Eye Color in LIDO,
which will retail for S$51. 
(swatches here) and I am also trying out the Rimmel Wake Me Up Foundation routine.  Hopefully, I am trying to create a look which is still my style, incorporating some colours and still look quite chic.
(Honestly I haven't worn eyeshadows/ full face makeup in ages, sure, I always have foundation, brows and cheeks the full works, but I always skip on the eyeshadows even when I go out during the weekends.  But it was definitely fun doing this look when I went out yesterday!)
All products used will be listed at the end of this entry.
What I did with the eyes (excuse the long brow hairs here, I need a trim asap!!)
Prime my eyelids - used NARS primer
Apply highlight shade on the browbone - used the palest shade in the trio NUDE BE213
Use a small eyeshadow brush to pat on the lid color 
Use a blending brush to apply the lashline/ definition color - I find that the deeper blue green layers very well with the medium blue.  There's color but really nicely combined with the darker shade to add more depth to the look without looking too 'bright' which can be quite dated in my opinion.  
Line the lower lids with a teal pencil, and set with the medium shade.
Use the palest shade in LIDO to blend and harsh lines and add some highlight to inner corner of the eyes. 
Trick --- I also added a little bit of the crease shade indicated in the NUDE palette to add a bit of warm to the eyes, and also subtle definition. 
Another look overall - 
I find that lashes are a must for this look, or else my eyes won't look 'big' enough to pull off the colors. 
I completed the look with natural cheeks and a muted rosy pink lipcolor.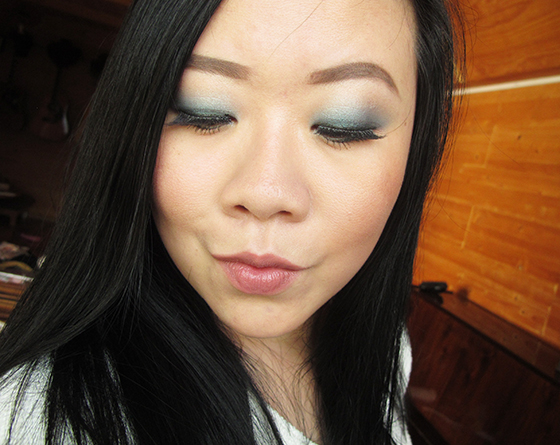 The overall look is this brightness around the eyes, with the most intense colors just around the eyes to add depth.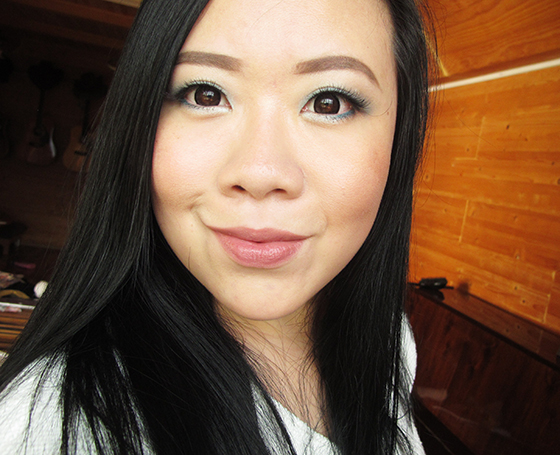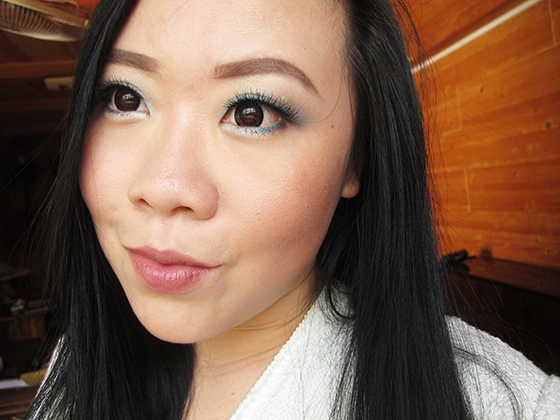 All products used: 
Face - Shu Uemura Instant Glow (as base), Rimmel Wake Me Up Foundation, Rimmel Stay Matte translucent powder to set
Concealer - under my eyes, Rimmel Wake Me Up concealer, for spots, Keyvn Aucoin SSE 
* initial thoughts about the Rimmel routine - I think I have good vibes about the foundation.  It has a nice natural finish that's slightly radiant, making the most of my face look quite flawless instantly.  I don't think the concealer is anything to rave about at this point.  The powder gives a matte finish, and I think a little goes a long way, to avoid looking cakey.  Would be a good touch up powder too. 
Eyes - NARS Primer, Shiseido Satin Eye Color Trio in LIDO and NUDE (refer to color placement in the pictures above)
Lashes & Liner - Teal Liner from Makeup Store Ocean Breeze (my FAVE teal liner), THREE Performance Liner in 05
Lips - Shiseido Perfect Rouge in Titian RS306 (swatches and info here)
Cheeks - Guerlain Four Seasons Bronzing Powder in 00, Highlight Dior Amber Diamond, Blush MAC Cheeky Bronze MSF
That's all I have for now, and thank you for reading!