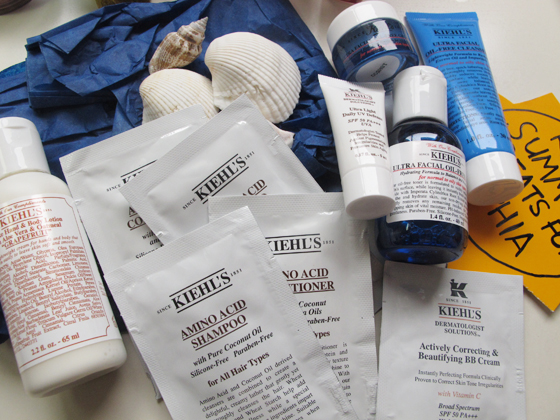 I have already picked and contacted the two winners.   
They are Andrea and Sara! 
Thanks everyone for taking part! 
Hi hi!
We all love giveaways!  Last week, I received this awesome summer pack from the good folks at Kiehls Singapore, and you can stand a chance to win this summer travel kit for yourself too!  
I am going away this summer (for almost 2 weeks, wooooots) so I will definitely need more than this one kit... but prior to the trip, I have a 3D2N camp, and I think everything in this package will come in handy!  
Let's take a closer look at what's inside: 
The Summer Pack features The Ultra Facial Oil-Free Collection, which is packed with pure, efficacious hydrators to help naturally rebalance moisture levels and control shine for 24 hours. 
Ultra Facial Oil-Free Cleanser (30ml) Lightweight Formula to remove excess oil and impurities
Ultra Facial Oil Free Toner (40ml) Visibly reduces oily immediately, continously controls shine on the skin for 24 hours and reduces shine on the skin by 80%
Ultra Facial Oil-Free Gel Cream (7ml) Provides all day hydration, continously controls shine on the skin for 24 hours, and visibly reduces shine on the skin immediately 
The Kiehl's Ultra Facial Oil-Free contains no bad stuff - no parabens, no fragrance and no colorants - to help rebalance skin's hydration levels and provide all day no shine moisture to the skin.  The results are scientifically proven 24 hours of shine control and long-lasting moisturisation. 
Ultra Light Daily UV Defense SPF50 PA+++ (5ml) 
This oil-free, dual protection lotion helps to protect sunburn caused from UVB rays and provides protection from the UVA rays that may contribute to skin damage and premature skin aging.  
The unique formulation is longer lasting than non-photostable UV systems because it is stablised under sunlight and maintains a higher UVA protective barrier.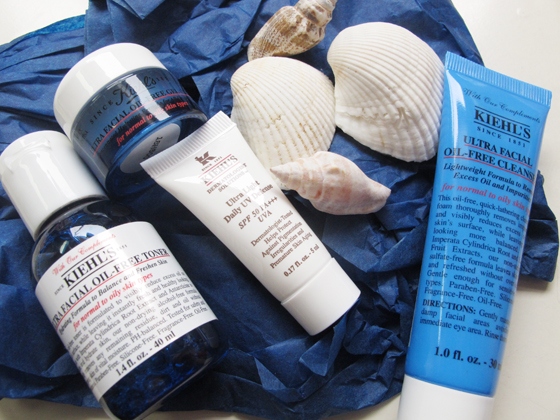 Deluxe Hand & Body Lotion with Aloe Vera & Oatmeal "Grapefruit" (65ml) 
A silky, lightweight cream for hands and body that soaks in easily to leave skin soft and smooth. 
2 sachets each of Amino Acid shampoo & conditioners  (5ml each)
with pure coconut & jojoba oils, suitable for all hair types. 
1 sachet of Actively Correcting & Beautifying BB cream with Vitamin C (SPF 50 PA+++)  (3ml)
* I will have a review of this BB cream up soon!** 
This BB cream conceals flawes and blemishes while providing a natural nude finish, wears all day and does not feel greasy on skin.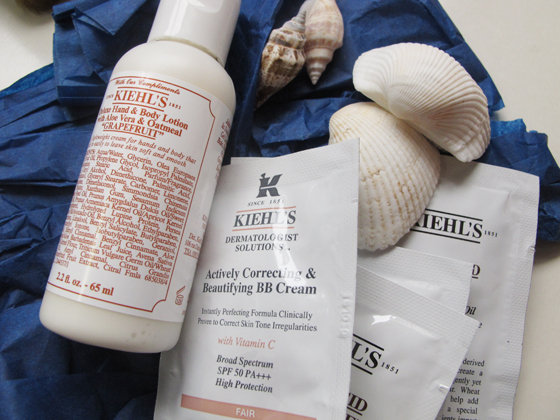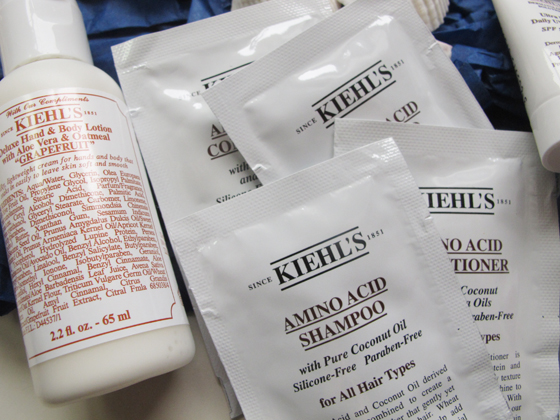 GIVEAWAY
What you need to do: 
For Non-Users of Kiehl's Ultra Facial Oil Free Range:

1. Pop by any Kiehl's store to test their shine and be delighted with complimentary samples of Ultra Facial Oil-Free range.
2. Try the samples at home.
3. Add a review on why they love this product range in this blog entry by 23rd June 2013, 1159 hrs.
For Users of Kiehl's Ultra Facial Oil Free Range:

1. Simply add a review on why you love this product range in this blog entry by 23rd June 2013, 1159hrs


TERMS & CONDITIONS: 
This giveaway is open only to readers in Singapore. 
The $63 worth of Kiehl's products must be claimed in person from Kiehl's Singapore with a proof  of identification (NRIC/FIN) by 14 July 2013. If the produced identification cannot be proven, as determined in the sole and final discretion of Kiehl's Singapore, the winner of the prize will be disqualified. Kiehl's Singapore reserves the right to select another winner in its sole and final discretion upon such disqualification.

Failure to redeem prizes or to produce the requisite identification by 14 July 2013 will result in the prize being forfeited.
4. Closing date is 23 June 2013, 2359hrs.
Use the following format: 
Name/ email: 
My review: 
Good luck!!!