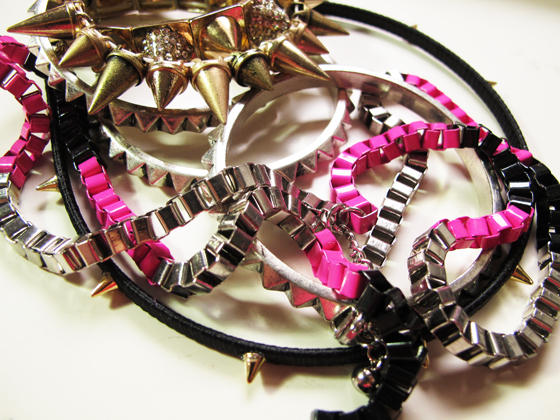 Hi hi!
This is a little collective haul of some very very affordable accessories I had purchased from Forever 21, and a hairband that I bought from TW.   I like to browse Forever 21 accessories, and I tend to only go for their bangles.. and lately they have lots of neon, studs and spikes stuff which I like - and best of all, they are really cheap.. and I can just grab and wear without any guilt...and besides if you pick the right pieces, they hold up very well together with my other armcandy too. 
This set is the latest couple of bangles I bought at F21, over the weekend, they had 20% off all bangles... so yup, I think one is $11 and the other is $19.  Super spikey and sharp!  And the other one is just a really nice combo of bling, gold and giant studs. 
And then we have this trio of oxidised silver round bangles - which are a bit big for my wrist and so they make a lot of clinking and clanking when I move my hands.   But I like the mini studs..and they make for good layering too. 
This is actually a necklace... that I saw on a mannequin, and I hunted it down in the store..and I think it would make a good layered bracelet by itself, if I wear it two times around the wrist.  This is $13 if I remember correctly.  I like the combination of silver, black and hot pink.  And the chain doesn't scratch my skin, and it's actually quite comfy to wear, albeit a bit heavy. 
And lastly, this is a hairband I bought in TW, and I think it costs me about $10-12.  Now I wish I have gotten a couple more in other colours.  It has little studs, and together with the black slim band, looks so sleek, and if I pouff up my hair a bit, and put on this hairband... hmmm.  Feminine yet quite a statement - I think so anyway.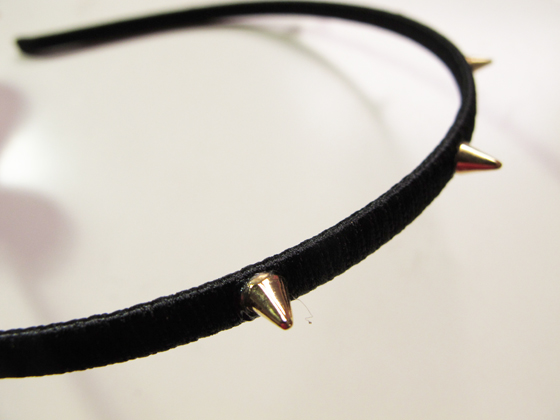 Here's how it roughly looks like on my hair... just colored it recently, so it's super glossy jet blue black.  There is a lamp in the corner of the pic, where it shines on my head, and makes my hair look 'greenish'...ah well.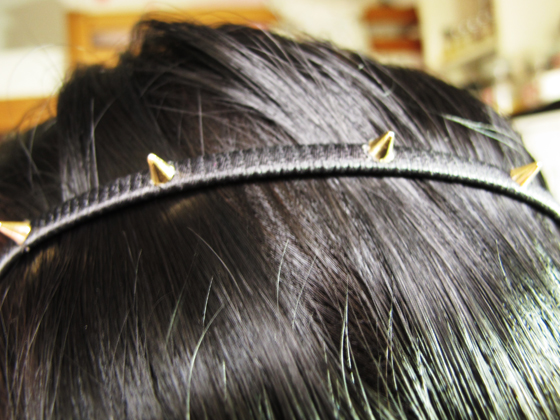 Of course, I won't wear ALL of these together... the trick is to keep a fancy variety of styles, and not to overdo EVERY part of your accessories.  If I am wearing an armful of wristcandy, I would totally skip the hairband, or wear a simpler outfit, carry a monotone bag...you get the drift.  :) 
That's all, and hope you enjoyed this entry.  Thanks for looking!