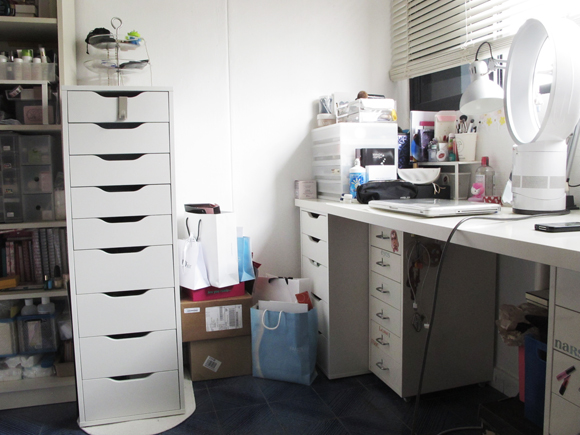 Hi hi,
This is an updated makeup organisation & set-up entry.  The last time I did one was back in Jan 2011 when I had a major room re-vamp - link here, if you are interested.  I won't be showing you exactly what's in my stash, but just trying to share how I store everything, and how I TRY to keep things organised, because everything can get kind of overwhelming, and also share how my blogging set up looks like, in case you are also keen to see what goes behind the scene here.
Most of what you see here are stuff from IKEA & Muji.  I shall try to insert relevant links to past entries where I might have talked about a particular item of storage.
I share my room with my sis, we sleep in the same room, but the bulk of her clothes and stuff are still in her old bedroom.  I am also not showing my hair products and tools storage because that's in another corner of the room next to my PAX wardrobe, and it isn't very exciting anyway.
To prevent any rambling, I have divided this area of my room into sections A - E. Here you see the overall of where everything is, if you stand near the door to my bedroom.  I try to keep things to something white...because my room is TINY.... and white looks neater and cleaner.  I also try not to keep things out in the open, because you can see there is a large window by the desk, and stuff gets DUSTY all the time.  So keeping my stash in drawers is important to me.
You can see my labels for each section what its for... and I will show you close ups.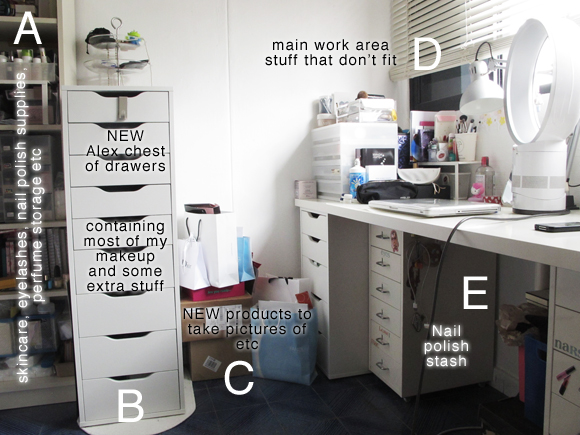 Sections A and B
A: a tall bookcase [Ikea, Billy?] is quite old, and 4 of the 6 adjustable shelves contain beauty related items.
B: my new ALEX with 9 drawers [S$239] which replaces my two HELMERS.  Holds most of my makeup collection.
Close up of Section A
Perfume Collection, Various units for false lashes, contact lenses, nail supplies, accessories (necklaces, rings etc)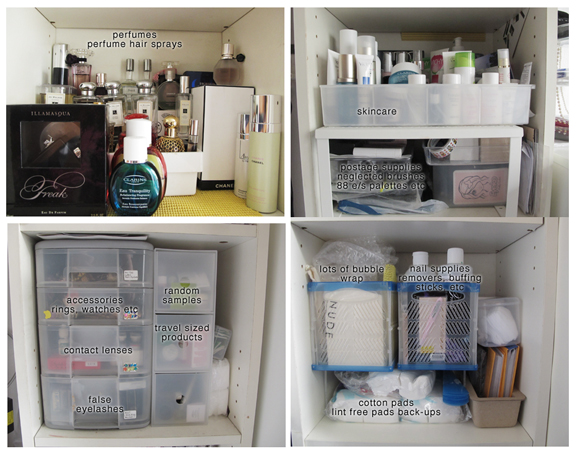 Close up of Section B
Right on top of my ALEX is a cupcake/ food serving tray.  Got this at IKEA for S$19.  This is great for storing and displaying any pretty items you want.  I try to keep the top part of this ALEX clean and free of anything else except for this serving tray.  I sometimes stand here with a mirror to do my makeup in the morning.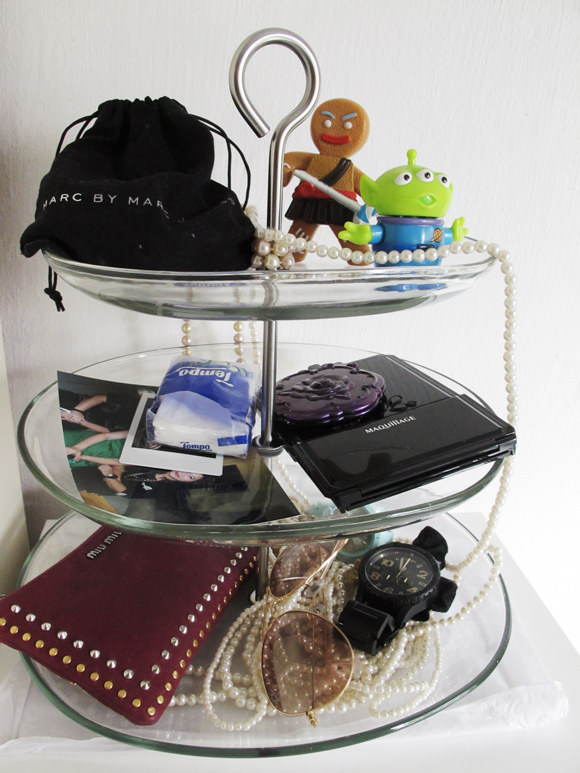 close up of the 9 drawers
p/s many YT gurus also have the same ALEX drawers (nikkietutorials, misschievious, etc)
My sister helped to drive home this unit and my bro & dad assembled the thing...
all I had to do was to give my sister a call to buy this for me when she was at IKEA last week.
I like how 'sturdy' the drawers feel when you full them in and out.   Some of the drawers are still messy, in terms of what I want to fit in, and what goes where... but this one ALEX saves more floor space than two HELMERS - which were already bursting with too much items.
The first four drawers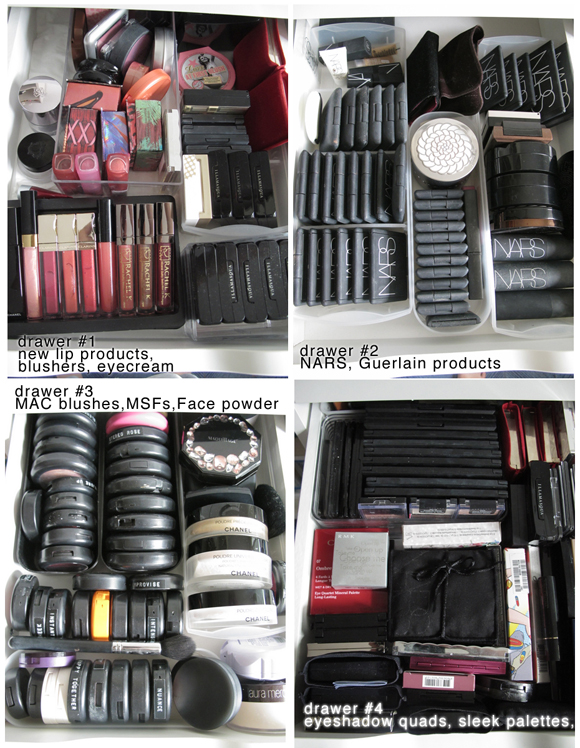 Next 5 drawers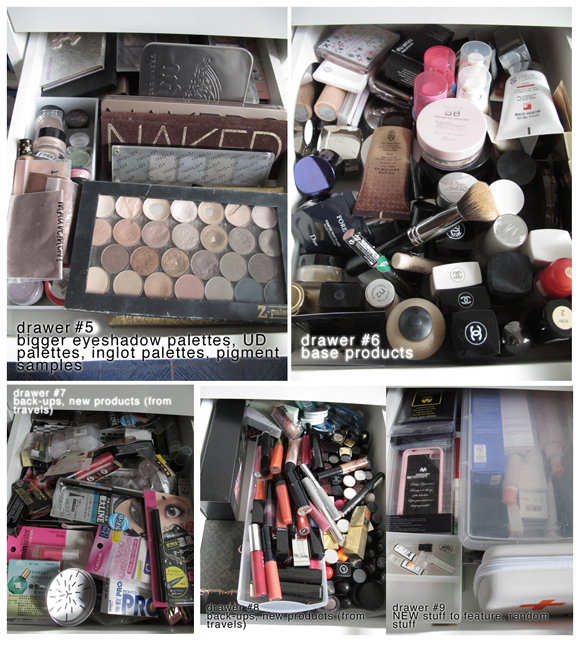 Next to my ALEX, on the floor is a temporary stash of new products which I bought or were given but yet to take photos of, I leave them in the bags and boxes so they don't get lost in my stash or get used before I take good photos of them.  Ideally once I have no 'outstanding' stuff to feature this area should be empty, and everything put away nicely.
AREA C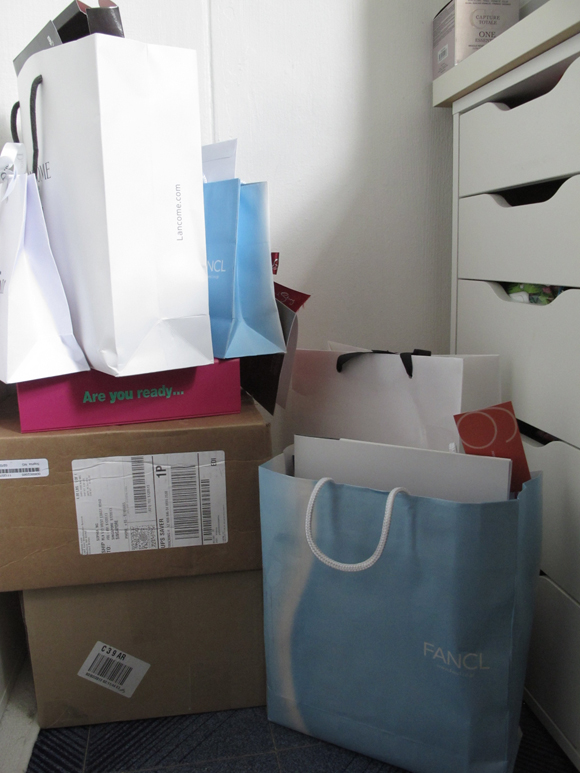 AREA D:  WORK AREA & BLOGGING SET UP
This is my main workstation, my younger shares the other end of this long desk, another ALEX piece, hence the matching drawers.  The ALEX drawers here contain more new products, and two drawers contain personal non beauty items.  You can see the MUJI drawers here, which I don't like..... because I feel like they should belong somewhere else and not taking up space on my table.
MUJI CLEAR Acrylic & Plastic drawers - link here
MUJI Storage & Mirror - link here
I also have a IKEA table lamp which Jerlaine gave me, I used white daylight bulbs to take pictures if I have to, at night... but other than that, I take blog pictures almost only in the day time, as you can see I have the big window in front of me, and I prefer to take blog pictures under natural lighting.
The makeup brushes you see there in the cup are meant to go for washing soon.  My laptop usually sits there, or on my bed.  I have a DYSON blade-less fan which I put on my desk.   Some shades, and contact lenses which are my daily essentials.   When it gets too bright, I usually leave the blinds down.   The two existing HELMERS have now been separated, one at each side of the desk.  My sister uses one for her art supplies, and I use my remaining one for nail polish storage.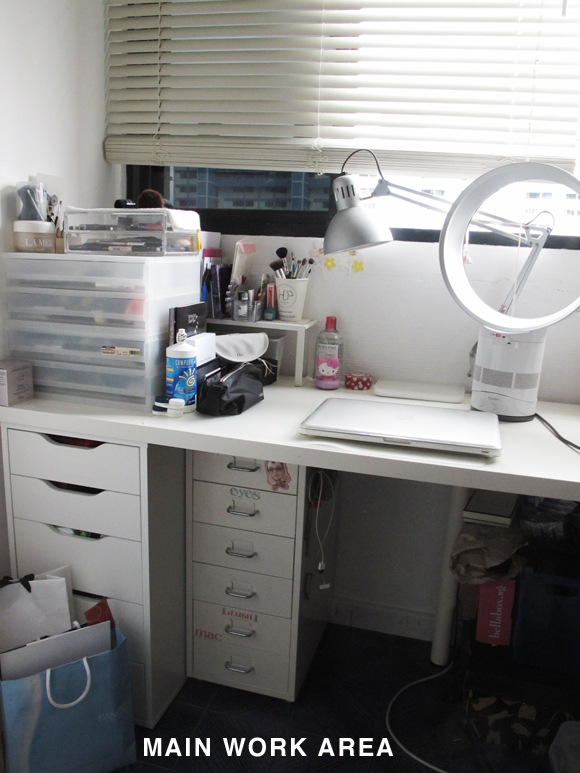 Close up of the MUJI drawers area - I am trying to find an ideal place to fit them, cos I think they clutter up my desk.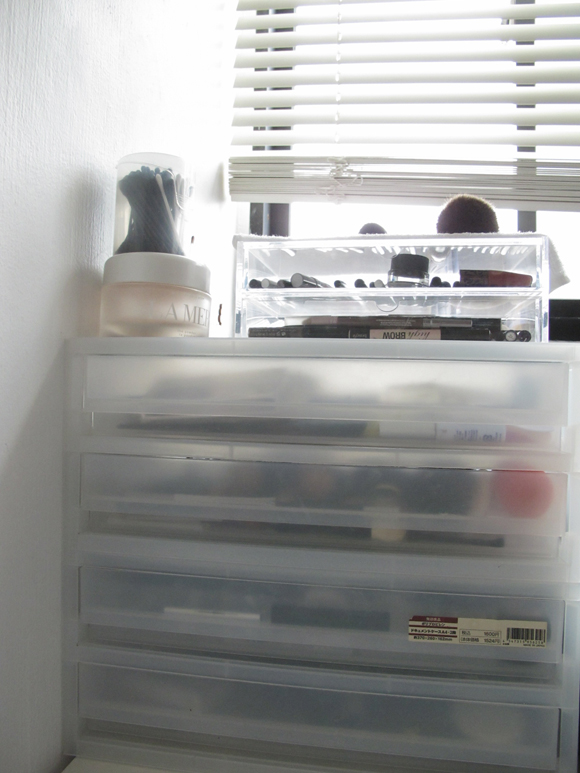 Inside of the MUJI drawers
I leave a clean dry towel on top of my clear acrylic drawer to prevent dust and it also serves as a drying area when I wash my makeup brushes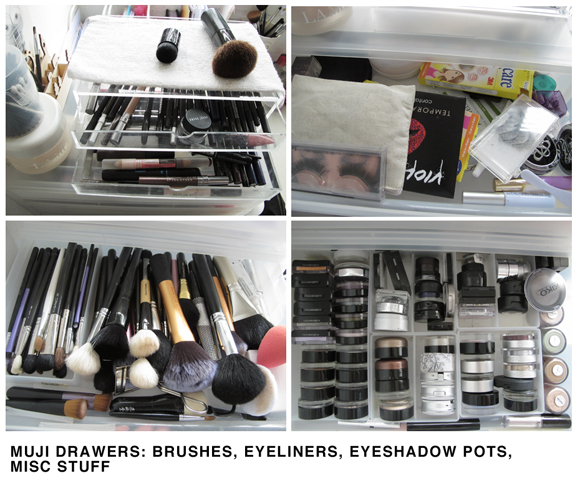 This is the top view of my desk area.
I use my MacBookPro and Adobe Photoshop CS-5 to edit & re-size blog pictures.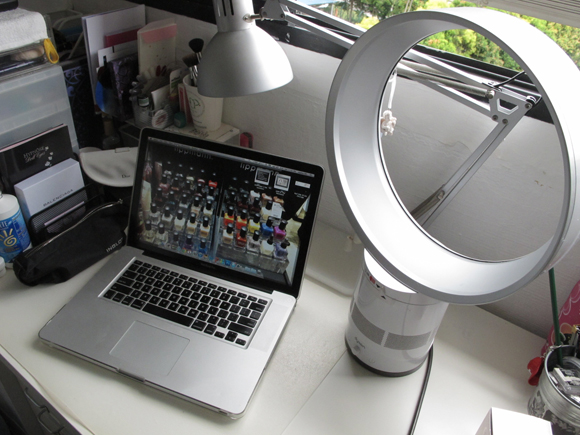 When taking blog pictures, I either lay out my stuff on the floor, or table whichever is more spacious for what I am about to do.
I buy two pieces of large art paper, in an ivory and black color.  They form the background of my blog pictures.  Personally I don't like distracting prints and images for my blog pictures, so I always use a plain neutral background.  I can use my desk, but sometimes when it gets messy, I just put the paper on top of the mess, and hello, clean background instantly.  Heheheh.  Lazy tip and trick there for you.  :)
The papers are quite big, so I fold them in half for my purposes.  This is how a 'photo-shoot' might look like...
on a black background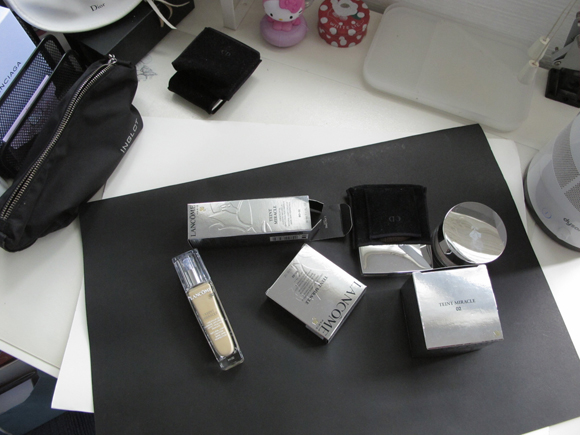 and the usual ivory background you see in so many entries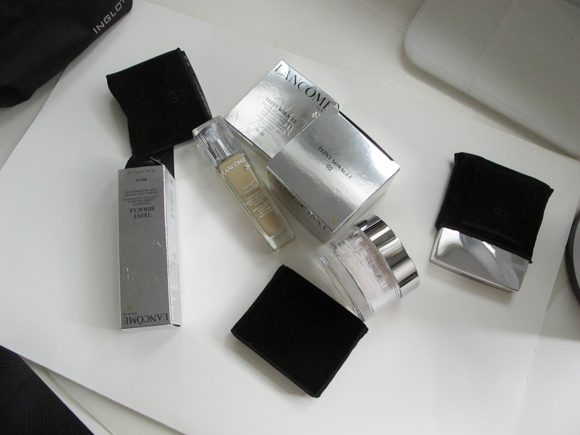 AREA E
Close up of the nail polish storage, I like that I can pull out the whole HELMER unit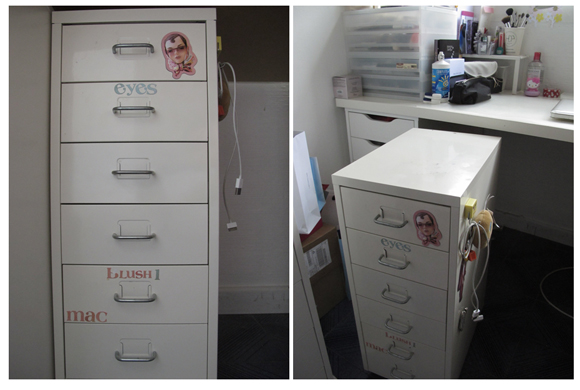 Four of the six drawers contain nail polish.   The other two are nail wheels and misc stuff, and my own personal stuff.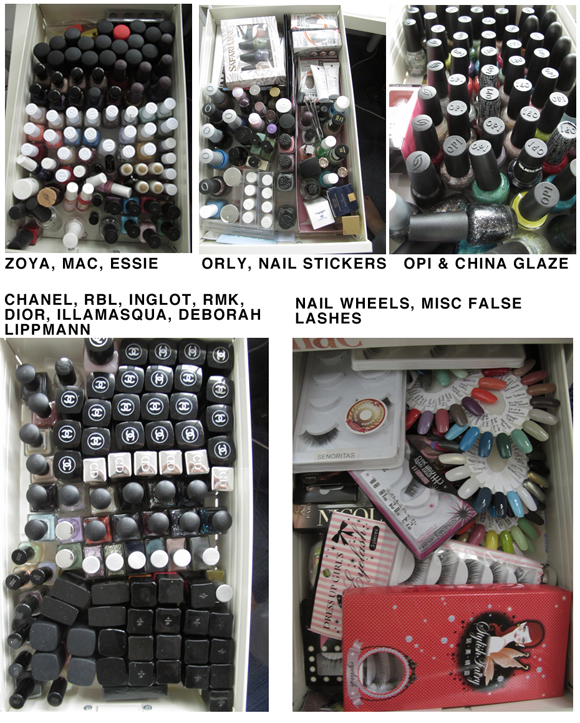 I think it is good to invest in permanment fixtures like these actual shelves and drawers, and if I were to have my own place, I would prolly ask the interior designer to do a built in something something to my own preferences... but for now... I think this works.
I also cleared out quite a bit of stuff which are old and outdated when I moved my Helmers to the ALEX... so these are stuff which I can still use. Again, I have mentioned before... makeup & beauty is my (passionate) hobby it is almost like a full time occupation here, so I do spend time & money trying to make everything all proper and good.
Hmmmm, I think I am done here... do let me know if you spot something interesting which I didn't explain or talk about, leave any questions in the comments below!
Also, just want to say thanks to everyone (so many of you!) who pointed out the Yahoo 'feature' thing, seriously, don't know where that came from...and I was totally unaware, and caught very very very much by surprise.
Let's end this entry with a very girly frilly picture of my cupcake tray display which I have posted on instagram last week!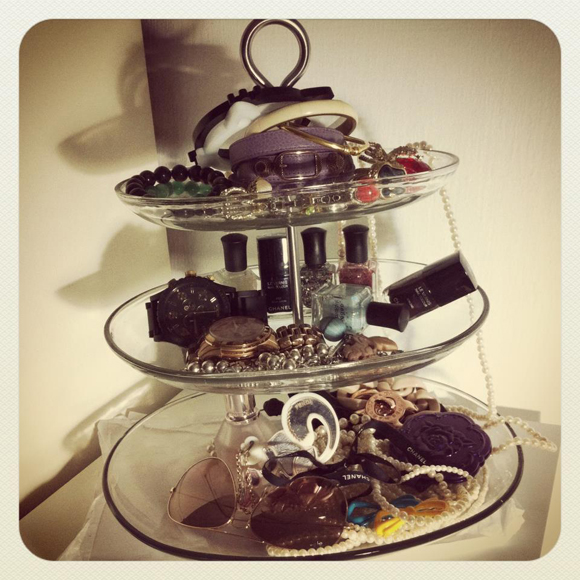 Have a great weekend, and thanks for looking!