If you love purple, and if you love glitter, then you need Shimmer Polish in the shade Caroline.  

Caroline is a very densely packed purple glitter nail polish.  You can get opaque payoff in 3 coats, but here I am showing 2 coats, over a coat of A-English Avalon, which is the perfect matching purple shade for Caroline.  The consistency is a little thick, but easy enough for me to work with.  
What makes Caroline a 'powerful' purple glitter is the addition of multi-color glitter bits that come through the predominantly purple bits and base color.  You can see there's pink, blue, silver, and even some green bits.  This gives the shade some extra kick and also dimensional instead of a homogenous purple.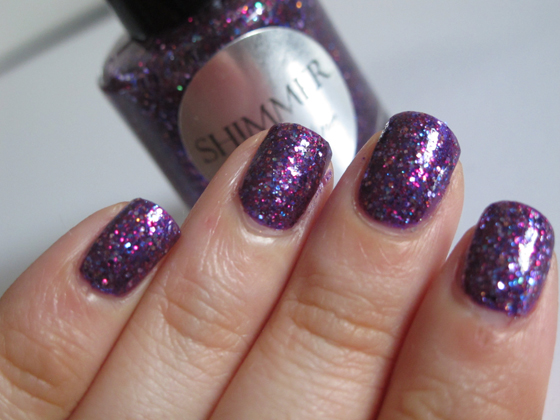 I applied Seche Vite topcoat over the layers of polish, and when everything is dried, and you will be glad to note that Caroline is not a 'topcoat' eater.  Meaning that the surface dries smooth, and not gritty like how some glitter polish can feel. 
A blurred shot to show you the amazing colors of Caroline.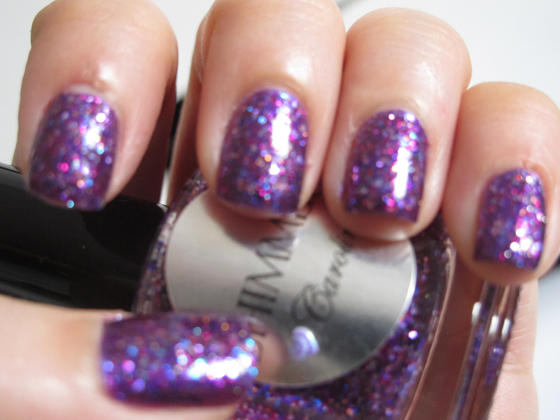 Shimmer Polish carries a range of glittery nail polish, and you can check out more shades here at Shoppe Eclecticco. They are a Singapore based nailpolish e-store selling many indie brand nail polishes, and if you are looking into some of these indie brands, it's a great place to check out.  You can also check out Shoppe Eclecticco on FaceBook for updates and stocks arrival.  They ship worldwide.
I hope this feature & review has been helpful, and thanks for reading!
Blog updates: 
I will be posting blogsale entry on Saturday morning. 
Doing Halloween trial makeup today. 
Posting lots of makeup porn entries today too. 
Heading out for a walk and breakfast now. 
Happy Weekend!