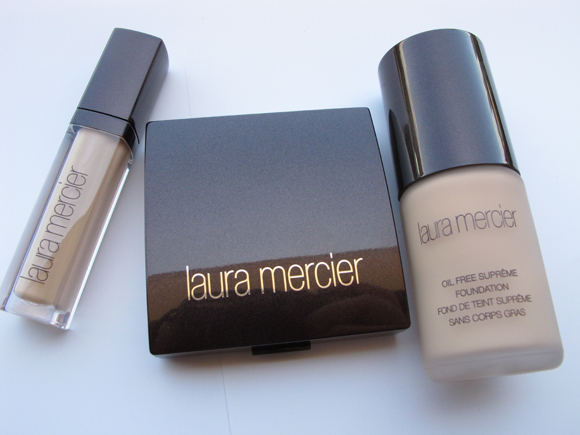 Hi hi!
This has been a haul entry which has been sitting in my drafts for several weeks.  Since end of March.. I think - when Laura Mercier first launched at Sephora.  I happened to be there, and I kind of needed to spend some $$ to get the next $40 voucher (you know how they suck you in like this) and this explains the purchase.   In any case, base products are things that I would use the most often, so it wasn't difficult to pick out a few items and try out some stuff which have been raved,and I need to try out for myself.
I bought 3 items, a liquid foundation, a cream concealer palette and lastly a eyeshadow base thing. I have been using these products pretty often the past month (of April, fyi) so I can also give you some of my quick thoughts, and whether I would recommend them.
Firstly, we have the oil-free supreme foundation - I got myself the shade Blush Ivory which is pretty much a perfect matching shade for me. To be honest, I chose this foundation because I thought it was the cheapest among their foundations (certainly cheaper compared to their famous creme foundation) but it prolly turned out to be only $4 or $5 cheaper.  I wasn't paying attention to the price tags, and just grab what I though was a $52 foundation.  (I think it cost $68). Anyway...the price is not even important.  The price points of Laura Mercier at Sephora is very comparable to US prices, so you aren't really paying rip-off prices - and that's the most important thing you need to know.
My thoughts:
While the shade is a good match for me, I couldn't help but think that it oxidises ever so slightly on me.  I was at the gym the other day, and I thought that my face look a little dull-ish (note: not worn off) in the late afternoon.  Now this could be due to the hot afternoons, sweaty days, but I have used many foundation combinations that look as fresh and light without any oxidisation throughout the day.  When you spend most afternoons running away on the treadmill - with the mirror in front of you, you get plenty of time to scrutinise your foundation!
I usually compensate the slight oxidisation by using a brightening primer, such as the Shiseido White Lucent Spot Target control (pink), or a pale BB cream (such as the Rachel K light cc cream, etc).
The finish of the foundation is semi-matte, and lasts a decent amount of time on me (8 hours at least). It is great as an everyday foundation - nothing really stands out pow wow to me.  The texture is very liquidy (not watery), reminding me of some of the Bourjois foundations. If you want a good basic foundation, this is great - you can build up coverage as required. It doesn't look cakey at all.
I usually set it with Laura Mercier translucent loose powder, or La Mer powder. If you have existing HG foundation(s), I think it is safe to give this a miss, and go straight for the silkcreme foundation instead since that's really their most highly raved foundation.  I do like it but it's not something I will be raving about unlike other foundations I have reviewed before.
Photos and details of the Oil Free Foundation: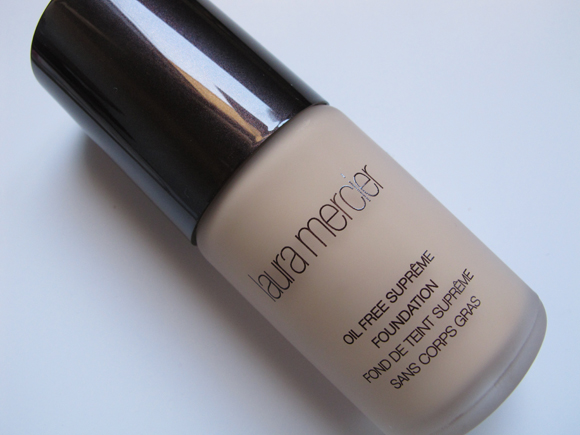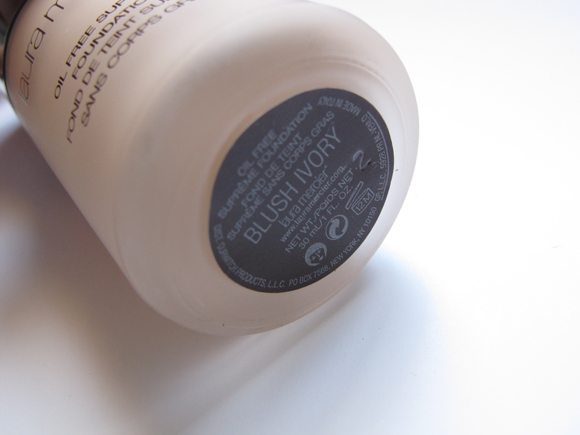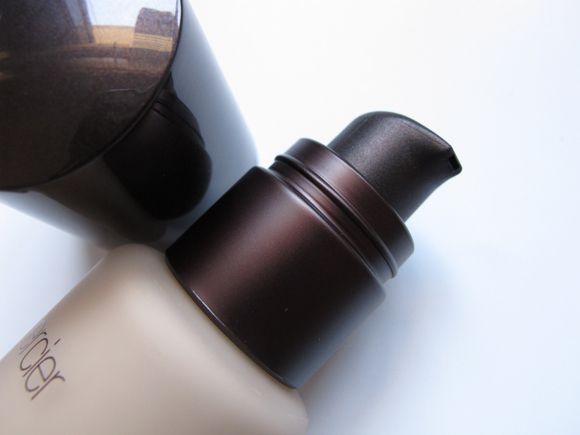 Next, I purchased the Secret Camouflage concealer in SC-03:
This is quite a star product from Laura Mericer.  It comes with two shades in each palette, and for  mine -  one is a pale peachy nude, while the other one contains a more beigy tone. I got this after seeing Lisa Eldridge using it in many of her videos, and a few of my friends swear by this product too.
I only use this for spot concealing.  The texture is quite thick, but it applies rather smoothy on the skin.  I don't know if it is just my item, but the concealer is extremely 'solid' and doesn't seem to 'melt' creamier despite the heat of our weather.  Because of this, I find that it is much better to pick up the product with a brush (since my fingertip can't seem to pick up enough product) and use the brush to apply the concealer precisely on the spot.  Then I use my finger to lightly dab to blend in with rest of the face.  It gives good enough coverage for most of my spots.  I just wish  that it is (or maybe just mine) is creamier in consistency.
Overall, it is a decent product, and if you are looking for this type of concealer, you won't be disappointed.  It isn't my holy grail concealer though (my cle de peau stick concealer still takes the HG spot).  I believe the price is also quite reasonable ($46 I think) for the amount of product you are getting, and the fact that the compact is sturdy and comes with a mirror is an added bonus.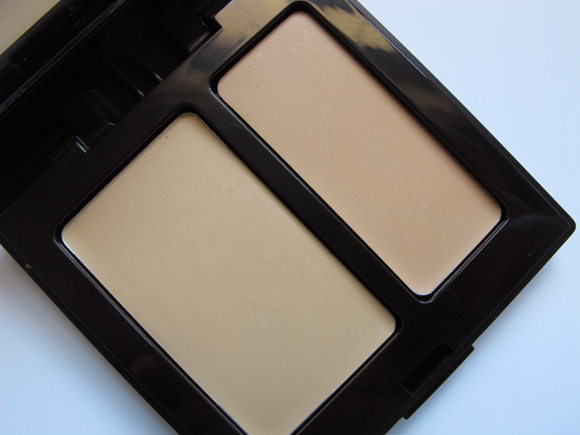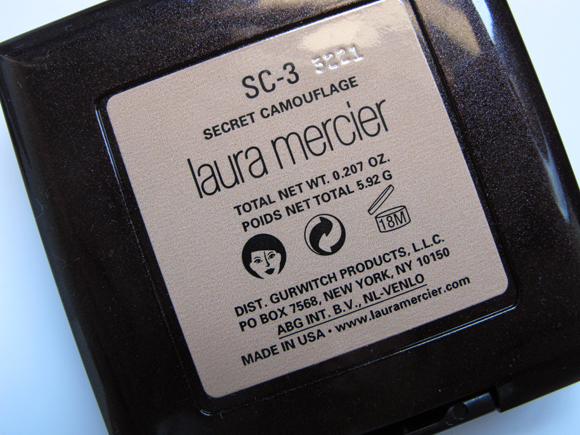 Lastly, we have the Eye Basics in Flax - I think it comes in 4 or 5 shades, all neutral ones like this, I think there is a Wheat, and can't remember the rest.  This is the second lightest shade.  I use this like an eyeshadow primer.
The texture is very light and smooth, and a little goes a long way.  It blends right into the skintone on my lids, and I am sure you might have noticed this product listed in most of my recent LOTDs.  Even on days when I don't use eyeshadows, I slap this on my eyelids, to even out the color, and add just the tiniest bit of sheen on my lids- kind of look fresher.  It also prevents the weird crease line you get from applying foundation all over your face. I would like to get a couple of other colors, but I doubt I would be running out of this anytime soon.  Currently, I am rotating between this, my NARS eyeshadow primer and MUFE primer for eyeshadows.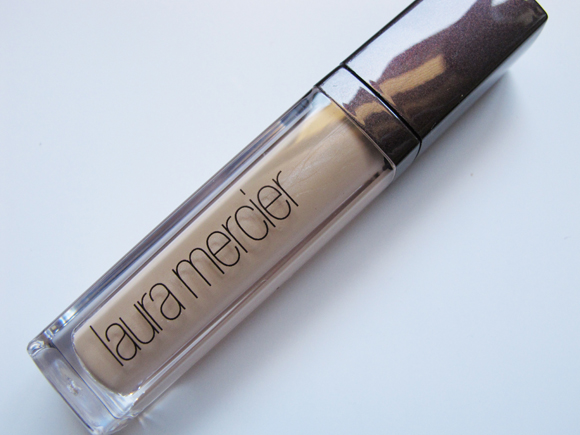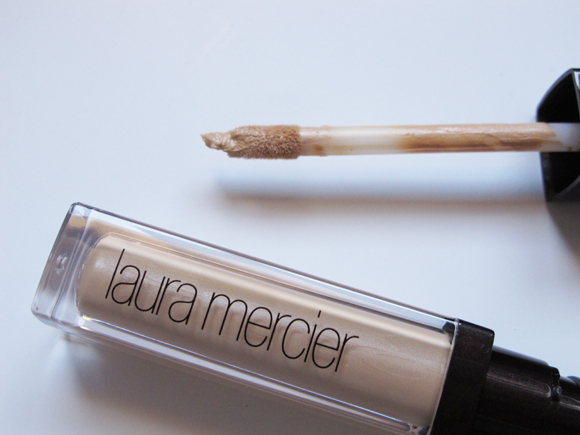 Here are swatches of all 3 products in different lighting/ indoor shade (natural daylight)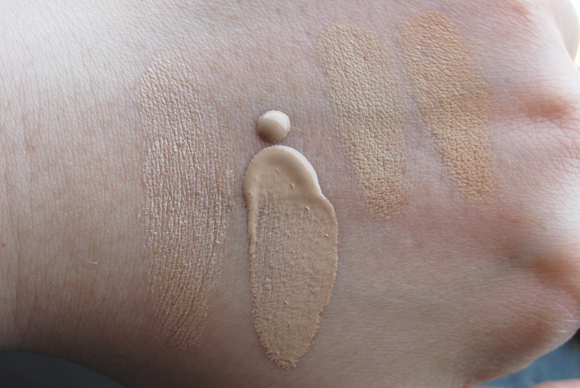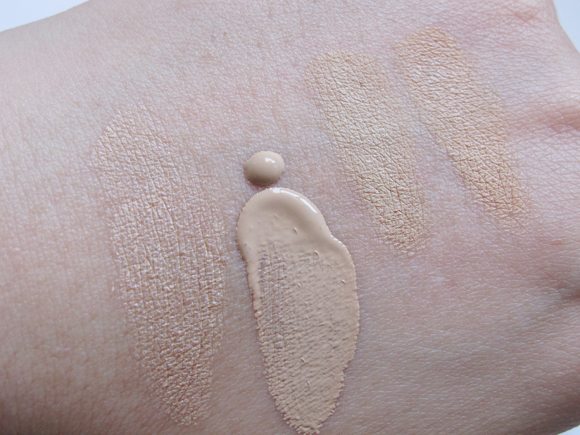 Overall, when I think Laura Mercier, I think good dependable base products and great eyeshadows - it's more like my kind of 'Bobbi Brown' if you know what I mean.  The next product  I am likely to try from LM might be one of her blushes, as I have been seeing quite a few raves online.  It's good that LM is now readily available, and you can swatch and play to your heart's content at Sephora.
I hope this has been helpful, and thank you for reading.