I don't know where and how it started but of late it's been getting to be sort of  little hobby to collect pieces for my wrist.  Sure, I have always fancied statement pieces on my wrist, and I probably wear bracelets and bangles more often than a necklace - but there seems no better time or season to get a arm party started and going.
And why call them arm-candy, arm party?  To me, it's a party, because, the more the better.  And they all look so pretty together, the term candy is certainly apt.  I like a great variety of these arm party, from designer to the cheapy pieces, from sleek and chic to hardcore studs and leather.  An eclectic mix of armcandy is really the charm and appeal of these accessories for me.
In this entry, I want to show most of what I have in my armcandy stash - most of which I have acquired lately.   And together with armcandy, I also wear rings - only that I prefer and tend to wear rings only on my left ring finger.  It seems to be the only place to wear rings without them getting in the way of things.   I will also be showing you some of my combination so of armcandy - though I must say that I usually just grab a bunch of whichever I feel like wearing for the day (I throw them all in my bag, and wear them on the way out).
First, we have the designer pieces usually I buy these from Shopbop.
Marc by Marc Jacobs, Balenciaga, McQueen, Juicy Couture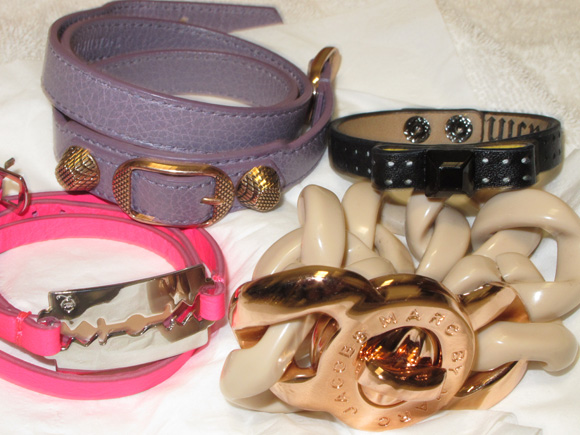 The studs and 'base' pieces - I always add a studded piece to the mix, and also something that is almost all black to sort of anchor the whole combination together.  I bought the multi-wrap bracelet from Shopbop (very Chan Luu), DIY leather studs made by my gf, black jade bracelet I bought at the market near my house, and the two colorful pieces are from ASOS.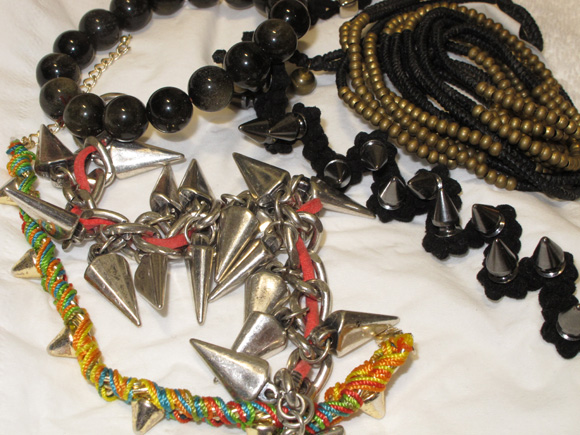 Seasonal cheapy pieces from H&M - you can count on H&M to stock the trendy seasonal pieces for below $10.  The quality isn't always the greatest, so if you see something you like, and will want to wear for a long time to come, buy a few of the same piece to stock up!  This season, there are lots of kitschy colorful jeweled pieces, along with some woven chain bracelet stuff which seems to be all the rage these days.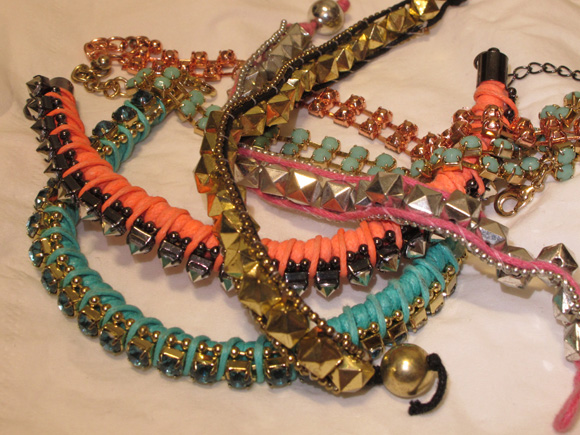 These just arrived recently courtesy of my gf from HK.  Again the mixture of woven threads and silver parts is just very trendy this season.  Loves them, and they are also quite affordable.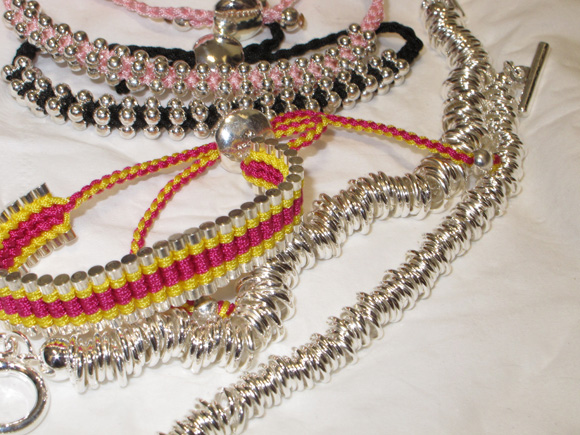 The sentimental pieces - My T&Co. ball tennis bracelet which I bought for myself so many years ago.  My 21st birthday white gold bangle with screw details which is a gift from my late granny, a real gold bangle that I salvage from my late auntie's jewelry stash (incidentally today is also her death anniversary... but let's not get too sentimental here).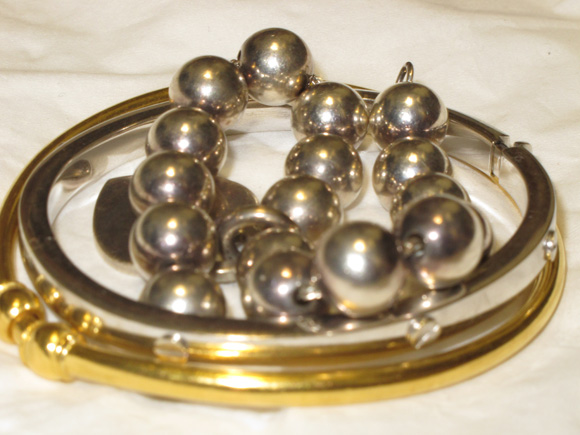 Some stacking options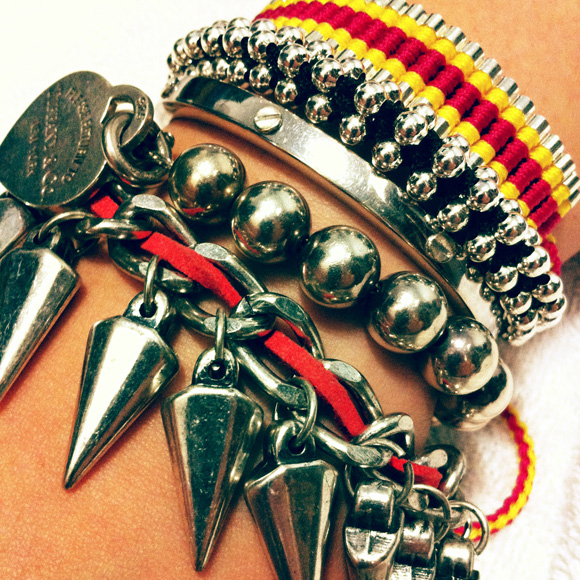 these are my current fave rings
I am quite extreme when it comes to my taste in rings.  I Anything from - big chunk rings to the daintiest most feminine slim rings.  I will pay for quaity rings, and I will also buy the $1 and $5 ones you often find at those push cart stalls.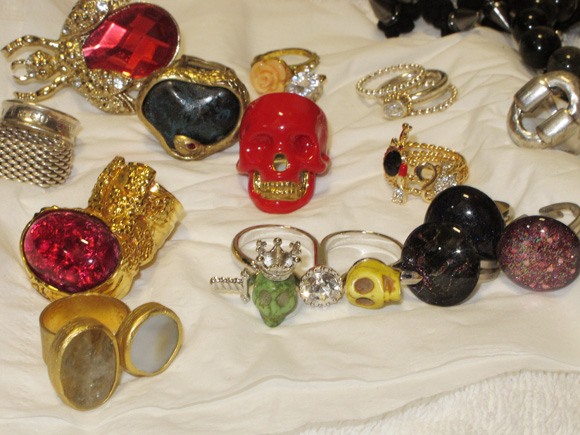 how some of the rings look like on my fingers
you notice that I am currently sporting extremely long (and fake) nail extensions.  this is one of the reasons why I haven't felt like updating very often lately - typing has officially become a bi**h (and that it's the peak season at work, and I have been spending substantial time at the gym & also just going out with my cronies) -   I will be trimming them--the nails--- to a decent length when I go back for my infills.  I got them done on a whim, and I am quite pleased to go back to sporting these long french tip extensions after several years of natural nails.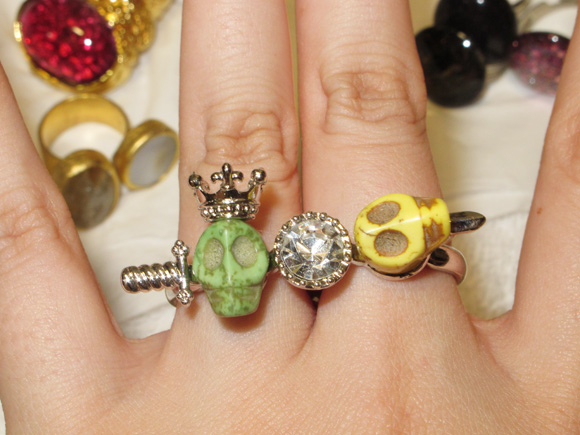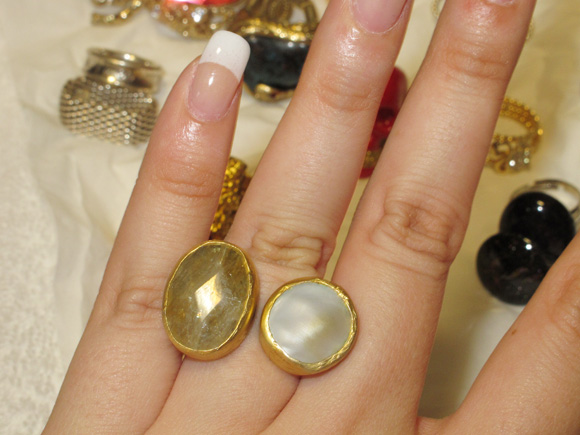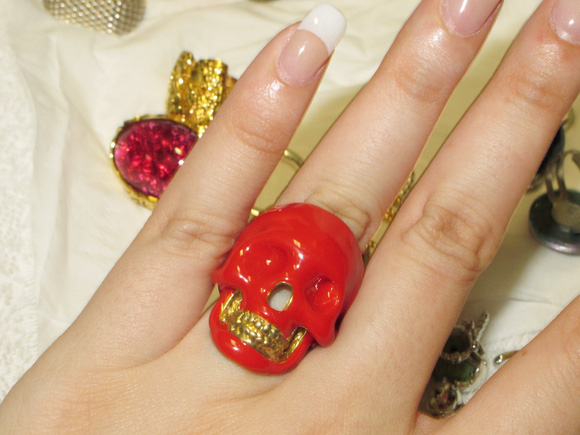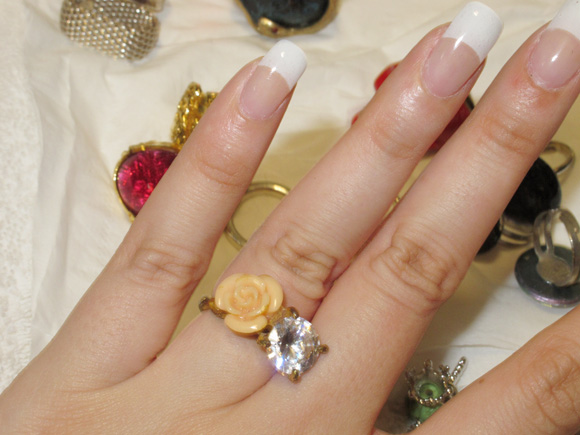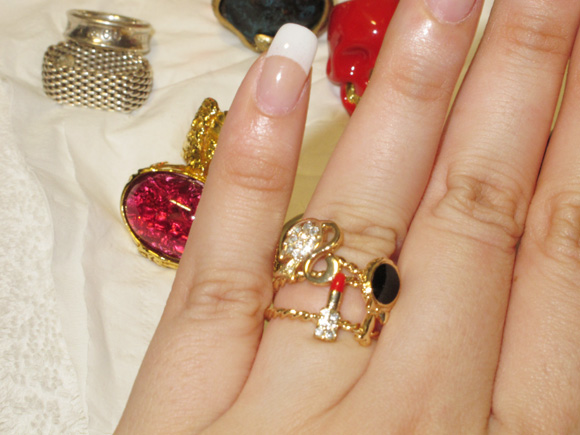 that's all, and hope this has been helpful!
Thank you for reading.