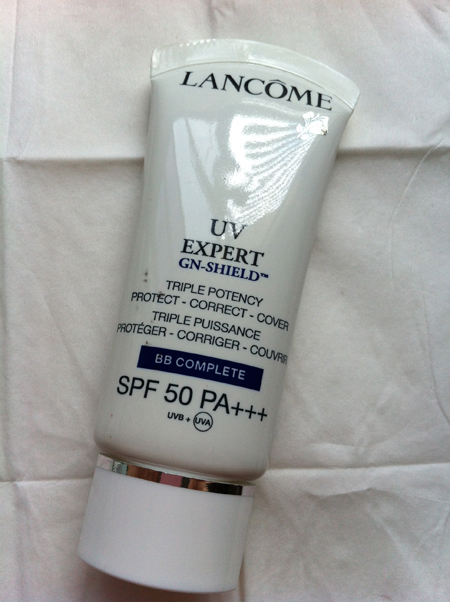 This entry will feature my review of the Lancôme UV EXPERT GN-SHIELD™ Triple Potency BB Base (LONG NAME!!!) which I have been using for the past couple of weeks.
*********************
Product benefits [extracted from Lancôme website]
12H* UV Protection, Instant Fairness
Like a Fair Silky Glove On The Skin
Lancôme now offers a high-performance response to a trend that began in Korea and which is now increasingly in demand by woman all across Asia: blemish balm.This BB base brings skin instant radiance and is more than just a makeup-base. Its shade fits skin tone ideally, corrects skin's irregularities such as dark spots, unevenness and fine lines. Its silky texture allows it to be used alone or under foundation.
Technical information:
Lancôme invents its first SPF 50 BB Base to protect collagen fibers down to the dermis and instantly visibly brighten skin.
Correct imperfections. The incredibly lightweight texture unifies skin tone to ideally cover imperfections, such as brown spots, blemishes and fine lines.
Protection down to the dermis. The patented filtering system with Mexoryl ® SX & XL recreates a protective shield against UV rays while exclusive UV-proof GN-Shield™ System forms a protective barrier against deep causes of hyperpigmentation and premature ageing, even at the dermal layer.
The UV Expert range can be used all year round. Apply in the morning at the end of daily skincare routine. UV Expert BB base can be used alone at the end of skincare routine or before foundation.
**********************

In terms of the shade,  it has that grey tinge which you can see on the back of my hand as shown below.  However, it blends out to my own skintone after application, so there isn't any grey cast at all.  The coverage is very light, almost completely sheer.   It is not a BB cream with the coverage of a foundation (such as the Missha perfect cover, Missha Choboyang, Ettusais BB cream, and also the Freshel ones).  It isn't too fair either so I didn't end up with a too stark appearance -- so I don't have a problem with this shade - just an FYI if you are around the same skintone as I am.
I like the high protection and benefits that this product comes with, and as the hotter months approach, you definitely need something like this to protect your face under makeup.   I have been using this product as my makeup base in my recent LOTDs, as you might have noticed.  If I am going out for the day, I will definitely use this as my sunscreen (among the many which I am rotating). Its high SPF of 50 is another added bonus, as most bb creams are between 25 - 30 SPF.   If you want something between a sunscreen and a tinted moisturiser, this is definitely right up your alley.
I always use this as a sunscreen + primer in one, and it makes my foundation goes on smoothly.  It is pretty much comparable to my other bb creams used as makeup base products.   It feels smooth and moisturising on my skin, but I won't go as far as to say that it covers or hides my imperfections (maybe it hides only about 20%).
Overall, I find the finish of this product average, however, the texture and the benefits it brings are definitely more impressive for me.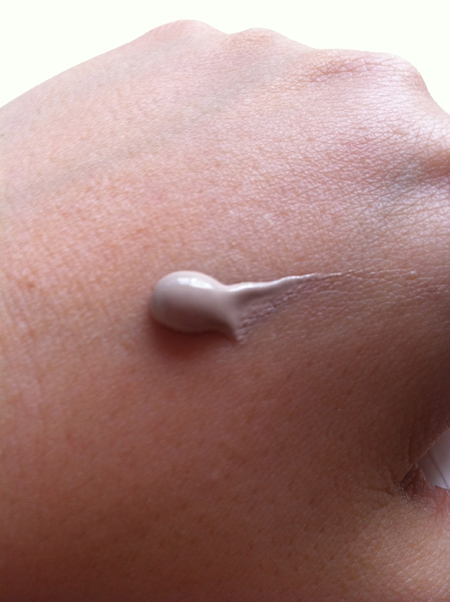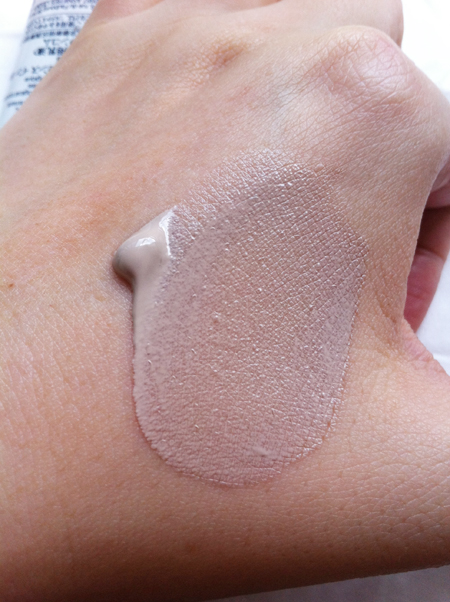 A very soft tonal smokey brown eyes look
All products used:
face - Lancome UV Expert GN-Shield BB Complete, Bourjois Healthy Mix Serum Liquid Foundation, Dermablend Setting Powder
concealer - Shu Uemura pro gel cealer
cheeks - MAC Cheeky Bronze msf
lips - Revlon Nude Attitude matte lipstick, and Clarins Colour Quench Lip Balm 01 (dabbed lightly on the centre of lips only)
eyes - mufe eyeshadow primer, cle de peau eye color quad 20, MAC Lord it Up Pearlglide liner on lower lids only, and drawn to create 'fake' shadowy lashes
Hope this has been useful, and thanks for looking!