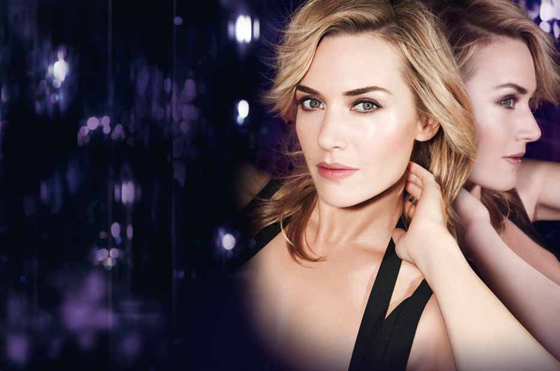 <strong>The new instant illuminating Color Corrector RÉNERGIE CC MULTI-LIFT SPF 30 Tinted skincare
SGD$100 
Available at all Lancôme counters</strong>
A new approach to illuminating color correction. Lancôme invents a new and modern gesture to immediately and visibly firm, smooth and illuminate skin tone, taking one step closer to the "color of youth". 
Young skin is smooth, firm and capable of reflecting light.

With age, the skin slackens, loses its radiant glow and the complexion develops multiple irregularities, thus reflecting less light.
Today, Lancôme launches Rénergie CC Multi-Lift, which combines new Multi-Tension technology with the science of illumination and color corrector light, inspired by Asian BB creams. 
The science of <span>"light enhancement"
</span>Our Research has enabled us to draw 3 conclusions:
1 WITH AGE, THE SkIN LOSES ITS IDEAL COLOR, REFERRED TO AS THE "COLOR OF YOUTH"
Our Research teams have drawn up a map charting the evolution of skin color with age (study conducted on 2,900 women in 10 countries). There are four clearly distinguished profiles:
- Fair skin shows more and more redness
2 WITH AGE, THE SkIN LOSES ITS EVEN APPEARANCE
Over time, the skin loses its even appearance, both in terms of its texture - the skin grain becomes less refined and pores are more visible - and its color - pigmentation and vascular irregularities develop.
<span>3 WITH AGE, THE SKIN REFLECTS LESS LIGHT
</span>With age, the skin slackens and its color and texture become less homogeneous. It reflects less light, a fact that is supported by in vivo data
- Hispanic skin loses its even tone
- Asian skin tends to become yellowish
- Dark skin becomes dull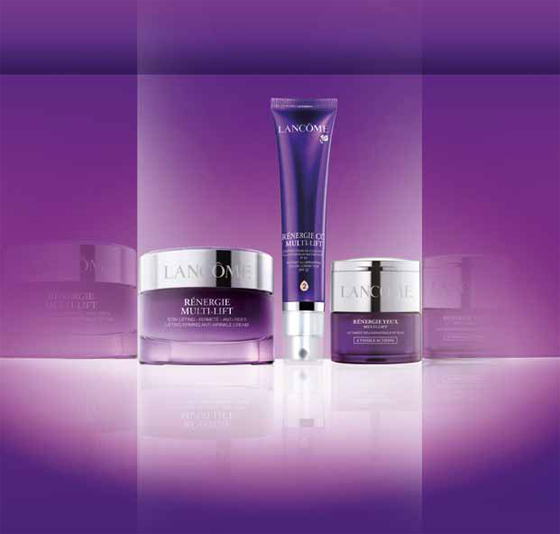 <span style="color: #993366;"><strong>The cosmetics industry has entered the era of immediately visible results:
Rénergie CC Multi-Lift, new skincare infused with color corrective technology. </strong></span>
In response to the dual need for a skin firming and illuminating effect, Lancôme has created Rénergie CC Multi-Lift, <span>its first tinted skin illuminating + correcting care.
For the very first time, the best of Rénergie expertise is used in association with the action of color corrective technology and mineral pigments to give the skin a visibly younger-looking appearance. </span>
An Intense Firming And Smoothing Effect
Introduced at the heart of the Rénergie Multi-Lift formulas, Multi-Tension technology was designed to tighten the skin.
Light, a new factor to instantly boost
The Smoothing Effect
To immediately and visibly even out the skin, leaving it as close to its "natural color" as possible, our Research Laboratories have used a color corrective technology with natural ochres and pigments to provide "barely-there" coverage and natural smoothing ingredients.
Rénergie CC Multi-Lift comes in two shades, fully in line with the Asian skin profiles determined during our clinical studies, created to restore dull, excessively yellowish skin of its rosy glow. In this way, each complexion can radiantly illuminate with its "ideal color of youth".
Immediately Visible Effects
With its dual "skin smoothing + illuminating" action, Rénergie CC Multi-Lift beautifully smoothes and evens out the skin. The skin immediately appears firmer and denser. Skin tone is harmonised and evened, its color is corrected and the face is illuminated. As if smoothed, skin visibly catches the light.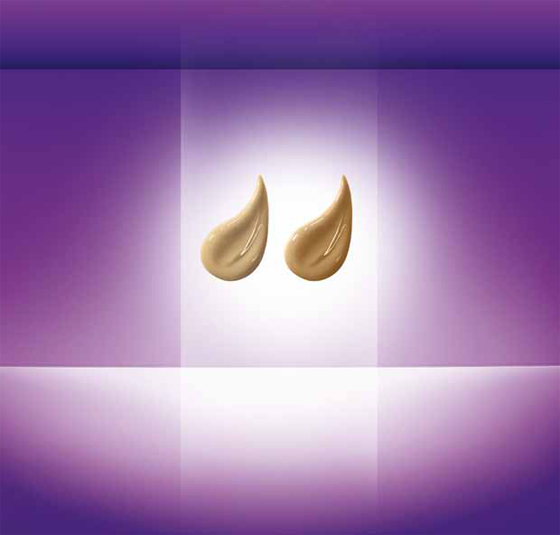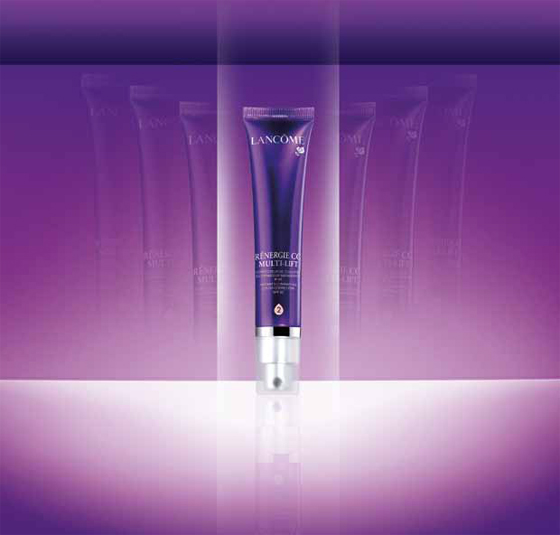 <strong><span style="color: #993366;">
And to complete your Renergie regime, here is the entire range: 

</span></strong>
A focus on RÉNERGIE MULTI-LIFT
In 2012, Lancôme reinvents cosmetic lifting.
Always ahead of its time, Lancôme has pushed the boundaries of beauty even further and invented a new approach to cosmetic lifting.
Thanks to Structural Biology, our Research teams present a new interpretation of cutaneous architecture. For the first time ever, the skin is considered as being composed of 5 interconnected and interacting layers: epidermis, dermo-epidermal junction (DEJ), papillary dermis, reticular dermis and hypodermis.
In this architecture, our Research has highlighted 10 key connectors – including 5 that had never before been targeted by Lancôme – essential to tighten the skin layers. Our Laboratories have also developed Multi- Tension technology, introduced at the heart of the formulas from the Rénergie Multi-Lift range, to stimulate* these 10 key connectors.
A remarkable innovation for visibly <span>younger-looking, smoother and firmer skin that appears "lifted". Skin that beautifully reflects light. 
</span>
Taking this a step further, Lancôme has created a new, modern skincare gesture: the "instant illuminating color corrector". A firming and smoothing effect combined with all the coverage and correction of a BB for skin that catches the light.
A high impact trio for spectacular rejuvenating action:
• Rénergie Multi-Lift, complete skin lifting care with 5 layer technology A skincare treatment designed to tighten the skin, formulated with Multi-Tension technology in order to act on 5 skin layers.
• Rénergie CC Multi-Lift, the new smoothing skincare with a light-enhancing effect
The power of Rénergie in a slightly tinted formula for skin that appears firmed, smoothed, immediately and visibly illuminated, and as close to its ideal color as possible.
• Rénergie Yeux Multi-Lift, instant eye contour rejuvenator
The iconic duo eye care that offers 6 visible actions for an immediately rejuvenated and illuminated eye contour. 
I will have a review of the Renergie CC Multi-LIft in a couple of weeks.  Stay tuned!