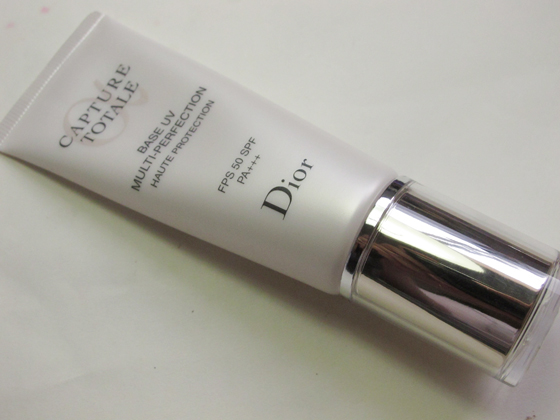 Hi hi 
This shall be my review of the new Dior Capture Totale Base which I have been using for the past week or so.   It is currently available at all Dior counters and retail for S$100 each. It is made in France and contains 40ml of product. 
First let's start with a quick overview of the Dior Capture Totale science:
THE NEW CAPTURE TOTALE:
A PROFOUND BEAUTY REVOLUTION
FOR THE 1ST TIME AT DIOR, AN ANTI-AGEING TREATMENT THAT TARGETS THE DEEPEST STEM CELLS, IN WHICH SKIN DENSITY AND SUPPORT ORIGINATE
In 2013, Dior has gained even more knowledge on stem cells. For the 1st time, a new population of stem cells with extraordinary powers of regeneration has been brought to light: hypodermic stem cells.
These cells are the starting point for the biological lines, defined as "biological seams", that cross the skin from the deepest layer to the surface. But with time, these seams, or chains, composed of millions of cells that structure the global youth of a face, become deformed and break. The face then loses its ideal lines.
Thanks to this unprecedented breakthrough, CAPTURE TOTALE treatments recreate a solid foundation for the skin under the impetus of these hypodermic stem cells. The face is once again graced with dense, structured skin and perfect support.
REVOLUTIONARY AND UNRIVALLED STEM CELL EXPERTISE AT DIOR
For the past ten years, the Dior Science has continued to push the limits of its knowledge of stem cells, these rare and precious cells with unlimited regenerative powers.
In 2008, the fundamental role of stem cells in epidermal cellular renewal was brought to light.
In 2011, the Dior Science team revealed that epidermal stem cells transmit cellular messengers. Their sphere of beneficial influence extends to all neighbouring cells including those of the dermis. Beneath their influence, the skin produces more matter (keratin, collagen, elastin and hyaluronic acid).
Today, CAPTURE TOTALE has gone even further and has, for the 1st time, brought to light the key role of a new population of stem cells with extraordinary regenerative powers: hypodermic stem cells. From the deepest level of the skin, these cells create a foundation that allows for the construction of dense, perfectly structured skin. 
CAPTURE TOTALE PROVIDES GLOBAL ACTION ACROSS THE SKIN, FROM THE DEEPEST LAYERS, TO THE SURFACE 
<strong>Product description:
</strong>
Exceptional age-defying performance combined with the ultimate in protection.
This light silky UV base provides unique comfort and melts instantly into the skin to:
1. Correct all visible signs of aging through its age-defying action boosted with the Longoza-Cellular Complex
2. Protect mother calls - deep down and boost their natural radiance through an ultra-powerful shield combining broad spectrum UVA/UVB filters - to provent the appearance of dark spots due to UV rays. With this maximum protection, the skin becomes visibly smoother and more radiant.  Day after day, the complexion becomes more even and youthfully luminous with a perfect finish. 
<strong>Swatches: 
</strong>The product has a pale beigy pink shade, and it blends perfectly into my skintone, with a slight brightening effect.  I also noticed that it makes my skin look smoother.  It is very comfortable to wear, and I do enjoy the light creamy texture.  I tried applying it with my fingers, but prefer to use a brush to blend it into my skin. 
Here you can see how the product blends out.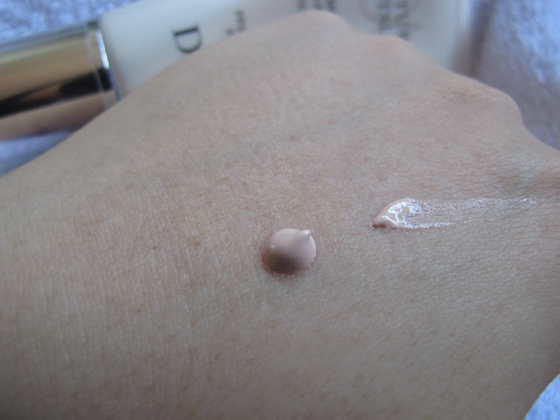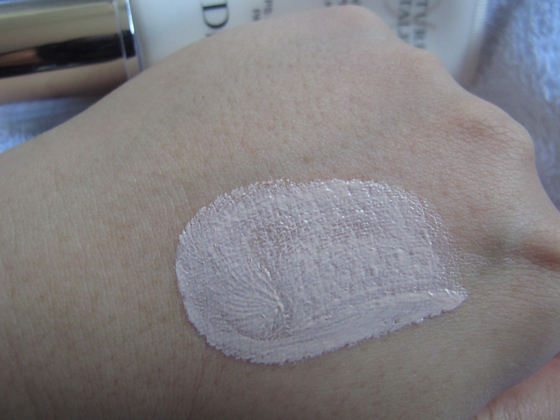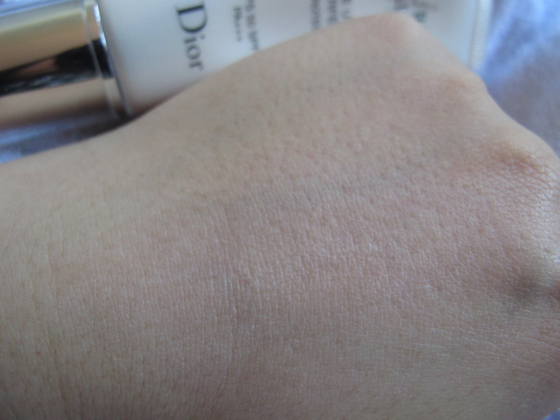 The Application & Coverage - </p> <p>
As I mentioned, the base is easy to apply with a brush, the consistency is very smooth.   The coverage is very sheer and light.  If you just want a high spf suncreen that also evens out your skintone, you really can get away with just this alone.  It also feels quite moisturising.  It lasts a good part of the day, but not the entire work day for me.  Hence on the second day I tried it, I used a liquid foundation over it -- the Dior Nude foundation - I didn't want to take away the natural coverage, but I needed something a little more lasting, hence the layering of foundation on top.  This combination gives me a  fresh coverage that lastes for 8 hours or so.  The coverage is still on the lighter side, but I felt safer in terms of coverage than wearing the base alone.  I also have the Totale Capture foundation.. but like I mentioned, I wanted to test this base out with a more natural finish foundation, hence I went for the Nude foundation. </p>
Applying the base -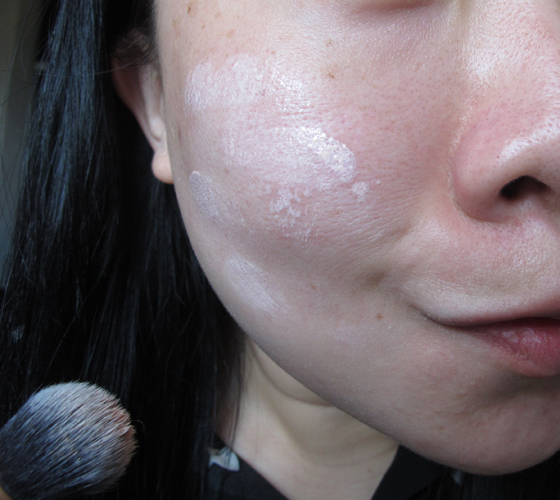 Applying the liquid foundation -</p> <p>
I got to apologise for the lighting in these pictures, the camera was somehow washing me out in every pic even though I didn't change anything in terms of the setting and my photo-taking location.  
<p>Another extreme close up -- this is taken after lunch, and a walk in the HOT SUN - I must say, the base is pretty powerful in offering sun protection, and I can certainly do with the anti-aging and anti-dark spots properties.  
Everything else on the face is Dior - the Diorsnow concealer, Bronzer in Aurora, and worn off lipstick in Incognito.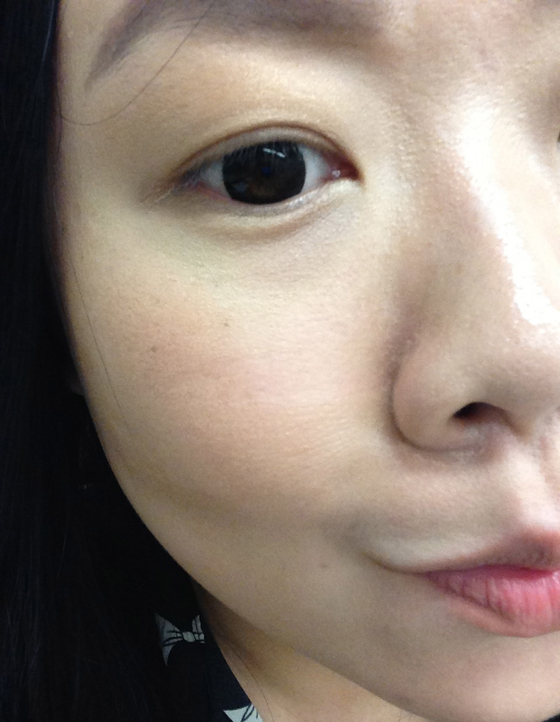 Bottomline - 
I do enjoy the base, but I don't find it extraordinary in terms of any anti-aging results but then again it is not as though I am on a total anti-aging regime right now, and given the fact that I am only using this for a week, it's too early to tell.  I can only comment for sure on the finish, feel and lasting power. This base is great for providing impressive sun protection (50SPF PA+++), it has a brightening finish - great if you just want to wear this on its own, and look 'awake'.  Also, if you are looking into anti-aging bases, you can't go wrong with the Dior Capture Totale Base. I also believe that this complements the rest of the Capture Totale range, it is a great addition, very suitable for our hot hot days here. If you just want a 'regular' whitening/ brightening base from Dior, do check out my review on the 
DiorSnow BB Creme  (featured in this entry here)
- that has greater coverage - after all, that's a BB cream, whereas this is a UV base.  Both contains the same amount of SPF though. 
I hope this has been helpful, and thank you for reading!