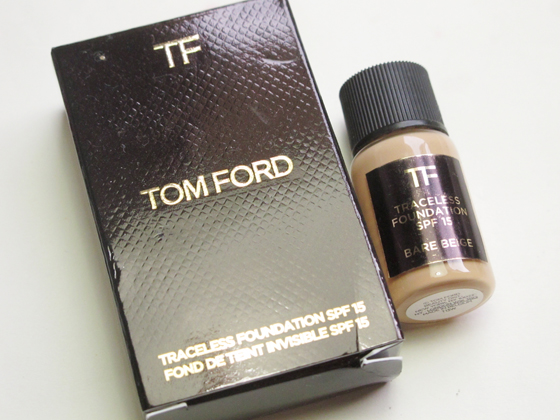 Hi hi!
This is a quick review of the TOM FORD Traceless Foundation SPF 15.  I have a sample of it from my shopping trip in HK last year.  It is a very good sized sample, 7ml and should be enough for one to test it out for a week.  Well, I have only used it a few times, but I think I am ready to give my first thoughts about it.  I am not too sure about prices here in SG, but I am guessing it's about $100.  
The shade I am using is Bare Beige, which is might look dark in the bottle, and at the back of my hand.  However, as I will show you later, the consistency and opaqcity of the foundation is quite sheer, and I believe that most of us can go up or down a shade without too much issues.  Because it is so fluid and on the sheer side, it sort of fuses with your own skintone anyway.  However, if I am going to buy this foundation, I would prolly want to get a shade lighter.  This Bare Beige might suit someone in the MAC NC25 range, just to give you a rough idea.  I am in between MAC NC15-20.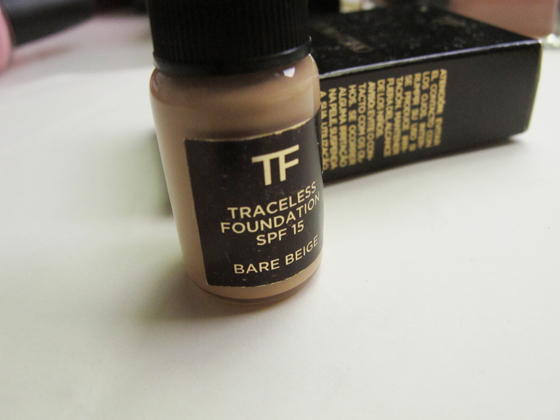 Product Description: 
This unique, 3-in-1 foundation delivers a balanced complexion that glows with vitality and radiance. Extremely lightweight and luminous, it includes the skin-nourishing Tom Ford Infusing Complex to help protect skin and promote its vibrancy from within. Micronized pigments deliver seamless and undetectable coverage that is easy to build up or sheer down. SPF 15 protects skin from sun damage.
The Tom Ford Infusing Complex infuses skin with a potent combination of specially selected nutrients that help skin stimulate its natural repair mechanisms. By helping skin cells replenish their natural energy, it fundamentally rejuvenates the complexion, so it looks and feels brighter, fresher, and less tired. High-performing antioxidants help protect the skin, creating a vital-looking face. The skin is left looking renewed, resilient, and smoother.
And swatches: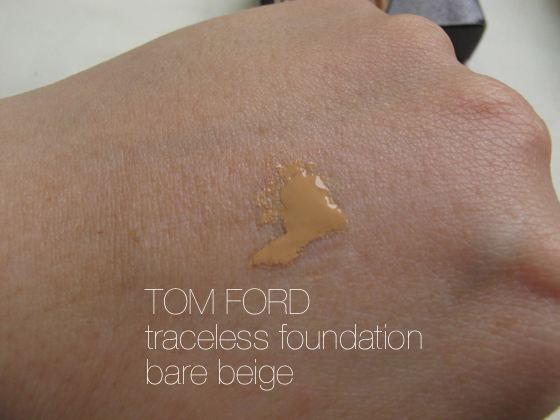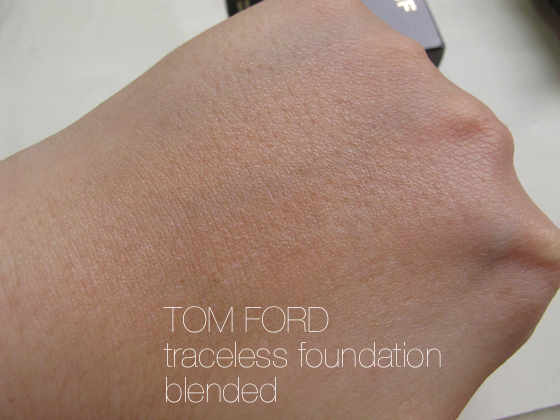 And here is how I apply the foundation - I have on a very light layer of GA UV Master primer before applying the foundation.  And I am applying it with a regular foundation brush.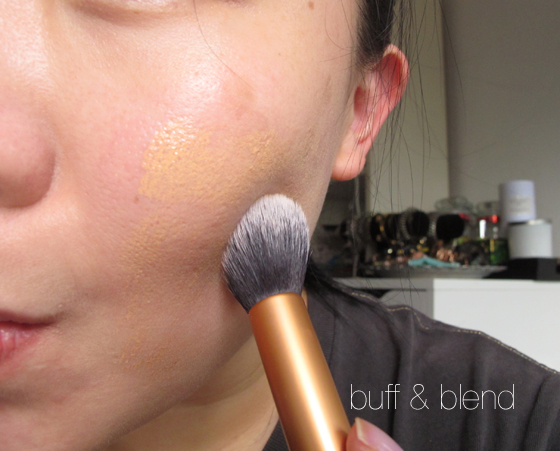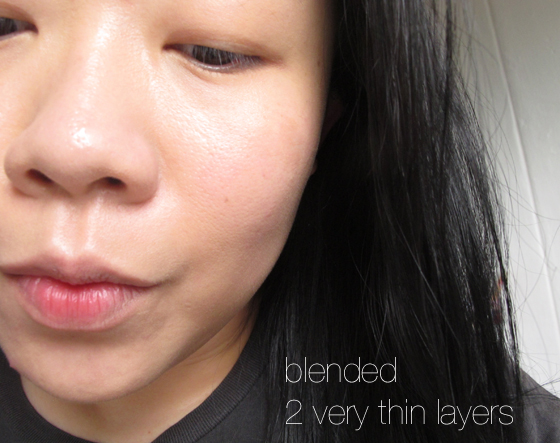 Impressions:
1. The foundation is very fluid, along the lines of GA Maestro foundation and a thinner version of NARS Sheer Glow, but definitely not as liquidy as the MAC Face & Body foundation.  It spreads and blends very easily into the skin. 
2. The coverage is light, and buildable to at most light medium - not really a 'real medium'.  It doesn't cake up nor look streaky when I build up another layer.  It evens out my overall skintone, but I have to do pinpoint concealing.  You can still see the texture of my own skin, especially around the nose area.  There is no particular scent to the foundation. 
3. The finish is quite dewy, and I definitely would set it with a powder, but I would use a more 'radiant' finish powder to set, because I don't want to lose the luminosity of the traceless foundation. 
4. The last power of the foundation is about 6 hours for me, it looks fresh.  After 6 hours, it starts to look faded and worn off.  You can certainly extend the wear of the foundation by using a primer, and setting with powder and also do touching up during the day if desired. 
5. The traceless foundation is probably very suited for someone who already has good complexion, and just want something very light and smooth to even out the skintone.  The natural dewy finish of it is really chic and effortless, and you look like you have great skin, no makeup look.  For me, I still have to do some extra work in terms of concealing, and also setting it to ensure it will last on me. 
I am curious to see how the Stick Foundation works though - have heard some people who uses the Traceless foundation, and then the Stick foundation as concealer.  That's interesting. 
So anyway, I chose to use the Lancome Teint Miracle loose powder to set the foundation.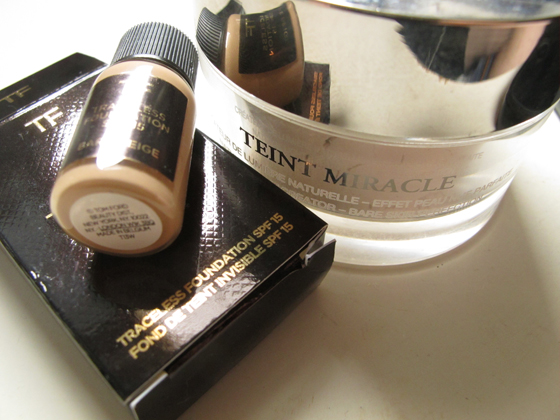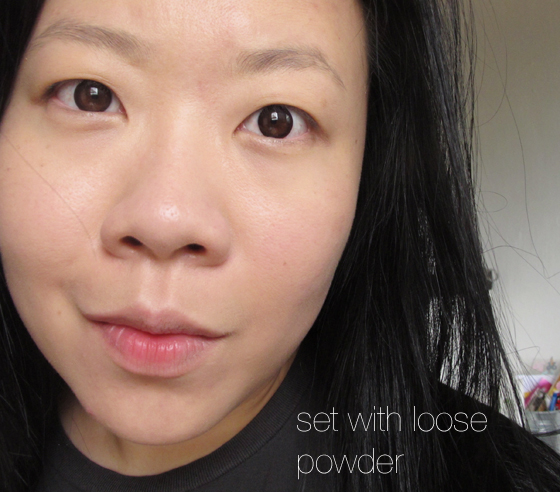 and a close up - you can still see the natural radiant finish of the foundation peeking through - the powder managed to take away some of that 'raw shine' but did not totally mattify the foundation.  I did not use any concealer under my eyes here.  Just dusted the setting powder, and also some color on my cheeks.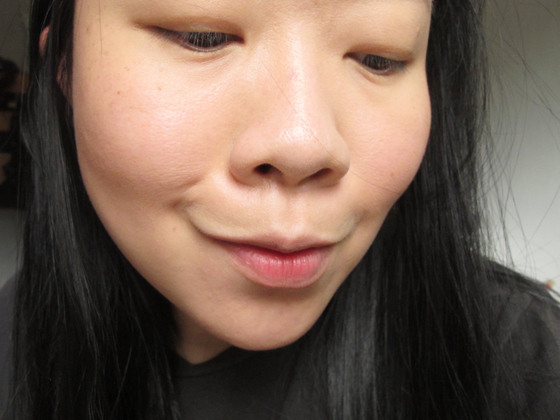 Overall thoughts:
</p>
A truly traceless lightweight foundation, dewy finish.  Price tag might be a tad hefty for some, and you can find similar foundations in your stash if you have been trying out these 'perfect second skin' type of foundations.  
Comparing it to other foundations, I would say if you like Chanel Vitalumiere Aqua, Guerlain Lingerie de Peau, GA Maestro Fusion makeup, you  might be intrigued by the TOM FORD Traceless foundation (again, I want to point out the TOM FORD offers less coverage then the other 3 examples I mentioned). 
It is not something I would run out to buy and especially because I already have way too many foundations in my collection, but I am glad I got to try it out.  
I hope this entry has been helpful, and thank you for reading!
<p>