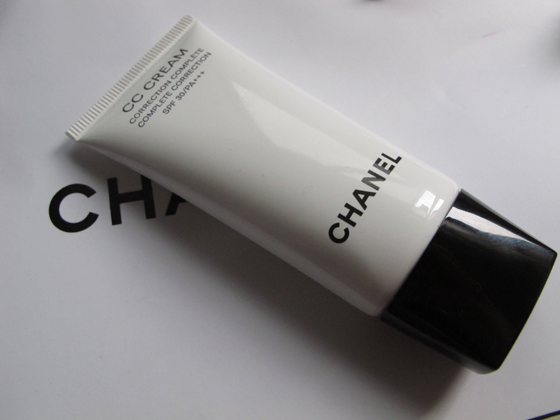 Hi hi!
This is my review of the Chanel CC Cream (S$82, at all Chanel counters).  I have been using it everyday this whole week, and what better time to test out a new base product, when we are experiencing some of the hottest days to date!  It's crazy how much I perspire everyday.  :(
So anyway, when I was at Tangs making my purchase, I didn't see the CC cream on display immediately, there was no images, though I later noticed the display at the skincare section of the large counter/ store (instead of at the foundation & cases display).  So, I suppose the CC cream is really marketed as a skincare product, rather than a makeup (ie foundation) product.  Just a heads up, in case you are wondering where the CC Cream is displayed. 
The product only comes in one shade - 20 Beige - which is my usual shade for most Chanel foundations anyway.  There is 30ml of product, and it is made in France.   It also has the same scent as other base products, but the scent of the CC Cream seems to linger on longer than my other Chanel base products. 
In my review of this product, do note that I also tried out various methods of application, primer/ no primer, you know, the usual various ways to test out how the product functions in different conditions. 
Packaging: Sleek white, in a tube.  I was surprised that it didn't come with a pump dispenser like the other brands (notably Dior and Lancome - and those reviews are def on their way).  Still, it is very travel friendly and easy to use.  
More pictures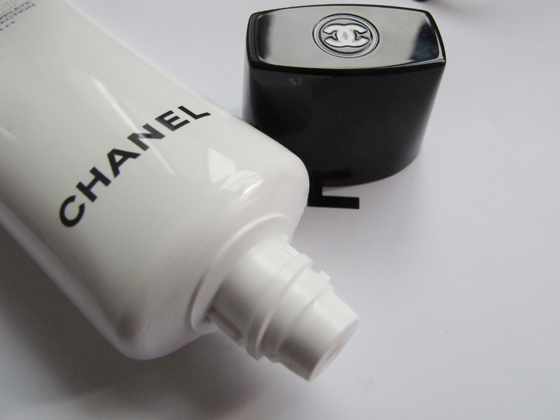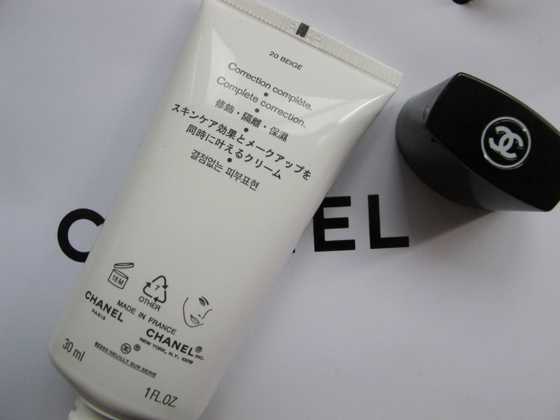 Before we proceed - here is some information I got from the box. 
Product information:
With its double Chanel signature, CC Cream combines the benefits of a complete skincare product created by Chanel Research and the results of a natural complexion finish created by the Makeup Studio. 
Backed by true expertise regarding the precise needs of Asian women in terms of flawless skin, Chanel Research developed a specific cream, a fusion of skincare and makeup. 
In addition to being an ideal cream for day long confidence, CC Cream gives your skin what it alone can offer - a fresh and flawless complexion. 
5 Actions, 1 Single Step
The incredibly comfortable CC Cream contains ingredients of natural origin. This skincare formula is adapted to sensitive skin.  It delivers complete correction and long-wear makeup with a lightweight, non-oily texture. 
Soothes - cornflower water comforts sensitive skin
Moisturises - hyaluronic acid helps maintain hydration levels all day long by trapping and retaining moisture inside the skin
Protects - SPF 30 and PA+++ sun filters block aging-accelerating UVA-UVB rays.  The cream is formulated with a mineral filter for higher tolerance on the skin. 
Prevents - the Rejuvencia active ingredient of natural origin, derived from a marine micro-organism, is the best prevention shield against external aggressions. 
Evens out imperfections - redness, dark spots and pores are visibly diminished.  The complexion is lastingly fresh and natural. 
And swatches: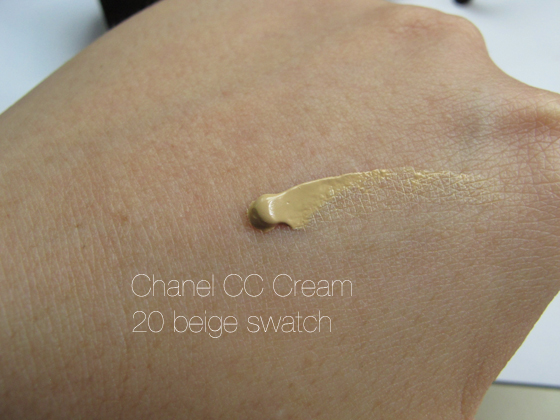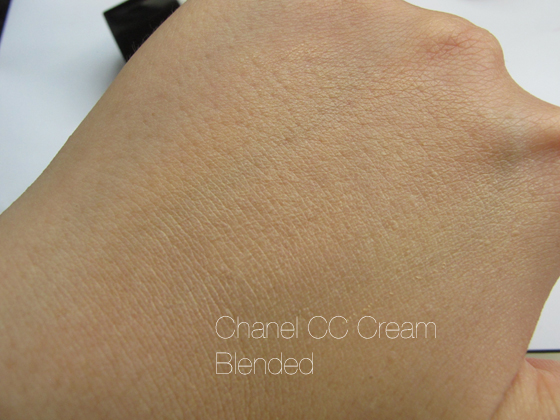 The Beige 20 shade is perfect for my skintone, I personally find it to be of neutral undertones, and it is able to even out the redness in my skintone.  It also dries and sets pretty quickly to a almost matte finish - something which I quickly noticed at first swatch in store. 
Before I give my overall thoughts on the CC Cream - I will show you how I apply it.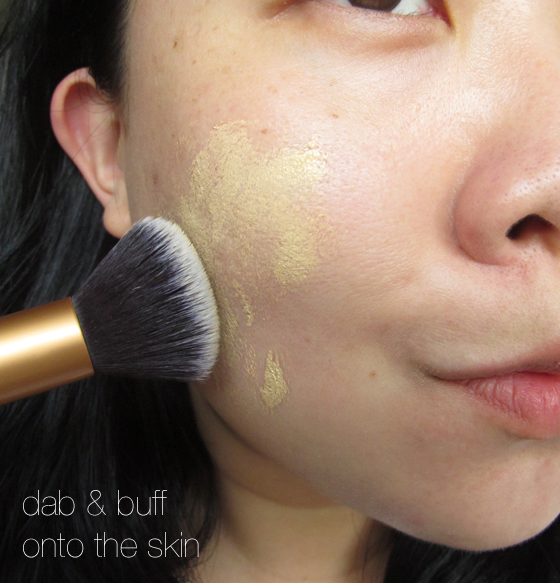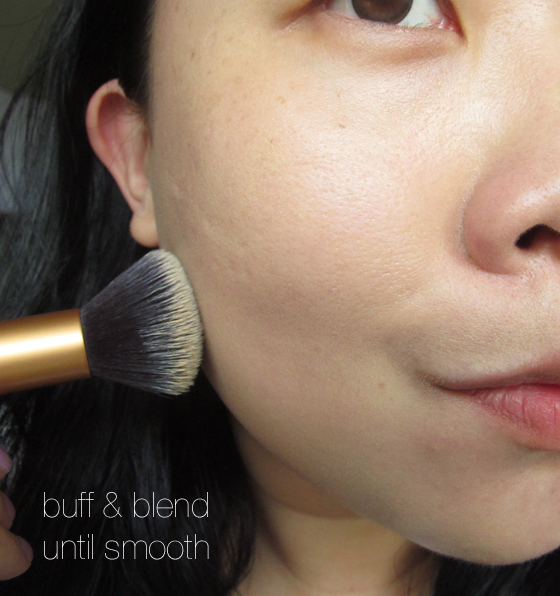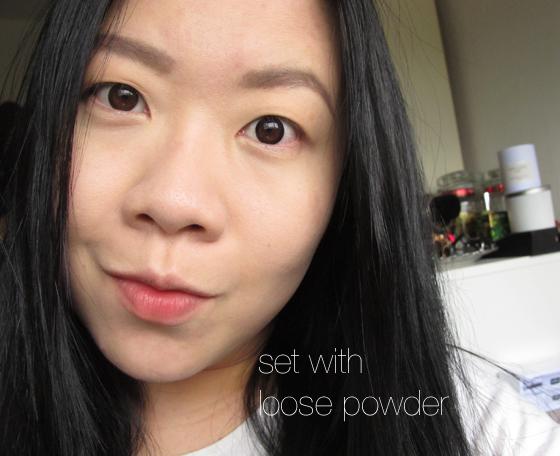 Application: 
1.  I had tried using the GA UV Master Primer as a base for the CC Cream - but it is not always necessary.  I found that the CC Cream applies and holds up well on its own.  
2. I also tried applying it with my fingers once - but I didn't really like the experience - I thought I had needed to use more product, and it sets a little too quickly for me to work it into my skin using fingers.  I really prefer to buff and blend each area of my face at a time. And it gives a better (more natural) result anyway. 
Texture & Finish: 
1. The CC Cream is extremely buttery smooth, and also a little powdery.  I would compare it to Ettusais bb cream (the original and mineral white versions).  I feel like I don't really need to set it, if I am in a hurry.  But I always set with a powder because it's just my habit, and I want to 'seal' the base anyway. 
2. The finish is almost matte, but not dull at all.  It is very natural, and yet gives decent coverage.  I just need to do some pin point concealing, but really, this has the coverage of a decent light to medium liquid foundation.  I am very impressed by the coverage. 
3. The CC Cream is able to correct my overall skintone, and even out any uneven-ness.
<strong>Lasting Power:
</strong>1. It really lasted well on me (I don't stay in a air-conditioned office from 9-5pm, usually it's just extremely hot humid indoor weather conditions), and I find that I still look quite fresh after a good 8 hours.  
2. I don't oil up as much with the use of this CC Cream, perhaps this is due to the hydrating formula. 
3.  Due to the decent coverage, and the fact that I don't need a primer with it, my base application time has reduced significantly.  I slap this on, fill my brows and dust color on my cheeks and I am good to go for the day. 
Overall, I am really happy with my purchase - and at $82, it is the same price as other Chanel foundations.   I do wish the scent isn't so strong though (okay, it wore off after say, by the time I leave my house), but it is really a great product to use for the busy women, and with all the skincare properties, I think this would be something we can all appreciate. 
And a completed LOTD featuring the CC Cream, and other Chanel goodies: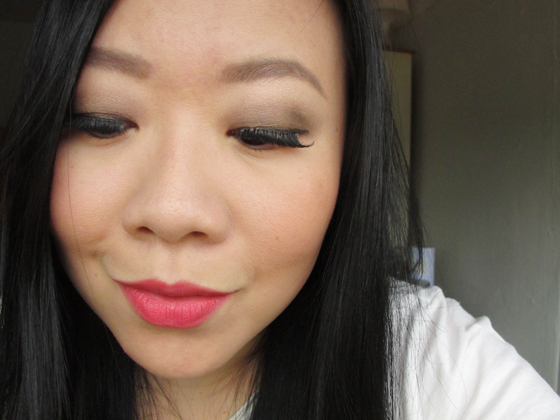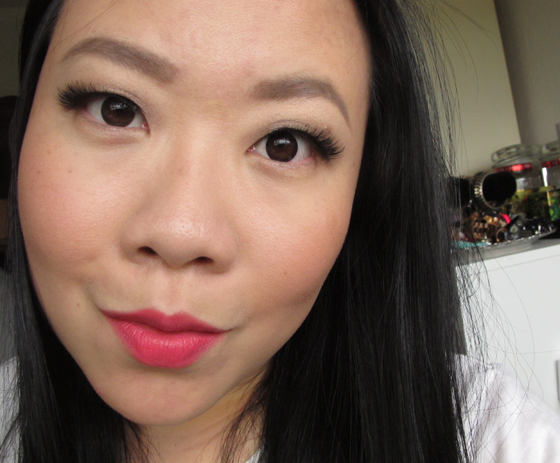 All products used: 
Face: Chanel CC Cream 20 Beige, Chanel Natural Finish Loose Powder 10 Limpide
Cheeks: Chanel Notorious Sculpting Veil, Chanel Bronze Rose 
Lips: Chanel Rouge Allure in 187 Genial 
Eyes: NARS Primer, Chanel 33 Prelude, Makeup Store Chocolate Cheesecake 
Brows: Shu Uemura Brow Manicure Ash Brown, Shu Uemura Pencil 09 Seal Brown
Lashes: Customised layered my own pair
I hope this review has been helpful!  Happy Saturday!  I am off to enjoy mine now! 
Thanks for reading.