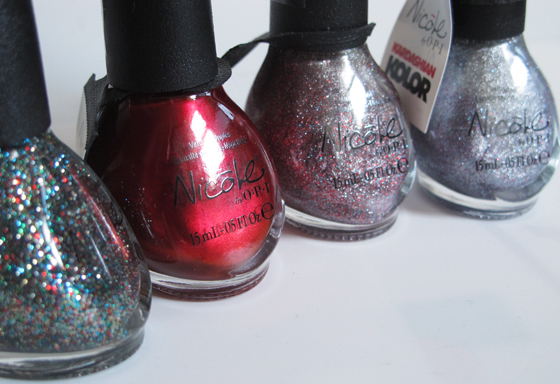 Hi hi~
This entry features four shades from the
Nicole by OPI
Kardashian colors which I got to pick at this preview event (mentioned earlier in
this entry
). They look quite Christmassy, but I felt like a metallic red, and all the glitters really appealed to me when I was playing around with the colors at the event. 
So, without any further ado...let's move on to the colors: 
All the polishes have a smooth formula, the glitter in this collection are quite fine, and the Nicole by OPI has the same wide brush that all OPIs polishes come with.  I personally find them a little too big and cumbersome, but they so spread across your nailbed very easily and makes for a easier application (wide brush saves you effort in painting from 'side to side' as one swipe can cover almost the whole nail).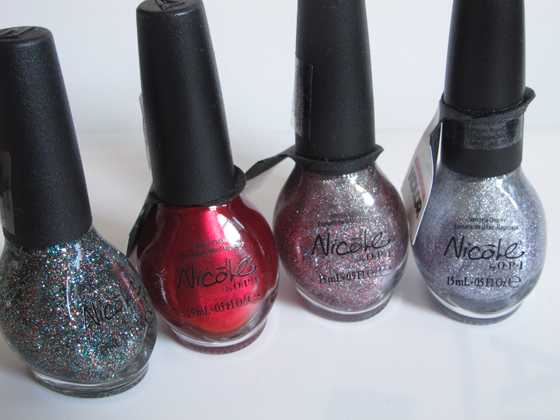 Keeping up with Santa - a metallic red, this is very smooth and almost opaque in one coat.  I painted two coats here to show off the full color intensity.  The red is very classic, without any obvious cool or warm undertones.  It is just a very neutral red which will suit all skintones in my opinion.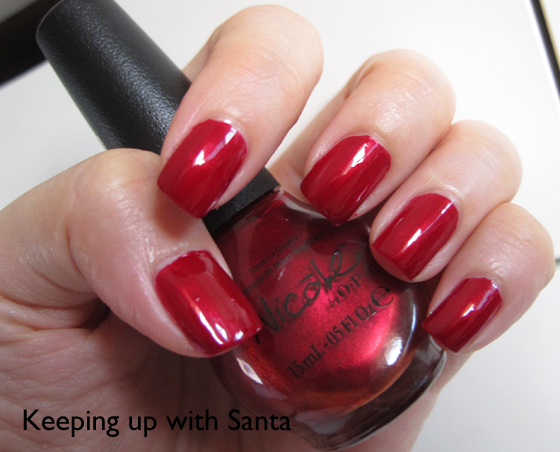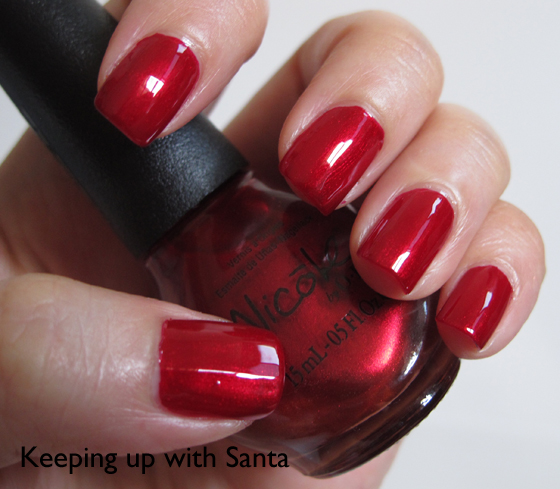 All is Glam, All is Bright - a silvery base gltter polish that contains darker blue-ish silver and red bits.  Reminds me of an ETK or something.  It is almost opaque in two coats, and quite smooth for a glittery polish.  Love how the glitter bits catch the light even though the pictures are taken indoors.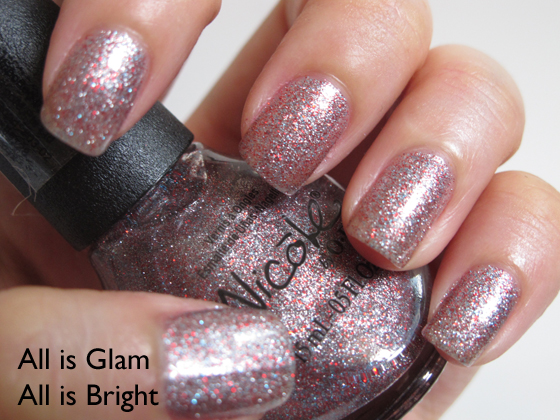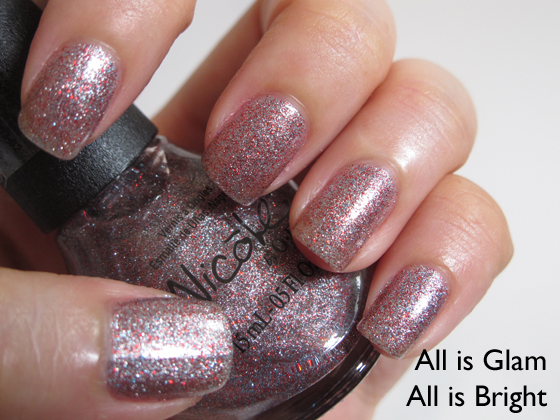 Look at me, Look at me - another silvery base glitter polish, with pink, red, teal (?) --- multicolor glitter bits.  Same consistency and formula as All is Glam All is Bright.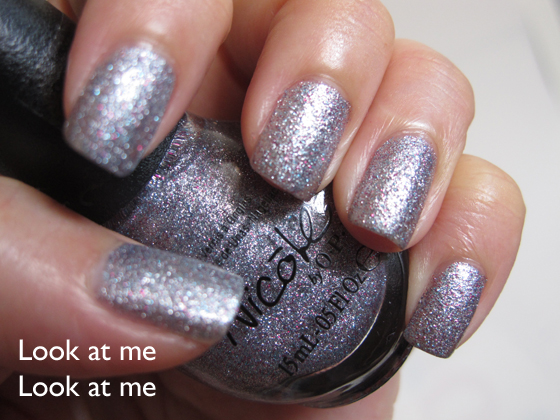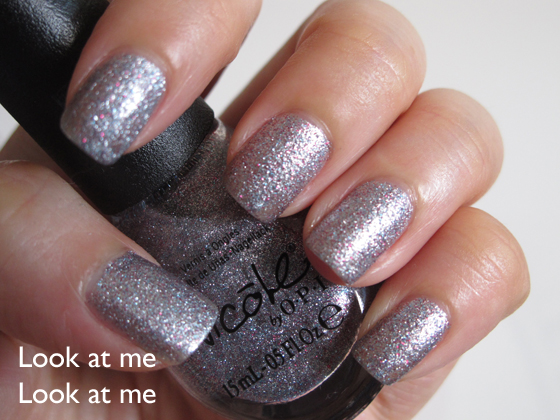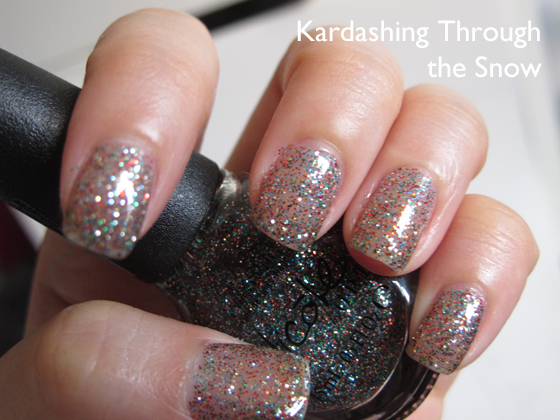 And lastly, Kardashing Through the Snow - cheeky name - and this is really made for the Christmas season.  A clear base, densely packed with fine red and green glitter bits.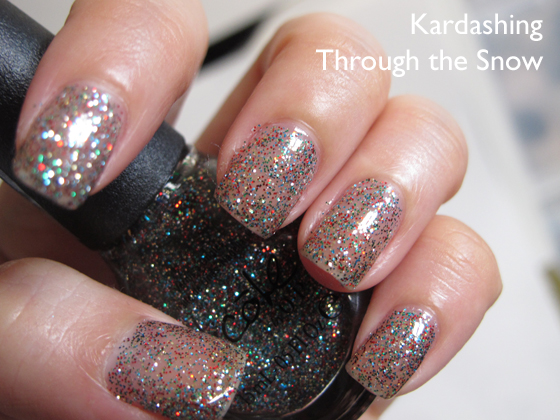 Layered Kardashing through the Snow with Keeping up with Santa - very party appropriate, and I trimmed my nails shorter to rock this combination.  I prefer glittery bright on short short nails.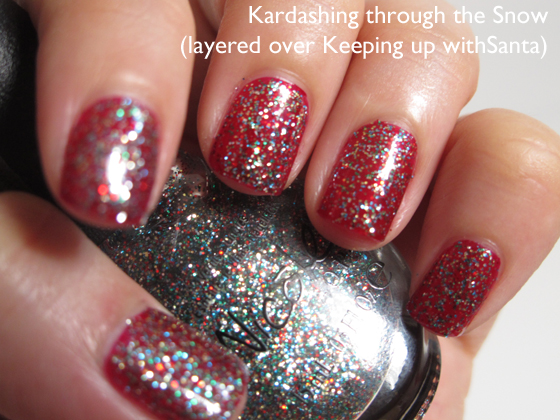 Formula on all four are impressive, and the two glitters provide enough coverage on their own.  Wear time is about 4 days, still looking good, without any tip wear.  (why I mention 4 days, because I seriously don't wear any color longer than that).  
You can find Nicole by OPI nail polishes at selected Watsons, and they retail for $12.90 each. 
Hope this entry has been helpful, thanks for reading!