</p>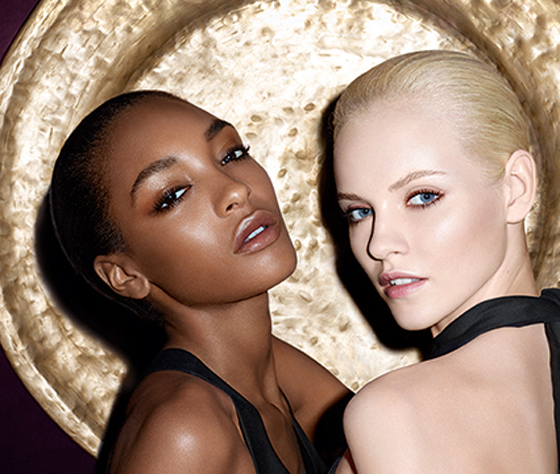 The Magic Light of Touch Eclat in a foundation
Twenty years after the launch of Touch Eclat, the legendary highlighter that is sold somewhere in the world every 10 seconds, YSL introduces an innovative technology that delivers the magic of this illuminating highlighter to the entire face. 
Today, YSL introduces Le Teint Touche Eclat.  A luxuriously unique formula that targets shadowy areas and defines contours.  A magical radiance infused in a weightless fluid. A texture that is as light as air.  A formula free of opaque powders, that evens the complexion and erases imperfections, accentuating natural facial features. 
With Le Teint Touche Eclat, skin has never looked more natural, more radiant, more sophisticated, more Yves Saint Laurent.  Le Teint Touche Eclat casts a custom-made light on all the Saint Laurent women in the world.  
When skin and light unite as one.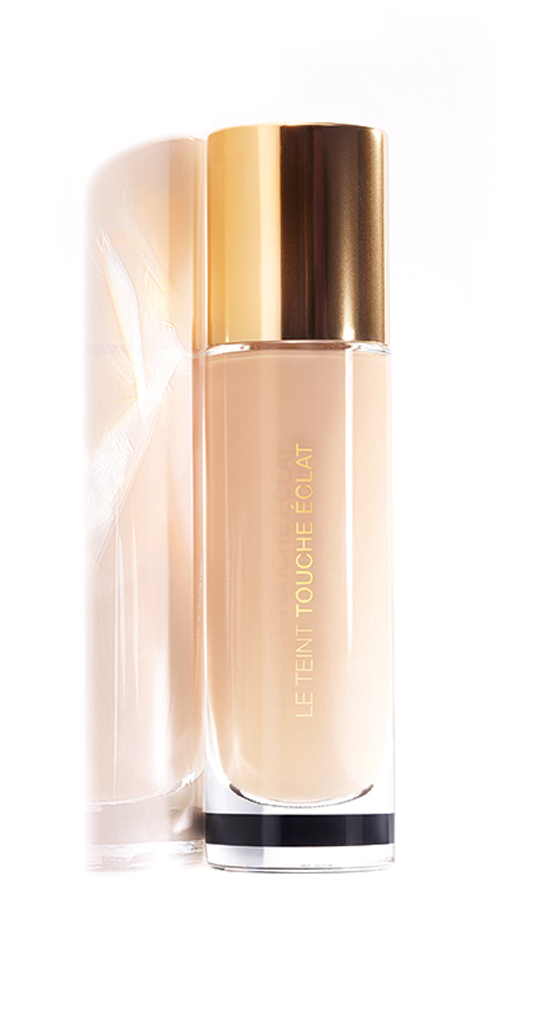 2012: YSL marks a turning point - incorporate the magic of Touche Eclat into a foundation.

Classical foundation formulas contain varying amounts of opaque powders that result in a diffused reflecion - a masked effect that leaves skin looking grey and dull, especially on darker complexions.  
Now, for the very first time with Le Teint Touche Eclat, YSL resolves this dilemma by replacing the powder with a soft focus gel.  Through a diffusing and translucent texture on the skin's texture, this unique soft focus gel soothes away imperfections without ever masking the skin, ensuring skin color purity. 
Also unique to Le Teint Touche Eclat, instead of mother of pearl particles often used in foundations to produce a mirror-like reflection, YSL opted for the latest generation of a fluid light concentrate obtained with golden pogments that are associated with supple lamella placed side by side like an infinity of mirrors.  On the skin, these lamella form a reflective film to brighten shadowy areas and highlight the features, maximizing the potential power of light. 
Infused within a weightless fluid, Le Teint Touche Eclat conceals imperfections and offers an illuminating result that defines the contours to reveal full luminosity.  The complexion never looks artificial.  The shine is diffused and the light is uniform.  The skin's natural color interacts with the elements in the foundation to bring out a natural-looking and sophisticated glow.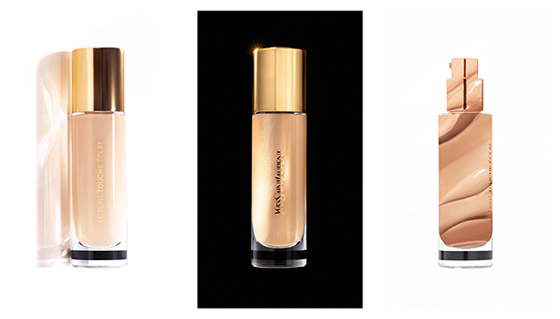 A Weightless Texture

Fresh, fluid, ultra-fine and silky, it evokes the perfect texture of Touche Eclat. It instantly beautifies the skin with transparency.  The texture fuses with the skin.  The high percentage of volatile oils and moisturizing agents gives the skin instant comfort, with a caressing effect that evokes the transparent and fluid couture fashion of YSL.  The texture unfolds with finesse, sculpting and shaping the face like an invisible, custom-tailored garment.  The ultimate feminine pleasure.
In addition, Le Teint Touche Eclat ensures exceptional color integrity. 
A Bottle Design in Tribute to Touche Eclat
The new foundation jewel, Le Teint Touche Eclat arrives in a distinctive bottle with sleek lines, stamped with the YSL logo and crowned with a golden cap that evokes the iconic Touche Eclat. 
The touch of perfection.  Lloyd Simmonds, Creative Director Makeup YSL, designed a foundation brush to go with Le Teint Touche Eclat.  A tool specially created to ensure easy, professional application.  The specially designed synthetic fibers are neither too firm nor too soft, the  brush perfectly smoothes the complexion.  A black-lacquered elegant handle, simply bearing three opium-colored letters, YSL - a precious seal. 

Foundation is Color 
A range of customised shades

YSL offers Le Teint Touche Eclat in a range of 22 shades for a customised finish for all skin tones, including black and Asian complexion that the designer YSL always celebrated.  These 22 shades were developed by Lloyd Simmonds, Creative Director Makeup YSL. 
Organised in families, these luminescent shades range from beiges to golden and rosy beiges, from the lightest to the darkest tones, corresponding to the 7000 skintones identified in the world.  A manifesto for today and tomorrow.  Each skin has its own light. 
(note that only 8-10 shades out of the 22 will be available in the Asian market - I am using B20)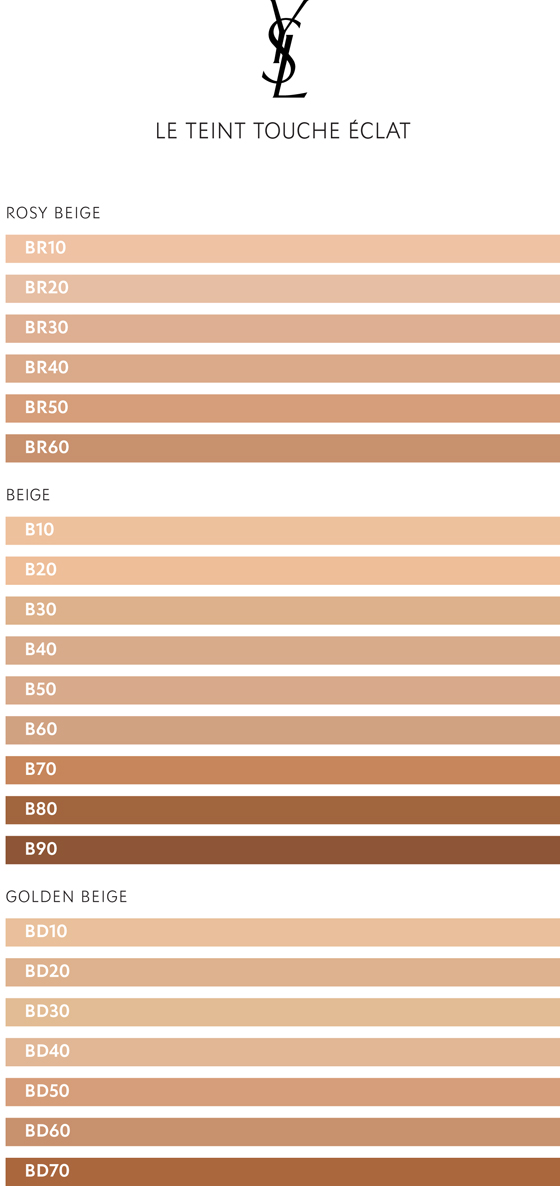 swatches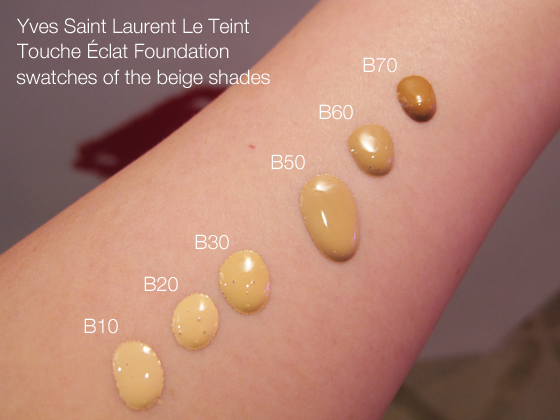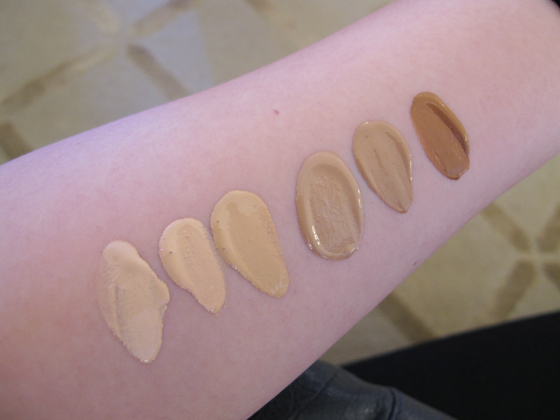 A salute to social and cultural preferences

With a global understanding of women's needs, YSL creates four universal makeup strategies:
- The golden complexion: the aim is to warm the complexion, to make it look less pale and more tanned. 
- The healthy glow: this consists of slightly heightening, to make it look less pale and more tanned. 
- The complexion in synergy with the skin: a foundation color chosen to exactly match the skin, for an impeccable tone-on-tone result. 
- The brightening effect: to lighten the complexion and reduce spots. 

I hope this sharing is helpful, and I will be following up with a review soon.  Stay tuned!
Thanks for reading!