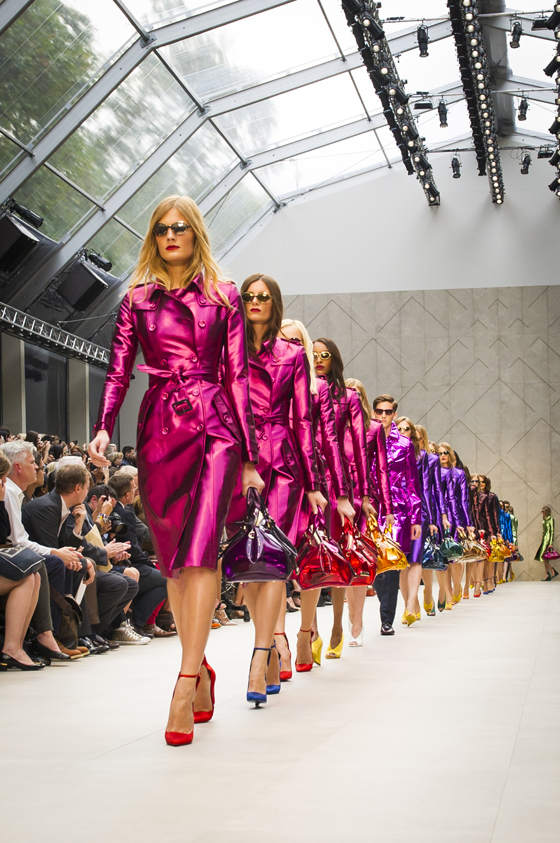 London, 17 September 2012
CELEBRATING LONDON THROUGH THREE SIMULTANEOUS & CONNECTED LIVE SHOWS

Burberry invited the world to celebrate London today, through three simultaneous live shows, blurring the physical and digital to bring the event from the runway in Hyde Park, to the new Regent Street flagship, to the world. 
The Physical Experience: Live From Hyde Park
Over 1500 guests attended the Burberry Prorsum Spring/Summer 2013 Womenswear show at the brand's custom-built show venue in London's Hyde Park, including from the creative industries Sir Jonathan Ive, Thomas Heatherwick, Harvey Weinstein, Mario Testino, Anna Wintour, Samantha Cameron and Secretary of State for Culture Maria Miller.
Watch behind the scenes here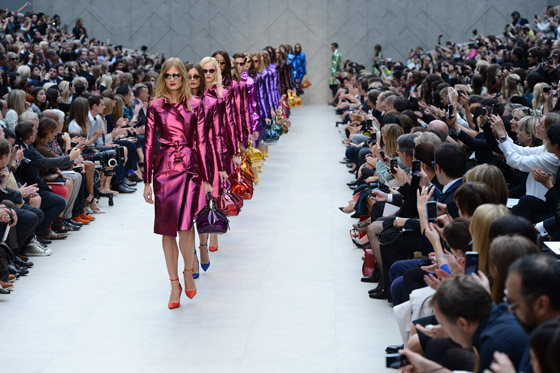 The Digital Experience: Live From Burberry World
Burberry World (Burberry.com) brought all facets of the live show to a global audience through its most personalised cross channel viewing experience to date. 
Mobile users were able to explore the show, its on demand version and the collection in more detail than ever before.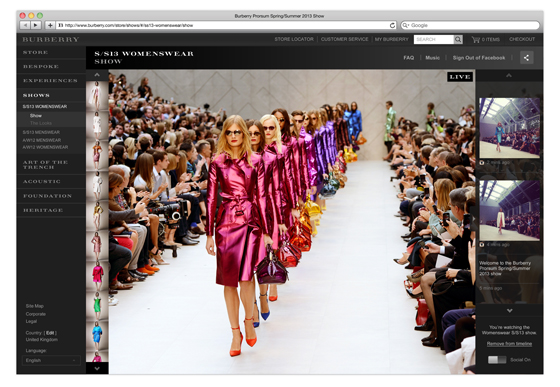 Blurring The Physical And Digital: Live From Burberry Regent Street
The show was also streamed simultaneously onto the tallest retail screen in the world at Burberry Regent Street, where over 500 guests were welcomed personally to the store's first live event by a video message from Christopher Bailey.
Burberry Regent Street blurs the physical and the digital to create the brand's most digitally-advanced brand experience, bringing to life every aspect of Burberry World.
All three show experiences were linked via a social stream, integrating real time content from the London events,Twitter and Instagram.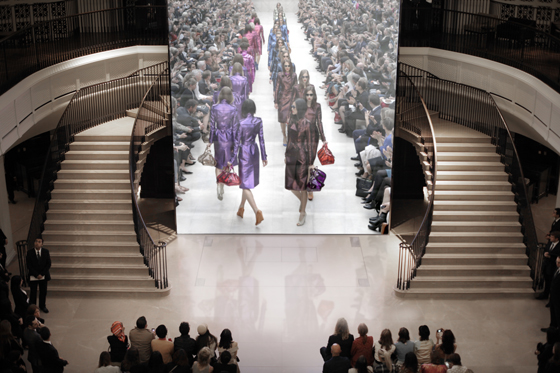 RUNWAY TO REALITY IN JUST EIGHT WEEKS
The Spring Summer 2013 collection is available for purchase on Burberry.com for one week bringing the collection to the consumer globally in just 8 weeks through the brands Runway to Reality initiative.
BRITISH SOUNDTRACK
Featuring British emerging musicians Ren Harvieu, Tom Odell and Birdy the show soundtrack was streamed directly from the show space across all platforms as part of the mobile and online show experience. 
 Watch the full show here below
The Collection (highlighting several of my fave looks from the show!)
STYLES
Capes
Cape trench
Corset trench
Kick flared trench Cropped cape trench Cropped bomber Corseted tops
Corset seamed skirts Corset seamed dresses Ruched swimsuits Short shorts
FABRICS
Double cotton sateen Feathers
Lace
Leather lace
Metallic leather Metallic silk
Plastic
Satin
COLOURS White Nudes
Tan
Bronze Copper Pink Lipstick red Fuchsia
Ink blue Turquoise Green
ACCESSORIES
The Blaze bag
Satin & metallic python peep-toe wedges Satin & metallic python point-toe wedges Splash sunglasses
Siren red lips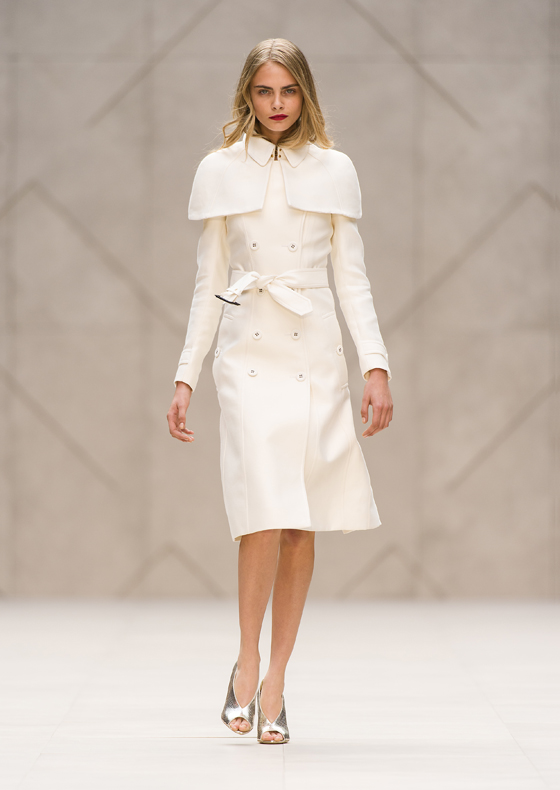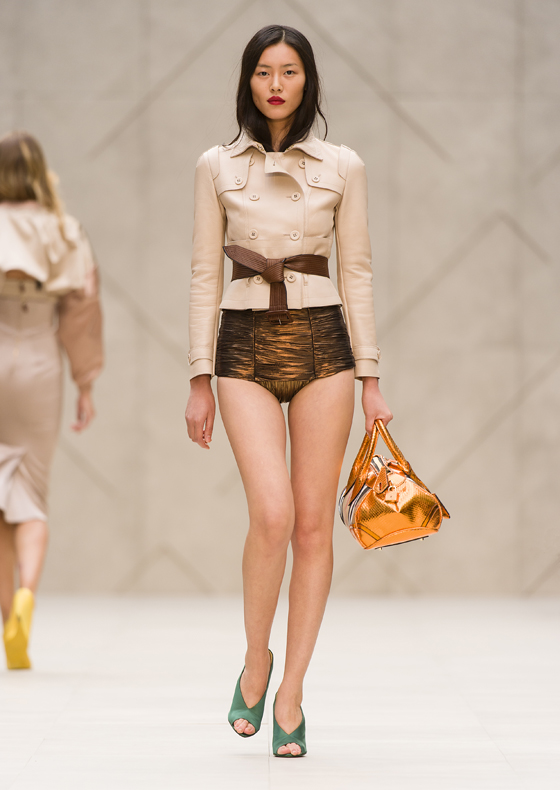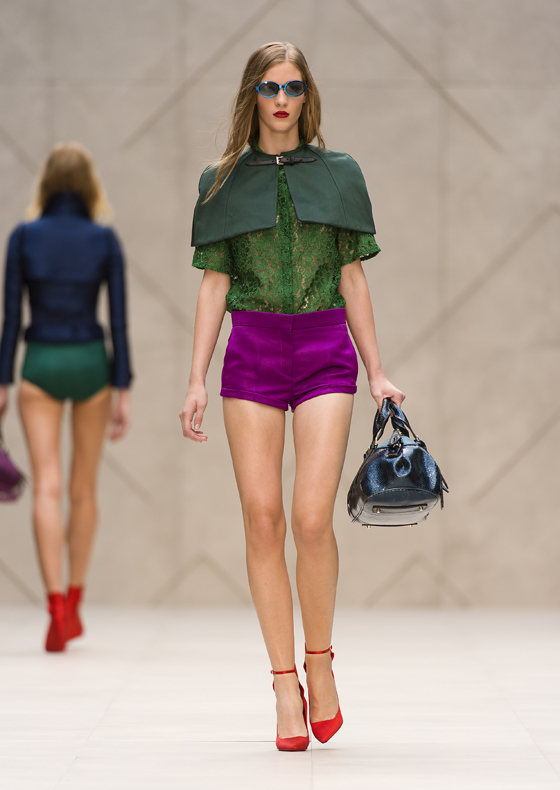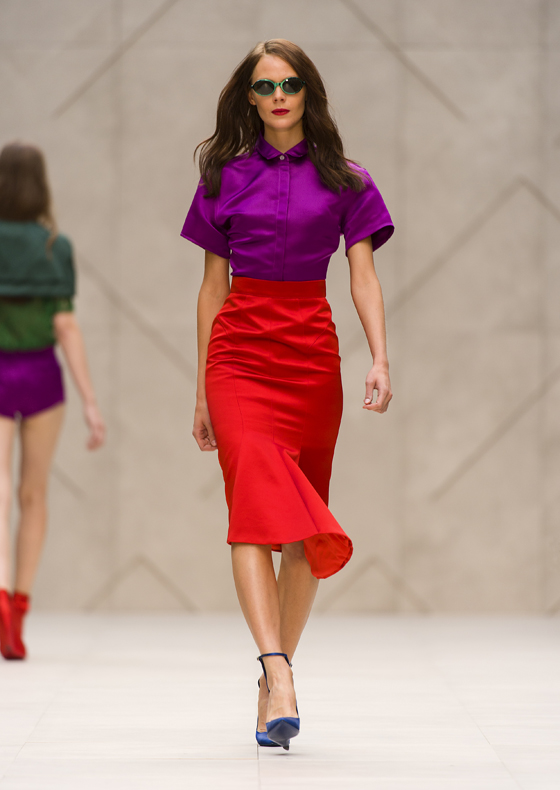 Close up of the makeup looks the girls were sporting in the show: 
Fresh faced, no mascara, a light wash of eyeshadow (Pale Barley!), and a new Burberry lipstick, called Red Siren which will be available next year, I think.  
Totally my type, if you have been reading my past few entries. :)
BURBERRY PRORSUM WOMENSWEAR SPRING/SUMMER 2013 RUNWAY LOOK THE LOOK AND INSPIRATION
Elegant modern look as seen on the Burberry Prorsum spring/summer 2013 runway
Siren red lip with soft definition, inspired by the strong, feminine attitude of the season's Burberry girl
Sheer, sculpted complexion combines with naturally defined and almost bare eyes for a modern-day look 
A detailed breakdown of products used: 
BURBERRY BEAUTY S/S13 RUNWAY LOOK
Created by Burberry Artistic Consultant Wendy Rowe under the creative direction of Burberry Chief Creative Officer Christopher Bailey
BURBERRY SKIN 
SHEER FOUNDATION, SHEER CONCEALER & SHEER POWDER
BURBERRY GLOW
FRESH GLOW LIGHT GLOW
BURBERRY EYES
SHEER EYE SHADOW (Gold Trench No.04 Pale Barley No.22 Golden Brown No.06) 
SHEER EYE SHADOW EYE DEFINER
BURBERRY LIPS Siren Red – Launching soon Brick Red No.05
LIP VELVET LIP DEFINER Earthy Blush No.07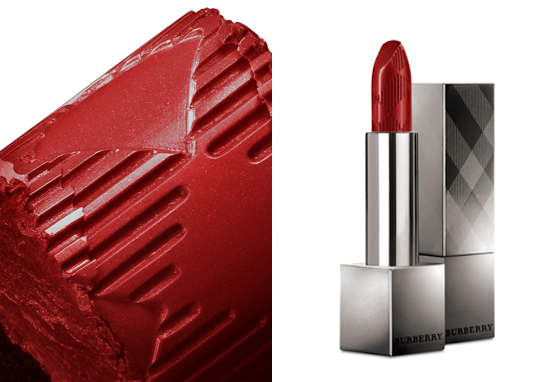 Tanya Burr  (pixi2woo) also uploaded a backstage beauty breakdown of the show and a short inteview of Cara Delevingne backstage. Quite interesting to watch!
Let's end this entry with the show invite.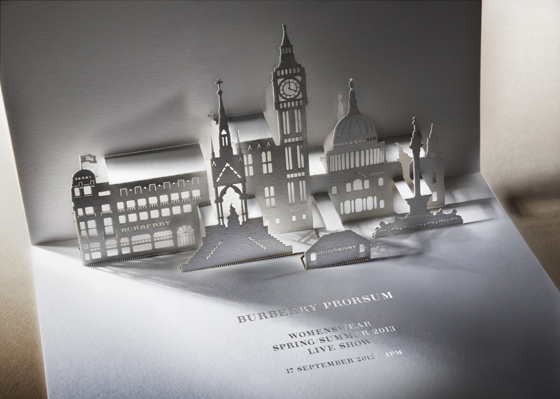 I have always like following the various fashion weeks, and with YouTube and all, it is very easy to catch up with the current shows a mere matter of hours after the show ended.  And with twitter and instagram, I sometimes feel like I am in London or NYC too.  Most of all, I like to see what new trends are emerging, and also pay attention to the upcoming beauty trends.   Hope you enjoy this Burberry coverage, because I certainly enjoyed watching the videos, and also finding out about the backstage information and all. :)
Thanks for reading!