Hi hi!
Today I created an everyday natural look using all my fave NARS products, plus some new ones that have come along my way.  NARS is one of my most fave makeup brands, so it was easy picking out stuff which I know will work and look good together.  I will do another LOTD entry with a stronger look soon, so let's stick with this natural one for today. 
I used Alhambra eyeshadow duo on my eyes, and also Sophia eyeshadow single to add some dimension on the outer corners.  I also used a little bit of Copabanna multiple as a browbone highlight.  Eyes are lightly lined with larger than life liner in Via Venetto.  
All products used:
Base - NARS Sheer Glow Deauville, NARS Loose Powder Flesh
Eyes - NARS Eyeshadow primer, NARS Larger than Large pencil Via Venetto, Alhambra Eyeshadow Duo, Sophia Eyeshadow single
Cheeks - NARS Laguna bronzer, NARS Deep Throat blush, NARS Copabanna multiple
Lips - (sheer pink) Turkish Delight, (natural nude) Belle du Jour, (red) Joyous Red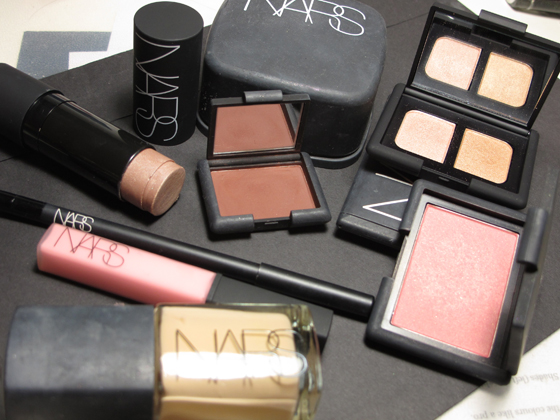 Look with Turkish Delight
Look with Belle du Jour
Look with Joyous Red
Really enjoyed planning and posting this entry.  
Which is your fave NARS look?
Thanks for reading!