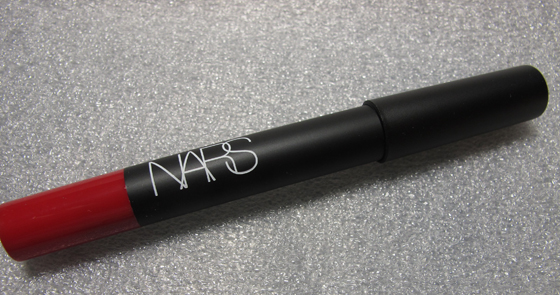 Hi hi! 
I had 'accidentally' got to swatch NARS Dragon Girl Velvet Matte Lip Pencil while I was in TW, and I was somehow very drawn to it (the name too!), but it was sold out at at least 3 NARS counter I went to in TW.  I had all but given up, til I saw it at the airpot duty free.  And it costs less than $30 at duty free (maybe around SG$28).  So happy! 
Dragon Girl is a very true cherry red, slightly cool toned.  It is quite pigmented, and very powdery velvety matte texture.  It is not drying (on my lips on a good day anyway) and it is quite long lasting.  I love the NARS Velvet Matte pencils (have a couple more in my stash) and the formula is really great and easy to use.  My only qualm is I wish they have made this a retractable packaging, so I don't have to waste products sharpening the pencil, or have to buy a sharpener just to sharpen this pencil.  
Because it is a pencil, it allows for precise application, and I didn't have to use a separate lip pencil (in any case, I am not one for outlining my lips).  I really enjoy red lips lately... and I think I should wear them more often.  They are pretty eye catching, and sets off my skintone quite well.  It is also easy to touch up, and build up the colour.  LOVES! 
More photos: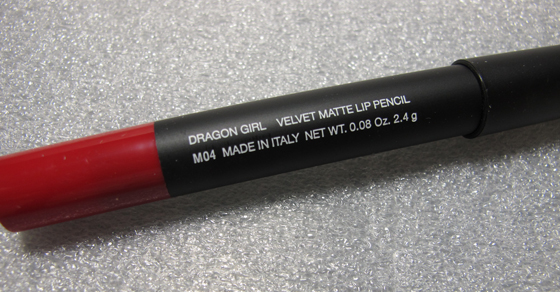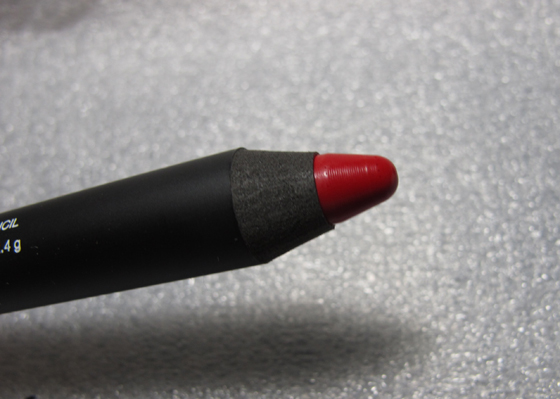 Swatches: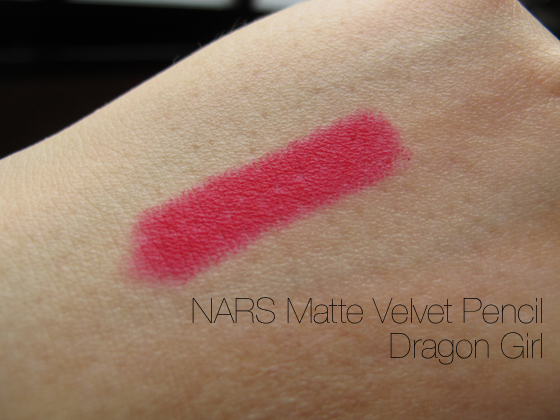 LOTD - 2 pictures, in slightly different lighting, so you can see how the color 'changes'.
all products used
base: Ettusais BB cream Gorgeous Cosmetics perfect base foundation, Chanel loose powder
concealer: Laura Mercier secret camouflage 
cheeks: Illamasqua Hussy, Sleek Glo face highlighter, Dior Nude Tan Aurora 
lips: NARS Dragon Girl
liners: Solone Red Wine, Heavy Rotation Liquid Liner
eyes: NARS primer, Gorgeous eyeshadow palette 
** really loving the Gorgeous cosmetics a full review entry is in order! ** 
That's all, and thank you for reading!