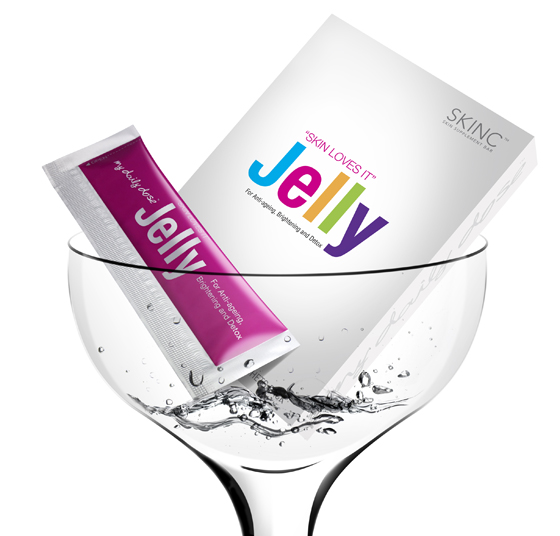 My Daily Dose "Skin Loves It" Jelly – Your 1st Jelly for Beautiful Skin
Awaken unresponsive skin with a nutritious concoction of anti- ageing, brightening and hydrating ingredients. Experience My Daily Dose "Skin Loves It" Jelly – the first edible skincare to hit local shores.
Small in size, big on benefits
Think of "Skin Loves It" Jelly as a do-it-all fix for skin.... This is a delectable jelly that feeds skin with a menu of nourishing ingredients, from hyaluronic acid and vitamin C to fish collagen and horse placenta. A holistic antidote to your beauty woes, it works not just on anti-ageing but also whitening, firming, toning and hydration, so your skin gets exactly what it needs to become healthy, rejuvenated and younger-looking. In addition, it's great for your body's overall health too, as Vitamin C fends off infections, and hyaluronic acid protects joints, eyes, and skin from degeneration.
"Skin Loves It" Jelly contains one of the highest infusions of different nourishing ingredients amounting to 30,000mg.
What you'll also love is the jelly's delicious mango flavor, which makes this edible skincare such a tasty indulgence at any time of the day!
Beauty-on-the-go
Perfect for time-starved women, this is a convenient eat-as-you-go supplement that can be easily packed into a handbag or briefcase, even a purse!
Being in lightweight jelly form, it's far easier to carry around than liquid supplements. Just tear the sample and enjoy the jelly. A dose of "Skin Loves It" Jelly for an intensive 14-day supplement is a fuss-free formulation to achieve revitalised and glowing skin.
Low-fat, high-fibre
This yummy snack contains only low-calorie and natural sweeteners such as Acesulfame K (a zero-calorie sweetener), Sucralose (a low-calorie sweeter) and Erthyritol (a natural sweetener that doubles up as an anti-oxidant) – so you don't have to worry about your waistline every time you indulge.
In fact, because it's packed with dietary fibre that lowers blood cholesterol levels and treats constipation, it will even help the body eliminate toxic waste faster.
Apple vinegar, another ingredient in this wonder jelly, also helps in breaking down fat to facilitate natural weight reduction. Finally, a guilt-free pleasure!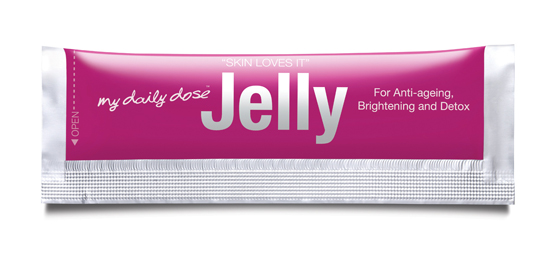 YOUR BEAUTY SPREAD
The ingredients encapsulated in one nifty jelly sachet includes:
For anti-ageing
Fish collagen: Fish collagen replenishes the body's collagen levels to reduce signs of ageing. A non-toxic alternative derived from fish skin and scales, it is also more readily absorbed than animal collagen. At the same time, fish collagen contains larger amounts of two amino acids – glycine and proline – which are crucial for healthy tissue growth of hair, skin and nails.
Vitamin C: The key to the production of collagen, Vitamin C aids in the growth of cells and blood vessels, and gives the skin its firmness and strength. This powerful antioxidant not only neutralises free radicals but also reverses DNA damage that causes dryness, fine lines and wrinkles. A healthy dose of Vitamin C also protects our bodies from infection and maintains healthy bones and teeth, while speeding up wound healing.
For brightening
Horse placenta: Containing more than 300 amino acids, horse placenta is a licensed, certified and clinically proven safe and effective ingredient for whitening. As the body cannot produce certain amino acids, these must be ingested via supplements and vitamins. A rich source of nutrition, horse placenta improves skin tone, texture, elasticity and moisture levels. It not only actively hampers melanin production, but also stimulates skin cell renewal for beautiful, translucent skin, and visibly fights signs of ageing such as wrinkles and fine lines.
Citric acid: Both an anti-oxidant and a whitening ingredient, it brightens skin, corrects dark spots and fine lines, and also treats mild acne. Citric acid also helps slough off dead cells and speed cell turnover, promoting the growth of new skin cells to improve the appearance of age spots, acne scars and uneven tone and texture.
For hydration
Hyaluronic acid: Your skin's moisture magnet, hyaluronic acid holds up to 1000 times its weight in water. It also aids in tissue repair, holds together the skin's structural components collagen and elastin and creates a protective barrier against micro- organisms. Hyaluronic acid also keeps joints in good health by coating each cartilage cell for better mobility and flexibility.
For general health
Apple vinegar: Ensuring a rich supply of vitamins, beta-carotene, and minerals such as calcium, potassium, sodium, and magnesium, apple vinegar treats a variety of ailments, including hair loss, weak nails, brittle teeth, sinusitis and a permanent running nose. Beta-carotene in apple vinegar also counters free radical damage to promote a youthful appearance. In addition, apple vinegar fights fungal and bacterial infections, helps to dissolve uric acid deposits that form around joints, and breaks down fat for natural weight reduction.
Black vinegar: Used in natural cardiovascular treatments, black vinegar reduces glucose levels, thus slaying off an array of heart problems. It boosts the body's energy production, and digestive, immune, and cognitive systems. At the same time, it contains many essential amino acids which help to balance the body's pH levels and heal everyday ailments ranging from congestion to constipation.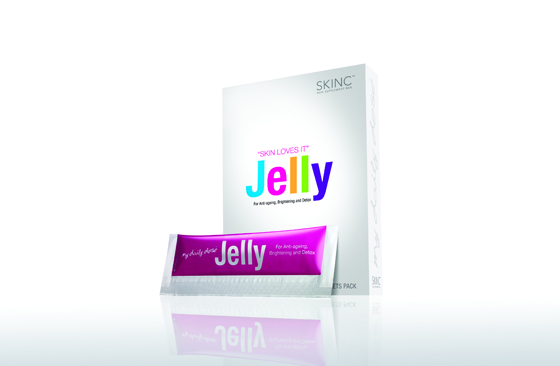 Unveil Perfect Fairness in 10 Minutes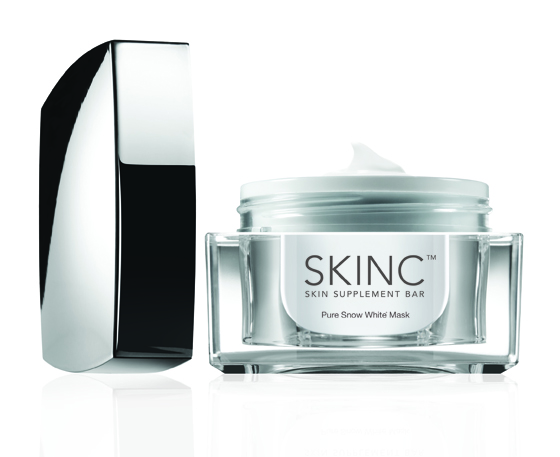 Get a glowing complexion in less time than it takes for a catnap? Ensure poreless skin? Achieve an air-brushed finish with just a dollop of foundation? The bright promises of Skin Inc's Pure Snow White+ Mask are no fiction, but the alchemy of more than 16 potent ingredients from the world's first skin cocktail bar.
The technology may be mind-boggling, but the premise is simple. For snow white skin, the secret is to draw out skin-darkening melanin, prevent further pigmentation and reflect maximum light.
THE LAWS OF ATTRACTION
Think of this as a whitening 'force field'
When a thin layer of this mask is slathered over skin, a field of positive ions form over the skin that pulls negatively charged melanin ions from deep within the skin to its surface. This unique ion attraction technology neutralises negative ions, purges skin-darkening melanin, and gives you instantly brighter and more translucent skin after just one application.
KEEPING THE SLATE CLEAN
A beauty paradox
Fact: Your body actually produces unsightly pigmentation to protect your skin, not to harm it. While you are basking in the sun, your skin signals the body to trigger the action of an enzyme called tyrosinase, which helps it to produce melanin cells to shield your skin from UV rays.
Scutellaria Baicalensis, an extract from the root of a plant from the mint family, present in the Pure Snow White+ Mask can regulate the actions of this spot-forming enzyme, while preventing general skin darkening and sunburns. In fact, just one per cent of this potent potion can control 100 per cent of tyrosinase production. This pre-emptive approach to whitening prevents pigmentation from forming in the first place, and saves you from expensive lasers in the foreseeable future.
Another important complexion brightener is licorice root extract, which also inhibits tyrosinase and melanin production, giving you glowing skin that's a few shades lighter after just one month of use.
SKIN SHRINK
Banish pores instantly
Scutellaria Baicalensis is also a powerful astringent, known to shrink pore size after one application, revealing flawless baby soft skin!
AND THERE WAS LIGHT
A fundamental whitening truth
Which brings us to a simple law of physics: The more light that is reflected from skin, the brighter it appears. Pure Snow White+ Mask not only minimizes pores with Scutellaria Baicalensis, it moisturises and plumps skin with Panax Ginseng Root Extract, Natto Gum, Aloe Barbadensis Leaf Extract and Hyaluronic Acid for a smooth, even surface so that light bounces off perfectly.
It also improves the light-reflecting quality of skin by absorbing and lightening melanin with a cocktail of ingredients such as Magnesium, Chorella Vulgaris extract and Aluminium Silicate, and reflects UV rays with Y-Titanium.
ANTI-AGEING BENEFITS
Turn back the clock with these youth generators
Like all Skin Inc products, the Pure Snow White+ Mask also multi-tasks to address all your skin needs simultaneously. Its rich cocktail of super ingredients such as Chlorella Vulgaris Extract, an algae extract choc a bloc with carotenoids, and amino acids prevent photo-ageing and provide the building blocks of proteins that form each collagen unit within the skin.
Other key youth generators include Panax Ginseng Root Extract, which minimises fine lines and wrinkles, as well as minerals and herbal extracts to rev up blood circulation, collagen production and rejuvenation for a youthful glow.
WHITE OUT
For intensive SOS
Use twice a week for 28 days to achieve noticeable brightening and the lightening of unsightly age spots, scars and sun spots.
MASKED HERO
Your 10-minute whitening fix
After cleansing, simply apply the mask on the face for 10 minutes, and remove with warm water. You may feel a slight tingling sensation due to the ionisation process. Remove mask if further irritation occurs.
A one-time application will reap you these benefits:
Whiter and more translucent skin.

Visible decrease in pore size. Studies in Japan have shown results of decreased pore size by up to

50 per cent.

A perfect canvas for makeup application.
Use it weekly for a month, and see:
Renewed skin and improved skin condition

Greatly reduced pigmentation, as brighter, translucent skin is revealed.

A reduction in pigmentation formation.

Smoother skin, and improvements to acne-plagued skin.

Reduced sebum production and increased moisture levels.
[ I will be following up with review entries after I have used the two products mentioned.  They are currently available at all Skin INC stores.]
I have used the white+ mask a few times, and it is truly some amazing stuff. 
Skin Inc Pure Snow White+ Mask (100ml) retails for $268 at all Skin Inc concept and specialty stores.    
My Daily Dose "Skin Loves It" Jelly retails at $68 for a pack of 14 sachets at Skin Inc Concept and Specialty Stores. 
Skin Inc Concept Stores
Marina Bay Link Mall
8A Marina Boulevard
#B2-25
Singapore 018984
Tel: +65 6536 6789
Operating hours: 10.00am - 10.00pm (Mon–Sun)
ION Orchard
2 Orchard Turn, #B3-66
Singapore 238801
Tel: +65 6222 7428
Operating hours: 10.00am - 10.00pm (Mon–Sun) 
Orchard Central
181 Orchard Road, #02-14
Singapore 238896
Tel: +65 6884 5308
Operating hours: 11.30am - 9.30pm (Mon-Sun)
nex @ Serangoon Central
Serangoon Central
Singapore 556083
Tel: +65 6634 2359
Opening hours: 11.00am - 9.30pm (Mon-Sun) 
[images and information extracted from press file]