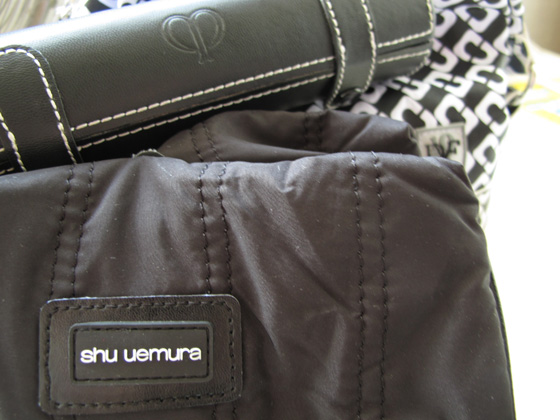 Hi hi!
I was packing some of my luggage today..and decided this might be a good time for another installment of 'what's in my travel bags' entry.  I seem to do one everytime I go off somewhere, and this is no exception.  This is because things that I love to use are rotated all the time.
Let me preface this entry by saying (again, I think?) I am not one to travel and slack on the whole skincare and beauty routine while I am on holiday, never has, and never will.  If anything, it is during my period of travel that I want to pamper and protect my skin more.  The flying, being out and about, can be more damaging than your usual going to work kind of days.  Plus if I am going to a city destination, being dressed up and groomed is the best way to fit in with everyone else. 
I am glad to have accumulated a bunch of skincare samples, little goodies from all my BellaBoxes and I am able to customise a whole range of skincare pampering that starts on the plane to the usual morning and night routine when I am back in the hotel room.  Most of what I am using in terms of makeup and skincare will fit into the two bags that you see in the first picture.  These are the bags that I am bringing on board the flight. 
For in flight skin pampering - check out Lisa Eldridge's skincare tips - I am going to do something similar. 
Link here ---- http://www.youtube.com/watch?v=wQ0LjVp0fvs&list=UUFghPtzFcmyDiID1ASMA4Dg...
My in-flight beauty routine is simplified: 
I will be leaving early morning, so I will only have my base, brows and blush.  I will most prob be wearing my glasses and put on my lenses before I apply makeup prior to landing.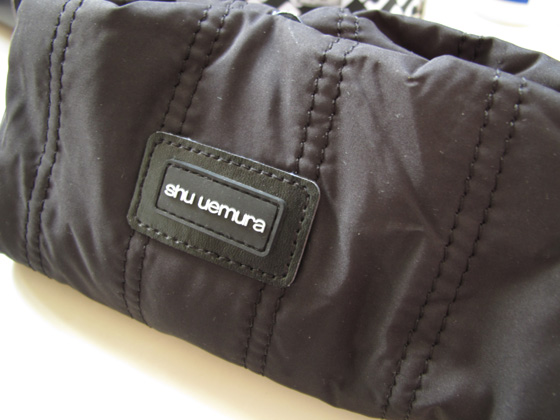 This Shu Uemura bag contains the basic supplies I need with me. I will remove my makeup using the Biore wipes.  Some eye drops, hand sanitiser, anti bacterial wipes, tissues, and sleeping eye patch (though I don't think I will be sleeping, most probably I will be entertained by my iPad - but I prefer sleeping with this patch if I am in new places).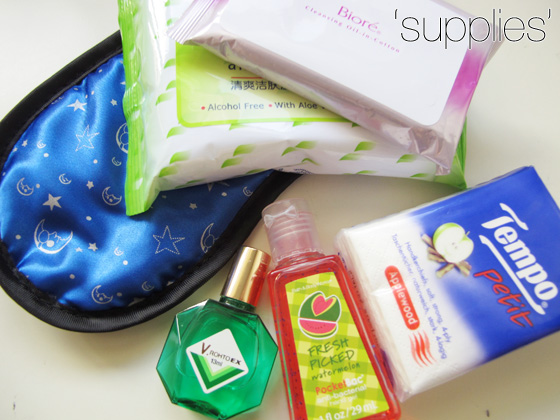 after makeup is removed, I will proceed to slather my face in the CHANEL Sublimage Masque - this is a good sized sample, and this is my fave facial treatment masque.  I will leave it on for 2 - 3 hours.  
Then I will wipe it off, and use the Belle Du Jour skincare products - which is the global skincare line of KENZOKI.  These are highly concentrated with White Lotus, and wraps the skin in a bubble, and helps the skin to restore its ideal balance and functions.  Shown here are the face cream and eye cream. These will make sure that my skin is prepped for makeup, and also look refreshed for the rest of the long day ahead (because we will start our holiday immediately after checking in the hotel!).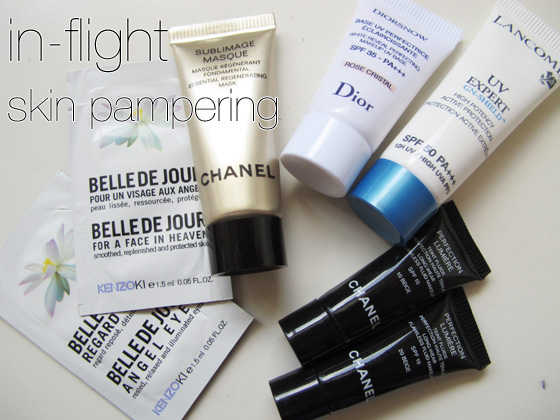 About 45 minutes before we land, I will start to apply makeup - the full works. 
All the makeup I am packing fit into this roomy DVF bag.   
The only makeup items I am checking are my Loreal True Match liquid foundation and Chanel Loose Powder.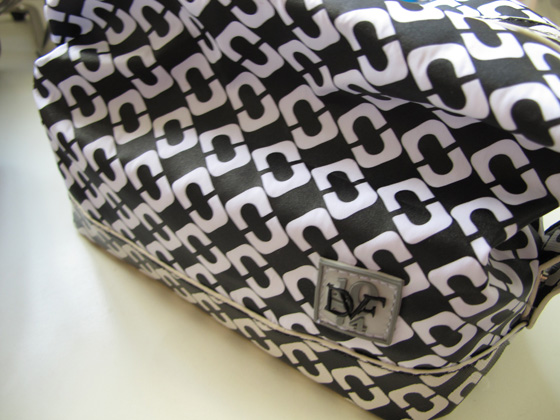 What's inside?  I will just be listing the products I am bringing, 
but in general, I am going for neutral smokey defined eyes during my holiday
and a flawless finish face that last the whole day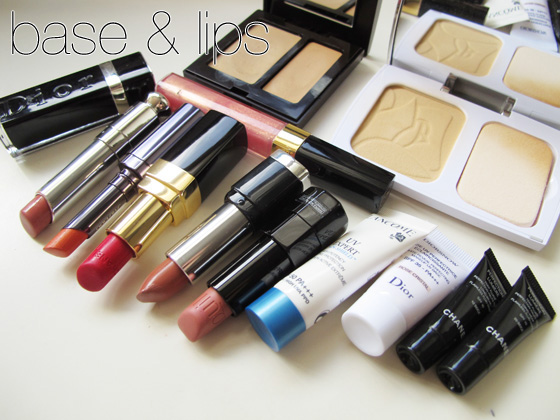 base products
I am only using my Loreal liquid foundation & Chanel Loose Powder for the rest of the trip when I do my makeup in the hotel.
I find all these little tubes of bases very useful for in-flight makeup frenzy. 
Lancome UV Expert GN-Shield, DiorSnow White Reveal Perfecting Makeup UV Base, Chanel Perfection Lumiere
Lancome Teint Miracle Compact Foundation (to set) 
Laura Mercier Secret Camou concealer SC-03
Cle de Peau concealer (not pictured)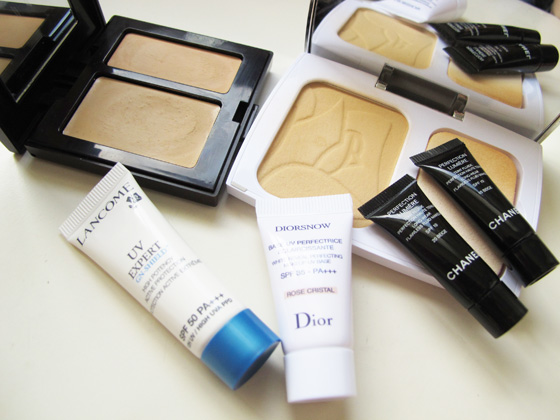 a range of lipsticks - red, orange, various natural nudes 
Dior Addict Extreme Incognito, Shiseido Shimmering Rouge OR316, Chanel Cambon, MUFE Rouge Artist Natural No5, Maquillage RD712 
Chanel Glossimer 287 Aurora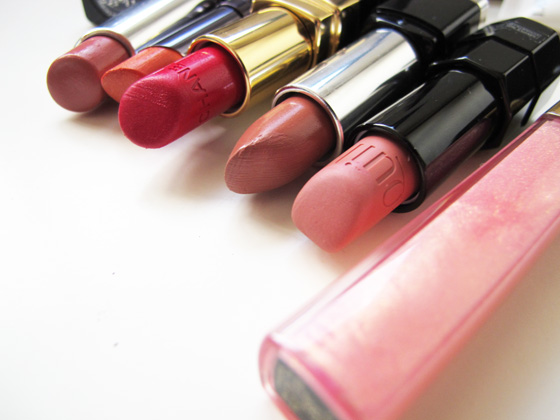 and the fun part - I had a good time deciding, and editing what I should pack along, and I ended up with these
I was trying to bring along my faves, and also multi-tasking, compatible wearable stuff
Eyes & Cheeks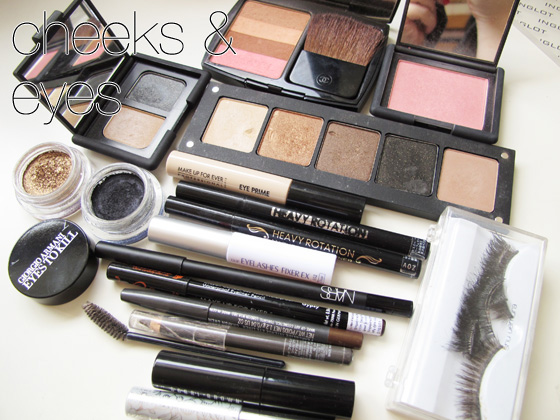 Cheeks 
Chanel Bronze Rose (beautiful bronzer & blush in one), NARS Deep Throat (goes with everything)
I might throw in my Bobbi Brown Rose Gold Shimmer Brick - my current LOVE.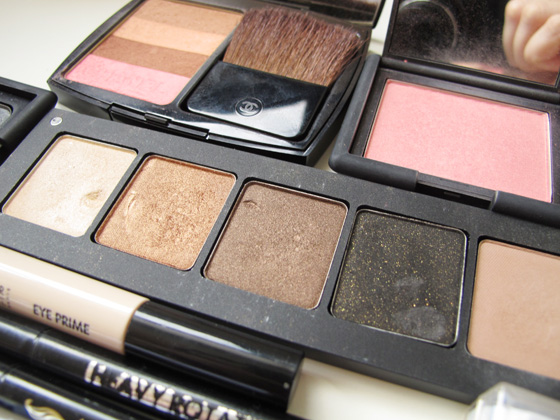 eyes

a selection of INGLOT eyeshadows (shown in above pic)
consisting of brow highlight, rich browns, a shimmery black, and a matte brown for blending/contouring
NARS Tzarine duo (possibly my fave NARS duo) it is so versatile! 
Giorgio Armani ETK in #15 (rich golden brown), and #13 (black - awesome with Tzarine!)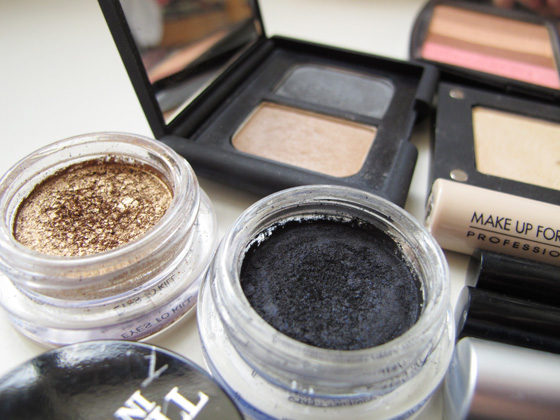 still on eyes - the brows, liners and lashes 

MUFE eyeshadow primer (because it is just a bit more compact than my NARS primer)
Heavy Rotation liquid liners (will toss them before I return, since they are on their last few uses)
Various pencil liners: NARS ViaVeneto,  MUFE Aqua Eyes Gypsy, MAC Lord it Up
Brows: Shu Uemura pencil, Bobbi Brown Brow Shaper
Lashes: selection of falsies, lash glue, Clinique Lower Lash mascara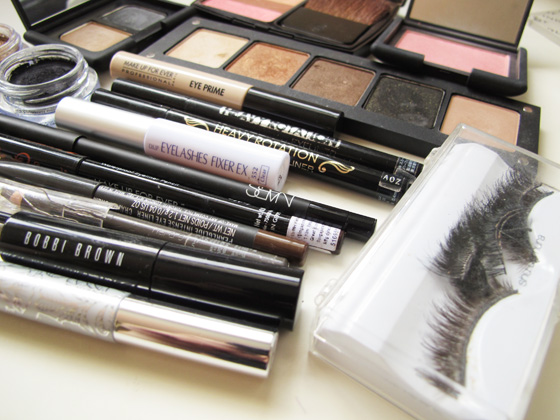 tools - brushes

I try to bring along the short handled, more compact brushes, and they fit into this cle de peau case.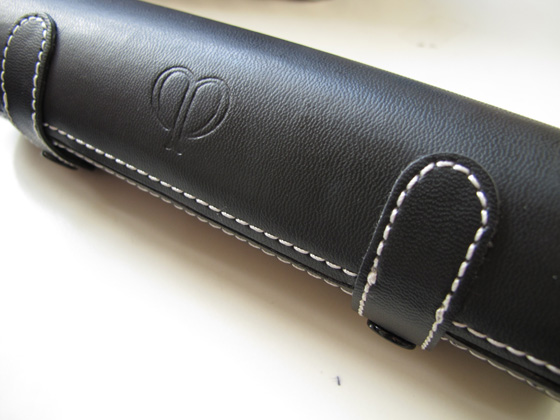 Chanel Kabuki (which is going into the DVF bag obviously)
ecotools blush brush
Real Techniques expert face brush (for foundie) 
Real techniques tiny brushes (for concealer)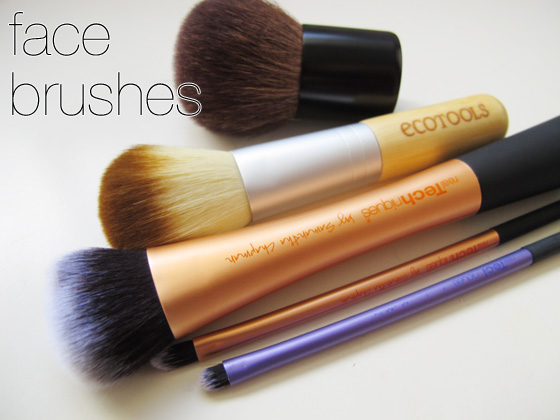 a selection of fluffy/ dense/ shading/ all over color type of brushes for eyeshadows
from Shu Uemura, MAC, RMK, Ecotools, etc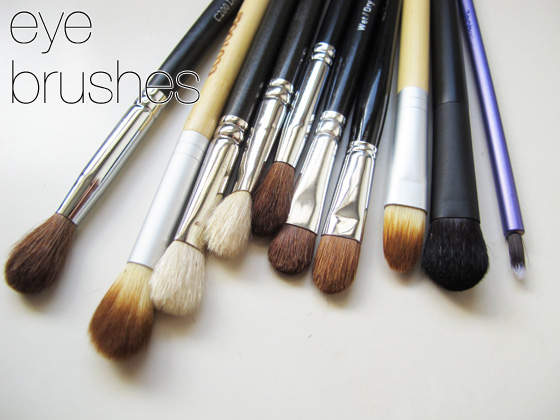 and finally, the checked in stuff, which isn't very glamorous, since they are all inside this huge ziplock bag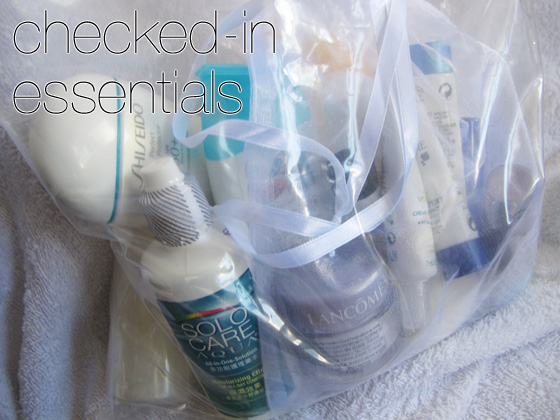 it contains my skincare regime for the 6 days trip, toiletries, sunscreen, daily essentials
sunscreen for face & body:  Shiseido Perfect UV Protector SPF 50 PA+++
small bottles of shower and hair shampoo
contact lens solution
body lotion by REN 
the ettusais trio of spray SPF, oil block spray to freshen up on the go
skincare regime
the June Bellabox contains almost everything that I am bringing along with me!
I try to keep the regime within the same brand (it was a choice of Lancome, Shiseido or Clarins deluxe samples in my stash)
so I decided on mostly Lancome. 
Makeup Removal: Shu Uemura cleansing oil, Lancome Blanc Expert cleansing foam
Serums/ Treatment: Lancome Primordiale Skin Recharge, Blanc Expert Essence, Genefique, Khiels Midnight Discovery Concentrate
* note I will alternate the serums listed, and not layer them all every night * 
eye care: Caudelie eye and lip cream (from the April or March BellaBox I think...)
day/ night creams:  Lancome Renergie Lift day cream, Kenzoki Creamy White skin lightener (for nights) 
If you are wondering about the hair part of this whole beauty ritual, I am quite low maintainence with my hair -- so I will blow dry my hair using the dryer in the hotel room, bring along my GHD iron, and finish with some some light glossing hair serum.   That is, if I am up to it, otherwise, I can literally get away with "wash and go" as far as my hair is concerned.  
as for nails, I will be sporting a Gelish manicure, so that will take me through a good week of no chip nails. 
perfumes will be both my Balenciaga & YSL Parisienne 
I think all these might sound a tad insane, but they re all mostly little bottles and tubes...so I most probably will not bring half of the skincare and toiletries home with me.  It is nice to have my beauty & skincare regime as luxe and complete as possible, so that my skin will not 'suffer' during a vacation. 
I will doing my makeup out of my makeup bags (except for brushes and foundation) for the next few days, so this way I will know that I have packed everything I need, and did not forget anything. 
Hope you find this entry helpful... it was indeed helpful to me.  Kind of like a checklist that is completed and crossed off.  Now I just need to finalise my travel wardrobe.... 
Thanks for reading!