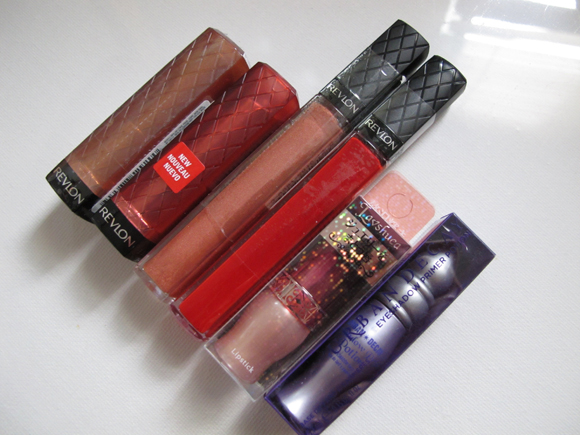 terms and conditions: 
1. only available to buyers in Singapore, payment made via IB or atm transfers
2. please make payment within the same day if possible
3. leave a comment with the following: Name/ Email/ Items you want  * I will email seller for payment details *
4. I am not responsible for loss of package if normal postage is used.  However all care is taken to ensure nothing goes wrong. 
5. Add $2.40 to whole order for registered postage. 
6. all prices include normal postage. 
7. all prices are final
Leave your order in the following format
Name/ Email:
Items I want:
Total amount: 
ALL BRAND NEW 
Lavshuca Eyeshadow Limited Edition, shade 02, comes with mini eye stick shadow $10 * SOLD 
Lavshuca Eyeshadow palette GD-01 $8 ** PENDING
Two Faced Glamour to Go palette with blush, bronzer, lip palette $30 
MAC Feline eye kohl $8  *SOLD
BRAND NEW & SEALED 
Revlon Lip Butter Brown Sugar $10 SOLD
Revlon Lip Butter Red Velvet (shade not available in sg) $15 SOLD
Revlon Color Burst lip gloss (shades not available in sg) $15 each 
018 Fire, 028 Rose Gold Both for $28
Lavshuca Shiny Lipstick OR-01 $14 
UDPP Sample $3 

NAIL POLISH
SWATCHED or WORN ONCE
Butter London BIG SMOKE $18
Butter London HRH $18
Both $32
****** SOLD ******
CIATE 
071 Fade to Griege $12
018 Vintage $12
Both for $20 **** SOLD ****
SpaRitual 
It's Raining Men $16
Fickle $16
Both at $30 
BOTH SOLD
Happy Shopping