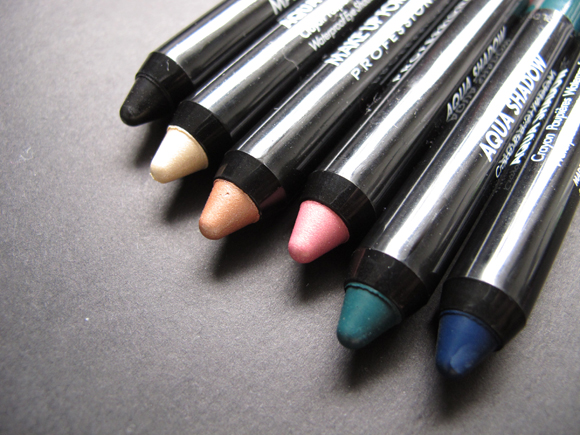 I did a quick look with the new MUFE Aqua Shadows - they are quite easy to work with - but you must work fast.  Apply and blend as you go. The best way to use them is to blend with your fingertips, like how I have done in this LOTD.  I then use a clean dense brush to blend the edges for a more clean look.  The colors are intense, and to give the blended aqua shadows a more finished look, I dusted a bit of eyeshadow over to set the look.
Here are the colors I used:
step by step pictures:
1. apply 32E and 28E on the browbone and blend out for a subtle shimmery finish
2. apply 6E on the lids, and blend as you go - blend this up all the way to the crease
3. use a clean brush to blend out the edges (crease area)
4. use an eyeshadow to set the look [I used MAC's Parrot eyeshadow in case anyone is wondering]
5. finishing touches - apply the black liner, slap on the falsies, line the lower eyes, give some inner corner highlight with 32E
the complete whole look
a scary half face shot!
the colors look a little messy in the step by step, but when you see the overall look,
it's all good, and makes my eyes look twice as big which is always a good thing
all products used
base - misha bb cream on t-zone, Giorgio Armani Face Fabric 01 all over the face, did not set with powder
concealer - cle de peau Ivory
cheeks - MUFE Mat Bronze, Giorgio Armani Sheer Blush 05
eyes - MUFE eyeshadow primer, the rest as mentioned above in the steps
lips - MUFE rouge artist natural No5  --- beautiful nude shade for my skintone!!!!
Hope this has been helpful...
That's all, and thanks for reading!