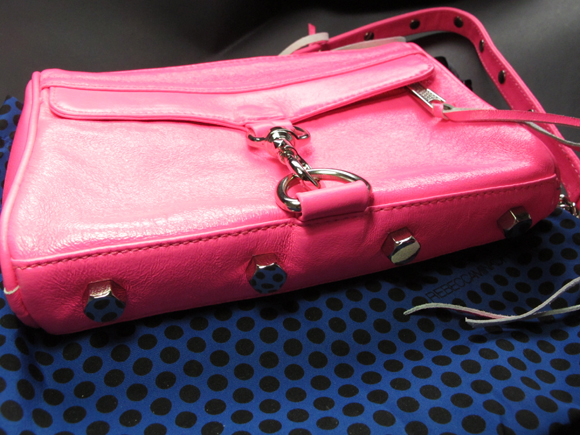 This week, I sort of randomly made these bag purchases. Well, one of them technically isn't a bag purchase, it's a perfume.. but the bag is the reason why I bought the perfume.
Shopbop had a 3 day promotion where $50 is taken off every $250 purchase (with the code BIGEVENT).  I took the opportunity to order a couple of bags which I have been eyeing, and they added up to 195 + 65 which means the second bag is almost free due to the $50 off.
So, the first bag is the Rebecca Minkoff Minimac in a hot neon pink - this is USD195, and the 'Mac' bags are Rebecaa Minkoff's trademark design. I love the detailing on this bag, the metalware, the color, and that it is versatile, you can carry the bag sling cross body, shorten the straps to make it a shoulder bag, or remove the straps to make it a clutch.
I love the cute dust bag that it comes with - and the fabric matches the inside lining of the bag.
I was a little worried that the bag might be too tiny on my taller and large frame.. but when I got the bag, i was relieved to see that it didn't look disportionately small on me.  It's a roomy small sling bag, which I think would be useful for my upcoming holiday, and will also brighten up any outfit I am wearing.
It is quite a statement color - I wore this bag out last Friday... and everyone's eyes just went right at the brightly coloured bag.
The neon bags are quite in this season...when my sister went to order the same bag the next day, all the neon minimacs are gone - she went for a burnt orange one instead of the neon orange which she had planned on buying.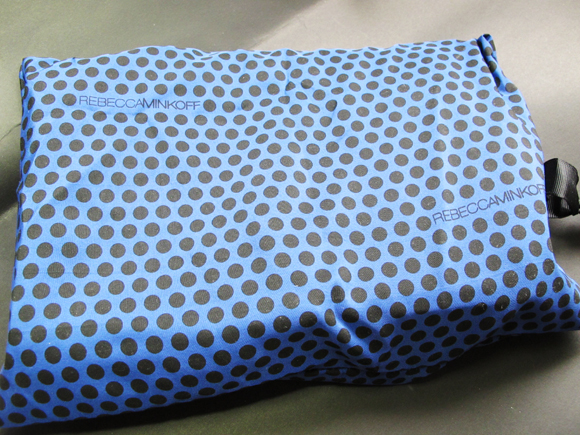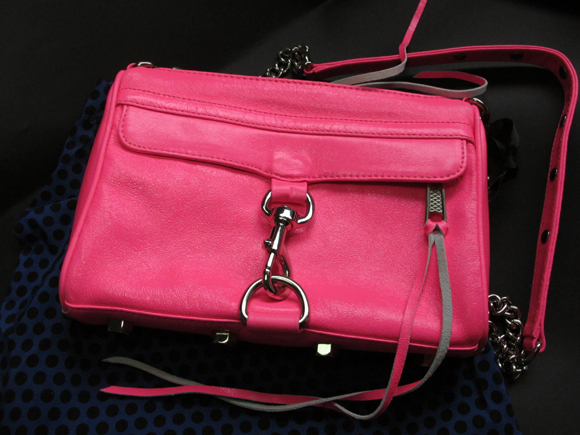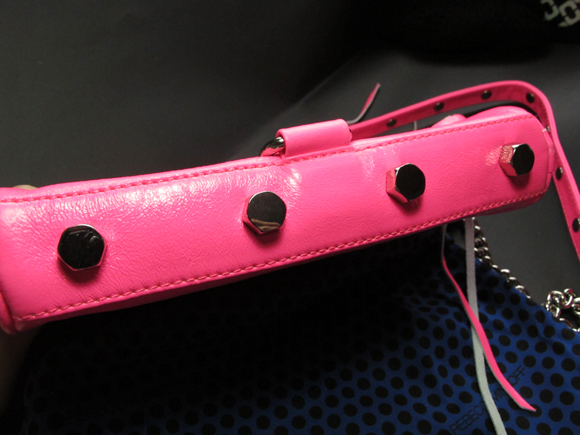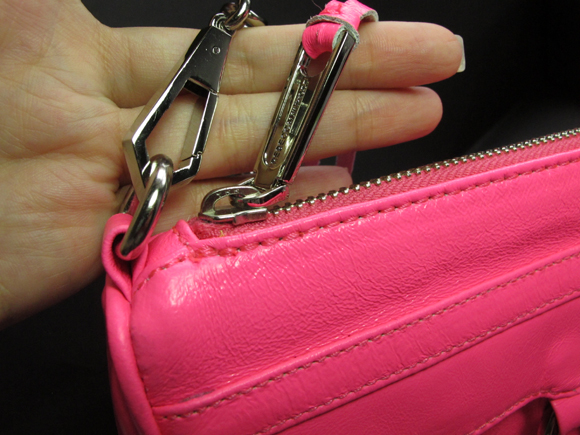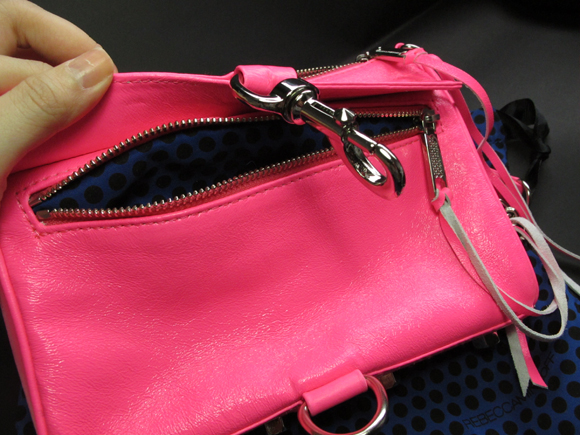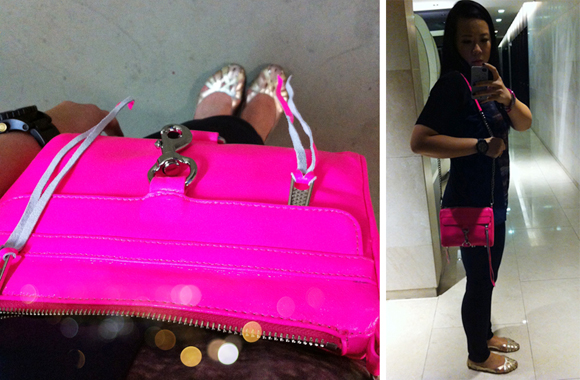 I ordered the next bag, a Diane von Furstenberg (DVF) makeup bag.  I like that it is roomy, sturdy, and the print is very classic, vintage almost. This is USD65, a little steep, but I like that it is very practical, and will fit all my makeup and skincare items if I were to go on a long-ish trip.
Most of the bag is made of a thick nylon waterproof type of material. The straps, and the base is made of a harder leather like material.  The sides are buckles which you can use to make the bag more compact when it isn't so full.  So this is another versatile bag.  I like that it also has a wristlet strap which is detachable.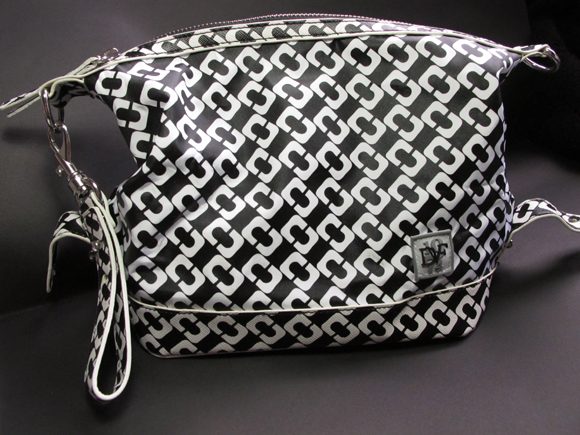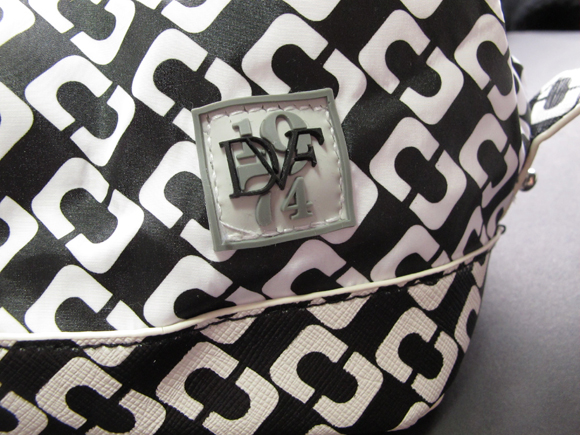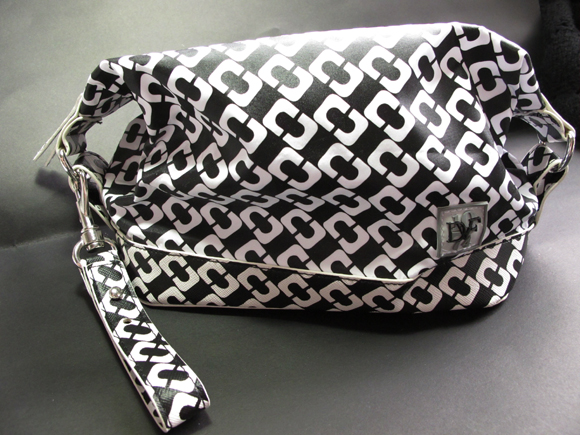 inside of the bag - I wish it is a darker color instead of white though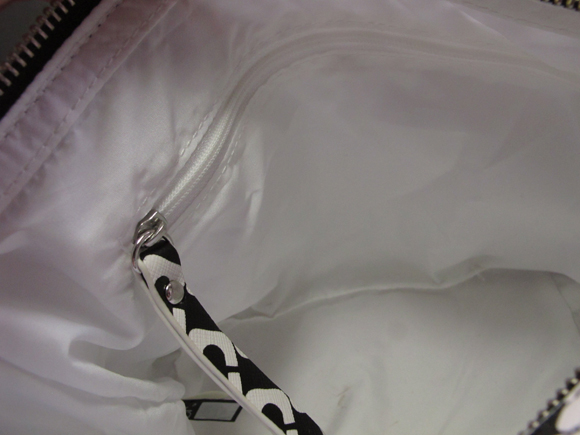 This gives you an idea of what can go inside the bag, with plenty of space to spare.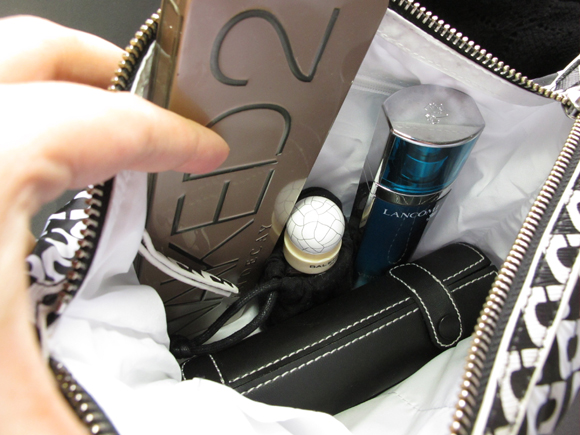 and lastly is this Balenciaga bag which is actually a tiny (but spacious) makeup bag, this is a gift with purchase with the Balenciaga perfume.  My friend Pearl, alerted me to this promotion, and I promptly drop by town to make the purchase.
The perfume itself costs $179 for 75ml, and currently, the Tangs beauty hall promo entitles you to $30 off minimum $150 spending.  So I paid $149 for the perfume... and the bag comes free with it, AND you also get a sleek cabin luggage bag. And on top of all that, you still get to earn your usual Tangs member card rebate.  Awesome deal.
The fact that the Balenciaga perfume is one of my absolute fave scents means that I am stocking up on this scent anyway.
The bag even comes with a little pocket in front - totally cute.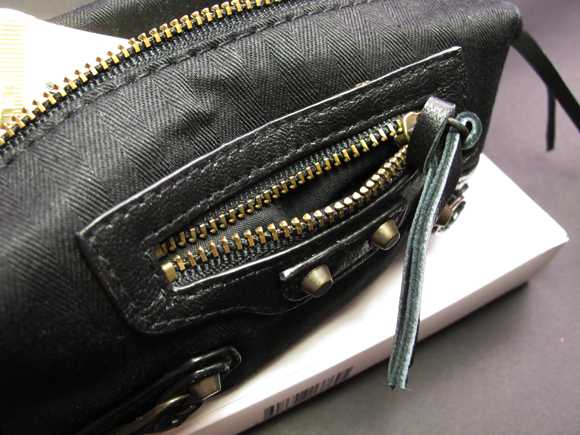 It fits my handphone, a handcream and a couple of lipsticks comfortably.  I can still include a packet of tissue and my iphone battery pack and the bag would be able to close easily.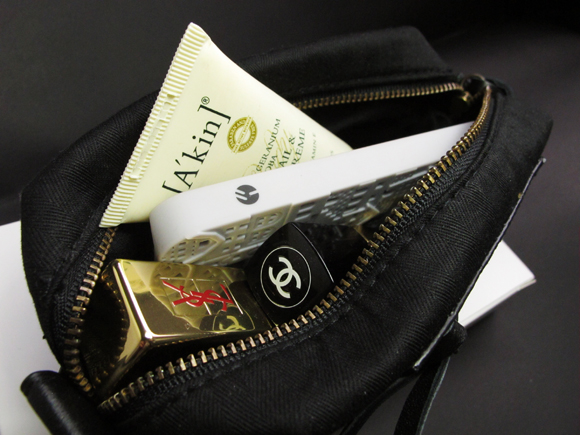 Oh yes, before I forget, this is the perfume.. which you need to purchase to get the bag!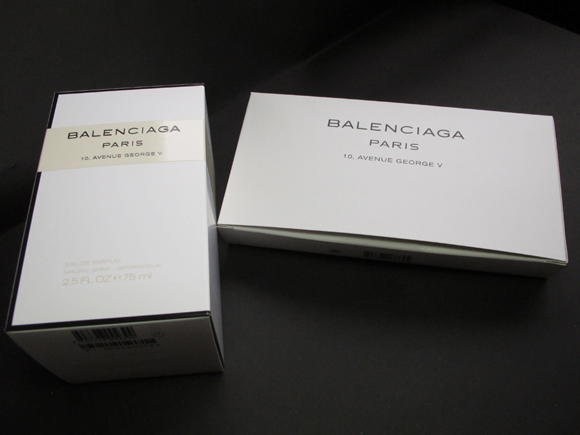 and this is the cabin luggage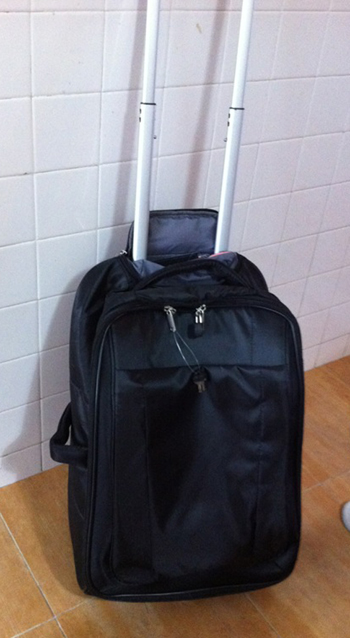 My balenciaga perfumes!  My girlfriends bought the small one for my birthday this year, and now I can totally use it for travel, and leave the big bottle at home.
Perfume description taken from the site:
A pure bottle without engraving or adornments... The pale, amber color of the liquid within is like the nectar of a forest floor trapped in a bell jar. It reveals itself, quite clearly, behind the facets and edges. A bottle like no other, in blown glass, an arbitrary process making it unique and precious. A bottle that features both angles and curves. A soft bottle with corners... A bottle also imbued with humor, as the ivory cap appears like a surprise, rising from its velvet cape. It has the Balenciaga style...
INTRODUCING EAU DE PARFUM
Immediately, the demure violet note makes us think that BALENCIAGA PARIS is a light fragrance, as pleasant as sunshine. In BALENCIAGA PARIS, we find the first moments of April, floral breezes and blossoms from milder days. A spring-like feel: airy dresses and fleeting glances.  A bouquet of violets also has an old-fashioned tone, the antique charm of a few dried petals that we find between the pages of a book by Colette, traces of memories, the work of art so fine that is the past…  But soon, a peppery note reveals itself and swells over calm, mossy wood. Foliage that breathes in the secret hours of night.
Then, another more nocturnal facet of nature expresses itself. A sensuality becomes clearer. The shadowy color of the liquid within already says something of its mystery. It is a fragrance full of light with a few dark apertures. BALENCIAGA PARIS is a lovely paradox. It is a fragrance that becomes life, that melds with living. BALENCIAGA PARIS offers itself and guards itself...
Wear BALENCIAGA PARIS and become a close yet inaccessible woman who strolls under leafy arbors.
In my own layman's terms - this is an intense powdery floral scent, that lasts the whole day, smells sleek and distinctive, and I am totally loving it.
That's all, and thanks for reading.