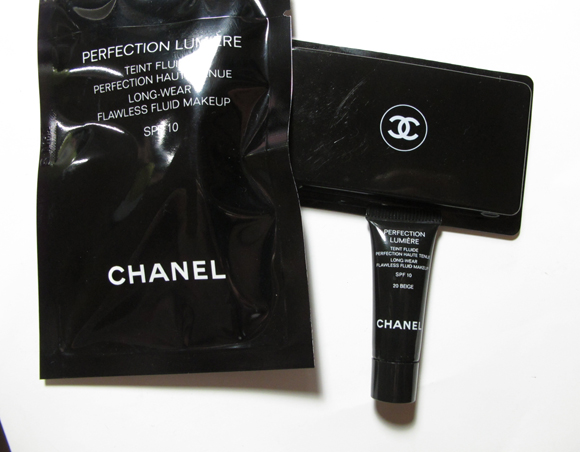 Hi!
This entry will be my quick review of two new Chanel foundations which I have been trying out, and deciding which one I will eventually purchase. I think it is useful and only practical to try out foundations before buying them, especially since I already have several tried and tested foundation routines which I like and I really don't need to rush out and buy more. But being able to test-drive a new foundation for a week or so, will just help make my decision to buy much easier.  Therefore, BAs should really be more generous in allowing potential customers to try out, and sample new products.  I know they are very nice to their regular customers, but what about reaching out to new customers and converting the cynics to your brand? I hate it when BAs tell you 'sorry no samples' when they don't even check their drawers, or provide you with more product information, or even attempt to entice you by sharing product information.  I am just glad I managed to score these samples easily enough when the product first launched, and I was probably thick-skinned enough to ask for them..
(Gosh, don't even know where that rant came from....and this is the third time I am typing an intro to this entry, Onsugar should really have an auto-save function, I was pretty sure the first time I started typing the intro it wasn't a rant at all)
Anyway, overall, I am quite a fan of Chanel foundations and bases - from their Vitalumiere Aqua, to Mat Lumiere and their Sheer Illuminating bases.  I also like to use Pro Lumiere on people that I do makeup for (photographs beautifully!) - but it will be discontinued.
links to my previous Chanel foundation review entries - can't seem to do the hyperlinks lately too :(
Mat Lumiere - http://retailtherapy.onsugar.com/Foundation-Routine-Chanel-MAT-Lumiere-12695974
Vitalumiere Aqua - http://retailtherapy.onsugar.com/Rave-Chanel-Vitalumiere-Aqua-Skin-Perfecting-Base-16280869
I had been wanting to buy Perfection Lumiere (my samples arein shades 10 beige and 20 beige) for the longest time - think late last year, when I came across the information on this new foundation, and then people started talking about it, and reviews came out and all that.   I couldn't wait to get my hands on them, but during one of my research on the shade range at Cafe Makeup... I wasn't too sure which shade would be right for me (either a 10 or 20 - but I am starting to think I am in between either).  Then more mixed reviews surfaced, and I knew I wasn't going to just buy it without giving it a good week of usage first.  This is when samples really come in practical handy - I wanted to be sure I like it before I buy the whole darn thing. I think it retails for S$79 which is quite reasonable for a Chanel foundation.  I had expected it to cost more - the Pro Lumiere which it replaces retails for more than $80 if I remember correctly.
My friend Pearl got me the samples of the Vitalumiere Hydra (my sample is in shade 10 Beige) when I was telling her I was intrigued by another new foundation from Chanel - the Vitalumiere Aqua compact - have seen reviews of this, and I was quite intrigued.  But this Vitalumiere Hydra is a relatively new release - and it seems to be very similar - cream foundation in a compact, except that it seems to be an Asia exclusive.  This retails for about $90 and is refillable.
Okay.. with all that out of the way.. let's start with the Vitalumiere Hydra (10 Beige)
product description
The surprise of a fresh and moisture-rich foundation, in a compact case, always ready for touch-ups. Thanks to its fine emulsion texture, Vitalumière Hydra melts away like a caress over your skin. In an instant, the complexion becomes even, dewy, plumped and radiant, bathed in comfort for up to 8 hours. Its SPF 15 / PA++ protects the skin from damaging sun rays.
Ideal for unifying complexion, the medium coverage stays natural, with a delicate satin finish. Its shades are designed to perfectly match Asian skin tones. It is now easy to face hectic lifestyles in beauty!
my thoughts
I am sorry I didn't take a brand new product shot - I haven't planned on doing this entry til recently when I was halfway through the testing period - I still have samples of this foundation, but I didn't want to open it and risk contamination and product drying out before I get to use it.
The sample is housed in a pan much like a MAC eyeshadow pan size, and it is able to last me 6 - 8 uses, which is a pretty decent period of time to try out a foundation, and form impressions about it.  I only tried to use the sponge once, but later on I prefer to just dab my brush into the pan, and stipple, and buff it onto my face.  I also spray a little MAC fix+ onto my brush before I start to buff and blend the product into my skin.  (I normally already have a 50spf bb cream on my face - like the Dior or Lancome ones - so this foundation is like a final finish touch to the whole routine).
I usually set this foundation with my Chanel ultra-fine translucent loose powder (it's kinda like MUFE HD powder).  And the overall finish is flawless, smooth and dewy.  I think it is suitable for those with dry/ dehydrated skin, if you have very oily skin or like matte finish you probably won't like this foundation.   It is easy to blend, and lasted me the whole day without touch ups after I set with the loose powder.
I do enjoy this foundation and the texture too (because it is quite rich without being heavy or thick) - and that it is in a compact meant easy to throw in the travel makeup bag. Only thing is that it is a little pricey, and I would be more inclined to spend the same amount in a liquid foundation. I also don't like the idea of using the same sponge to dip into the compact, hence I prefer using a brush to do the job.
Overall, I do like this foundation, but I probably won't purchase the full-sized product in the near future.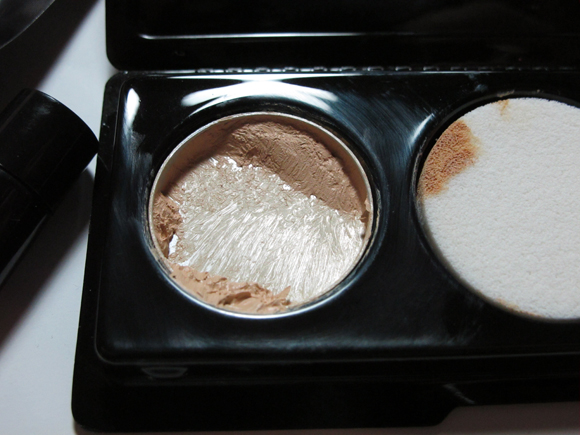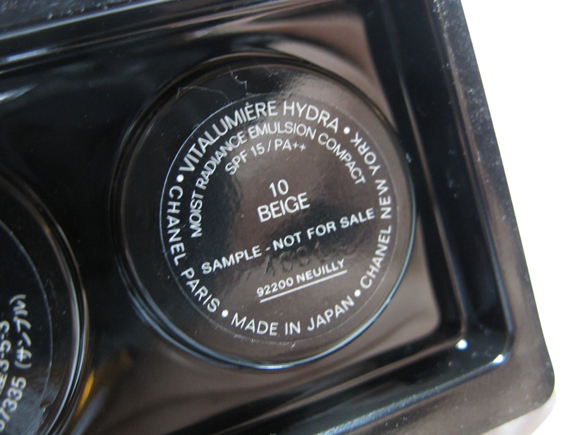 Next we have Perfection Lumiere in the shade 20 Beige - I will be trying out 10 Beige this week, to confirm whether I should go for 10 or 20.
Product description
PERFECTION LUMIÈRE controls every detail of a perfect complexion to offer a tailor-made result.
In a simple step, the skin-embracing texture becomes one with the face. It follows its every movement, with adjustable coverage.
The results:
Multi-faceted long-lasting wear for a matte finish, radiance and color thanks to the Perfect Skin Affinity complex. It ensures a second-skin effect and perfect hold for 15 hours.
Perfect correction of all imperfections and optimal radiance that stays true all day long, provided by the patented* Perfect Light Control Complex:
- redness and dark spots: -52%,**
- complexion evenness: +65%,**
- complexion radiance: +84%.**
6 easy-to-wear shades suit Asian skin perfectly, with a no-makeup sensation.
With PERFECTION LUMIÈRE, perfection has never been so simple.
my thoughts
When I first swatched the foundation, I was a little surprised at how fliud it is... somehow I had thought it would be creamier or thicker..but it is a very smooth and liquidy (but not like watery gel like Vitalumiere Aqua, and not so thick like Mat Lumiere).  It smells awesome, and has a nice smooth matte finish after you blend it at the back of the hand. This tiny tube also lasted me 6 - 8 uses, which is impressive.
Since I am using shade 20 for this foundation, I thought it might just be a tad too dark for me.. so I sometimes use a brightening or lighter base before the foundation.  For examples - the Chanel Sheer Illuminating base, Rachel K CC Cream, and also the Ettusais MIneral BB cream. All work well to balance out or compensate any potential darkness arising from using Shade 20 Beige.  But in any case... it blended nicely on my hands and also on my face when I tried it once without a base ----- what i am trying to say is that whether I am using 10 or 20, it shouldn't matter because I think I can somehow adapt to both quite comfortably, and I have enough bases to 'adjust' and tweak to my own coloring.
I only use a brush to buff and blend the foundation - my faves are the RT buffing brush, and the new expert face brush (I need to blog about the new brushes soon).   I don't know why some reviews mentioned this foundation as being patchy and hard to blend, because blending this for me, was not an issue at all.
The finish is kind of velvety smooth, and the coverage is medium.  I still need to conceal my spots, and I do set this with the Chanel Translucent Loose Powder in 10. The foundation also lasted a good 10 hours on me without fading.  It doesn't look cakey, and I think it is a great everyday flawless foundation.   What I like most about this foundation is that it didn't go emphasise any skin imperfections, and is able to create the illusion a smooth canvas, especially after I set it with powder.  It also photographs quite well in my opinion.  One of the foundations with the best finish that I have tried.
I know I will buy this foundation pretty soon.... and since it's a permanent addition, I would probably wait for some metro or robinson storewide sale to make my purchase - whether I would evenutally get 10 or 20 will depend on this week... when I try out shade 10 Beige. *** I would insert my updated thoughts on shade 10 Beige in this entry after I am done ****
In this case, I am glad I got to try it out and ensure that I really like it enough.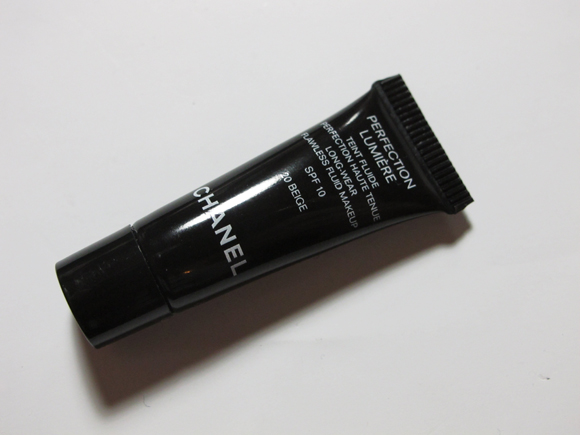 swatches of both foundations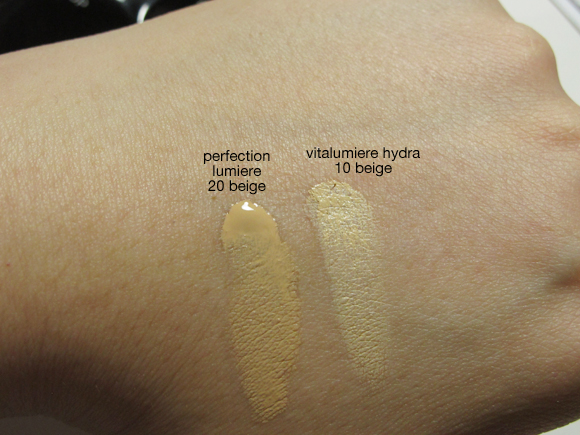 swatches of all my chanel foundations
as you can see, there is some variation in the shades even though they are the same number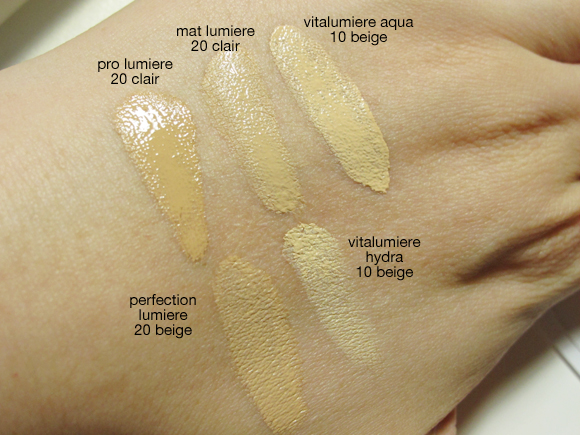 comparisons to other chanel foundations
Vitalumiere Aqua - best for second skin feel and texture.  very light in texture, and gives good enough coverage on good skin days.  good for normal skin.  I love how naturally great it makes my skin looks when I don't need full coverage.
Mat Lumiere - best for those with oily skin, it is matte without being dull or cakey.  gives medium to full coverage among the Chanel foundations I have in my stash.  Lasts well throughout the day, and great everyday foundation.
Vitalumiere HYDRA - best for people with dry skin, to give a luminous (not shiny oily) finish - does not emphasis dry skin, and smooths out imperfections.  Coverage is comparable to Mat Lumiere if you build up the product.
Perfection Lumiere - gives the same smooth and perfect skin finish as Vitalumiere, but with more coverage, and longer lasting wear.  Good for most skin types, but might be more suitable for those with normal to oily skin.
a note on my Chanel loose powders
I have both the Natural Finish loose powder that comes in different shades and mine is in 10.  It looks almost just white.. and I used it most of the time to set my chanel foundations.  It gives a smooth finish to my foundations and make them last longer.  Almost makes my T-zone look less oily/ shiny.
I also have the Ultra Fine loose powder that comes in only one universal shade.  This is even finer, contains less product than the Natural Finish loose powder (10g versus 30g, and $82 versus $70ish).  I use this sometimes when I want a particularly flawless HD finish. It also helps to 'seal' my foundation, making it rather sweat-proof.
I am not currently using any Chanel powder foundations, so I can't comment.  The last time I used them was perhaps 10 years back, and then I find that they tend to oxidise after a few hours of wear.  Times and technology have changed since then, and I am sure they are way better now.  It is just that I don't normally reach out for powder compact foundations in general.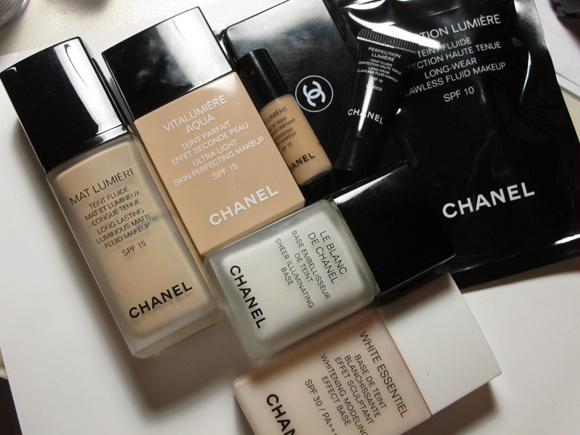 I hope this has been helpful, and thank you for reading.