Hi hi
This entry will feature my quick review and application step-by-step of the new Lancôme Maqui Blanc Miracle Compact.
For product information & details, click here
Just a quick recap - this foundation promises 3 main qualities to the user:
resisting sweat
resisting sebum
reducing redness & appearance of pores
It also contains skincare properties and the purple pigment which promises a brighter clearer skin aura, lasting through a 12 hour wear.
I will just quickly describe each step of the way, and my overall impressions will be at the end of this entry.  Hope this is helpful to you!
Close up product photos: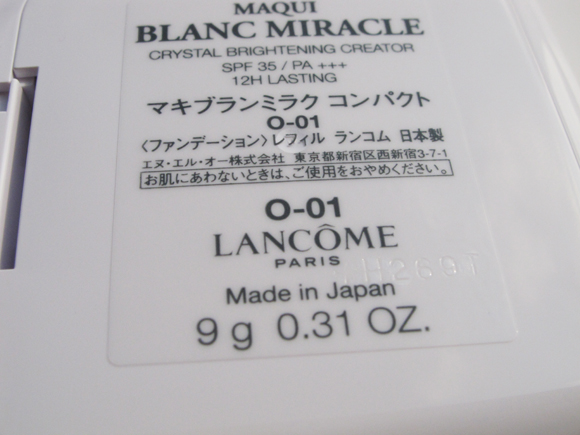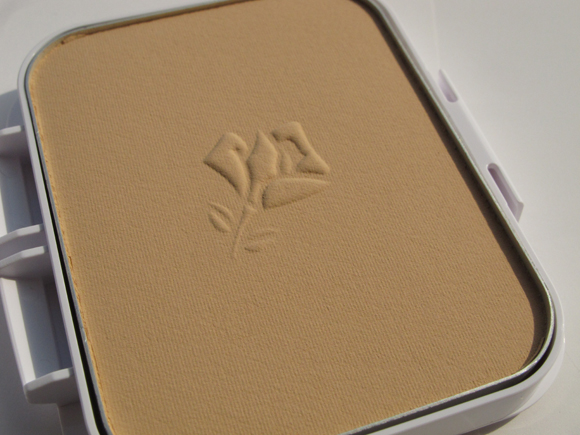 Firstly, I started off with my bare face (icks!) with is prepped with skincare. as you can see, there are spots everywhere, and a bit of redness around my nose, I could gross you out with some super close up macro shots, but let's not even go there!
applied Lancôme UV Expert GN-Shield BB Complete which I have reviewed HERE ---this evens out my skintone somewhat, and also provides a smooth base for the powder foundation to adhere to
Concealed spots with my Laura Mercier secret camouflage in SC-3, and for under eyes, I used Lancôme Renergie Eye Multiple Action which I reviewed HERE
and the concealer is all blended, my half face looks something like this ----Do note that I normally conceal AFTER foundation if I am using liquid.  But since we are using a powder foundation, I conceal first, and set with the powder foundation.
smooth the Lancôme Maqui Blanc Miracle Compact onto my face, using a mixture of press and roll, and also soft feathery motion to blend and apply the powder foundation to my face it is easily buildable on areas where you want more coverage, for me, usually around my nose to over the redness --- I skip this foundation under my eyes area, because I will set that area with a separate powder (Benefit's powder-flage)
I only used the soft velvet side of the sponge to apply and blend. Here you can see how smooth, and also pigmented the foundation is. It didn't settle into my pores nor lines, and gives a very smooth velvety finish.
This is how the half face looks like after the whole routine is done.  My complexion is very very even-ed out, brightened, and unless you look really closely, the appearance of my pores have all but disappeared, the skin is so smooth, and clean looking
I quickly complated the other half of my face, filled in my brows, dusted on some cheek powder, and used Chanel's Rouge Coco Shine Boy.
This is something I would wear everyday, if I am not doing a specific look.
makeup applied at 12.30pm
makeup after 9 hours - no touch ups
Overall thoughts:
I went out for a good 9 hours yesterday, in horrible humid weather, hot and stuffy places, and I had to blot my face 3 or 4 times.  But I was quite impressed at how well the foundation lasted through the day.
I also like how the foundation is easily buildable to the coverage that you needed.  It didn't look cakey at all, and sets quite quickly.
The finish of the foundation is my biggest plus point - it is truly flawless, brightening, and makes my skin looks greater than it really is.
The coverage is comparable to a liquid foundation, albeit the fact that I did use a BB cream as a 'primer'/ base.
It didn't oxidise on me at all, and looked just as fresh as I had applied it before I went out.
The relatively high SPF of 35 is a bonus in a compact powder foundation.
Highly recommended.  I have demonstrated how to use this compact foundation for a fuller coverage in my review, but if you don't need so much coverage, you can skip the concealer, and the BB cream as base, and just use only the compact foundation to even out your skintone.
I hope this review has been helpful.  Thanks for reading.    :)