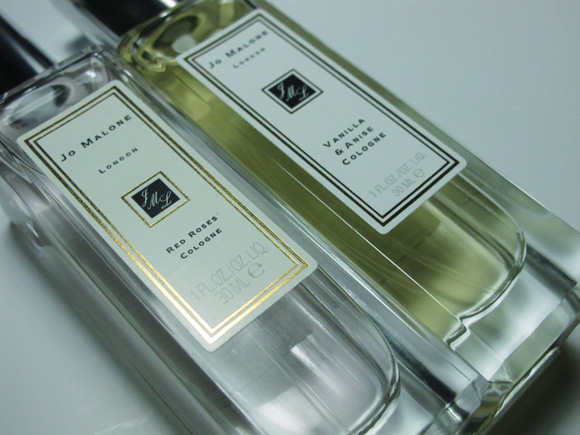 Hi!
I got these two bottles of Jo Malone cologne through a friend who was passing through the Bangkok airport, and I think I paid about $75 for each of this...which I think is $20 cheaper than prices at our local prices.  This is the first time I purchased the 30ml bottles (except for those from the Tea Collection last year, I had no choice because those all came only in the 30ml sizes).  Why I got the smaller bottles, even though it is more economical to get the 100ml ones, is because well, I don't really need more fragrances, and secondly, I am using them as layering scents... so technically, I don't need so much?
I will also be showing you my Jo Malone collection, and my fave combinations of JM scents in this entry.   I think.... I want more.  Opps!
The two bottles come in this cute little boxes and neatly tied with a black ribbon.  (they also have the boxes that fit two bottles together)
The two scents I bought, are Red Roses (very rosy), and Vanilla & Anise (very 'creamy' and slightly musky).  I like that Red Roses looks pinky.  Why these two scents?  Hazel had given me a sample vial of Red Roses a while back from her US trip, and I have been getting a couple more samples from the store itself when I visited, and just became more and more convinced  that this is one Rose scented perfume which I want and need.  As for Vanilla & Anise, I think my gf has it, and I was layering this scent with everything I was wearing when I visited her in Hong Kong last year.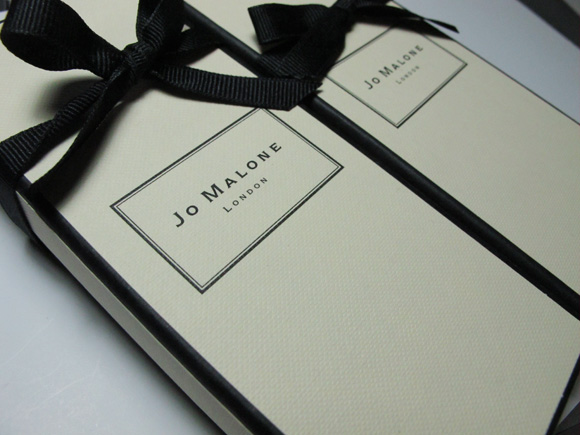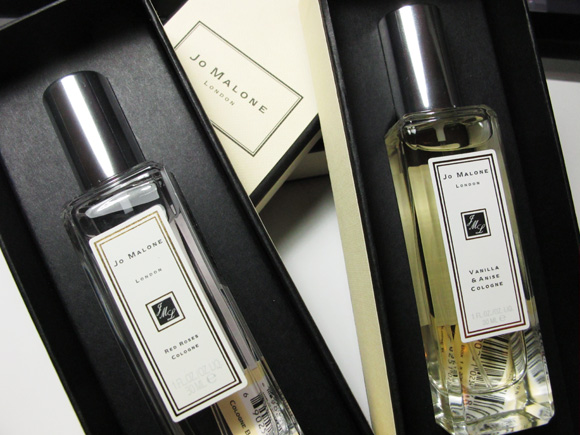 Not going to mess up the actual description of the scent but here is the official one from the JM website:
Vanilla & Anise
A modern story of vanilla. The fragile vanilla orchid forms the perfect counterpoint to the oaky caramel-rich vanilla bourbon, spiced with star anise. A warm and enveloping scent.
Warm and enveloping is just about perfect.  A quick spritz of this over any scent I am wearing immediately does warms up the original perfume, toning down an overly sweet scent, or when I feel like something a little more intense.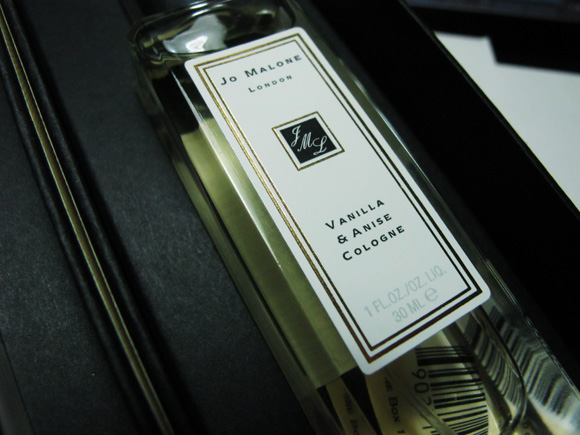 Red Roses
The essence of modern romance. A voluptuous blend of seven of the world's most exquisite roses. With crushed violet leaves and a hint of lemon, it unfolds like a bouquet of freshly cut flowers. A surprisingly clean and sheer fragrance.
There are many rose perfumes out in the market, but this calls out to me because it smells really rosy, without being too sweet or 'fake', if you  know what I mean.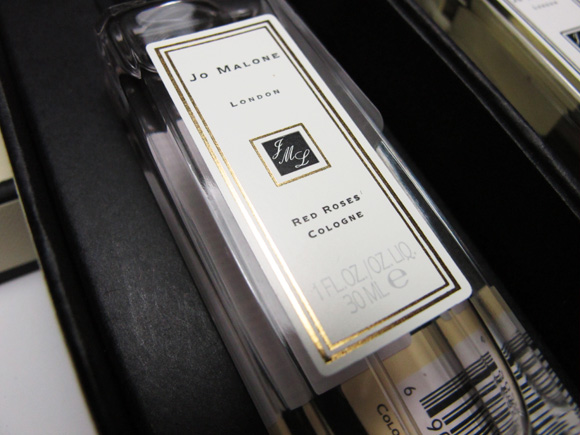 These are my current Jo Malone stash.... I think I have a good mix of everything.  I like a mixture of types of scent, from floral to fruity to powdery musky.  I don't like overly woody spicy nor citrusy scents.
My fave Jo Malone combinations (note: what I write in each equation is in that same order I spritzed the scent)
Wild Bluebell + Nutmeg & Ginger
Peony & Moss + Wid Bluebell
Nectarine Blossom & Honey layered with the complementing bath oil for a more intense scent
Assam & Grapefruit with Nectarine Honey & Blossom
Wild Bluebell + Vanilla & Anise
and I love to spray Nutmeg & Ginger in my hair before I leave the house.
These scent combinations are very long lasting, and also, I think it is quite amazing that I could smell both scents separately, and also the new scent  that is mixed together...yup, strange as it sounds, try it and see if you agree with me.  :)
Here is my current Jo Malone collection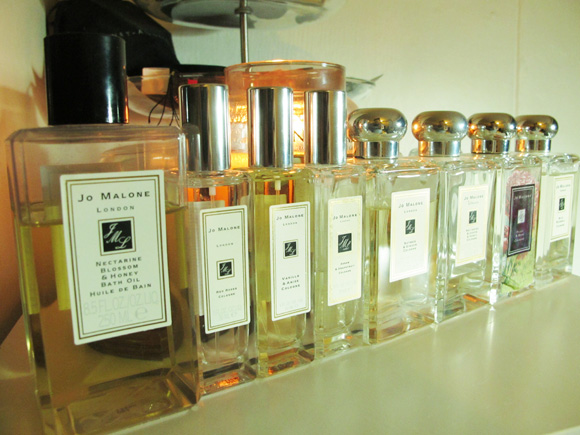 the big ones
Nutmeg & Ginger (freshest spicy!)
Nectarine Blossom & Honey (fruity, my FAVE, and so unique)
Peony & Moss (fresh, floral, sweet)
Wild Bluebell (again, floral, I bought this purely to mix with Nutmeg & Ginger)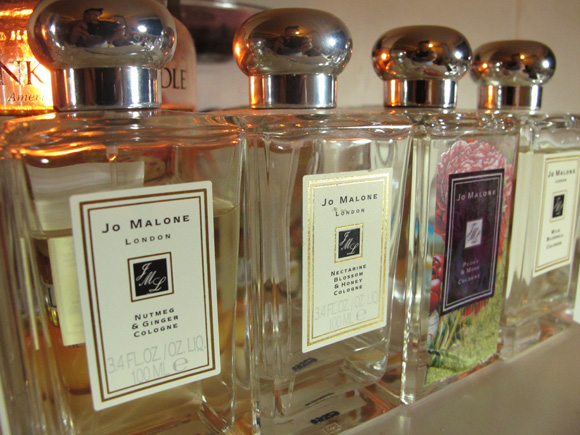 the small ones
red roses
vanilla & anise
assam & grapefruit  (which I am using very sparingly!)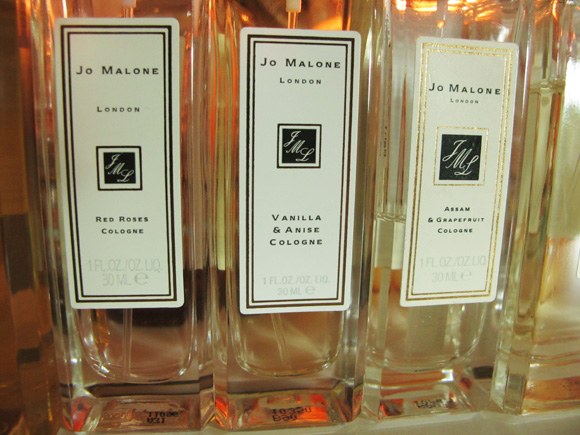 This is what I took from the JM website, on their philosophy of customising your own scent.
(and note:  I also mix fragrance across the brands, not just within the JM family).

Fragrance is a personal statement.
Imagine creating one of your own. Discover Fragrance Combining™. Jo Malone™ scents can be worn solo or layered for truly individual effects.  Freshen a rich floral with a citrus zing.  Add spice for a warm allure. Create something unexpected. A long-time signature.
Think of Jo Malone London as the Savile Row of scent: finding a precise 'fit', a scented statement perfectly suited and tailored to your taste. From energising citrus and luscious fruits to spectacular florals, intense spices and aromatic woods, they are an elegant expression of individuality, embracing every mood and occasion. 
Each fragrance is crafted from the highest quality ingredients by master perfumers. Tailor made, exquisitely simple, refined. And always with a touch of the unexpected, a characteristic of every Jo Malone™ creation. 
For a more bespoke approach, Fragrance Combining™ fashions a truly unique scented signature. While every cologne is stunning worn alone, each is designed to be layered with complementary or contrasting Jo Malone™ colognes and crèmes.
**********
That's all, and thank you for reading.