I am currently going through a candle phase with these Yankee Candles.  A couple of weeks back, I made a small purchase to try out the scents and quality, and after falling for those I bought, I went back for more, and plonking down the moolah for the huge jar.
I remember hearing in one of my YT videos (seriously can't even remember which girl was raving about them) especially the cupcake scents and that little piece of information must have store itself quite distinctlvely in my mind, for when I was walking around Takashimaya the other day, and passed by these candles, the whole cupcake candle raving surfaced to my mind, and I started test sniffing the candles at the shelf - there is this lady there who is quite helpful and attentive -- you can find these candles at B1 of Taka, near the home decor/ kitchen section aisle.
I 'tried' smelling all the candles whose names appealed to me, and found that I kept going back to the cake-y scents, as opposed to the floral scents, ocean scents, fruity scents etc.  Some of the names are quite self-explanatory, such as Red Roses, Lemony Lavender, while others call to mind certain places/ ambience, like Fresh Cotton, Midnight Sky (??)  names along those lines... you know what I mean.  But who can resist names like Spanish Spice Cake?  Pumpkin Cake? Christmas Cupcake?  Vanilla Cupcake?  I think there is a Birthday Cake scent too.
I also got Bahamas Breeze, which is just how it would smell like, a refreshing icy cool cocktail - like  margarita kind of.
The pictures on the labels of  the candle jars are also cute, and I like that each jar has its own airtight cap, so you can keep the candle fresh and scented while they are not being burnt.
The small jar ($19.90) can be used for up to 48 hours, while the large jars ($49.90) can be used for up to 150 hours.
You can also purchase the sampler tarts - these don't come in the glass jars, and you need to place them in a glass container - selling at 3 for $9.90.  But I find that the scents of these aren't so intense.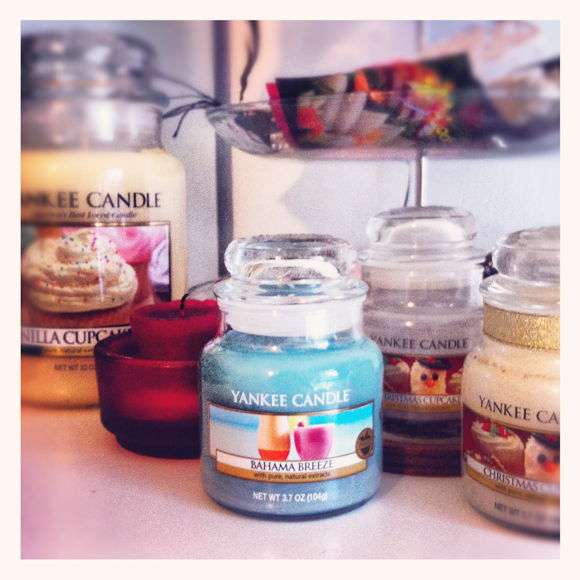 The candles in the jar -- they burn beautifully, there is no sunken hole - the candle burns evenly all the way to the side of the jar, and nothing is wasted.  I had this impression that since the flame is in the middle of the candle itself, you probably need some technique of lighting up the candle, etc etc so that the wax will burn smoothly throughout. But I didn't experience any of such issue, you can see in the one of the pics of a used-up candle, everything is burnt 'flat' through the bottom, nothing is wasted, and no wax remains at the side of the jar.
It has become a daily routine, when I come home in the evening, or at night, I will light up the candle for a couple of hours, and my room will smell like cakes baking (it takes about 20 mins for the scent to actually 'appear' after lighting up).  Then I will put out the flame and the room continues to smell nice til I go to bed later in the night.
Because the cake scents are quite intense, they continue to linger behind, and my room constantly smells a little sweet.
This is the large jar burning in action..
Vanilla cupcake is really yummy and creamy smelling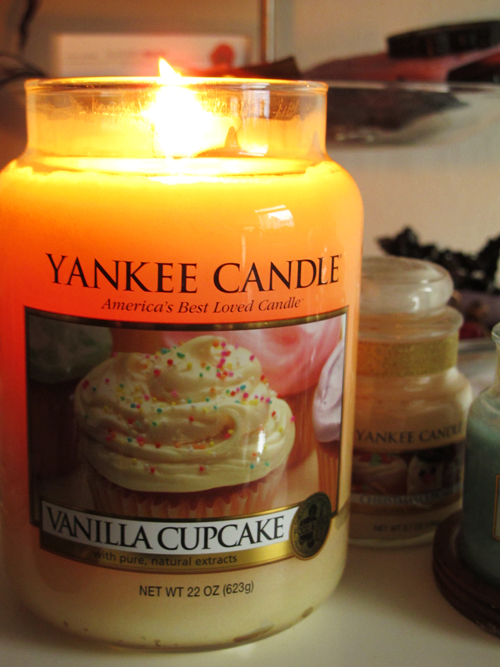 Christmas Cupcake is my absolute fave and too bad, they don't have the big jars anymore
it smells like Vanilla Cupcake, but just a tad bit spicer, like with cinnamon or something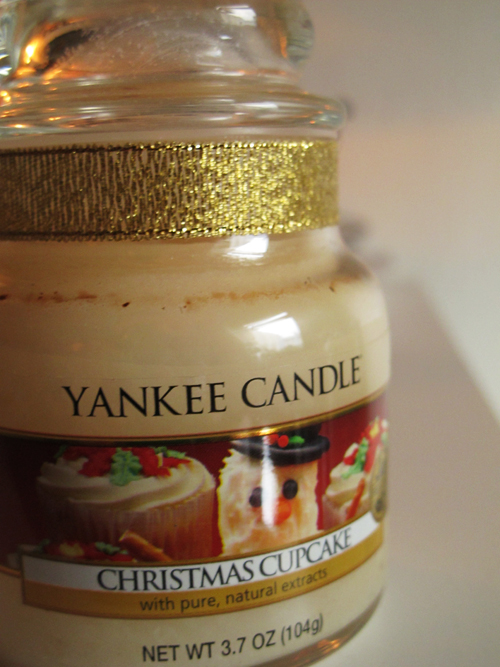 Bahamas Breeze is my tropical cocktail scent!
I dunno how to describe it, but it's quite fruity and refreshing, they have the big jar in this, and I will buy this next time!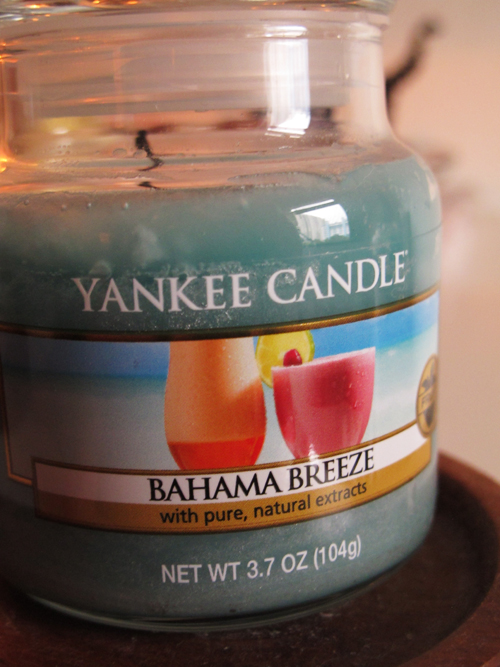 Here's how the first jar of candle look like after it's all finished

and one last group shot of everything, I like to display them all, since the jars look so pretty and girly
what you see in the red jar, is the red waxy remains of one of the sampler candles
in Cherries, it smelled so good and intense in the Jar version, like some red cherry Jello,
but the sampler tart doesn't have any cherry scent at all!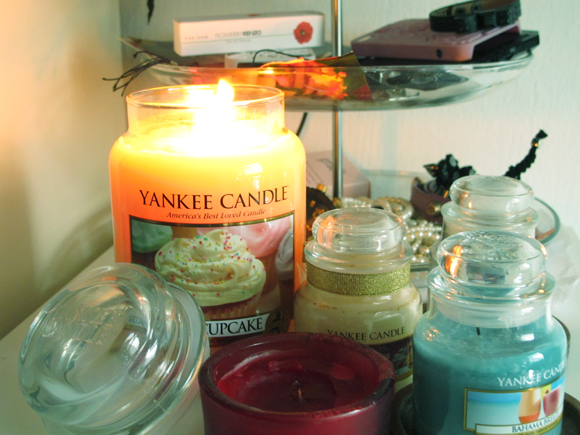 I know I will definitely buy more and build up a mini stash of these....I am a sucker for room scents, and these candles are just so easy to use, and smells way too good for me to pass up!
Hope this has been helpful, and thanks for reading!