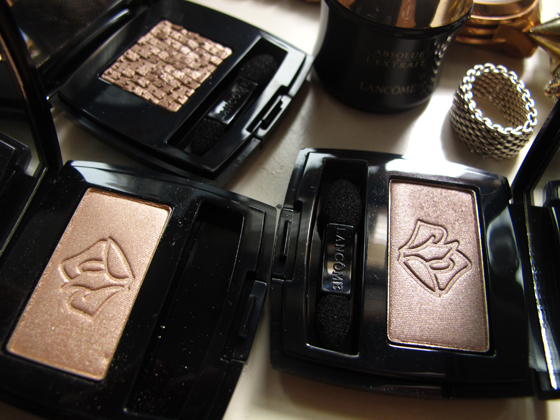 Hi hi!
I did a quick look featuring the Lancome eyeshadows which I mentioned in the previous entry.  The eyelook is quite the usual, I always go for a defined smokey look most of the time, playing with the texture and color placement.  I also like to go for brighter lipcolors these days, to look more awake somewhat. 
The Liner Plume is extremely easy to use, I love the long brush (to reach into the inner corners of the eyes perfectly) and while it didn't swatch the most jet-black, when applied on the eyes, it is super black and intense, and it dries quickly on the eyelids too.  
Here's what I did on the eyes: 
Applied P 102 Sable Enchante on the browbone.
2. Applied P 204 Perle Ambree on the lids and crease.
3. Intensify the look by adding S 207 Fil D'argent on the lids. 
* the eyeshadows are very soft, and easy to work with.  They remind of the Burberry eyeshadows (which are a tad creamier), but in terms of the colors and payoff, very similar. 
4. Line upper eyelids with Liner Plume 01 Noir. 
5. Mascara on lower eyelids with Hypnose Dolleyes mascara. 
* the overall color is darker in real life than these pictures show *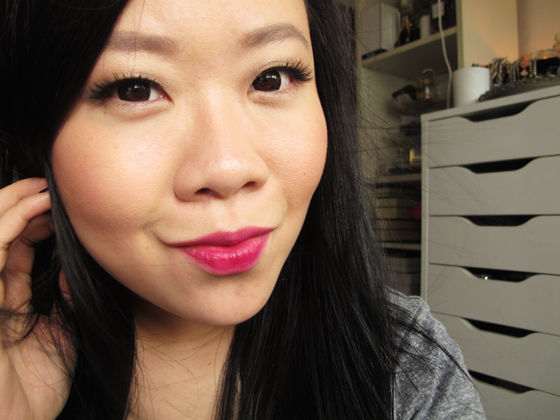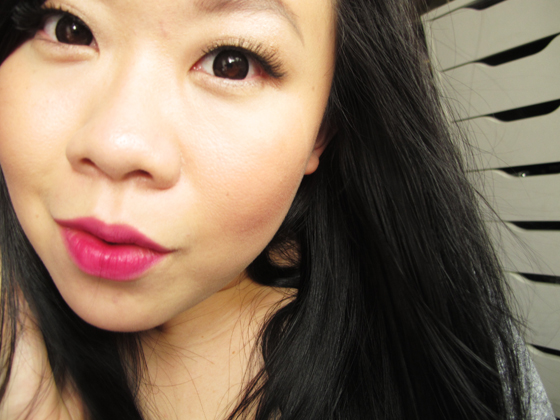 On the rest of the face - all Lancome, as you can see. 
Face - Pro Base primer, Teint Miracle liquid foundation, Teint Miracle loose powder -- foundation review here
Cheeks & bronzer - Blush Subtil palette in Nectar Lace --- feature entry here
Lips - Absolu Mat Cashmere 300  --- feature <a href="http://retailtherapy.onsugar.com/Lancome-Midnight-Roses-Fall-2012-L-Absolu-Mat-Cashmere-300-Photos-Swatches-24802085" target="_blank">entry here
</a>Eyes - NARS Primer, P 102, P204, S 207 and liner plume Noir (featured here) , Doll Eyes mascara (featured here)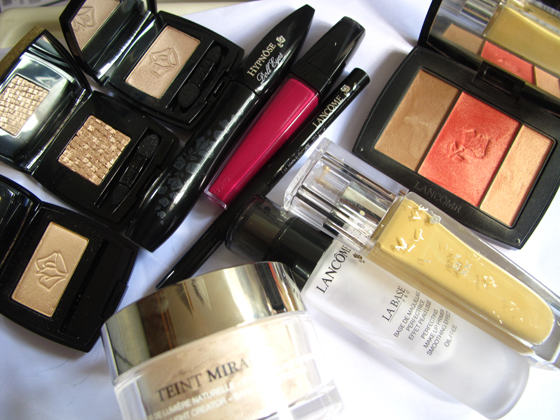 And now for a little giveaway, I had purchased this set of Lancome products at the JPO during my recent trip there.  It contains
1. Full sized Lancome Hynose Doll eyes mascara 01 So Black
2. Mini Crayon Kohl Noir 
3. Mini Rouge in Love 322 Coral in Love
To win this set, leave a comment below with your name/email, and answer a simple question, and I will contact the winner before I go off for my holiday.   It is open internationally. 
Closing date: 08 Dec 2012
Use only the format below:
Name/ Email:
What I like about this very Lancome LOTD: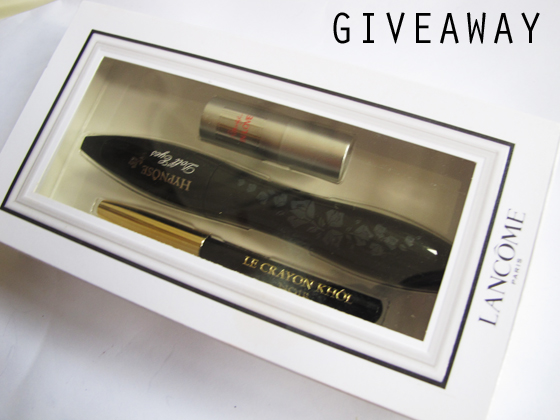 Good Luck!
Thank you for reading!
* not a sponsored giveaway *