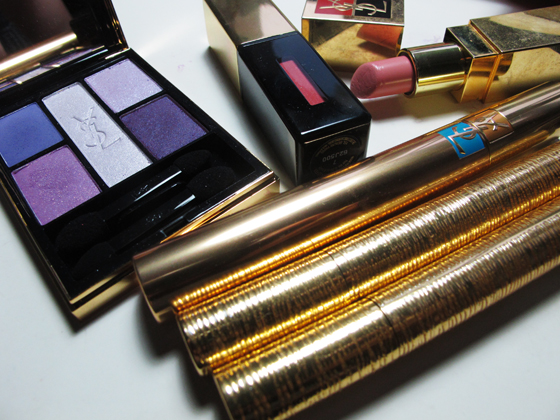 Hi hi!
In this entry, I will showcase a smokey purple eyes using YSL 5 Colour Harmony 04 palette.  I will talk you through most of what I did, along with my thoughts on the products used in this look.  Hope you find it helpful!
I will also list all products used at the end of this entry.
Let's start with some swatches & close ups:
*** it is a little hard to capture the true color of the warm purples in this palette, so I adjusted the colors a little to make it show up truer to the actual color.  As you can see, in the first pic the colors showed up cooler which is not quite right. 
I used the following shades as indicated in the picture below on my eyes.  My fave shades in this palette is probably the highlight shade (a very very cool toned pale lilac that shows up whitish on the skin, and both the lid shades).  I found the crease color a little dry and chalky.  I used a primer, followed by a colored base to make the colors more intense.  If you prefer only a wash of color on the lids, then you can skip the colored base. 
For the colored base, I actually used the YSL pencil liner - which is very creamy and black.  I lined my eyes quite messily on my lids, and used my ring finger to blend out the liner, forming a blackish smudgy base, and then I used both the lid colors.  I do quite like the YSL pencil liner, but it is a little prone to smudging because it is so creamy.
I will be featuring the lipsticks in a separate feature entry, so let's just leave it as a combination of a nude-peachy shade for now.
I have been totally enjoying the Touche Eclat.  You may wonder why I use BOTH shades.  But if you look, 01 is a peachy pink tone (great for neutralising and brightening) and 02 is a beigy pale shade, which is great for highlighting.  I really only use these two under my eyes, and a little on the bridge of my nose.  There are many many similar products like this, but I guess what makes the Touche Eclat such a classic is the extremely smooth and translucent finsh.  And somehow the fat brush and it dispenses just the right amount of product without any clogging is just a winner.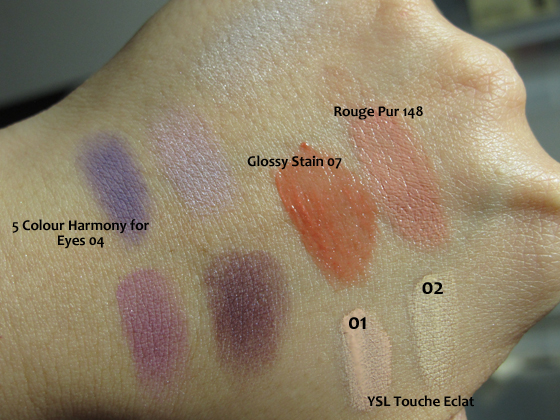 On my cheeks, I am using the YSL Blush Radiance in 06, a bright pop of pink.  It is quite pigmented, and very very smooth.  I do like this blush, and it might be time I look into what other shades they offer in this range.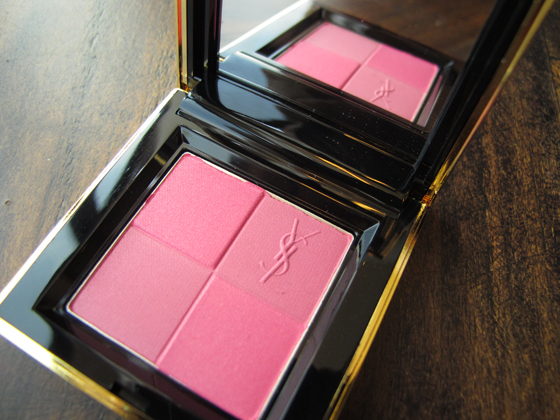 Some close ups:
On my lower lashes, I used the YSL Faux Cils waterproof.  It is one of the first few mascaras I used even when I was still in school.  Back in the days when I didn't know anything about falsies, I depended on this mascara and LOTS of curling of the lashes to make sure I have big lashes.  This is still the same amazing mascara I have used like 10 years ago, and it is still the same.  Awesome mascara.
and the lip combo:
I didn't want a totally nude lip shade, so I went for a natural peachy look. 
I love this look, the big lashes balance out the purple eyes.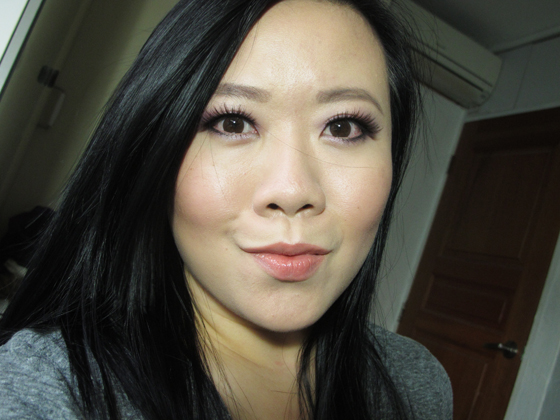 More hair chat: I washed my hair this morning, and suffered through a walkathon and a rainy brunch.  
Still LOVING how it takes zero effort for my hair to look this good. 
I think I could get addicted to the whole treatment and hair pampering, and shall book myself in for a session every 3 months or so.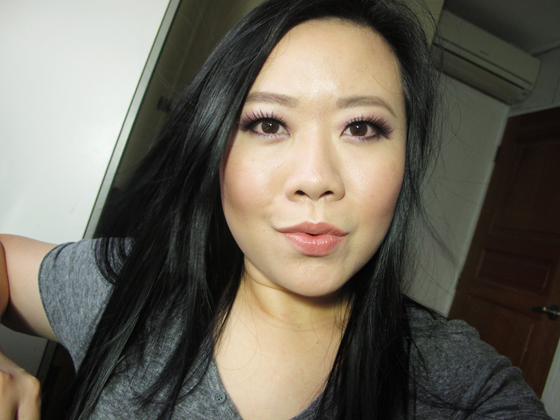 All products used:
Foundation: Shiseido Radiant Lifting foundation & Becca Shimmering Skin Perfector Pearl) --- I want to give this foundation a more luminous glow.  La Mer Powder to set.  Laura Mercier SC 03.  YSL Touche Eclat 01 and 02. 
Cheeks: DiorSkin Nude Tan 003 Zenith, YSL Blush Radiance 06
Lips: YSL Rouge Pur 148, YSL Glossy Stain 07
Eyes: Laura Mercier Eye Base Flax,  YSL Pencil Liner, YSL 5 Colour Harmony 04, Lashes - Shu Uemura Farfarlina
That's all, and thank you for reading!