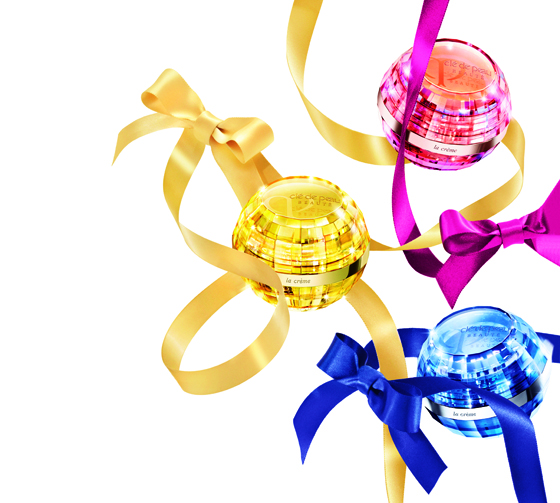 Hi hi
This entry is a little overdue, seeing as I attended the press event for the 30th Anniversary for cle de peau beauty a month back.  I received the limited edition of their famous la creme, and I will be using it soon, so I thought a brief introduction to the product might be helpful. 
The event was held at St Regis Hotel, and all the invited guests and media was treated to a presentation of cle de peau beauty history, technology and brand values.  Then the limited edition la creme was unveiled to us, in beautiful golden, blue and pink packaging. 
For beauty that endures time, Clé de Peau Beauté has always been committed to scientific advancements that optimize skin's very nature. 
Three major forces create the superior La Creme:
Powerful anti-aging benefits: La crème is newly formulated with scientifically advanced ingredients that comprehensively diminish the appearance of wrinkles, dark spots and sagging.
Overnight results: Texture, elasticity and dullness are visibly improved overnight. Skin awakens to remarkable clarity and smoothness.
Cutting-edge emulsification technology: A special emulsification technology creates the ultimate texture that not only delivers ingredients more deeply, quickly and effectively, but enhances tangible benefits.
How to use: Use as the final step of your nighttime skincare regimen. Take a small amount on spatula provided, transfer to fingertip, and gently smooth over entire face.
4MSK- Exclusive to Cle de Peau Beaute, a superior brightening ingredient that inhibits melanin activation.
Retinol ACE improves skin's ability to counteract wrinkles.
W-TC Complex improves epidermal cell metabolism.
Cornflower (Centaurea Cyanus) Extract promotes the production of the protein that is the main component of the basement membrane.
Wintergreen (Pyrola Incarnate) Extract prevents damage to the basement membrane.
Chai Hu Extract is known to increase the production of collagen and hyaluronic acid.
Saxifraga Extract is known to stabilize free radicals and inhibit the activation of enzymes that cause melanin formation
La Creme is cle de peau's star item, and it retails for SGD$1,200 and can be bought at all cle de peau counters. 
<span>Three limited-edition packaging shades for la crème that symbolizes
trust (Achieving Blue),
radiance (Vibrant Yellow)
and excitement (Promising Pink) </span>
Holders inspired by the radiance of rare coloured diamonds.
The gorgeous, elegant holders and packaging expresses the brand's value, "Radiance <span>becomes you". 
</span>
Perfect Yellow is an expression of radiant days.
The excitement you feel when you realize your skin is starting to look more radiant, and you can't help but touch it.
Because you believe that the feeling will light up your presence. 
Achieving Blue expresses the trust built up over the years.
La crème has continuously evolved as we have imbued it with the most innovative skincare technology of the times, 
gaining the support of many loyal customers. 
Enchanting Pink expresses excitement about the future.
Your skin's tomorrow.
Five or ten years from now, Clé de Peau Beauté promises constant excitement.