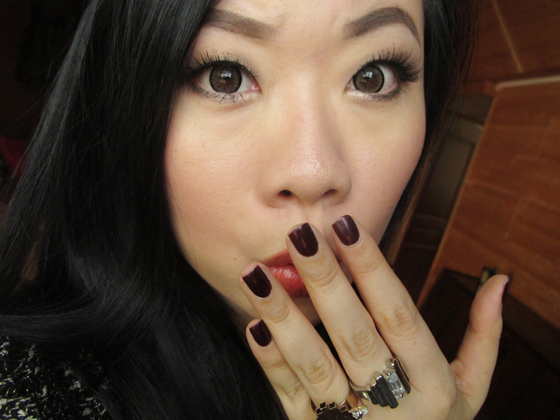 Hi hi, 
Tagged by Sara to do this - having read her responses, it got me thinking I have not really done a 'about me' post in ages.  I used to post such entries quite often back in the days, sharing random facts and information about myself.   So perhaps this might be a good chance to re-introduce myself to everyone again, and something to get my mind off a certain missing piece of armcandy at the moment (darn it's really bugging me!) 
More information about the picture above will be available in an LOTD entry after this!  
Rings are from H&M (current collection), and nail polish is Chanel Malice. 
So anyway, the questions.... and my answers!
1. Do you wear the same style everyday or do you change it?
I pretty much wear the same thing everyday for work, though I rotate my bases & cheek colors weekly, or whenever I feel like it.  My everyday makeup consists of a good long lasting flawless base, cheek colors, and brows.  If I am going somewhere after work, and I have no chance to go home and change etc, I would just slap on a bright lippy with my daily look.   Nothing on the eyes. 
2. Do you do your own mani/pedi or go to a salon?
I paint/ change my nail colors every other day (not my toes color of course) - partly for swatching purposes, and partly just to play and check out colors.  I prefer going to a salon about once a month to have my manicure and pedicure professionally done.   The hands and feet need a good scrubbing every once in a while. 
3. How long does it take for you to put on your make-up?
In the morning, I think I take at least half an hour, including the skincare routine.  Even though it is just base, brows and cheeks - I like to take my time to apply my base, fill in my brows properly, and look really finished by the time I am done.  
4. What do you do first? Face or eyes?
I usually do my face first.  I feel like I need my base to set nicely while I am doing my eyes.  
5. Do you "collect" make-up or just buy what you need when you need it?
There are stuff I buy to collect because they are part of a greater set.  For example, a trio of Chanel polishes, or two shades of a limited edition bronzer, or a particularly beautiful blush.   But I will use all these things, even though I had largely purchased them for the beauty factor.   I have long since passed the point of buying makeup only when I need to.  Life would be so boring that way.  But I will use, swatch everything I have. 
6. How often do you wear false lashes?
I wear lashes whenever I have full face makeup (ie eye makeup).
7. Do you do a full face of make-up everyday?
I guess I don't.   Though technically, I do, since I have on mainly face makeup.  I just don't do my eyes everyday. 
8. Do you wear make-up when you are home alone or with family?
Well, when I am doing a LOTD solely for blogging purposes, then I have been seen to be walking around the house with makeup on.  But other than that...nope!
9. Will you leave the house without make-up?
Yes, I will.  (sunscreen mandatory, of course) Like when I am jogging, going to the market, I am usually bare-faced.  But I probably can't do without at least some light base and brows to look 'awake'.  It's just my personal thing.
10. How many high end products do you have?
I don't keep track... cos if I do... I would probably think, dang, that's where my car downpayment went to.  Hahaha.  But I am not implying that my 'collection' is HUGE...it's just a bit more than what most people would think is normal. 
12. What time do you get up and go to sleep?
I usually sleep around 12 am on most days, if I am not out at night.  I wake up at 6am on weekdays, 8-10am on weekends.  I want to wake up naturally on weekends but I am a natural early riser (not early early like 6am though.  It is still a struggle for me to be up so early.)
13. How often do you work out?
Been trying to clock in 5km, 3 times a week.
14. Do you speak a foreign language?
Nope. 
15. How did you come up with your blog name?
I started my blog around 6 years ago.  I wanted something that is very self-explantory, and thought adding -ette to the end of BLOG would be cute, and girly.  So that stuck til now.  I like my blog name.  It is just very simple and straight to the point, I suppose.  Haha.
16. What kind of camera do you use for photographs?
My trusty G-11 and iphone 5. 
17. What is your favourite color?
Hmmmm hard to say, but I am usually drawn to a combination of striking and pastel colours.
18. What are you doing with the rest of your day?
I am going to sleep shortly after.  But I think I will pack the room mess a bit.  Mentally plan weekend wardrobe, and mentally plan the week ahead...hahah I am very productive mentally!  
Hope this tag has been somewhat 'fun' to read... and if you would to do this tag as well, please leave a comment below with your blog link, and I would love to read about it!