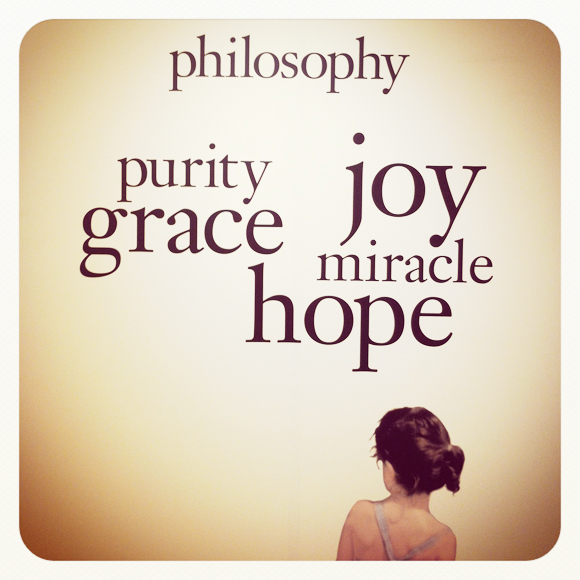 Hi!
This past week, I had the chance to attend the press launch for Philosophy and I give an overview of the brand and some star products in this entry.  I am pretty sure Philosophy is a brand that many of you are familiar with, if I recall, True Colors stocks a very very selected range of Philosohy products.  And maybe there are some of you who are already regular Philosophy users if you get access to their products.  Personally, I was a fan of their Hope in a Jar 5 or 6 years back, when I saw this brand in Hong Kong, and I bought back ups of their star product to use.  Over time, I weaned away from it, because it was just getting a little tiresome to keep stocking up and I also moved on to other skincare brands.
Regardless, I am quite excited that Philosophy is launching here in Singapore.  It will be available from 27 April at all Sephora Stores in Singapore.  I don't have full price information and details, but the distributors have informed us that their price range is kept very reasonable, and as a brand, they are in similar price point of brands like Clinique and Khiels.  Another good news is that, they are bringing in all four categories of their products (and not just the skincare which is the foundation of the company).
I shall now proceed to give a quick overview of the four chapters of Philosophy products:
Chapter One -- SKINCARE --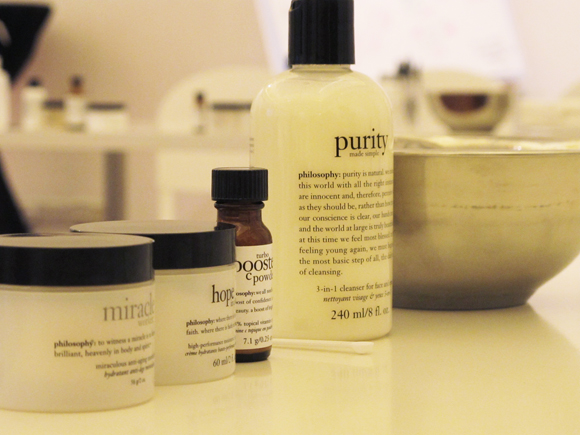 Philsophy is a mix of innovative formulas and musings on life and love - a fresh point of view, and when you use Philosophy products, it is a unique experience.  In the US, it is the fourth biggest selling brand and in 2010, the fastest selling in Sephora and TV shopping channel QVC.
A few of their key products:
HOPE IN A JAR
It is a high performance moisturiser for all skin types.  It helps to reduce the appearance of dull skin, rough texture and dehydration.  (Oprah Winfrey listed hope in a jar among her top ten favourite things 6 times from 1996 - 2010).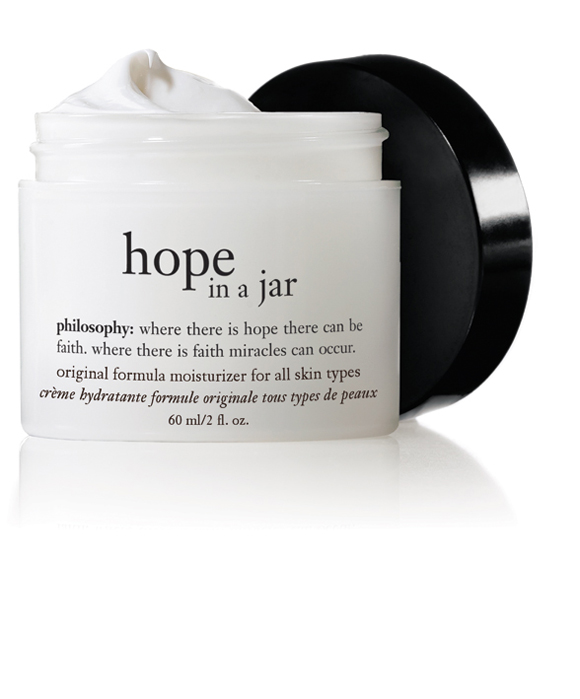 PURITY - 3-in-1 cleanser for face and eyes
This is an award winning 3-in-1 cleanser for face and eyes that removes makeup, cleanses, tones and lightly hydrates the skin, all in one simple step.  It rapidly dissolves dirt, oil and makeup, while helping to maintain the skin's proper moisture levels.  It is gentle enough for use around the eye area and on sensitive skin.  It is formulated with 12 essential oils to help calm and soothe skin.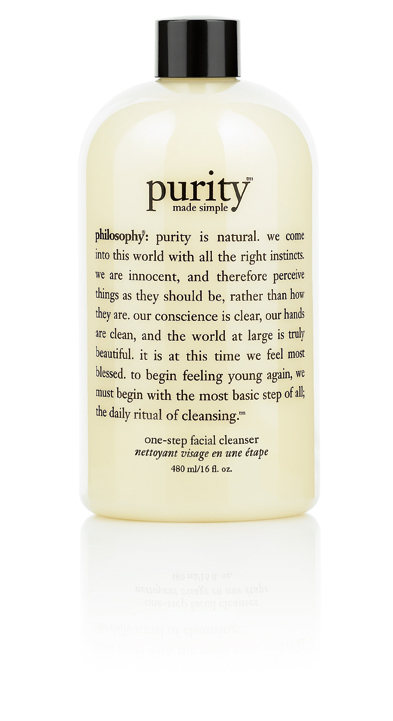 MIRACLE WORKER
These are miraculous anti-aging retinoid pads that deliver youthful, radiantly luminous skin in one easy step.  This fresh-pour, skin-restoring elixir is formulated with hpr next-generation retinoid technology that helps maximises skin's rejenvation potential, while minimising the risk of irritation commonly associated with traditional retinols.
Features:
diminishes the appearance of wrinkles, dramatically improves skin discoloration and promotes flawless clarity
loaded with anti-oxidants, skin conditioners and soothers to deliver miraculous results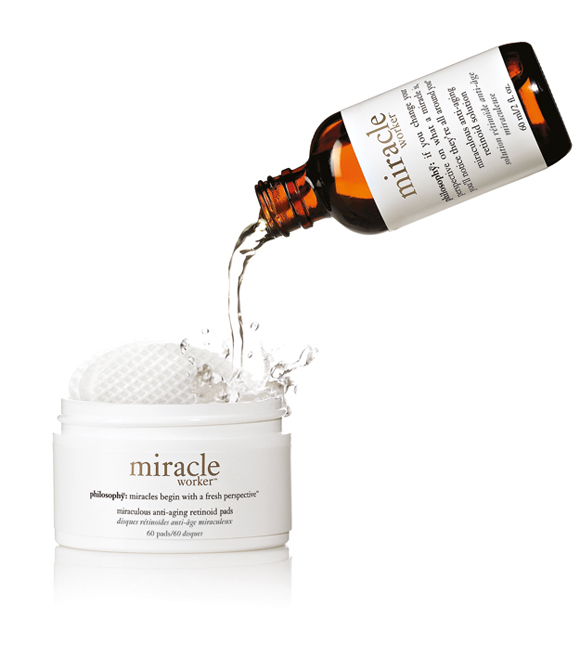 We also got to experience several of their products during the event, including:
the "turbo booster c powder" a high-potency vitamin c powder that helps prevent premature aging by acting as an anti-oxidant and supporting natural collagen, helpiing to improve skin's overall tone.
their "microdelivery peel" - touted as the 3 minute skin makeover.  this is a two-step in-home peel that dramatically rejuvenates the appearance of sun-damaged, hyperpigmented and aging skin.  it helps to resurface and replenish the skin with peptides and vitamin c, so skin feels significantly smoother and appears radiant
CHAPTER TWO -- FRAGRANCE --
Philosophy has four fragrances - which have ultra clean notes that are easy to wear and designed to enhance your sense of well-being.  They also come with a full range of matching bath products.
amazing grace - clean floral scent
pure grace - soap and water clean fragrance, like you just stepped out of the shower
eternal grace - classic clean, crisp notes, along with delicate florals and bright citrus
inner grace -  sophisticated, soft floral scent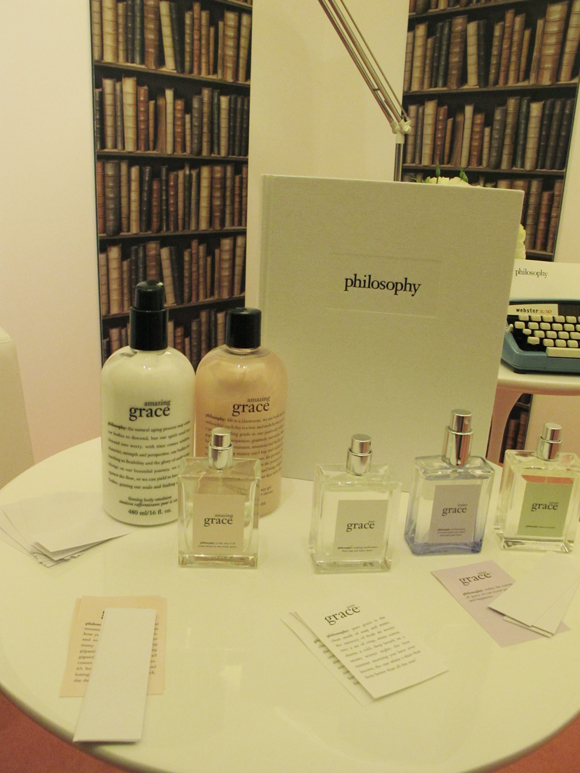 CHAPTER THREE -- Bath & Body --
The section of the launch that got everyone of us the most excited, most likely because of the divine, seriously delicious scents and colorful bottles of bath products.  I was told the largest bottle - as shown in the pic below, will retail for S$29.90.  If that's correct, I am so grabbing all of them come April 27!!!
the melon daiquiri and be somebody are my fave scents among those I got to sniff.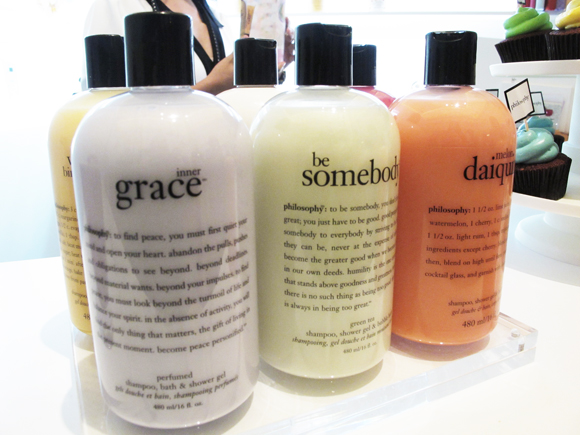 CHAPTER FOUR -- GIFTING --
Because life is beautiful and everyday is a gift, celebrate life's moments with these gift sets which are available year-round.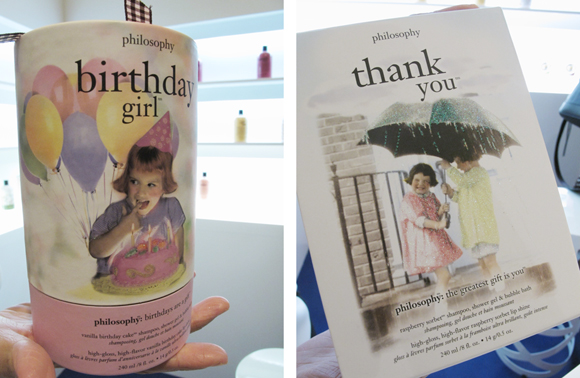 Overall, I am quite excited for this launch, and I think it would be one of the more popular brands at Sephora (yes, I think so!).
Can't wait for April!
Shall end this entry with some lovely cupcakes pictures!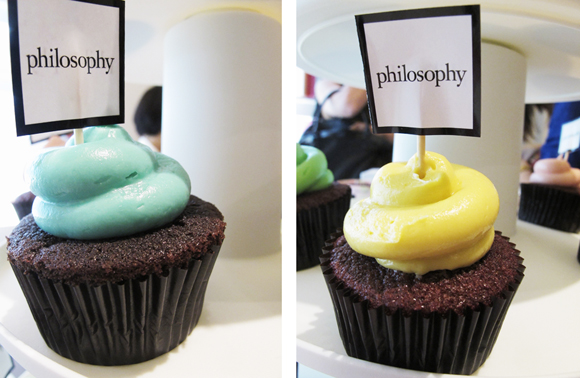 That's all, and thanks for looking!