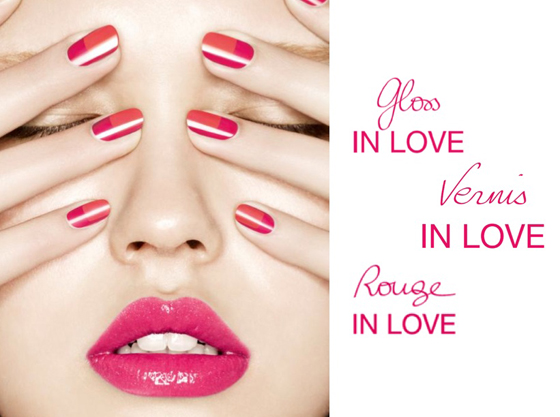 Lancôme creates the most electrifying mix & match colours. Three products, a multitude of shades in harmonies of fuchsia, orange and pink, for infinite combinations... Anything is possible, simply follow your desire!
Thanks to the perfect affinity of their formulas, there's simply no limit to the ways you can superimpose Rouge In Love and Gloss In Love. Associating their textures seems to create a magnifying glass effect which amplifies the expression of their pigments. Vernis In Love takes on the challenge of creating the most daring manicure imaginable.

Love your lips!
Apply Gloss In Love alone using the applicator tip to perfectly define the lip contour. Then kiss the Rouge In Love stick, placing it against the centre of your lips. Accentuate contrast effects by selecting a lighter shade for the central part of the lips: the lively pink of Flash n' Fuchsia gloss collides beautifully with the fiery orange of Doux Farniente lipstick. Play around with the most daring of duos for a voluptuously plumped pout.
Petal Effect
Even the most delicate flowers assert their originality by pairing very pale tones with very dense pigments. Select two contrasting lipstick and gloss shades to recreate this surprising effect. Apply a light veil of a gloss such as Blink Pink then define the entire lip contour with the intense red of Under The Rose with a brush. Simply press your lips together to melt the two colours: a guaranteed petal effect!

Burning heart
Dress lips in softness with an initial layer of Rouge In Love before applying gloss to the centre, accentuating the cupid's bow. Fall In Rose enhances lips' intensity and goes beautifully with Under The Spotlight gloss. This heart of gloss at the centre of lips is sure to grab the spotlight!
Mouth-watering tone on tone
Choose two fairly close shades of Gloss In Love and Rouge In Love. For peachy-toned lips, first suffuse lips with shine using Peach Show gloss, then enhance the lip border by applying Rose'mantic lipstick with a brush. When you press lips together, the two textures blend to create an all-new orange shade that's deep, lacquered and simply mouth-watering.
Two-tone kiss
With the current trend for mixed nail colour, why not apply the same principle to lips for an energised look? Just like a nail varnish base, apply an undercoat of Just Strass Gloss In Love to boost your lipstick's colour. Apply a lighter, more luminous shade like Rose Flaâneuse lipstick to the lower lip and contrast with Be My Date! on the upper lip. The quintessence of colour block make-up...