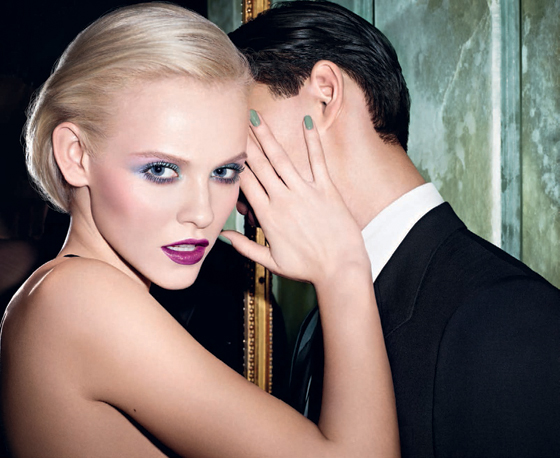 <strong>YSL Spring 2013, available in Singapore from Feburary 2013.
The inspiration behind the collection</strong>
"Pink quartz, amethyst, pyrite, malachite, azurite, jade, each possesses a hypnotic beauty. When you hold them in your hands, these precious stones diffuse energy and light, like galaxies. Their crystalline purity and voluptuous opalescence were the departure point for the creation of the Spring Look 2013 for Yves Saint Laurent Beauté. Nature touches me profoundly in all its forms. It produces sublime emotions. It offers me an endless source of inspiration, revealing the force of life, the power of creativity. Nature provides rich colors that I can play with.
And it is through these colors that I express myself. Tensions, contrasts and chromatic clashes: each association of color tells a story, reveals an attitude, a look, expresses an emotion.
Light, movement, vibration, force and seduction: the Saint Laurent woman affirms herself in color. Magnetic colors for Spring 2013."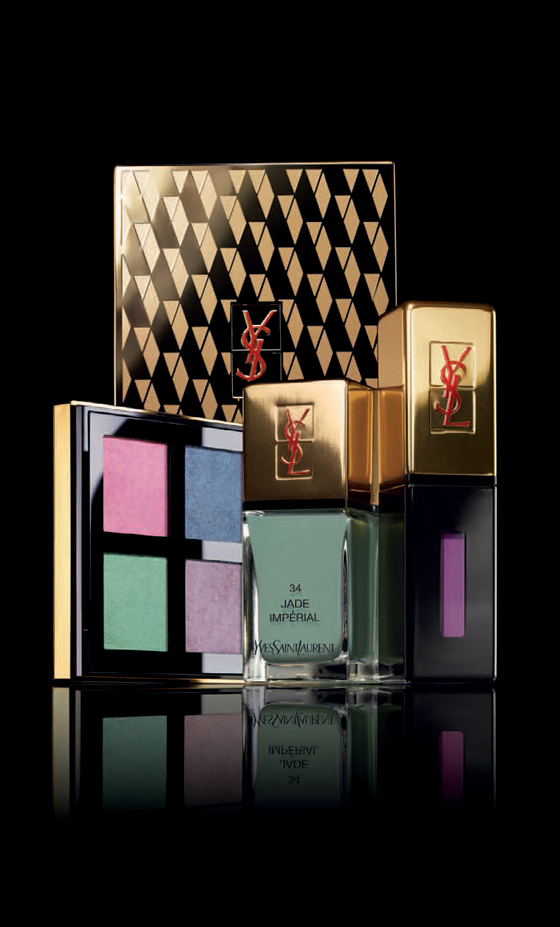 Gems fascinate with their magnetic beauty and their mysterious power of attraction. The Spring Look 2013 is a palette of mineral and crystalline colors,
inspired by the brilliance of precious stones. Audacious, the Saint Laurent woman takes hold of this pure energy and relishes her arty allure. Opalescent complexion, eyes sculpted in quartz and malachite, lips in garnet, topaz or ruby, nails lacquered in jade. For Spring 2013, the YSL woman plays a seductress of multiple facets. She bewitches with the wink of a smoky azurite eyelid. Hypnotic beauty. Temptress, she plays with a clash of colors.
"After an acid pop trend in 2012, the Spring Look 2013 is a return to calm. I wanted a palette of colors in halftones, pastel but intense, fresh and powdery, almost milky. To use as a play of harmonies for a chic Parisian look or contrasted to show-off a rock attitude."
Lloyd Simmonds
THE LOOK
FACE
Le Teint Touche Éclat B30 Touche Éclat Radiant Touch N° 2 Crème de Blush N° 9
EYES
Y Facettes Palette
Mascara Volume Effet Faux Cils N° 21, Green Emerald
LIPS
Rouge Pur Couture Vernis à Lèvres N° 30, Mauve Fusain
NAILS
La Laque Couture N° 34, Jade Impérial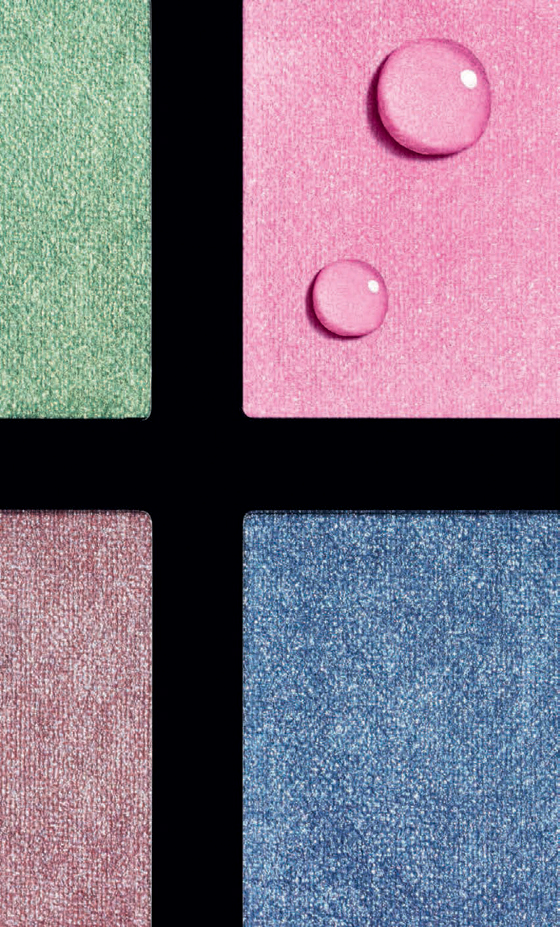 Y FACETTES
COLLECTOR PALETTE
The new Pure Chromatics harmony, in its jewel box of fine Y facets, shimmering like the reflections of a thousand sequins, captures the same intensity of light diffused in the prisms of precious gems. At its heart are four mineral essences, radiating energy and iridescence:
Malachite. An intense, profound green. Fluorite. A powdery, iridescent rose. Amethyst. A fresh, smoky violet. Azurite. A metallic, lustrous blue.
EXCLUSIVE TECHNOLOGY
Pure Chromatics. A revolutionary experience challenging preconceived ideas: water does not dilute color but intensifies it, rendering it infinitely vibrant.
Magnetic pigments
Formulated with pure water and no chemical solvents, Pure Chromatics wet & dry eye shadows offer a concentration of nacres and pigments much higher than traditional shadows. This technology infuses color with radiance and purity, exceptional wear and unequaled intensity.
Water, a color catalyst
Pure Chromatics wet & dry eye shadows benefit from a unique manufacturing process: the formula is directly injected in its liquid form, then water evaporates. This process allows a much higher concentration of pigments and nacres for longer wear and greater chromatic intensity.
Art and light
<span>Once wet, the nacres and pigments fuse to create a cream texture. The lamellar pigments lay flat, for optimal light reflection and a mesmerizing, metallic effect. 
</span>
PURE CHROMATICS
<strong>1 PALETTE,
3 "COUTURE" LOOKS 
</strong>
"With a single palette, 4 colors, an application wet or dry,
Pure Chromatics offers infinite nuances and effects. Each woman can create her own YSL look, from mischievous to sophisticated and sensual."
Lloyd Simmonds
Parisian Rocks. <span>"Rive Gauche" style.
Intense, violet amethyst is blended on the eyelid and shadowed with blue azurite in the crease.
A touch of pink fluorite beneath the arch of the brow sculpts the eyes in sophisticated style. </span>
Smoking Jade. <span>Smoky "easy to wear".
Subtle, green malachite is twisted with blue azurite towards the exterior of the eye. Melted with a touch of pink under the brow arch for a perfect day look. </span>
Couture Quartz. <span>The eveningwear look.
The eye is outlined in blue sapphire crayon,
smudged into the base of the lashes. The lid is dressed in smoky azurite and amethyst, stretched to create
an "almond" eye for intense seduction. </span>
<span>LLOYD SIMMONDS' EXPERT SECRET
</span>"Play, paint, express: these are the possibilities offered by Pure Chromatics eye shadows. A chrome effect, a smoky halo or intense liner: everything is permitted. Applied with a fine brush, they become eyeliner. With a wider brush, they lacquer the eyelid. And if you apply several coats in the same direction, the color becomes even more brilliant. Used dry, the Pure Chromatics shades melt to create a silky, satin halo. Wet, they multiply their chromatic intensity and reveal a long-lasting iridescence. Play with contrasts by combining the two effects; the result is hypnotic and so YSL." 
<strong>
</strong>
This spring, two new and precious colors complete the YSL La Laque Couture wardrobe:
LIMITED EDITION
Bronze Pyrite N° 35. A collector metal "jewel". NEW SHADE
Jade Impérial N° 34. An "arty" jade green.
Two Y-conic shades that add a rock touch to the 30 timeless references of the YSL Vernithèque, inspired by the couture heritage and contemporary creations of the House of Saint Laurent. Radiant, fresh, hypnotic, La Laque Couture in arty stone colors is the latest, must have for spring 2013. Exercise your power of attraction to the very tips of your nails.
YSL INNOVATION AT YOUR FINGERTIPS
Exclusive to YSL, these two new nail colors benefit from La Laque Couture's high-precision technology:
Pure Color. High concentration of lacquers.
Extreme Shine and Resistance. High-tech polymers combined with micro-mirrors create a resistant film and assure lasting shine.
Care. Enriched in rosehip oil and Coralline extract,
a source of calcium, the formula reinforces, protects and embellishes nails.
Fast Drying. The "structure memory" formula allows for rapid drying in only minutes.
Patented Brush. Polish adheres perfectly to the brush for an intense result and a flawless application. Like a caress, it glides onto the nail, delivering a fine, uniform film.
"Research has pushed the frontiers of technology and innovation with new textures and pigments. Giving birth to La Laque Couture Bronze Pyrite: a truly metallic shade with mineral particles so fine that the lacquer is perfectly homogeneous and the nail as smooth as polished stone."
<strong>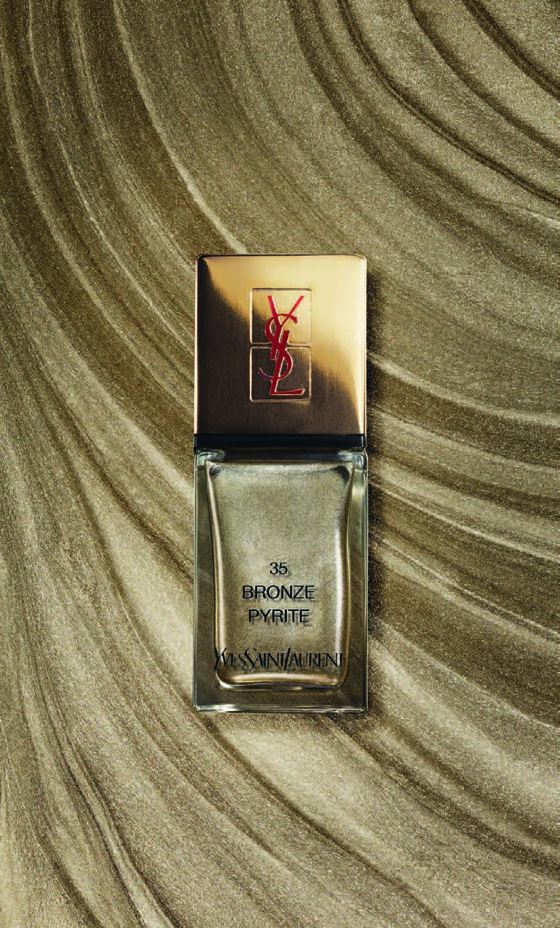 And the complete collection: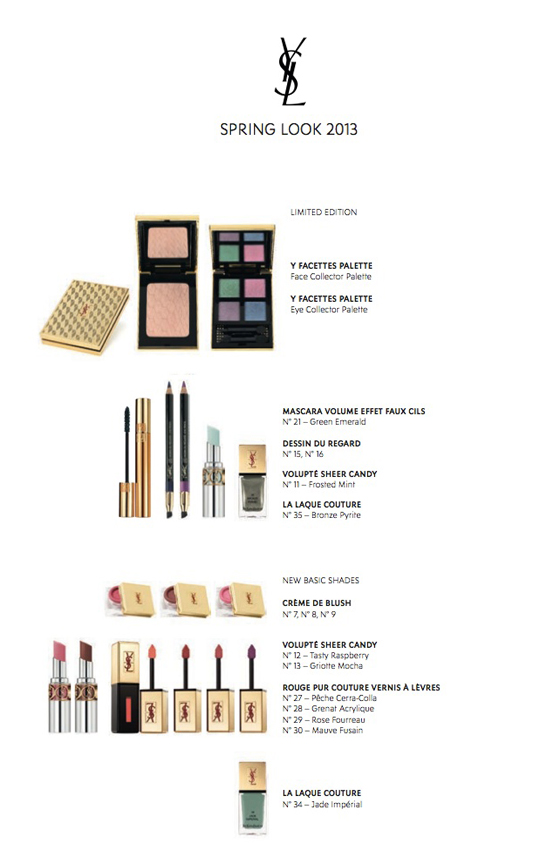 </strong>
Available from Feburary!  
I love love mad love the nail polish!