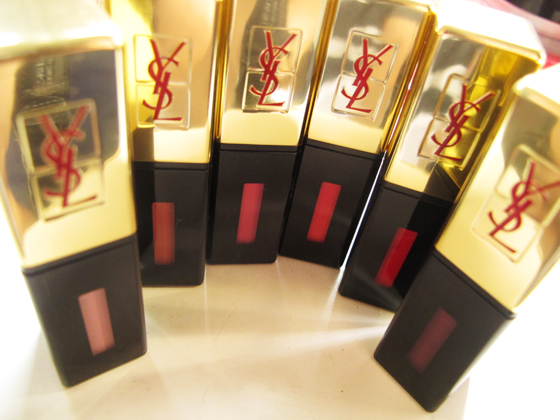 Hi hi!
I have somehow accumulated six of the YSL Glossy Stains over time, I purchased a couple of them (I think 11 and 19) while the rest I had received from attending various YSL events as they launched in Singapore. 
So here they all are.  I think my fave YSL Glossy Stains are the peachy pink shades - they apply evenly and show up on the lips very vibrantly.  The pale shades like 19 tend to look a little streaky and my own lip color still shows through.    The dark shades like 22, applies streaky too and you probably need to wait some time before building up each layer of color. 
These glossy stains are very long lasting, and deliver great colors.  I have recently featured a cheaper dupe, the Loreal lip caress shine - they are very very similar in terms of consistency - click here for my swatches.  However, I think I still prefer the YSL ones, they feel more luxe and comes in a wider range of colors. 
In terms of the application - I noticed that as you apply each layer, and purse your lips together, the formula gets a little thicker, and that's when the color seems to become richer and creamy.  They also feel a little cooling and very moist when first applied.  The applicator is perfectly shaped for direct application onto your lips. 
Here are swatches on my hands: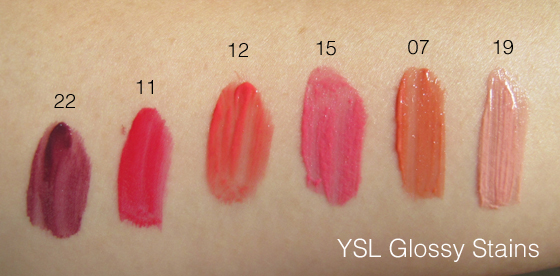 </p>
and some mega swatches on my lips: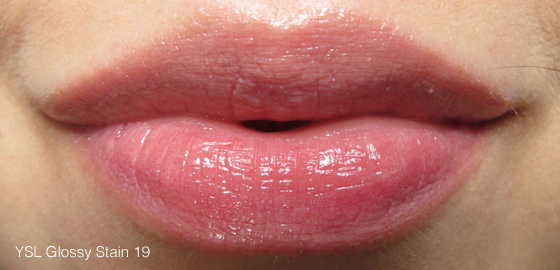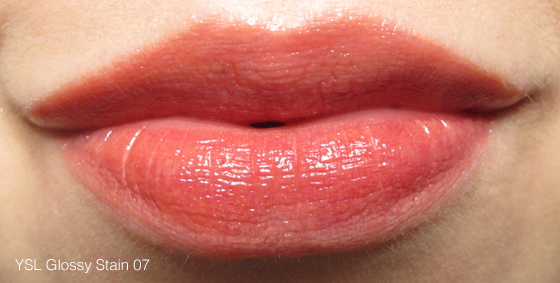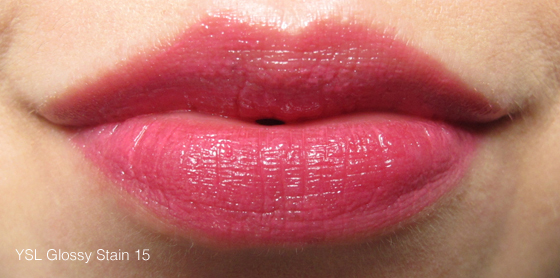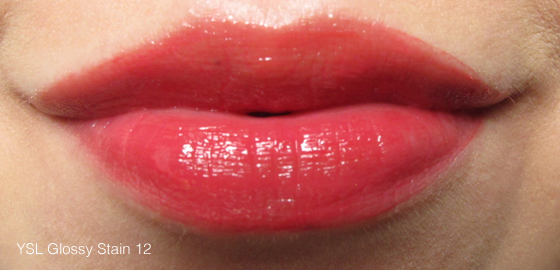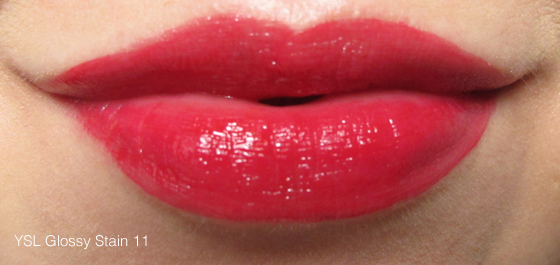 I was a little hasty in applying 22 - and this is the slightly patchy results.  And the patchiness is showing up more in the pictures than in real life. 
But I see potential in this shade - think all the dark vampy lips I featured in my previous entry here.   This is certainly in the same color family, in a totally different texture and finish.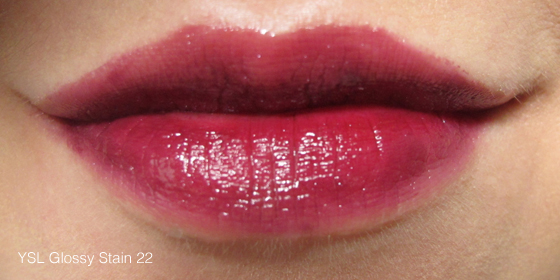 All products used (all YSL unless stated) 
Face: Flash Radiance Skincare Brush, Touche Eclat liquid foundation, Lancome Dual Finish Foundation, touch eclat highlighter pen
Cheeks: D&G The Bronzer 01, Blush Radiance 06, Boreal Palette Face Highlighter
Lips: all the Glossy Stains mentioned in this entry
Eyes: NARS Primer, Boreal Palette Artic Night (only the brown shade all over the lids), YSL Waterproof pencil 01 
Lashes: two pairs of Ardel 120 lashes layered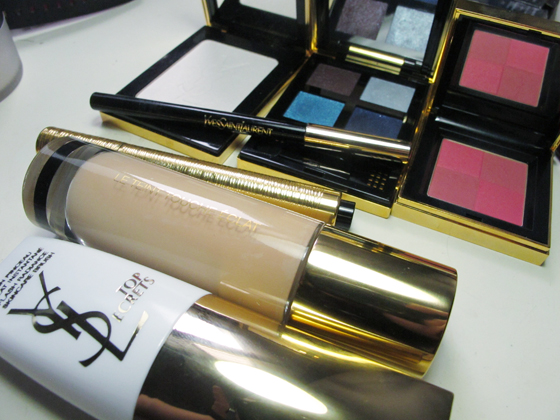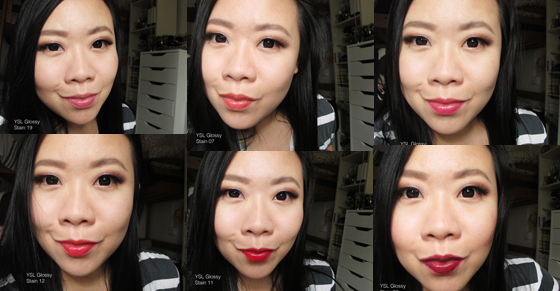 Which is your fave YSL Glossy Stain featured here?
I highly recommend these lipsticks - they are really innovative (before the rest of 'em follow suit of course) and you won't be disappointed. 
Thanks for looking!
<p>