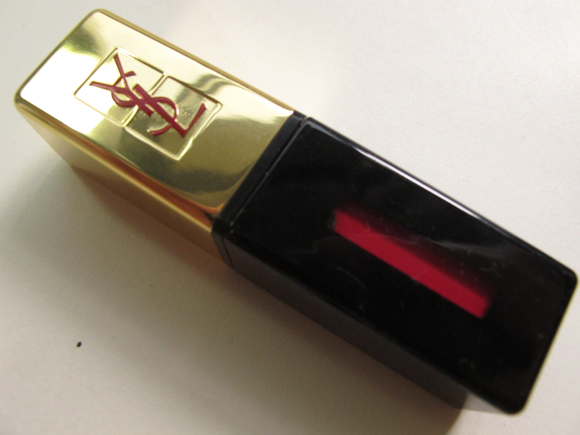 The YSL Glossy Stain - Gloss, or Stain, or More??
It feels like a stain, but looks like a gloss, and I think it also has the payoff of a cream lipstick.  It's hard to explain.  When applied, it has that "wet" feeling of applying a lipstain that sinks into your lips.  But it soon settles to a creamier feeling, like a lipstick.. and the finish is not matte or 'stained', it actually looks glossy - not sticky glossy, but a nice sheen.
This is also very long-wearing.  I know, because I slapped some on my hand, and I had to RUB RUB with soap to get it completely off.   I think I want to get more of these...It is hard to imagine, but YSL has managed to come up with a truly unique product in the lip color market - I mean, there are a gazillion types of lip products out there, but I don't think there is anything like this.
Description from Sephora:
What it is:

A revolutionary new lip product that combines the texture and shine of a gloss with the long-wear of a stain.
What it does:
Coat your lips with this lip color that offers a lightweight texture, which immediately melts onto lips. Glossy Stain delivers intense glossy color for an extremely long-lasting shine.
I picked mine in the shade 11 something bright and pretty, it looks like a deep bright pink, but I think can pass off as a blue-toned red on my lips.
The packaging is kind of like a nail polish bottle, with a screw cap, and the applicator is big enough to apply the product on your lips without having to go back and forth.  It has that signature YSL cosmetics scent, which I LOVE.
I didn't experience any feathering nor 'bleedning' in the application of this product, and considering that it is such an intense color, the application for me, was a breeze.
HIGHLY RECOMMEND.
Photos & Swatches: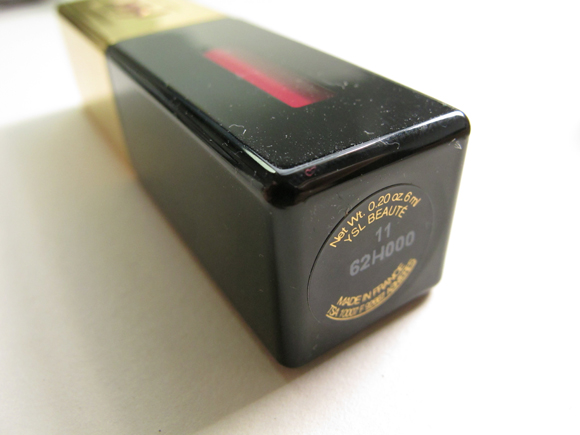 All products used:
This is what I would normally wear daily (minus the bright lips most probably).
base: Lancôme UV Expert GN-Shield BB Complete SPF50 PA+++ set with Lancôme Maqui Blanc Miracle compact foundation
concealer: Collection2000 lasting perfection concealer in 01 Fair
cheeks: NARS Madly (which matches exactly what is on my eyelids)
eyes: Shiseido Shimmering cream eye color in OR313 (featuring this soon! I used my fingers to apply this all over my lids, adding more nearer the lashes -- LOVES)
No lashes, no liner, because we don't need all that everyday.
That's all, and thanks for looking!