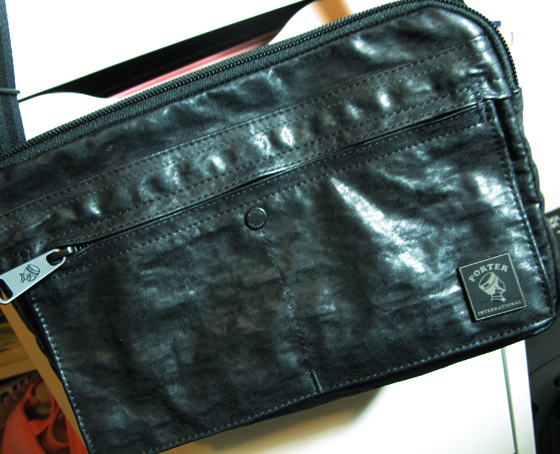 Hello!
One of the items on my TW shopping agenda is to get a Porter Bag.  I am not sure if it is any cheaper, but it seems like one of those things that need to be done (or not..haha).  Well, it also depends on whether I could find any design that calls out to me while I am at the store.  
We went there one evening, and browsed the store (near Ximending, and it seems pretty well stock with the latest arrivals).  The one that I laid my eyes on is this rather small sling bag, the strap can be adjusted though.  
More on why I like it:
Small, but roomy - lots of compartments, zippers, little nooks and corners
Lightweight but sturdy
Quite chic and sleek with all its distressed appearance
The material, according to the sales guy, is specially made in Japan like some limited edition release, specially coated and treated, so the appearance is very unique
It feels like it is waterproof (kind of like a cross between leather and canvas, if that makes any sense)
It has a stationery/ pencil case compartment which calls out to the geek in me.
It comes in several colors - red, blue, taupe, and black.  
I will show you the various components, and what's currently inside the bag.
a close up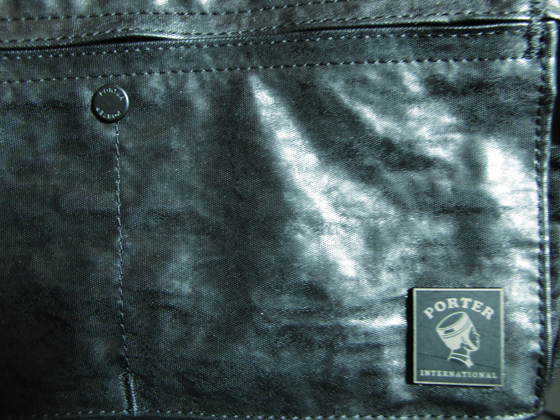 the bag is made of two main compartments, front and bag, and in the middle is this open area, which has 'stationery' compartments
or I can slot my ipad into the middle open area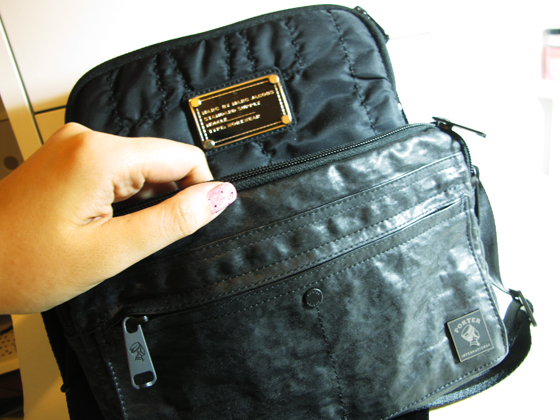 it looks something like this when I am wearing it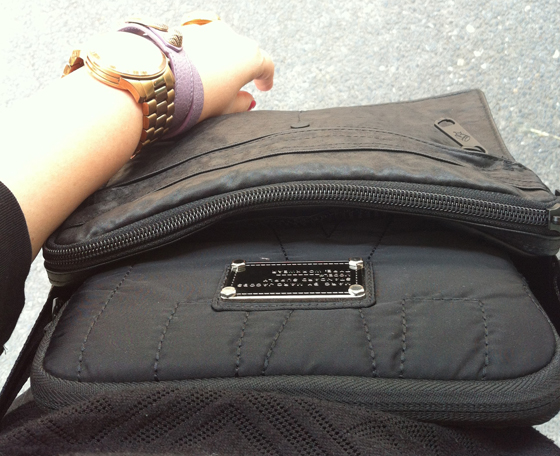 and how it really looks like, it can be secured by the velcro strips
and I usually put my iphone here, and maybe a pen, and my ipad/iphone stylus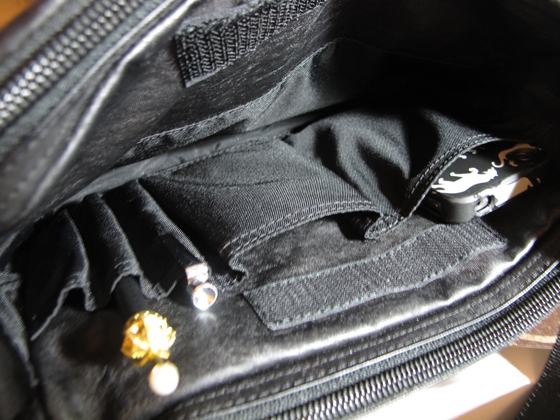 current phone cover is my MJ leopard printed one
it seems the most hardy, and doesn't "expand"
crown pen I bought in TW
Griffin Stylus
(which costs me $39 or $49, total rip off, I could have easily bought the $5 ones from g-market..ah well.)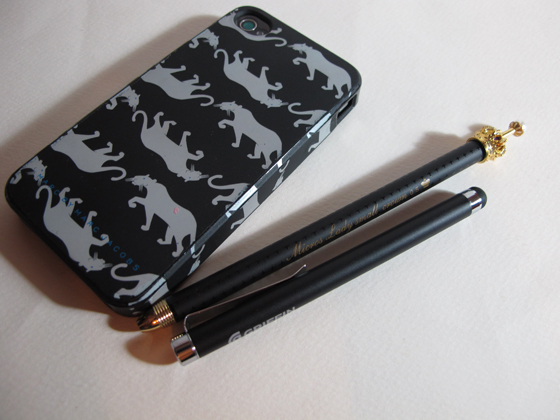 The back main compartment contains my wallets, and random handcream
it has more inside pockets which I don't keep anything inside, because I would just forget about it, 
and then days later, I would panic thinking I have lost whatever is in there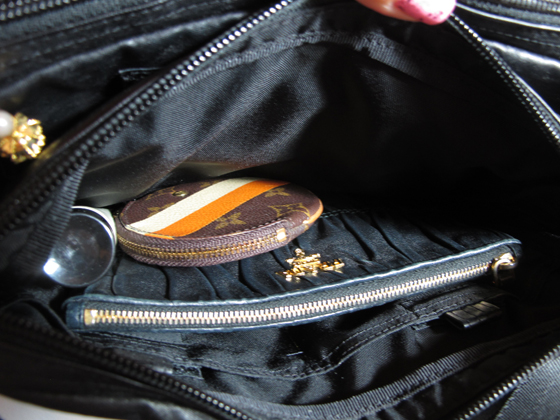 prada wallet for my cash and cards
LV porter coin purse for...well, coins, and randon notes, great for lunch time
I don't carry keys
random hair-tie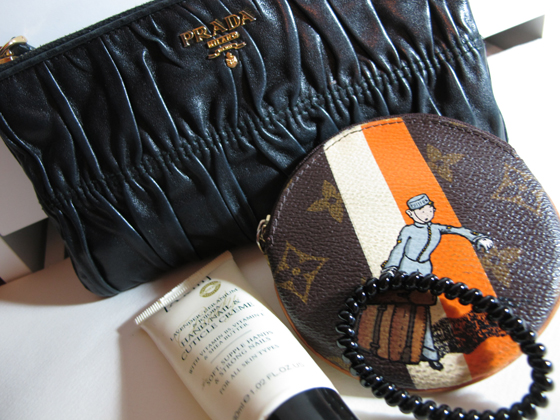 The front main compartment .. or is this the back.. ah well.  one of the main areas. 
tissues, earphones, iphone plug/charm thingy
Dior lipbalm, Lancome Teint Miracle Compact foundie
not carrying much makeup with me lately,
I think my skin is at one of its very very best condition lately, and I don't need much.
But my lips are dry, and the Dior lipbalm is amazing.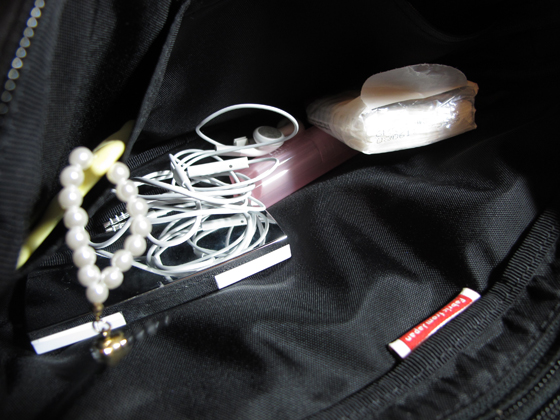 here they are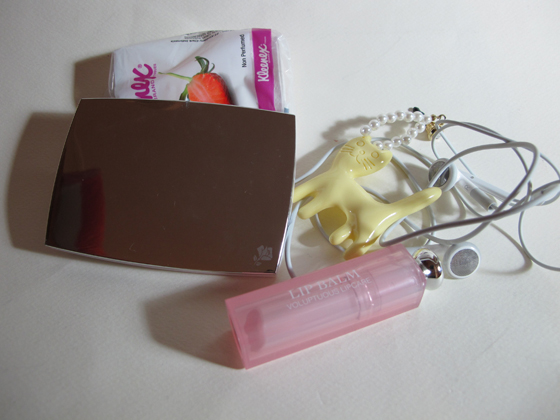 if you are wondering what the cat and pearl thingy is...
it is extremely cute, and isn't really my style
but the cat somehow called out to me
at a night market in TW
so it came home with me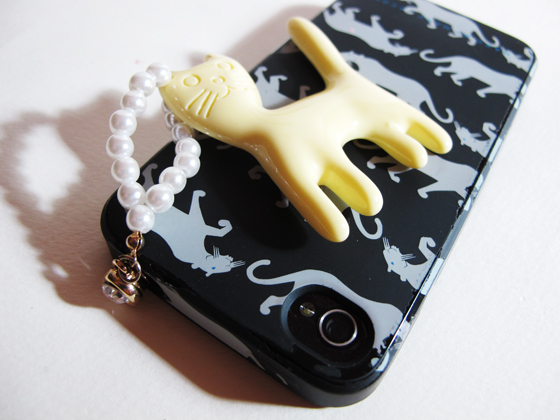 The bag is still quite empty, and I can fit my Canon G-11 inside comfortably, and I probably can squeeze in a small bottle of water. But I don't... 
Hope you enjoyed this entry, and thanks for looking!