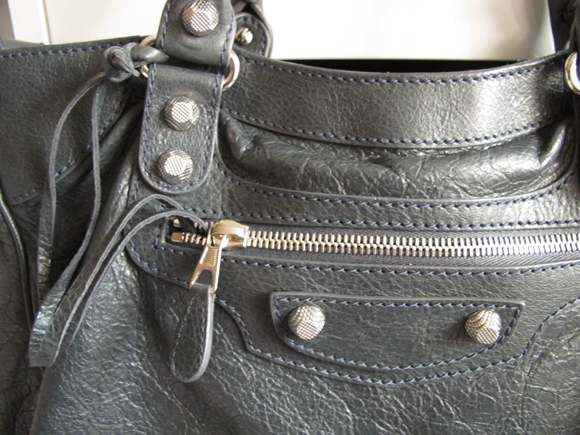 I purchased the Balenciaga Giant 12 Silver Velo (color - Anthracite) a couple of weeks ago, after a period of browsing, studying, comparing, trying out my options at various locations.  Decided that I possibly need a chic enough arm candy that is also casual enough for my usual style. The Valentino studded bags are super wicked, but I don't think they suit me, I didn't want another Alexander Wang bag, and nothing at YSL is appealing to me at the moment.  I was a little underwhelmed by the Proenza Scholder (PS1) bags after I tried them out at On Peddar (check out the Scotts Square store)...so, in the end I made my purchase at the Balenciaga store at Hilton Hotel, and my new bag retails for S$2590.
What I like about this bag, besides the colour, is also the details, the large silver studs (very me) and the fact that it can be worn multi-way, slung across my shoulder, perched on my arm, or I can double the long strap and wear it the usual 3/4 way.  I also much prefer the squarish shape of this 'town' bag as opposed to the usual rectangular 'city'.
Description:
Hand stitched handles • Removable adjustable shoulder strap • Top zip closure • Palladium plated metal hardware • Front zip pocket • Interior zip pocket with Balenciaga embossed leather label • Leather framed hand mirror • Made in Italy
Dimensions:
13.5" W x 11" H x 6.5" D
Material:
Soft vintage crafted lambskin
Lining:
Black cotton canvas
Photos & 'swatches'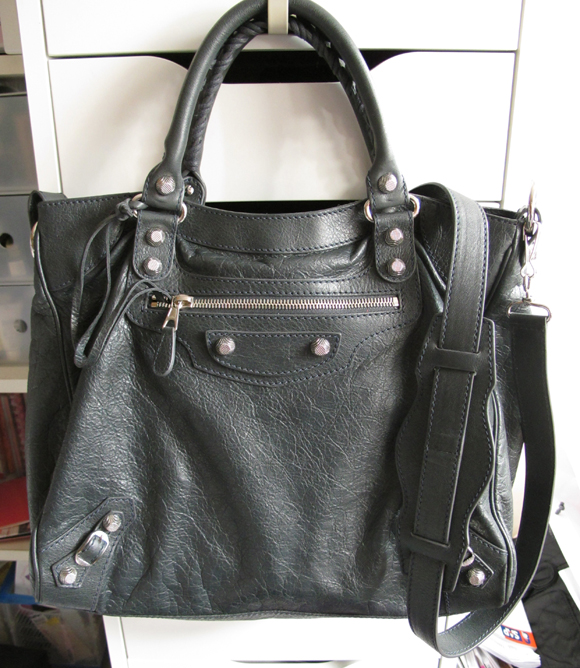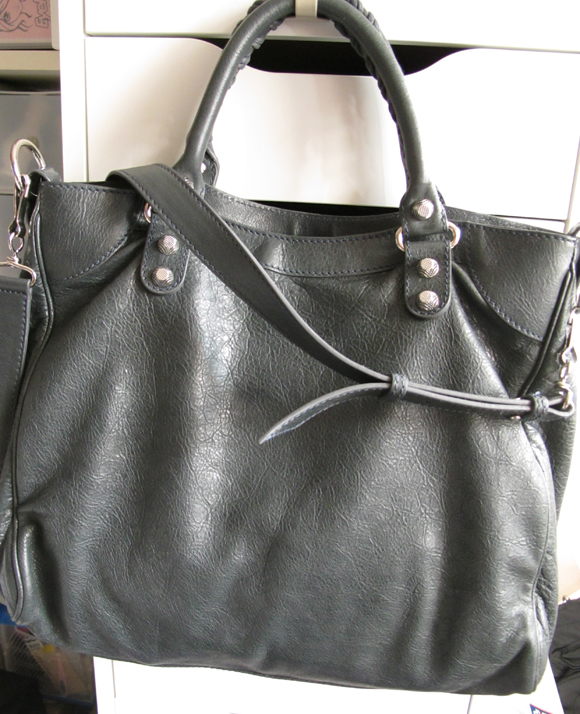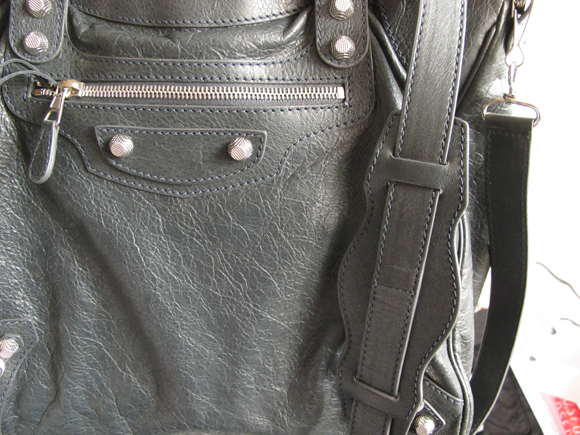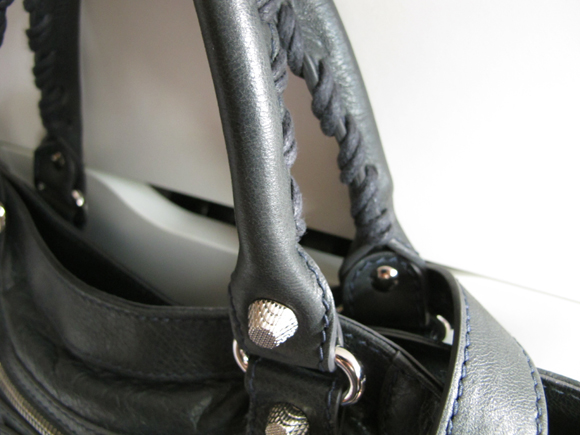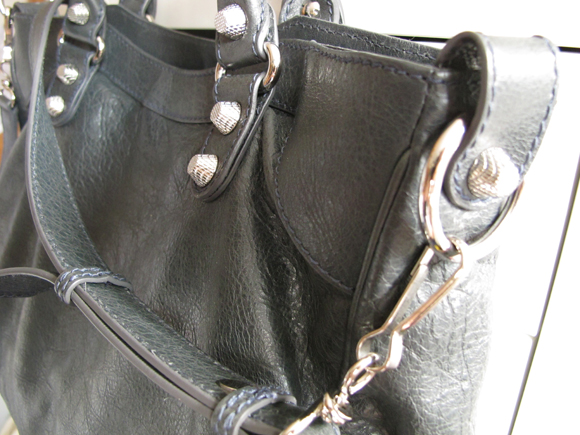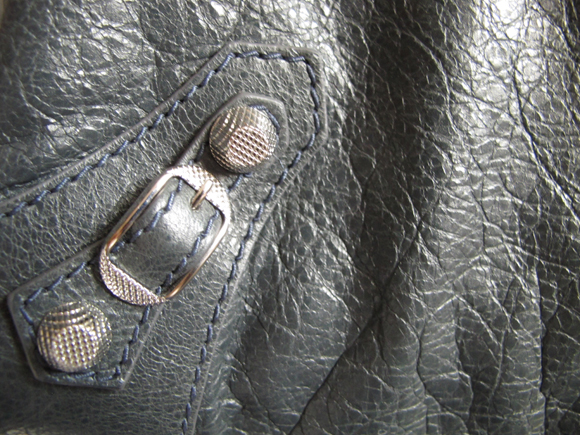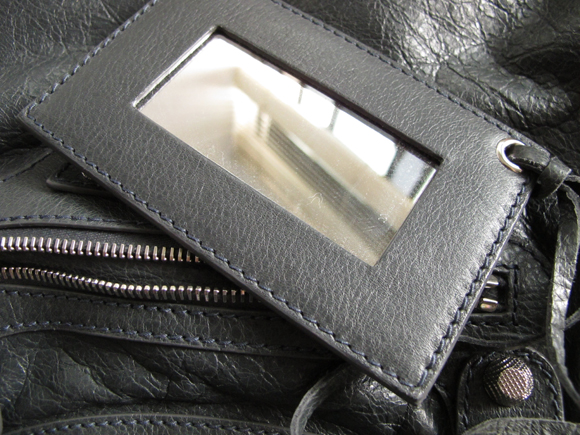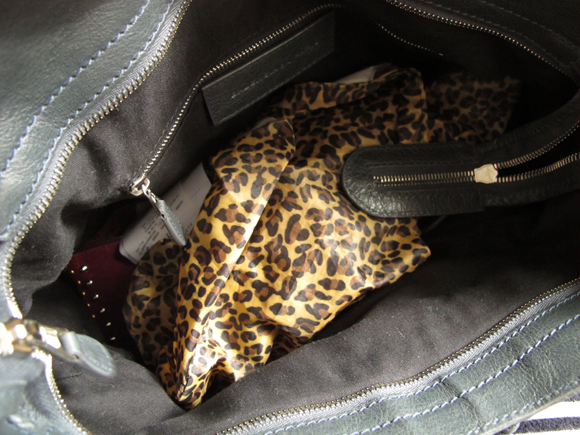 what's in the bag currently?
the essentials
wet wipes, tissues, shopping bag, hair-tie, battery pack, earphones, and my iphone4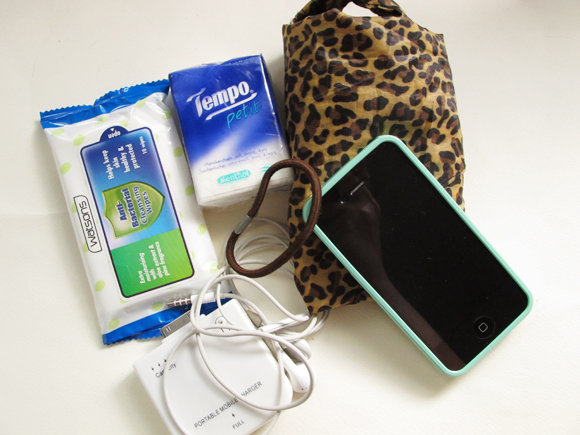 more essentials
miu miu studded wallet, inglot makeup bag
if it's a workday, the MJ pencil case, and my ipad will go into the bag too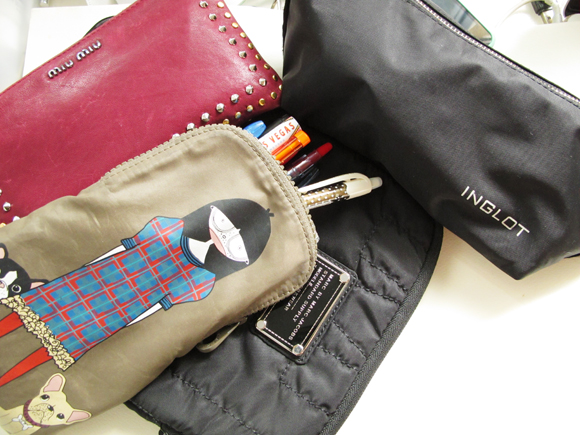 inside the makeup bag
usually containing foundations & lipsticks I am testing out
NARS Deep Throat
Laura Mercier Secret Camouflage SC-3
Facial Blotters
Lancome Maqui Miracle Compact Foundation (LOVES, review coming soon)
Lipsticks - Dior Addict Extreme Incognito, Clarins Rouge Prodige 115 Rosy Coral, Maquillage True Rouge RD712,
Lash Glue, Heavy Rotation Liquid Liner
Cle de Peau concealer
Comb
Chanel kabuki brush
Handcream from A.kin which came from my March Bella Box
perfume vials from Burberry The Body, and Liaisons Dangerous by Killian (which is not available in Sg, I got mine from Saks last year)
I like to keep a couple of these perfume vials in my bag/wallet, you never know when you need a fresh spritz of scent after a hot and humid afternoon for example having your lunch in a food centre or a crowded stuffy restaurant, or smelly train rides, etc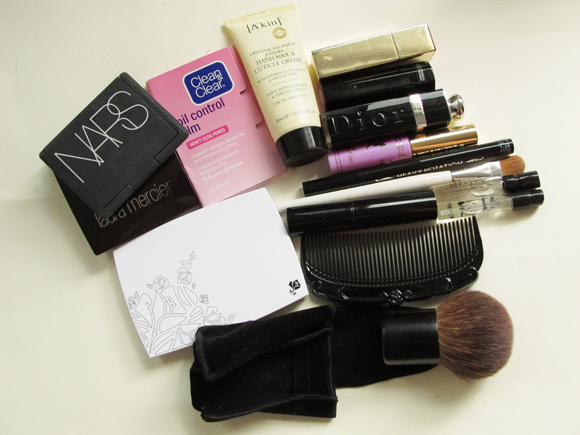 a couple of shots from my instagram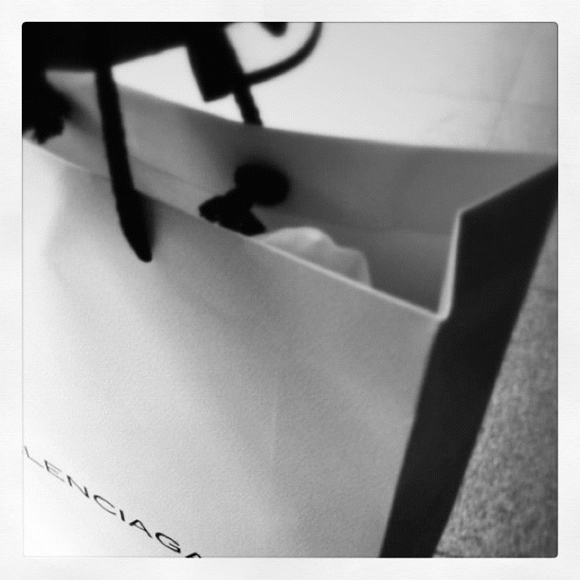 This is how the bag looks like when I wear it across my body, I am around 176cm tall, and this is the shortest I can make,
so the bag worn slung across your body is pretty low, though not too low on me.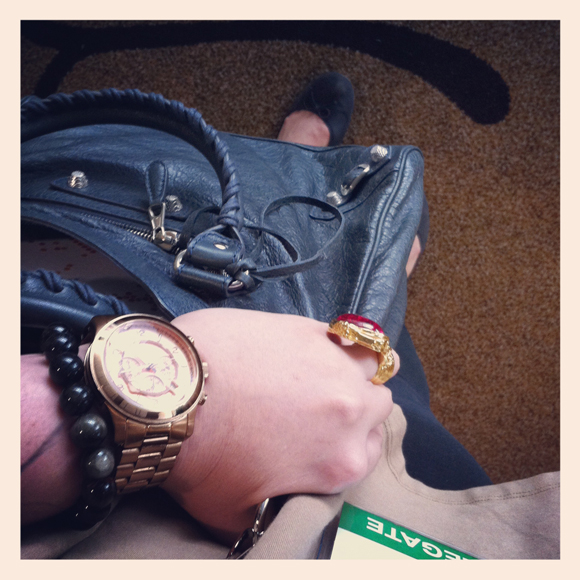 That's all, and thanks for looking!