Last week, my whole bunch of buddies and I went to the Lady Gaga concert at the Singapore Indoor Stadium (SIS).  We had bought  the tickets the day they were available for sale, there was such a frenzy, everything was sold out,  more shows added, well, it was just kind of crazy.  We ended up with the cheapest tickets available, and literally sat all the way at the top of the SIS.  I think the organisers had planned for a 3 day stint the whole time - but only revealed the second and third show when the first show was sold out in what, 2 hours? and caused a SISTIC system melt-down?  
Regardless, the show was a blast, it was a full-length concert as compared to her informal gig I went to 2 or 3 years back when she only had one album out then.  Elaborate sets, costumes, audience bantering --- everything --- Lady Gaga is indeed a consummate performer, and she had the audience hanging on to her every word and movement.
Totally enjoyed ourselves. 
My very quick LOTD for the night:
can't recall the foundation I was wearing already, but here's what else I had on my face
red lipstick - Chanel Rouge Coco Cambon
eyeshadow - Le Metier de Beaute Corinthian eyeshadow
cheeks - Nars Luster (I think so, or else it would be a Chanel Bronze Rose)
My hair was quite messy, because I was trying to section my hair and curl it in a very systematic way, but half way through, the sections got loose, and got mixed with the hair that's already curled.  Duh.  So I ended up grabbing whichever sections I could and curl them anyway.  Tip to myself: try not to curl freshly washed hair - it gets straightened out faster.  Still, the wavy-ness lasted the night, and I really think I should do it more often.  
sidenote: I am really loving my long long hair!  I have been putting off the trimming of my hair (except for my fringe) for more than half a year and I am just trying to grow it out as long as I could without the ends looking limp. 
quick snapshot I took with my i-phone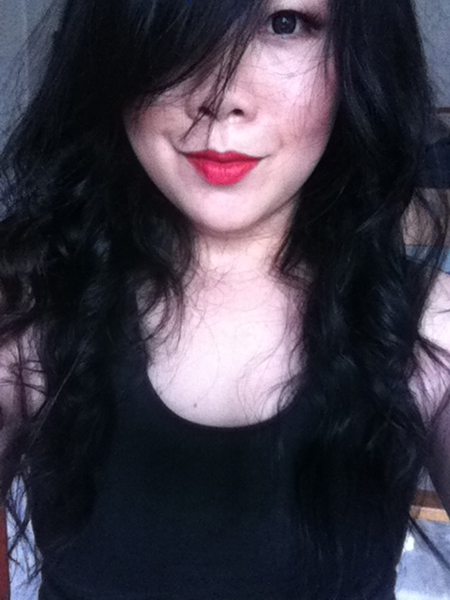 cropped and added a color filter which I later posted on my instagram 
Besides Lady Gaga... this Zara black tweed blazer got me all frenzied too... it was love at first try.  The blazer fitted me perfectly, length was great , shoulder fitted me, and it has a 'make me look 5kg lighter' look.  So, I had to have it... and after sleeping on it, I went back to make the purchase the following day. 
Here are some snapshots I took while trying out the blazer.  It is very lightly lined with chiffon inside, and very lightweight, so it would be great for air-conditioned places...and yet won't make me look ridiculous if I had to head out in the hot sun. 
a couple more snapshots from the ZARA website,
and how I paired it whilst trying it out again at the store a second time
(with a neon yellow tunic tank - love how the long tank pops out at the hem)
LOVES
and I saw this Bershka zebra print scarf, super cute, and it is super big, and I love the bright yellow background. 
so, it has to come home with me. :)
What made you go gaga lately?
Thanks for reading!