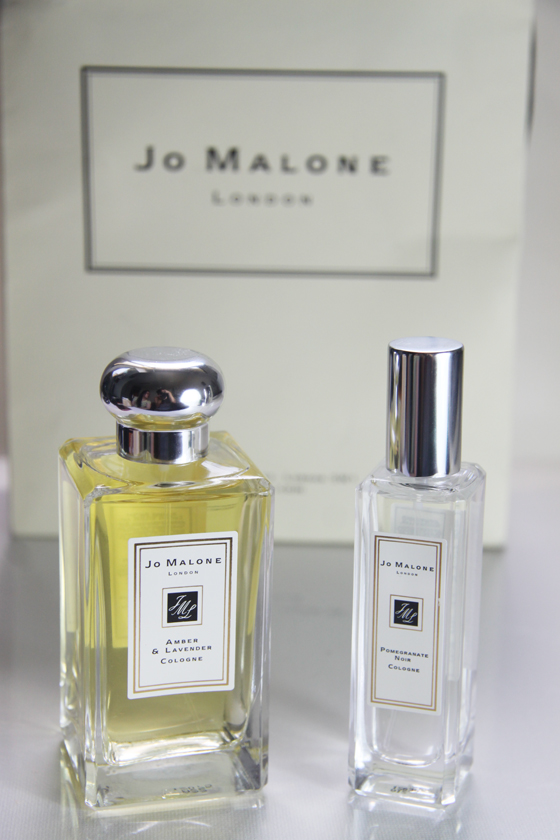 I am slowly accumulating a sizeable stash of the Jo Malone scents.  And I think, I prefer the permanent range, and collecting them to be layer with one another.  When my colleague went to London recently, I got her to help  me get two scents to add to my collection - both happened to be rather masculine woody spicy types.  I will be including the scent description which helped me to make the purchase in the rest of the entry. 
p/s Jo Malone products are the cheapest at Heathrow Airport.  These two items cost me a total of S$177 versus the S$260+ I would have to pay in our local JM store. Amazing! 
My current fave is the Amber & Lavender - it is more of a masculine scent, but the tinge of fresh lavender note makes it unisex enough for me, and it smells very fresh and clean, yet with the woody amber showing through.  I like to layer this with Vanilla & Anise, and together they make a warm yet spicy floral scent.  It is difficult to describe exactly, and I shan't even to attempt, but I love the end results.  It's very unique, and just so chic.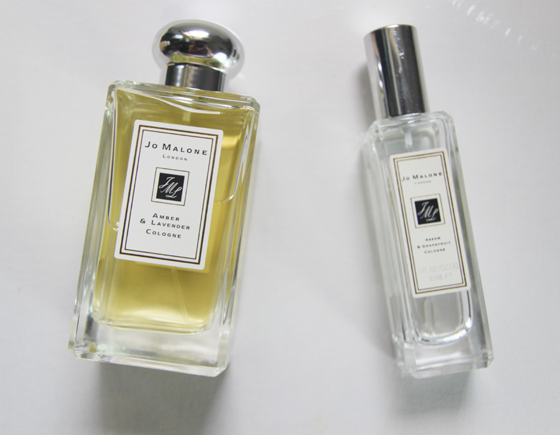 The sensuality of a daring red dress. Ruby-rich juices of pomegranate, raspberry and plum are spiked with pink pepper and laced with Casablanca lily and spicy woods. A dark and enigmatic fragrance.
Pomegranate Noir Tasting Notes
Top Note: Pomegranate
Contemporary and imaginative, this super-fruit sets the scene with a delicate compote of sweet and sour red fruits overlaid with a twist of exotic pink pepper warmth.
Heart Note: Casablanca Lily
The heady, sweet scent is powerful and decisive, romantic and purposeful. This passionate femme fatale could easily dominate and take centre stage, but the final ingredient is determined to be masterful.
Base Note: Guaiacwood
This sophisticated woody note blended with clove and cinnamon is layered with a charred smokiness that hints at log fires. Enduring and enveloping, this accord envelops the senses.
recommended for a warm pairing/ layering, 
Amber & Lavender deepens with a clean masculine accent -- and this is the next scent I chose. 
Classic male perfumery, refined. French lavender and petitgrain bring a fresh luminosity to precious amber. Cultivated and cosmopolitan.
Amber & Lavender Tasting Notes
Top Note: Petitgrain
Derived from the green twigs and fresh leaves of the bitter orange tree, petitgrain opens with perky, aromatic orange notes given a green-ish twist with a suggestion of a dew-soaked meadow.
Heart Note: French Lavender
A legendary fragrance, lavender is assertive and enduring. Deeply floral but not sweet, cleansing, uplifting, regenerating.
Base Note: Amber
Amber's grown up, musky personality adds gravitas and sweetly smoky, resinous layers to the lively lavender and bitter-sweet petitgrain. A unique, innovative association with a lingering warmth and feel-good factor.
recommended for a warm pairing/ layering, 
Nutmeg & Ginger warms with a spicy vibrancy -- which I already own and is one of my faves.
To see an overview of my fave JM combinations, click on this entry 
JM is notoriously overpriced in Singapore, so if you travel to US, HK, or come across them at the Bangkok Airport duty free, stock up! :)
Thank you for reading!