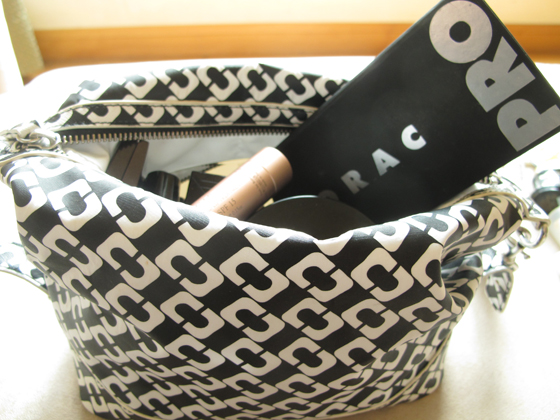 Hi hi 
this entry will feature the makeup items I brought along with me on this trip.  I am here in HK for a whole week, and I usually put on full face makeup when I am out and about here.  I try to pack in some options when it comes to color choices and also try to pick products which I have been wanting to try out/ put to the test and also stuff which I know just works. 
First, let's start with the eyes - - - -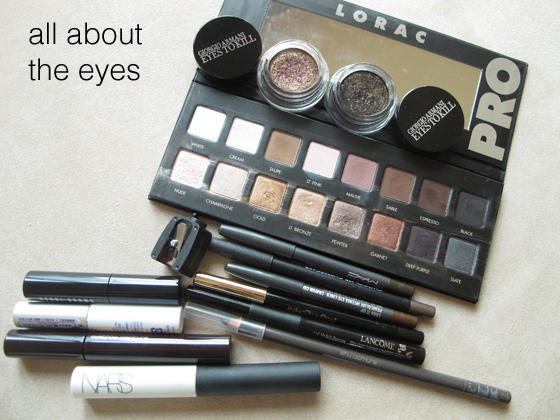 Eye shadows 

1. Lorac Pro Palette - seriously this is one of the best products of 2012 - Amy and Jerlaine both used this palette last week, and they totally love it too.  You can purchase the Lorac Pro Palette at underTwenty (currently OOS but link here).  Every shade in this palette just works, and the colors all wear and last beautifully throughout the day. 
2. Giorgio Armani eyes to kill - 24 and 28.  One a blackened gold for smokey looks, and a rose gold for a sparkly 'casual' look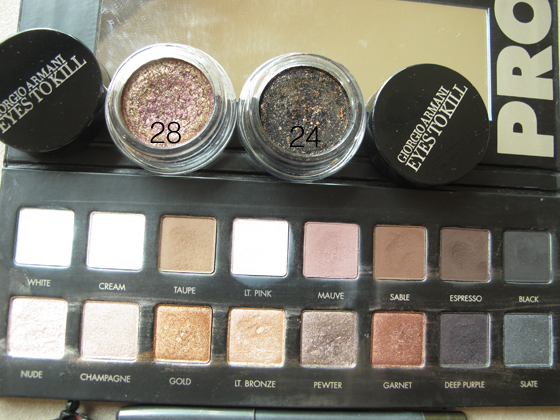 Liners 
I brought along an assorted collection of pencil liners and a liquid liner, but honestly I hardly used the pencil liners, except for when I want to lightly line my lower lids.  And also not forgetting, the NARS eyeshadow primer which is a trusty staple.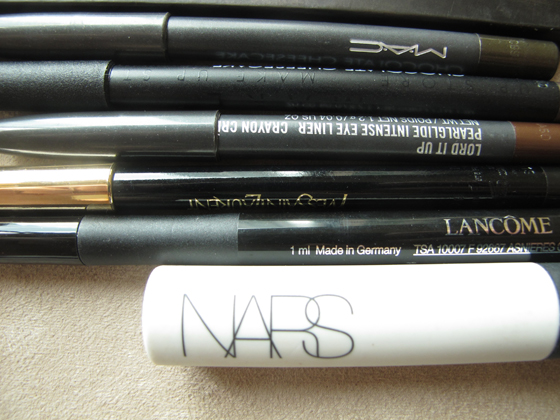 Lashes & Brows 
DUP lash glue.  Can't do without this if I am wearing false lashes. 
My Bobbi Brown brow shaper. 
My new Shu Uemura eyebrow manicure I love love love this, even more than the Bobbi Brown one.  Shu Uemura brow pencil.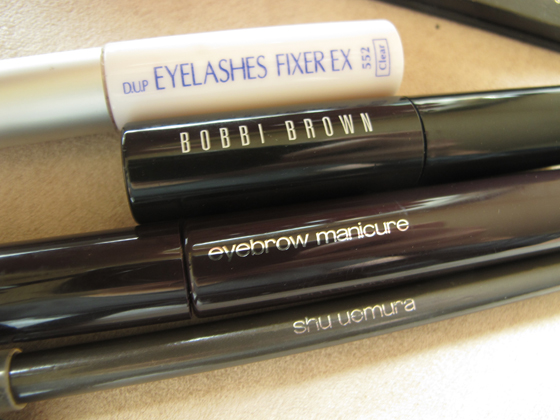 Here are swatches of the eyeliners, if anyone is keen.  I highly recommend all of them.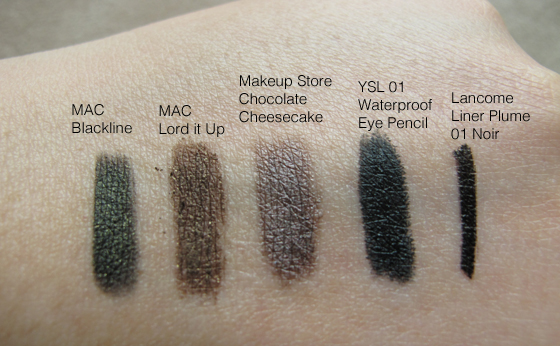 Next, my fave category of products to pack for - the foundations. 
I brought along the following:
1. Chanel ultra fine translucent loose powder - I love this powder, it is so fine, and sets my liquid foundation flawlessly. 
2. Chanel perfection lumiere - Trying out this foundation, I bought it a month back, and have used it only a couple of times.  This is a good week to try it out.  So far, I am liking it, it is nothing spectacular, but not too shabby either. 
3. Giorgio Armani UV master primer - This is a lightly tinted primer - it evens out the skintone, and I like the light texture.  
4. Ettusais Mineral BB cream - The brand's BB creams are among my top fave.  I love to use this as a base before foundation for extra coverage and longevity. 
5. Lancome Teint Miracle compact powder - love this pressed powder for touch ups on the go.  

swatches of everything I mentioned above: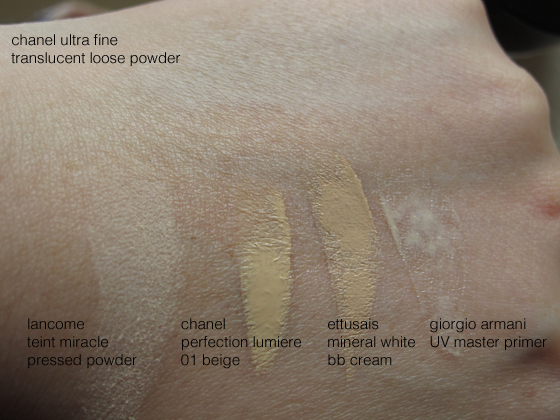 I am sometimes prone to a couple of breakouts during travels and so concealers are necessary.  I went for my trusty Laura Mercier secret camouflage concealer, and also YSL touche eclat highlighter for under my eyes.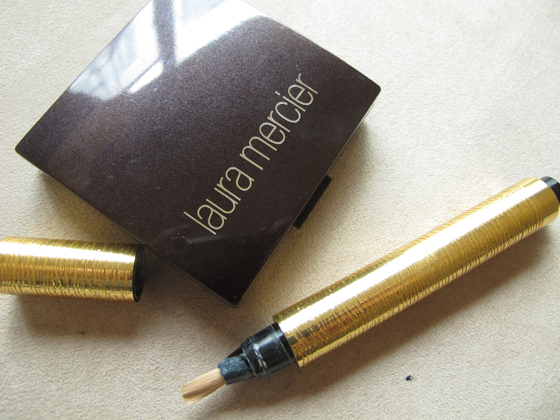 swatches here -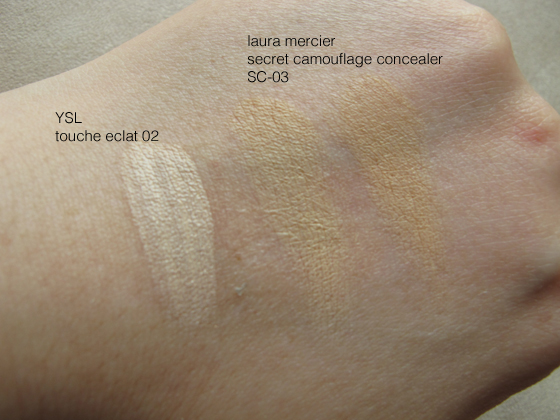 And here, we have the cheek products -
1. Dior Nude Tan - a light bronzer with a subtle glow which I can easily dust all over my face for some warmth
2. NARS Gaiety - which I brought cos it is so neglected, and also in case I feel like having a pop of pink on my cheeks.  But I don't think I really like Gaiety...not because of the color but somehow I don't like the finish and formula of this particular blush. 
3. Tarte Exposed - this is one of my latest blushes... and I love love this... it is a brownish pink very flattering shade. 
4. Maquillage Aura Veil powder - one of my all time fave for a finishing powder. this blends the bronzer, blush everything nicely, and covers the whole look with a soft touch veil.  I feel like my face is not completed until I dust this Aura Veil all over my face, especially in the centre part of my face.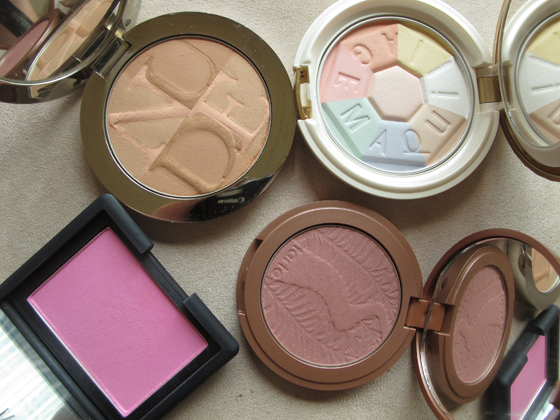 Swatches - - -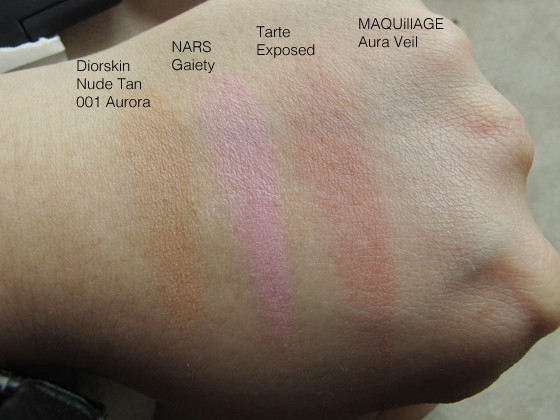 Lip products - I went for the moisturising formulas in my stash of lip products and also went for classic reds and classic natural shades. 
Shan't name them individually, but if you have been reading my blog, you would have noticed that I used some of these lip products quite frequently.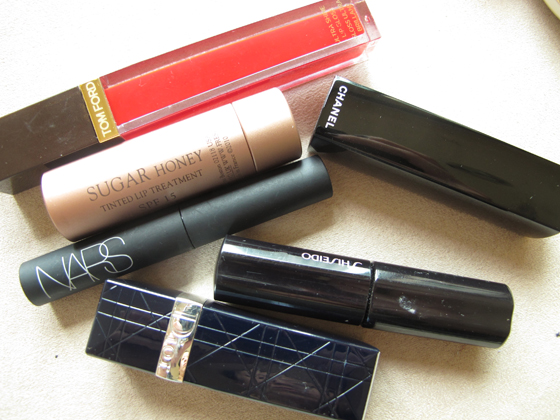 Here are the swatches - I probably went a little overboard with the color choices, and I think I just saw two more NARS lippies hiding somewhere in my bag... opps!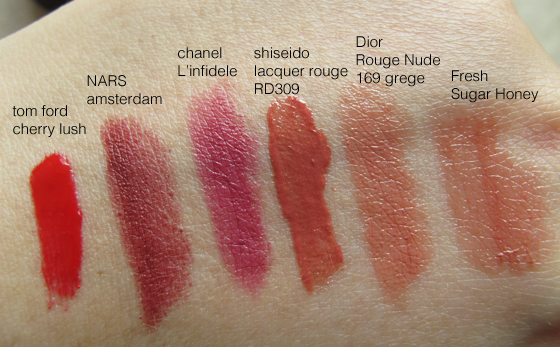 And lastly, we have the brushes - tools - very important! 
1. Real Techniques buffing brush for foundations 
2. MAC 217 - I brought two along, one for dark colors, and one for neutral colors
3. RMK tapered blending brush - for brow bone highlight, applying and blending crease colors
4. Spoolie brush to brush my brows
5. NARS Yachiyo brush for cheek colors
6. Lancome cheek color brush for cheek colors 
I use my fingers to apply concealer with.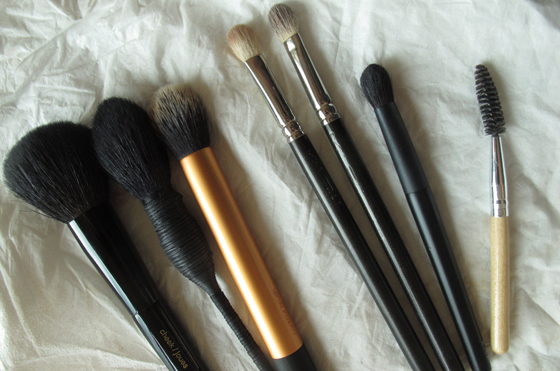 Really enjoying my stay here so far.  
Hope everyone is enjoying the new week, and thank you for reading!
'