Hi!
Hazel started this tag 'online reading list' recently, and I think it might be time to do a quick updated one.  I usually keep my fave blogs up at the side column, but it is certainly worth mentioning again.
I must also return the love to Hazel, whose blog is often filled with insights into her life, her reviews are always thorough, and straight to the point. She writes superbly and so very eloquent.  Also, I like her travel tales and loots entries, it is fun to read travel stories too.
Besides the list of fellow onsugar blogs here that I follow, I often like to check in with these other lovely blogs, and every time there is a new entry up, I would read and devour the new content with much eagerness (and also a little pang because, I would go, darn that's another thing I need to check out and possibly buy!)
Some of the major things that most of these blogs/ videos have in common - which always attracts me, no matter what:
great visuals
frequency of updates
the aspirational factor [all that shopping, travelling, shopping, good life - it's like taking a break from my busy routine, and living vacariously through their interesting lives]
the dedication to each entry, all thoughtfully and well-written, yet nothing very rambly.
In no order of merit,
Reika from Front Row Beauty who is based in Australia, Syndey.  She has great taste, buys gorgeous stuff, and we share similar skintone, so it is nice to see how products work on her, which might in turn work on me.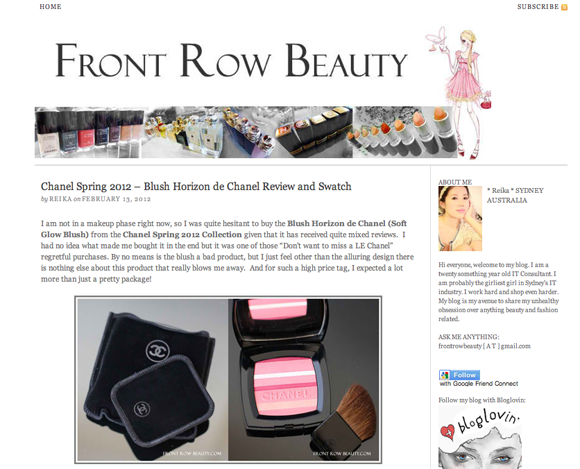 The Beauty LookBook - makes me wish I live next to a Barneys, or Nordstroms, Saks, or Neiman Marcus, because she has great swatches of products which we can't get here in Sg ---- NARS, LMDB, TF, DG, etc etc... and she buys a lot, her descriptions are always dead on, and best of all, I love her comparison swatches.
omg, look at that NARS 413 BKLR collection!!!  --- I NEED!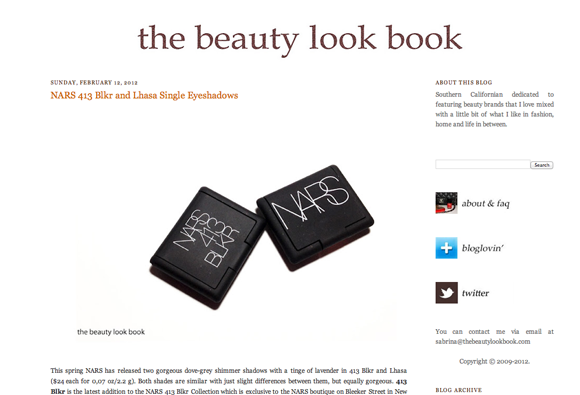 Laura, buy now, blog later -- lollipop 26, whichever you call it, I love her blog, I love her old blog from previously, her YT channel... everything and it is lovely to know that she is back writing about snippets of her life (makes me want to go work in Dubai and shuffle between London and the Arab states every weekend, sigh) she has amazing taste too, always chic, but not necessarily everything must scream designer.  It's always like, she gets something cute, I want too!  Love her effortless style of writing, and always so calming to read (well, except when you get into a mini frenzy moment of waaah I need to buy THAT!!!)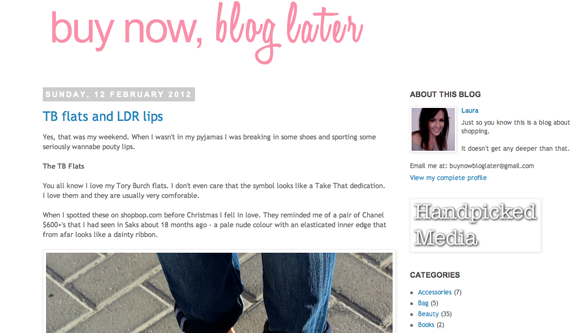 JoeySpace - Joey is a great person both as a beauty blogger and in real life!  Her entries are timely, thoughtfully written, and everything is always tastefully presented, not surprisingly as she comes from a design background.  We share similar tastes, so sometimes we enable each other to buy (too much) stuff.  She also shares bits and pieces of her personal life, and what she is up to, be it travelling or dining at a new restaurant.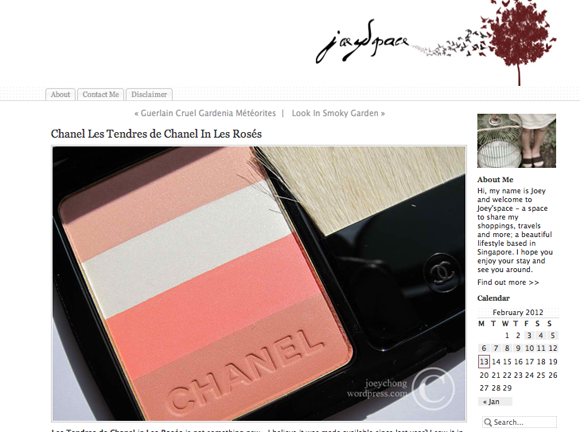 BagaholicBoy.com -- you must have heard me finger-pointing to BB because some of my shopping loots happened as a result of his feature.  Great informative site if you want relevant information (read: information that relates to our own Singapore prices, locations and availablity) - the site is clean, chic and very updated.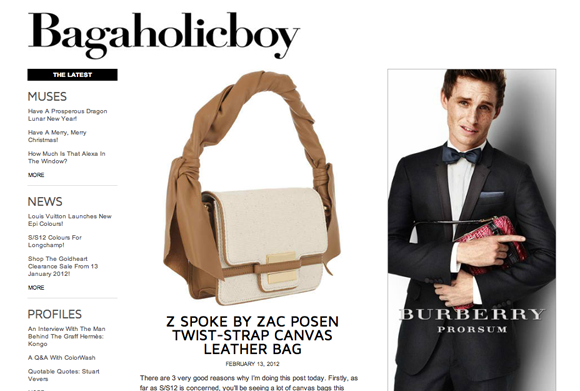 Another BB - BryanBoy.com - if you want the latest fashion scoop, ramblings, and just get a glimpse into his high fashion life, must read, must visit.  He is one of the most prominent fashion bloggers out there, and for good reason.  I like.  He has even replied to me on twitter before!  Haha.. cheap thrills much.
And the YOUTUBE gurus -
when you want to LEARN something...you can't go wrong with Lisa Eldridge.   Her soothing voice, her experience, the amazing quality of all her videos, the thought and effort she puts into everything, is just perfection.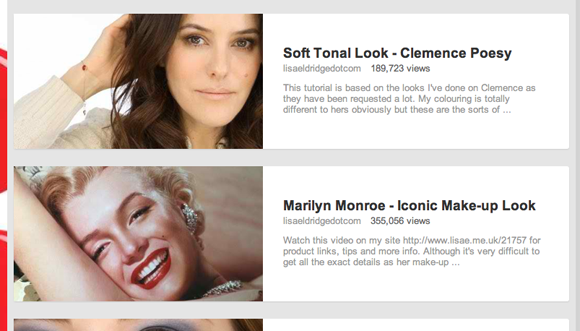 The RAEviewer - when I want to know her thoughts on the latest makeup collections, and some tutorials.
MissChievous Makeup - one of the first YT gurus, and now my weight loss motivator!
Do share your must reads on the blogsphere!
Thanks for looking!