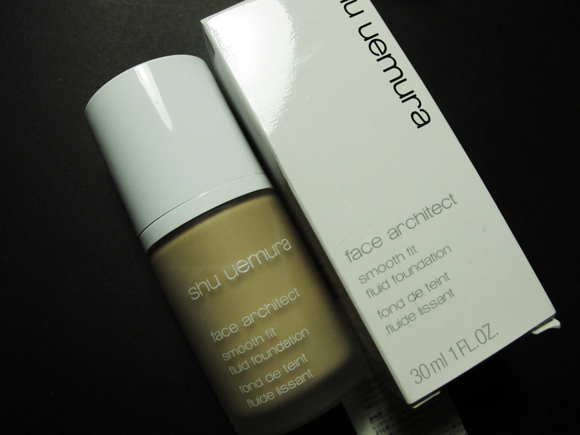 Hi hi
This is my review of Shu Uemura's latest foundation - the Smooth Fit Fluid foundation.  I will be showing you how I apply it, my fave primer to use for it, and my overall thoughts on the texture, finish, and lasting power.  I had purchased this foundation in Hong Kong, for about S$58.  In Singapore, this might be about S$70+.
I am using the shade 774 Light Beige - which is a pale neutral shade... though I do think it is a little too beige for my skin.  But everything blends out nicely, as you will see in the pictures below.
Product description:
Create smooth texture with control. Face Architect Smooth Fit fluid foundation from shu uemura provides just the right amount of coverage to allow skin to look flawless, yet natural. With a gliding formula that feels light on the skin it gives a semi–matte finish with a feeling of hydration for a natural look and comfortable feel.
The foundation is house in a glass bottle and has a plastic cap and pump.  The pump dispenses the product in a sanitary fashion, and is probably my fave after the 'tube squeeze out type' for foundations.  Though the different ways of dispensing foundation highly depends on what type of foundation we are talking about.
The texture & coverage:
It is very smooth, creamy and fluid (similar to Guerlain Lingerie de Peau, NARS Sheer Glow)
In terms of blending, I wouldn't use this foundation with an emolient base, like a BB cream, or the Shiseido White Lucent Spot Target, or the Shu Uemura instant glow skin perfecting cream-- because you might end up with a streaky mess - trust me, I tried, and I didn't like the combination.
In terms of coverage, the foundation has a medium coverage (5 on the 1--10 coverage scale).  If you want to layer and build up this foundation, do it layer by layer, don't pile on too much at once, to avoid streaks.  I use 1.5 pumps for my whole face --- 2 pumps would be too much.
Because the texture is so creamy and fluid, you should use apply it sparingly, and apply more if you need to.
Able to cover most of my faint spots, and gives an even-ed out complexion.  I hardly need to use any concealer.  (though that could be due to my current skincare routine).
Finish:
For the purpose of the review, I set it with a very normal neutral powder -- my Laura Mercier translucent loose powder so that it doesn't interfere with the actual finish of the foundation.
The foundation has a rather dewy finish, semi-matte.  It makes my skin looks hydrated and healthy.  It also sets quite quickly.
Bonus - It photographs very well, flawless skin finish!
Lasting Power:
The foundation is able to last me a good whole day (8 - 10 hours) and at the end of the day, I still look fresh.  In terms of oil control, it isn't the most oil-controlling foundation.  I need to blot very thoroughly every 4 hours or so.  But I like how the foundation looks and wears the whole day.  It never looks dry, never cakey, and did not oxidise on me.  I love in particular how smooth and fresh my face looks the whole day.  The dewiness (note --- NOT shiny glowy) is long lasting.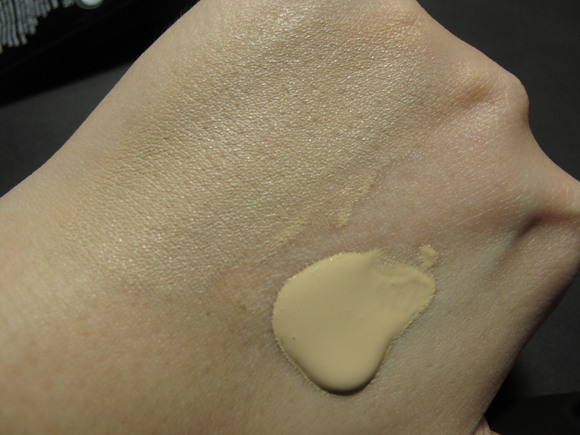 Application - I prefer to use a 'dry' and light base for this foundation, and that's the Shu Uemura UV mousse base.  It evens out and brightens my complexion, and also tightens my pores.
I prefer to use this foudation with a buffer brush, I did try with my fingers (as you can see in the pictures below which I took on a different day) as using a brush really blends out the foundation even more easily.  I think you can also see how nice and lovely the dewy look is, regardless of whether I use a brush or my fingers.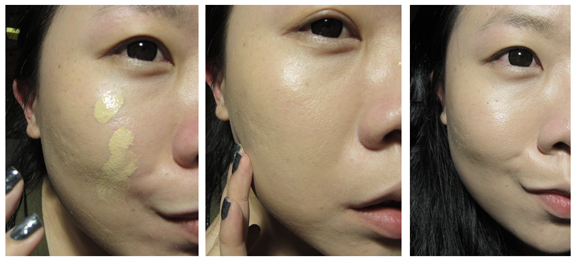 Set with powder.
I highly recommend this foundation, if you want a hydrating and dewy finish base.   I am very very happy that I bought this!
It is very similar to foundations out that like Guerlain Lingerie de Peau, Nars Sheer Glow (but shu uemura has better lasting power), also and quite similar to Skinbase and Clarins Skin Illusion (but totally different consistency).
I hope you find my review helpful.
Thank you for looking!