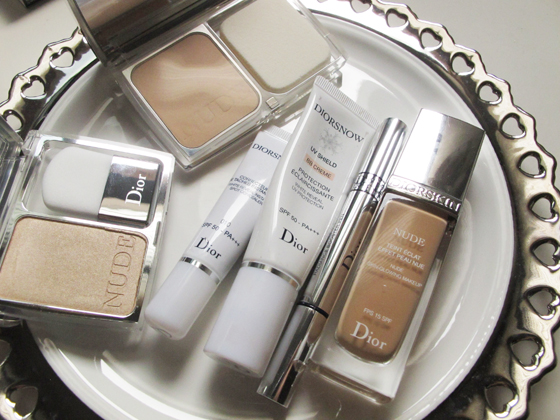 Hi hi!
Of late, I have been trying out a bunch of Dior products, several from their latest Nude Skin base products, and also another bunch from their holiday Golden Bal collection.  Please give me some time to get through these goodies and feature them soon! 
So in this entry, I will review the following two new Dior base products: 
1. DiorNude Skin Glowing foundation (liquid foundation)
2. DiorNude Skin Compact (powder foundation)
Swatches of both products in this entry here. (link link link)
I have already reviewed and featured the Nude Shimmering powder in this entry here. (link link link)
</p>
For full collection information and technical information, click on this entry here. (link link link)
</p>
Let's go through my routine, and I will sum up my thoughts at the end of this entry. 
Step One: Sun protection & makeup base

The DiorSnow BB Creme is one of my staples as a makeup base.  It comes with a powerful 50SPF and it has a very liquid foundation feel.  It immediately evens out my skintone as you will see below, and also means that it is a great for layering a natural finish foundation over it.  I also love using BB creams in general for priming my skin before foundation.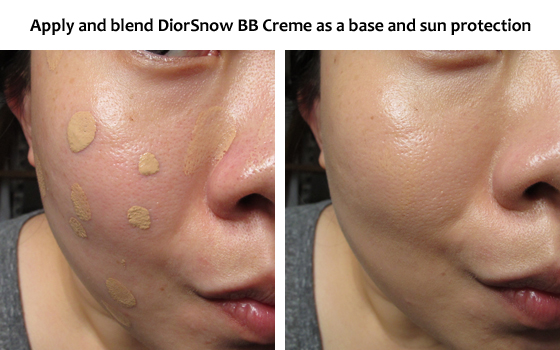 Step 2: Apply DiorNude Skin Glowing foundation.
Here, you can see that the foundation gives my face a very natural glowy finish.  It doesn't look like I have applied anything over my prepped skin, but yet you can see the luminous effect, which I am loving of late.  I just think that an overly matte look is ageing and too drying.  A fresh radiant looking skin is never ultra matte. I just need to control the oily T zone, and I am happy with just a bit of shine on my face. 
The foundation has a gel kind of texture and consistency.  I apply the foundation with a buffing brush, and it blends easily without any streaks.  The feel is very lightweight, and I just use concealer whenever I need to.
I am using the shade 20, and it is very close to my own skintone.  I have mentioned in my swatch entry that I wish there is a shade 15 for extra brightening, but 20 is a true to my own skincolor shade.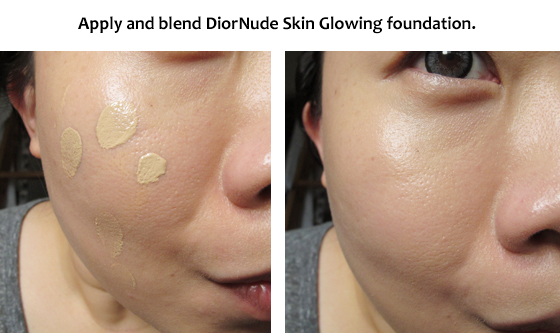 Step 3: Concealing!

I apologise for the blurry pictures here!  I like to brighten my undereyes.  I am using a apricot shade for the Dior Skinflash to neutralise my undereyes, and then followed by the spot concealer to brighten up the area.  I also use the same spot concealer for spot concealing.  It has a very very smooth full coverage texture.  It is quite pricey, but I highly recommend this spot concealer.  And it has SPF50 too.  Definitely one of my fave concealers.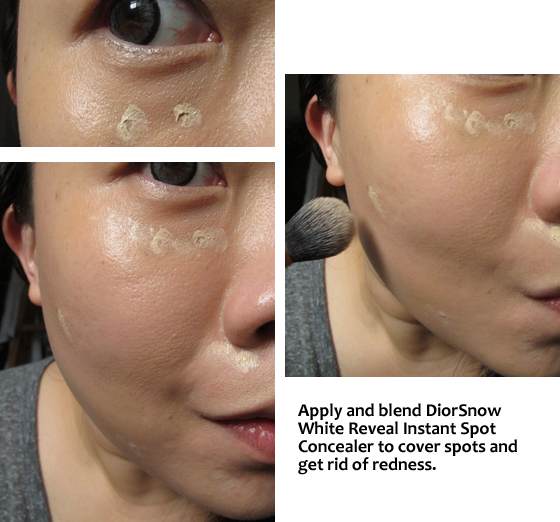 Lastly, setting the foundation & concealer. 

The compact foundation comes with two methods of application.  It has a sponge, and a brush.  
I am using  the brush here because I am setting the foundation.  
If I am touching up, I would use the sponge to pat my face.  
If I am using the compact foundation as a foundation for light days, I would use a powder puff. 
I know it all sounds so complicated, that is just how I am with applying my base products.   
The brush that comes with the compact is pretty decent as a portable brush.. and it deposits the right amount of powder. 
The compact has decent coverage, and I am enjoying it some days after I have a shower at the gym.  I would have a light layer of bb cream on my face, and I use this compact foundation to set the bb cream.  Then I would enjoy flawless smooth skin.  The compact is great for soothing over pores, and ensuring a smooth finish.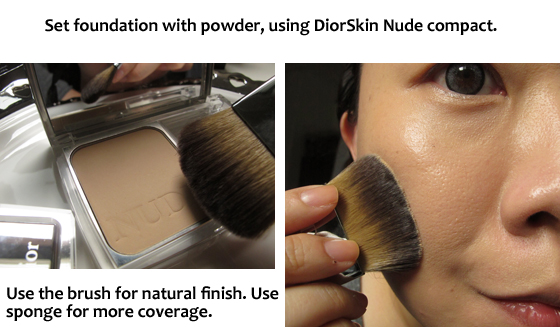 Here you can see the half face results.  The finished half of my face is very flawless and smooth.  There is a subtle glowy effect to my face, and even though I have used several layers of products, it doesn't look nor feel heavy at all.  I always like a fuller coverage for my base, and I find that such a layering routine is great for a long lasting fresh faced result. 
I am quite impressed by this foundation.  It is great for women with a oilier complexion and who wants a fresh light feeling foundation.  If you like natural second skin finish foundations, you will love the DiorNude skin glowing foundation.  It is pretty long lasting on me, lasting through my 8- 10 hour workdays.  I don't find that it oxidise on me, and it didn't make me look like a oily mess even on hot days. 
Overall, I am glad to have tried out both foundations, you should check them out too!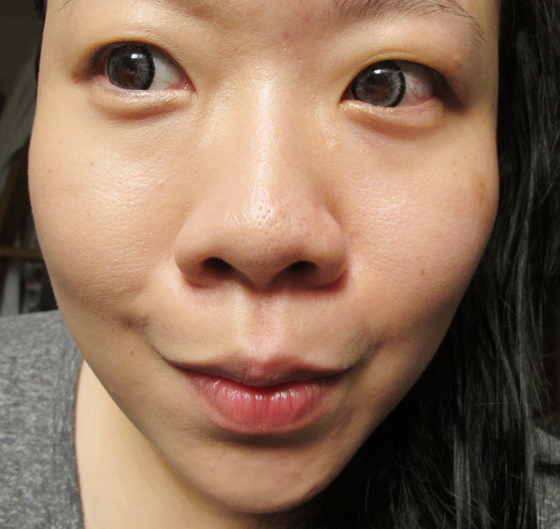 For comparison's sake, 
I would put the DiorNude Skin Glowing liquid foundation in the same categories of other liquid foundations such as 
1. Burberry Sheer Foundation
2. Clarins Skin Illusion
3. Chanel Vitalumiere Aqua
4. Lancome Teint Miracle 
</p>
The liquid foundation retails for S$70 and the compact retails for $90, and is currently available at all Dior counters.
I hope my overview has been helpful, and thank you for reading!!